The Europe awnings market size was valued at $2,090.0 million in 2019, and is projected to reach $2,529.3 million by 2027, registering a CAGR of 3.9% from 2020 to 2027. Awnings are fabric sheets or other materials that are supported with aluminum, iron, or wooden structure. They are installed at the doors, windows, patios, decks, walkways and in gardens to provide shade from sun. They have numerous other applications as well, which prove beneficial in both, the non-residential and residential sectors. They add style to homes by improving the architectural design and coloring. 
The COVID 19 outbreak has affected the growth of the awnings industry in Europe owing to the lockdown measure taken for safety and delay in manufacturing and production of various types of awnings and other related accessories which are installed in residential, and commercial spaces.
Moreover, they help protect the furniture placed outside the house from sun damage. Awnings are available in various types, which include fixed/stationary awning and retractable awning. They are a reliable and convenient solution that help expand and make good use of the outdoor spaces. The sheathing options such as fabric, plastic, plywood, and glass are available in the Europe awnings market. Moreover, one can choose the arm material from steel, aluminum, iron, and wooden frames for awnings. The various types of awnings include patio, awning, windows, pergolas, and many more.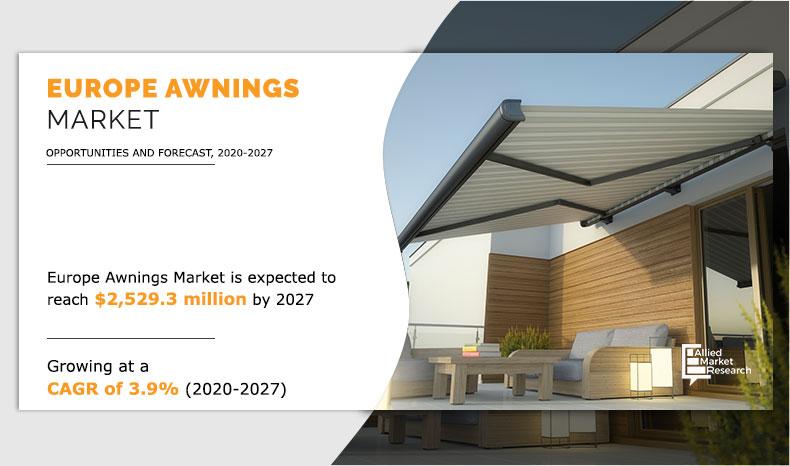 Awnings act as a reliable means to provide shade over windows, doors, decks, patios, and walkway. They are cheaper than concrete shades roofing shelter. Moreover, they beautify the building and protect furniture, flooring, and artwork from sun damage. In addition, sensor technology in retractable awning senses adverse weather conditions to prevent damage to the product. Moreover, remote-based retractable awning can be closed easily without using manual intervention or going out of the house to fold the awning. In addition, even less expensive fixed awnings are not durable and require frequent change of fabric and maintenance of awning structure.
The growth of Europe awnings market depends on the construction industry in Europe. The European construction industry is in its recovery phase since 2014, with a modest increase of 0.9% in the residential construction segment. The real estate market in Europe has been encountering a large demand driven by increased incomes and low interest rates along with high levels of net migration. By 2022, more than 3 million migrants are expected to have reached Germany. Increase in residential and non-residential construction activities and rise in expenditure on home improvement in Europe are expected to boost the europe awnings market growth. Moreover, Russia contributes to around 50% of the overall residential and non-residential construction expenditure in Eastern Europe, and this expenditure is expected to rise, owing to construction of both infrastructure and structures, such as hotels, and retail buildings; thereby, accelerating the market growth. Furthermore, the government schemes, such as the US$767 million First Home Guarantee Fund and the US$129 million Fund, are supporting interests on mortgage loans that have been contributing to support the purchase of dwellings. As a result, the demand for awnings is expected to witness a significant demand. Similarly, the demand for property, owing to growth in population, record-low borrowing costs, increased job security, and foreign tourism activities in several countries in Europe boosts the market growth.
However, fluctuation in raw material prices and expensive pricing and installation of retractable awning may hinder the market growth. The novel coronavirus is rapidly spreading across various countries and regions, causing enormous impact on lives of people and overall community. Originating as a crisis to human health, it now poses significant threat to the worldwide trade, economy, and finance. The impact of lockdown, owing to COVID-19 is vague and economic recovery of awnings manufacturers is completely based on its cash reserves. Market players can afford a complete lockdown only for a limited period, after which they would have to alter their investment plans. The manufacturers of awnings in Europe need to emphasize on protecting their staff, operations, and supply chain partners to effectively respond toward immediate crisis and discover new ways of working after coronavirus cases begins to decline. Furthermore, number of COVID-19 cases are expected to reduce in the near term as vaccine for COVID-19 is expected to be introduced by beginning of 2021. This is further expected to lead to re-initiation of awnings companies at their full-scale capacities, which would aid the market to recover by the start of 2022.
Europe Awnings Market

---
By Type
Retractable segment is projected to grow at a significant CAGR
Furthermore, the technological advancements, such as introduction of sensors, remote control, and others, are expected to boost the growth of the market. Expansion of the living space, protection from sun, and advances in fabric material are expected to create lucrative opportunities for the growth of the awning industry.
Europe Awnings Market

---
By Product
Patio segment holds dominant position in 2019
The Europe awnings market is segmented on the basis of type, product, end user, and country. Based on type, the market is bifurcated into fixed awning, and retractable awning. The product segment covered in the study include patio, window, freestanding, and others. The end user segment includes residential, and non-residential. Country wise, the market is analyzed across Germany, the UK, France, Spain, and Rest of Europe.
Europe Awnings Market

---
By End Users
Non-Residential segment holds a dominant position in 2019 and Residential segment is expected to grow at a significant rate during the forecast period.
Competition Analysis
The key companies profiled in the report include Commercial Awnings Limited, Gibus, Markilux Gmbh, Marquises, MHZ Hachtel Gmbh & Co. KG, Mitjavila, Shades-Awnings, Varisol, Warema Renkhoff Se, and Weinor. 
Key Benefits For Stakeholders
The report provides an extensive analysis of the current and emerging Europe awnings market trends and dynamics.  
In-depth Europe awnings market analysis is conducted by the constructing market estimations for the key market segments between 2019 and 2027. 
Extensive analysis of the Europe awnings market is conducted by following key product positioning and monitoring of the top competitors within the market framework.
A comprehensive analysis of all the regions is provided to determine the prevailing opportunities.
The global Europe awnings market forecast analysis from 2020 to 2027 is included in the report.
The key players within Europe awnings market are profiled in this report and their strategies are analyzed thoroughly, which help understand the competitive outlook of the Europe awnings industry. 
Europe Awnings Market Segments
By Type
By Product
Patio
Window
Freestanding
Others
By End-user 
Residential
Non-Residential
By Country
Europe

Germany
France
UK
Spain
Rest of Europe
Key Players
Weinor
Commercial Awnings Limited
Shades-awnings
Gibus
Markilux Gmbh
Marquises
MHZ Hachtel Gmbh & Co. KG
Mitjavila
Varisol
Warema Renkhoff SE