Europe Baby Monitor Market Overview:
Europe Baby Monitor Market is expected to garner CAGR of 9% during the forecast period 2016 - 2022. A baby monitor is a device used to remotely listen to sounds made by a baby as well as track the movements.
It consists of a transmitter and a microphone to transmit both audio as well as video signals. The microphone unit is placed near the child to capture babys sounds and send it to the attendant by means of a transmitter. Furthermore, advanced baby monitors with built-in features, such as preinstalled lullabies, temperature sensor and movement trackers, are available to cater to the requirements of parents.
Major factors that drive the Europe baby monitor market include the rise in the number of employed parents coupled with online retail trends offering increased accessibility & convenience and increased spending on baby care. However, safety concerns of parents concerning the emission of radiation from these devices and low birth rates are factors that restrain the market growth. Despite the challenges faced by the manufacturers, increasing demand of high-end differentiated products are expected to offer lucrative opportunities for growth.
The study of Europe baby monitor market is done on the basis of type, mode of connection, and country. Based on connection, the market is divided into wired and wireless baby monitors. On the basis of type, it is categorized into audio and video baby monitors. The market is analyzed across key countries, including France, the UK, Germany, Ireland, Benelux (Belgium, Netherlands, and Luxembourg), and rest of Europe.
Numerous key players are operating in the market which include Samsung Electronics Co. Ltd., Motorola Mobility LLC., Angelcare Monitors, Inc., Tomy Company Ltd., Vtech Holdings Ltd., ShenZhen Foscam Intelligent Technology Company Ltd., Summer Infant, Inc., Koninklijke Philips N.V., Luvion Premium Babyproducts, and Withings, Inc. They have adopted various growth strategies to capture a larger market share and increase their customer base. Presently, product launch strategy drives the market. In 2015, Luvion Premium Baby Products launched a compact-sized video baby monitor with several features such as room temperature display, digital full HD sound, and high image quality camera with 5 meters of night vision.
Europe Baby Monitor Market Segmentation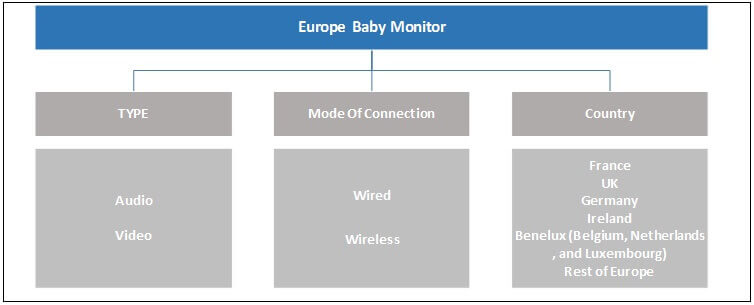 Segment Review:
The report analyses the Europe baby monitor market based on type, mode of connection, and country. Based on type, the market is segmented into audio and video baby monitors. Audio baby monitors are the most common and familiar type of monitors available in the market. The demand for audio monitors in the European countries is driven by the increase in number of employed parents (mostly working mothers), rising awareness about the babys safety, and growing disposable income. However, with the advent of video baby monitors, the demand for audio baby monitors has declined. Video baby monitors was the highest revenue-generating segment in 2014, and is estimated to dominate the market on account of its growing demand. The demand for video baby monitors has increased in Europe, owing to their hassle-free capabilities such as live video streaming, wireless transmission of data, and night vision and infrared features. Increased spending by parents on their infants safety coupled with growing disposable income in countries such as Germany and France has also led to adoption of premium video baby monitors.
TOP FACTORS IMPACTING EUROPE BABY MONITOR MARKET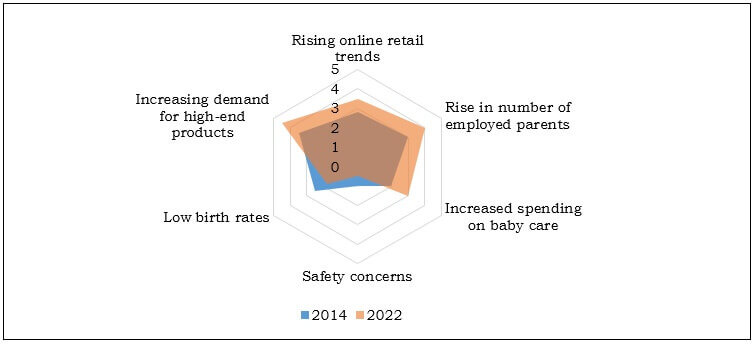 Rising trend of online retailing
The popularity of online retailers has increased exponentially, as they facilitate faster delivery and easy return policies. Moreover, increase in number of sites offering free shipping of products has boosted the sales though online platforms. Online retailing provides access to a wide variety of products and offers price comparison of different brands. As per a recent study, Europe has witnessed 1819% growth in ecommerce retail sales. Countries such as UK, Germany, and France are the leading countries for ecommerce transactions. This trend is expected to drive the online retail segment of the baby monitor market.
Increase in the number of employed parents
Increase in the number of employed parents in the developed countries is one of the major factors driving the baby monitor market. These baby monitors enable employed parents to monitor their baby and track its movements from their workplace. As per a recent study, employment rate of single parent, especially women, increased dramatically from 47.1% in 1996 to 65.7% in 2014. Increase in employment of single mothers is expected to drive the demand for baby monitors in Europe.

Increased spending on baby care products
Although the birth rate in Europe is low, affluent parents can afford to spend more on their children. As per a study, it has been seen that countries such as France, UK, and Germany have reported the highest spending capacity per capita in 2009 on 0-3-year-olds, with spending exceeding $1500. Hence, such high spending capacity is expected to drive the demand for baby monitors in Europe.
Safety concerns
Baby monitors emit harmful radiations as compared to devices such as cordless phones. As baby monitors are continuously operated and placed near the babys crib, electromagnetic field (EMF) radiations emitted by these devices might have adverse effects on the babys health. For instance, it may affect babys brain tissues, which in turn affect its sleep pattern. Moreover, movement and sound monitors with sensor pads poses strangulation risks to the child. Such probable adverse effects of these devices negatively impact the market growth.
EUROPE BABY MONITOR MARKET KEY BENEFITS:
This study provides an in-depth analysis of the baby monitor market to elucidate the imminent investment pockets.
The report provides information regarding key drivers, restraints, and opportunities with a detailed impact analysis.
Porters five forces analysis highlights the potency of suppliers & buyers and describes the competitive scenario of the market, which is expected to facilitate efficient business planning.
Value chain analysis provides key inputs on role of key intermediaries involved, which is likely to help the stakeholders in devising appropriate strategies.
This report presents a detailed quantitative analysis of the current trends and future estimations through 2016 and 2022, which assists in identifying the prevailing market opportunities.
 Europe Baby Monitor Market Report Highlights
Aspects
Details
By Type

Audio Baby Monitor
Video Baby Monitor

By MODE OF CONNECTION

Wired Baby Monitor
Wireless Baby Monitor

By Country

France
UK
Germany
Ireland
Benelux
Rest of Europe

Key Market Players
Withings Inc., Summer Infant, Inc., Koninklijke Philips N.V., Samsung Electronics Co. Ltd., Motorola Mobility Llc., Shenzhen Foscam Intelligent Technology Co., Ltd., Vtech Holdings Limited, Luvion Premium Babyproducts, Angelcare Monitors Inc., Tomy Company, Ltd