The Europe Global Basmati Rice market was valued at $551.8 million in 2020, and is projected to reach $866.5 million by 2031, registering a CAGR of 4.2%. UK was the highest revenue contributor, accounting for $230.9 million in 2020, and is estimated to reach $354.8 million by 2031, with a CAGR of 4.0%. The Indian variety segment was the highest revenue contributor with $418.1 million in 2020, and is estimated to reach $671.3 million by 2031, with a CAGR of 4.5%.
Basmati rice is a long grain aromatic rice that has traditionally been grown in the Indian subcontinent. When cooked, this extra-long, narrow grain expands to double its original size and becomes soft and fluffy. Basmati rice is distinguished from other aromatic long grain rice varieties by its excellent aroma, wonderful taste, and distinct flavor. The main producers and exporters of this rice are India and Pakistan. It is an important part of Indian and Pakistani cuisines as well as Arab, Persian, and Middle Eastern cuisines. This rice comes in several types, including Basmati 217, Basmati 386, Basmati 370, Pusa Basmati-1, Ranbir Basmati, Basmati 198, and DP Basmati.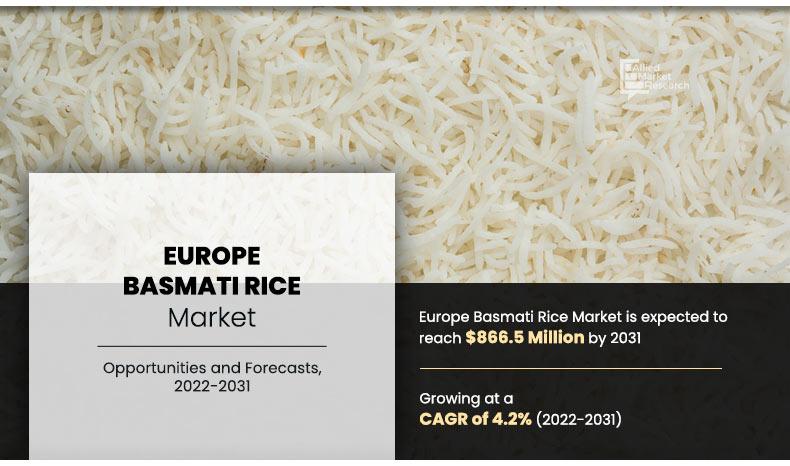 The significant rise in basmati rice demand from European countries such as Germany and the Netherlands is driving market expansion. Iran was the biggest importer of Indian basmati rice; however, Iran has imposed a ban and price cap on imports, causing Indian exporters to shift their focus to other markets. This embargo on basmati rice provides pricing benefits to various European countries, helping to develop the European basmati rice market. Tricyclazole is a fungicide that is used to protect crops (especially rice crops) from blast disease, and the European Union is expected to lower the residual limit for various food crops.
Rice is farmed on around 450,000 acres of land in approximately 27 European countries. The region produces around 70.0% of the rice consumed in the U.S., with an average yearly production of 3.1 million tons. Non-rice-growing countries consumed 3.5-5 kg per capita per year, while Southern Europe consumed 6-18 kg. The biggest rice-growing countries are Italy and Spain, which account for 80.0% of total EU rice production.
Segment review
The Europe basmati rice market is segmented on the basis of different types of basmati rice, which include Indian variety and Pakistan variety. Based on application, the market is classified into commercial and home. On the basis of distribution channel, the market is segmented into hypermarkets/supermarkets, grocery stores, online and others. Country wise, it is analyzed across UK, Germany, France, Spain, Italy, Russia, Belgium, the Netherlands, Poland, and rest of Europe.
Europe Basmati Rice Market

---
By Type
Indian Variety is the largests and fastest segment.
On the basis of type, the Indian variety was the largest segment. Whole grains have been linked to a variety of health advantages.  For example, whole grain consumption to a lower risk of heart disease, cancer, and premature mortality. Thus, basmati rice has such nutritional benefits, and commercial links between Europe and India are a primary driver for segment expansion.
On the basis of application, the home segment was the fastest growing segment and commercial segment was the largest segment in 2020. Commercial includes all restaurants, hotels, and various other food outlets where use of rice and other food stuffs is high, which contributed to the growth.
Europe Basmati Rice Market

---
By Application
The Household segment was the fastest growing segment
On the basis of distribution channel, the market is divided into hypermarkets/supermarkets, convenience stores, online channels, and others. Customers can simply purchase the goods from hypermarkets and supermarkets. Customer loyalty is extremely important in hypermarket/supermarket distribution, and having genuine merchandise is always a priority.
The analysis focuses on the Europe basmati rice market growth prospects, restraints, and opportunities of the global market. The study provides Porter's five forces analysis to understand the impact of various factors such as competitive intensity of competitors, bargaining power of suppliers, threat of substitutes, threat of new entrants, and bargaining power of buyers of the Europe basmati rice market..
Europe Basmati Rice Market

---
By Distribution Channel
The online channels segment was the fastest growing segment.
The key players profiled in the report are Amira Basmati Rice, HBI, Estraco, East End Foods, TBA Suntra, S.G.S. International Rice Company, Amira Nature Foods, VSR Rice, The Rice 'n Spice International Ltd., and Kohinoor Foods.
The other major players (not profiled in report) in the market include Surya Foods, Royal, Lundberg Family Farms, Tilda, Great Value, and Uncle Ben's.
Europe Basmati Rice Market

---
By Country
Spain was the most prominent country segment.
Covid-19 Impact Analysis
The COVID-19 pandemic disrupted the sales of Europe basmati rice industry through brick and mortar stores, which resulted in shift of consumers toward online sales channels to purchase consumer food products, thus driving the growth of online sales in agriculture and agri-products.
However, with ease in lockdown restrictions and improved logistics considering the preventive measures for COVID-19, the food & beverages industry is expected to witness growth and is anticipated to increase the sales of Europe basmati rice products during the forecast period.
Key Benefits For Stakeholders
The report provides an extensive analysis of the current and emerging Europe basmati rice market trends and opportunities.
The report provides detailed qualitative and quantitative analysis of the current trends and future estimations that help evaluate the prevailing Europe basmati rice market opportunities in the market.
The Europe basmati rice market forecast is offered along with information related to key drivers, restraints, and opportunities.
The market analysis is conducted by following key product positioning and monitoring the top competitors within the market framework.
The report provides extensive qualitative insights on the potential and niche segments or regions exhibiting favorable growth.
 Europe Basmati Rice Market Report Highlights
Aspects
Details
By Type

Indian Variety
Pakistan Variety

By Application
By Distribution Channel

Hypermarkets/Supermarkets
Grocery Stores
Online
Others

By Country

UK
Germany
France
Spain
Italy
Russia
Belgium
The Netherlands
Rest of Europe