Europe Construction Products Market Overview:
The Europe Construction Products Market was $89,090.4 million in 2017, and is projected to reach $124,115.8 million in 2023, growing at a CAGR of 5.7% from 2018 to 2023. The substantial growth in construction sector increased the demand for construction products in Europe. The construction products such as products for siding, trim, flooring, roofing, and others are generally used in each construction to protect infrastructure from climate and energy challenges.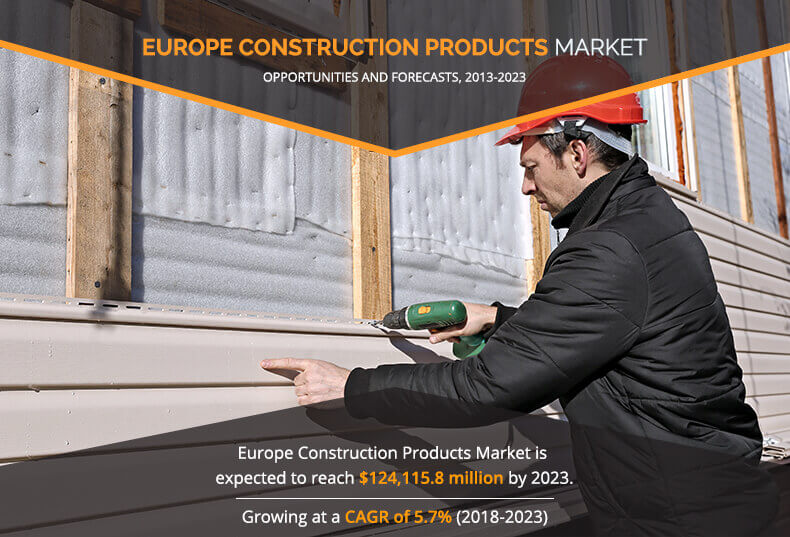 Growth in population increases the demand for renovations and development of buildings. This in turn boosts the requirement for construction in residential and commercial sector, which drives the need for construction products. Moreover, European government have formulated initiatives aiming at designing, building, and operating structures following green building concept, for efficient use of energy and resources used for construction. Rapid urbanization and industrialization further contribute to the developing construction sector. These factors are expected to fuel the demand for construction products in Europe in the coming years. However, limited availability of skilled workers and high investment in installation of construction products can hinder the market growth.
The Europe construction products market in segmented based on product type, end user, and country. Based on product type, it is classified into siding, trim, and structural subfloors, among which siding and trim are further classified into material type which includes wood, engineered wood, vinyl, plastics, fiber-cement, bricks, and others. In 2017, the siding products segment dominated the market, in terms of revenue, and is expected to maintain this trend throughout the forecast period.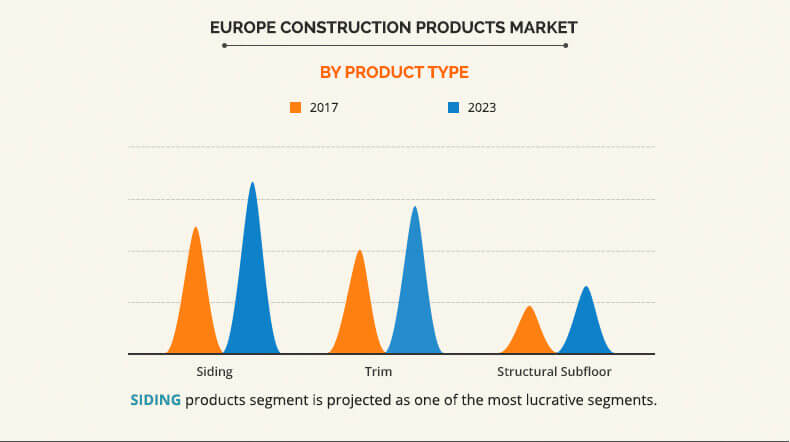 Depending on end user, it is bifurcated into residential building and commercial building. The commercial building segment is further classified into shopping mall & retail store, hospital, office building, and others. This segment dominated the market in terms of revenue in 2017, owing to growth in population and increased demand for renovation and development of buildings and is expected maintain its dominance throughout forecast period.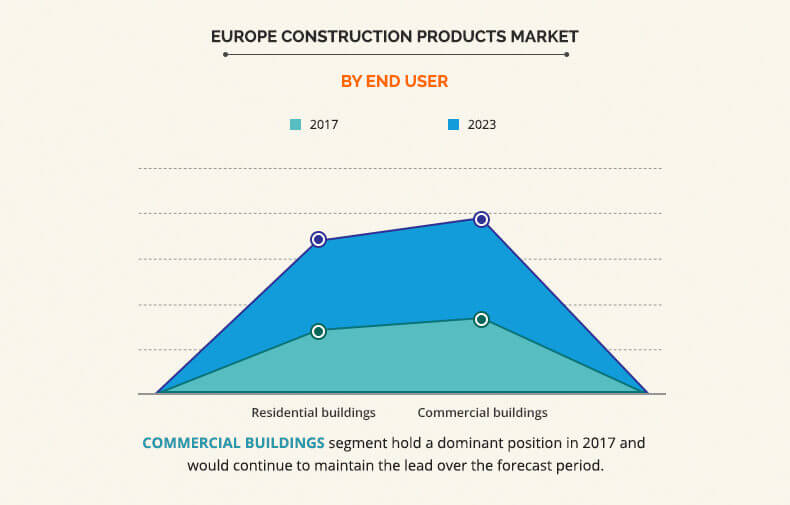 By country, the market is analyzed across Western Europe and Eastern Europe. The countries considered in Western Europe include Germany, France, UK, Italy, Netherlands, and rest of Western Europe, whereas the countries considered in Eastern Europe are Poland, Hungary, Russia, Czech Republic, Romania, and rest of Eastern Europe. Western Europe is anticipated to contribute higher share in the market during the forecast period, due to rapid urbanization and industrialization.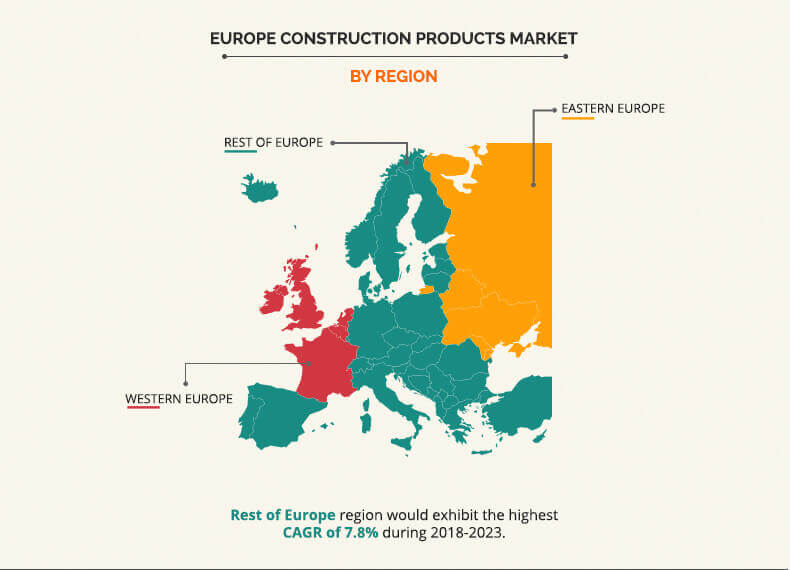 Competition Analysis
Competitive analysis and profiles of the major players in the Europe construction products market, such as Wienerberger Baustoffindustrie AG, Holzplast LLC, U-Kon System, Royal Europa Sp. z o.o, Hanson Building Products Limited, Hekim Construction Inc., Kingspan Group, Leier International, and RHEINZINK are provided in the report.
Key Benefits for Stakeholders
The report provides an extensive analysis of the current and emerging market trends and dynamics in the Europe construction products market.
In-depth analysis is conducted by constructing market estimations for the key market segments between 2013 and 2023.
Extensive analysis of the market is conducted by following key product positioning and monitoring the top competitors within the market framework.
Comprehensive analysis of all regions are provided that determines the prevailing opportunities in these geographies.
Key market players are profiled and their strategies are analyzed thoroughly, which helps in understand the competitive outlook of demand reaction management system market.
Europe Construction Products Market Key Segments:
By Product Type
Siding

Wood
Engineered Wood
Vinyl
Plastic
Fiber Cement
Brick
Others

Trim

Wood
Engineered Wood
Vinyl
Plastics
Fiber Cement
Brick
Others

Structural Subflooring
By End User
Residential Building
Commercial Building

Shopping Mall & Retail Store
Hospital
Office Building
Others
By Region
Western Europe

Germany
France
UK
Italy
Netherlands
Rest of Western Europe

Eastern Europe

Poland
Hungary
Russia
Czech Republic
Romania
Rest of Eastern Europe

Rest of Europe
Key Players
Wienerberger Baustoffindustrie AG
Holzplast
U-Kon System
Royal Europa Sp. z o.o
Hanson Building Products Limited
Hekim Construction Inc.
Kingspan Group
Leier International
RHEINZINK
 Europe Construction Products Market Report Highlights
Aspects
Details
By Product type

Siding

Wood
Engineered Wood
Vinyl
Plastics
Fiber cement
Brick
Others

Trim

Wood
Engineered wood
Vinyl
Plastics
Fiber cement
Brick
Others

Structural subfloor

By End user

Residential building
Commercial buildings

Shopping Mall & Retail Store
Hospital
Office Building
Others

By Region

Western Europe (Germany, France, UK, Italy, Netherlands, Rest of Western Europe)
Eastern Europe (Poland, Hungary, Russia, Czech Republic, Romania, Rest of Eastern Europe)
Rest of Europe

Key Market Players
RHEINZINK GmbH & Co. KG, HEKIM YAPI ENDUSTRISI SANAYI VE TICARET A.S., U-kon Systems, Rockwool International A/S (Rockwool Russia), Wienerberger AG, Holzplast LLC (Holzplast Ohg), Kingspan Group PLC, Royal Europa Sp. z o.o., HeidelbergCement AG (Hanson Building Materials Limited), Leier Baustoffe GmbH & Co. KG