Europe Digital Therapeutics Market Overview:
The Europe digital therapeutics market size was valued at $0.50 billion in 2018 and is expected to reach $2.27 billion by 2026 with a CAGR of 20.6% during the forecast period.
Digital therapeutics is a subdivision of digital health,not all digital health solutions are digital therapeutics. The difference between digital health and digital therapeutics is based on the clinical outcomes for patients. For instance, digital therapeutics does not include consumer health-oriented technologies such as step-counters and calorie-counters. It's a new class of healthcare products that uses digital technology to prevent, manage, or treat medical conditions. In addition, it utilizes digital health technologies to treat a psychological condition.Hence, such factors boost the Europedigital therapeutics market share across the world.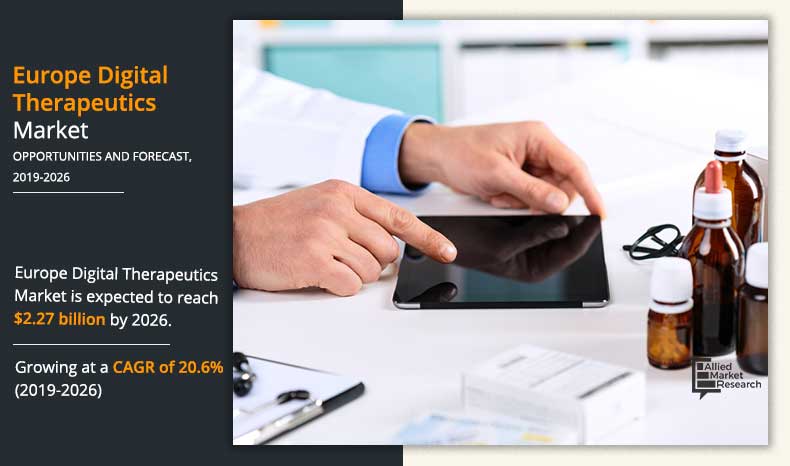 Rise in adoption of smart phones and tablets, coupled with healthcare apps; growth in need to control healthcare costs; and rise in incidences of chronic diseases drive the demand for digital therapeutics in Europe. However, lack of awareness regarding digital therapeutics in developing countries and patient data privacy concerns restrain the market growth. On the contrary, high growth opportunities in untapped markets are expected to provide significant profitable opportunities for manufacturers in the digital therapeutics industry.
By using digital therapeutics, a patient can track medication usage, blood sugar level, and other factors throughout the day to improve overall health. Hence, rise in demand for cost-effective healthcare services, surge in adoption of smart phone healthcare applications, and increase in R&D of smart healthcare devices such as fitness bands, VR headsets, sleep inducers, and smart inhalers help people track and treat major health problems at a lower cost, which ultimately boosts the market growth.
Based on Application, Europe Digital Therapeutics Market is segmented into Diabetes, Obesity, Cardiovascular Disease (CVD), Central Nervous System (CNS) Disease, Respiratory Disease, Smoking Cessation, Gastrointestinal Disorder (GID), and Others. Depending upon product Type, the market is divided into software and device. By sales channel, the market is bifurcated into business-to-business (B2B) and business-to-consumer (B2C). Region wise, the market is studies across European countries including, UK, Germany, France, Italy, Spain, Russia, and Rest of Europe.
Applicationsegment review
On the basis of application, the digital therapeutics market is segmented into diabetes, obesity, cardiovascular disease, central nervous system disease, respiratory disease, smoking cessation, gastrointestinal disorder, and others. The diabetes segment was the major revenue contributor in 2018, and is anticipated to continue this trend during the forecast period, owing to high prevalence of diabetes. However, the obesity segment is projected to exhibit the highest growth during the forecast period. This is attributed to the rise in number of overweight populations,thereby increasing the number of chronic diseases due to obesity. In addition, better accessibility of digital therapeutics software applicationthat help patients to maintain their proper diet as well as track health data and daily physical activities. Moreover, the software provides regular online assistance from certified doctors, which is expectedto help in reducing the prevalence of obesity in the future.
Europe Digital Therapeutics Market

---
By Application
Diabetes holds the dominant position in 2018 and would continue to maintain the lead over the forecast period.
Productsegment review
Depending on product, the digital the rapeutics market is categorized into software and devices. The software segment is projected to exhibit the highest growth during the forecast period. This is attributed tothe rise in demand for reducing healthcare costsacross Europe.This gives immense opportunities to developers to use existing software and develop newand advanced features to make them more effective and affordable.Thus,is anticipated to increase the digital therapeutics market size in the future.
Europe Digital Therapeutics Market

---
By Product
Software segment is projected as one of the most lucrative segments.
The report provides a comprehensive analysis of the key players operating in the Europedigital therapeuticsmarket,namelyAda Health GmbH, CogniFit, Caterna Vision GmbH, Fitbit, Inc. (Twine Health, Inc.), Kaia Health, Medtronic Plc., Novartis International AG (Pear Therapeutics, Inc.), ResMed, Inc. (Propeller Health), Sonormed GmbH, and Voluntis, Inc.
The other players in the value chain include (profiles not included in the report) GlaxoSmithKline, Veeva Systems, and Syneos Health.
 
Key Benefits For Stakeholders
This report provides a detailed quantitative analysis of the current digital therapeutics markettrends and forecast estimations from 2018to 2026, which assists to identify the prevailing market opportunities. 

An in-depth digital therapeuticsmarket analysisincludes analysis ofEurope, which is anticipated to provide a detailed understanding of the current trends to enable stakeholders formulate this region-specific plan.

A comprehensive analysis of factors that drive and restrain the digital therapeuticsmarket growth of the Europeis provided.

The projections in this report are made by analyzing the current trends and future market potential from2019 to 2026, in terms of value.

Key market players within the digital therapeutics market are profiled in this report and their strategies are analyzed thoroughly, which helps in understanding competitive outlook of Europedigital therapeuticsmarket.
 Europe Digital Therapeutics Market Report Highlights
Aspects
Details
By Application

Diabetes
Obesity
Cardiovascular Disease (CVD)
Central nervous system (CNS) diseases
Gastrointestinal disorder
Respiratory Disease
Smoking Cessation
Others

By Product
By SALES CHANNEL

Business-to-business (B2B)
Business-to-consumers (B2C)

By Country

Europe

UK
Germany
France
Italy
Spain
Russia
Rest of Europe

Key Market Players
COGNIFIT, KAIA HEALTH, CATERNA VISION GMBH, ADA HEALTH GMBH, FITBIT, INC. (TWINE HEALTH, INC.), SONORMED GMBH, NOVARTIS INTERNATIONAL AG (PEAR THERAPEUTICS, INC.), VOLUNTIS, INC., MEDTRONIC PLC., RESMED, INC. (PROPELLER HEALTH)