Europe Electric Vehicle (EV) Chargers Market Outlook - 2023
Europe Electric Vehicle Chargers Market was valued at $477.2 million in 2016, and is projected to reach at $2,756.4 million by 2023, growing at a CAGR of 29.4% from 2017 to 2023.
Electric vehicle (EV) chargers are used to provide charging to electric vehicles by use of a battery and an electrical source that charges the battery. Charging of such vehicles is done via different levels of charging, i.e., level 1, level 2, and level 3. The cost, in addition to maintenance cost, of electric vehicles is lower than conventional petrol/diesel cars. Electric vehicles reduce the carbon footprint released into the atmosphere, which contains toxic gas particles.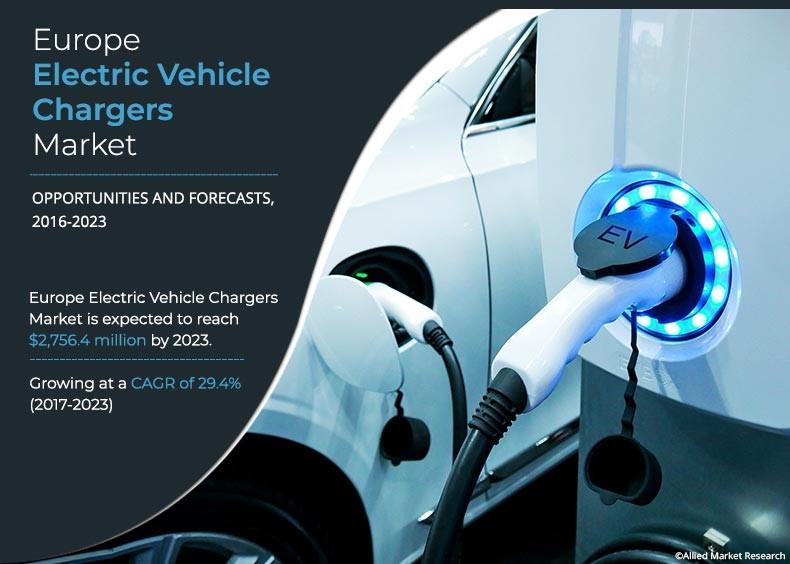 Government regulations related to the use of electric vehicles to curb environmental pollution drives the demand for electric vehicles, which is expected to boost the Europe EV chargers' market. Further, surge in demand for electric vehicles fuels the Europe electric vehicle chargers market growth. However, high price of such electric vehicles and lack of presence of EV chargers at public places may impede this growth. Increase in demand for luxury electric vehicles is expected to present numerous opportunities to key players in the Europe electric vehicle chargers market.
The battery electric vehicles segment possesses higher potential for growth in the European market. Plug-in hybrid electric vehicle dominated the European market in 2016, and is expected to continue its dominance over the forecast period.
By charging type, off-board chargers witnessed highest growth rate during the forecast period, due to surge in disposable income of population worldwide. However, commercial chargers observed highest growth rate on the basis of end user, owing to stringent government regulations to curb environment pollution.
Key players profiled in the Europe electric vehicle chargers market include ABB Ltd., Chroma Ate Inc. (Chroma), Innogy SE, KEBA AG, Mennekes Elektrotechnik GmbH & Co. KG, POD Point Ltd., Chargemaster PLC, Robert Bosch GmbH, Schaffner Holding AG, Silicon Laboratories, Inc., and Siemens AG.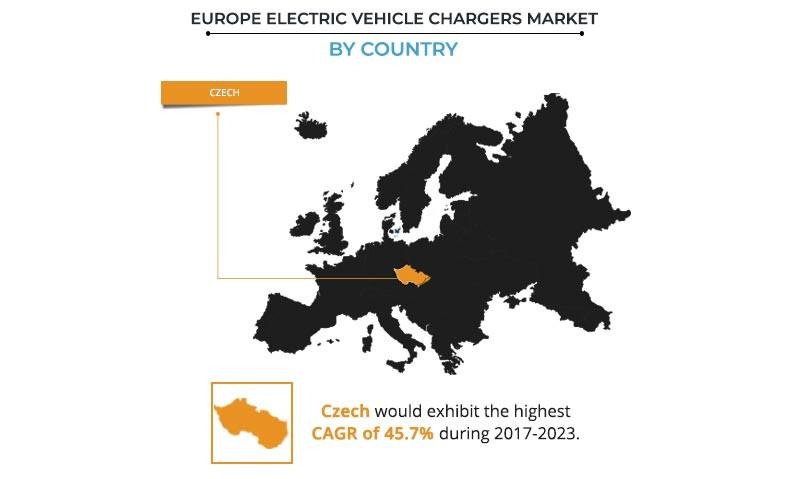 The market is consolidated by the presence of major key players such as ABB Ltd., Schaffner Holdings AG, KEBA AG, Innogy SE, and others. These players have adopted efficient techniques to develop innovative offerings. The European government has initiated various schemes & policies such as tax rebate, incentives for the usage of electric vehicle chargers, and other benefits for adoption of electric vehicles across the region, which drives the Europe electric vehicle chargers market. The benefits for the electric vehicles users include preferential parking permits in dense urban areas across the city of Amsterdam or the permit to drive in bus and taxi lanes during rush hours across city of Oslo.
Segment Overview
The Europe electric vehicle chargers market analysis is segmented on the basis of vehicle type, charging type, end user, and country. Based on vehicle type, it is divided into battery electric vehicles (BEV), plug-in electric vehicles (PHEV), and hybrid electric vehicles (HEV). Based on charging type, it is bifurcated into on-board chargers and off-board chargers. The end-user segment includes residential and commercial EV chargers. The Europe electric vehicle chargers market share includes countries such as UK, Germany, France, Italy, Norway, Netherlands, Scandinavia, Spain, Portugal, Poland, Czech, and rest of Europe.