The Europe flushing system market size was valued at $794.5 million in 2021, and is projected to reach $1012.5 million by 2031, registering a CAGR of 2.3% from 2022 to 2031. Flushing system is an integral part of WC and urinals, that enables safe disposal the human fecal matter from the bowl. Typically, flushing system use a large volume of water, that is discharged in a very short time to dispose the human waste. Usually, a flushing system comprises a flush tank to store water, pipes to direct water to the toilet bowl and a toilet bowl with water nozzles.
Flushing systems play a crucial role in the efficient functioning of WCs, which are an integral part of modern buildings. The demand for residential and non-residential spaces in Europe is anticipated to increase the demand for flushing systems. Furthermore, Europe is witnessing a rise in immigration from around the world, owing to the high standard of living, good employment and educational opportunities. This drives the demand for rental and affordable housing. Thus, it is a major factor anticipated to drive the Europe flushing system Market growth in flushing system market. Moreover, Europe is a major tourist destination, and experiences a continuous demand for luxurious hospitality buildings, such as hotel, resorts, motel and others. Furthermore, the availability of a wide range of flushing systems in various price range is also expected to drive their demand from all the countries in the Europe.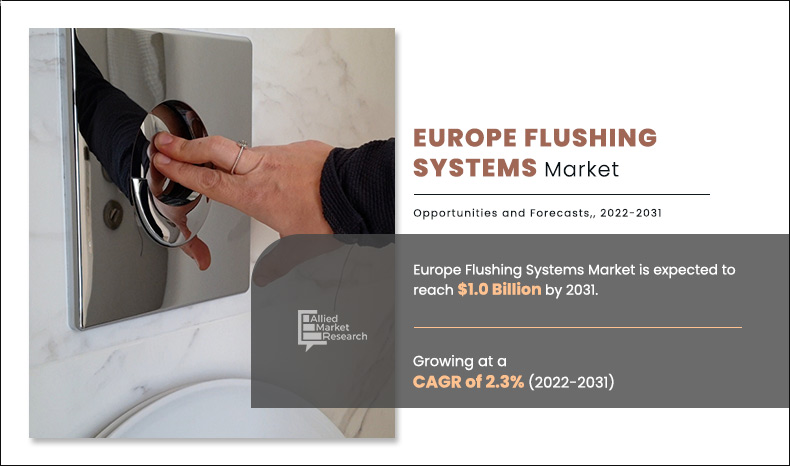 In addition, major manufacturers in Europe flushing system Market offer a wide range of products, in order to meet various customer requirements. This helps the manufacturers to stay competitive in the market.
For instance, in May 2020, Toto Europe GmbH, a provider of sanitary products, introduced RX EWATER+ and SX EWATER+ flush systems. These products offer touch-free operation of flush, thus; enhancing hygiene by preventing spread of bacteria. Furthermore, Alcadrain s.r.o., a provider of sanitaryware launched a new range of highly elegant flush plates. These flush plates come with easily replicable WC tablet dispenser.
The COVID-19 had rapidly spread across various countries and regions, causing an enormous impact on the lives of people and the overall community. It began as a human health condition and later became a significant threat to global trade, economy, and finance. The COVID-19 pandemic had halted the production of many components of flushing system in Europe due to lockdown.
Europe flushing system Market

---
By Region
Rest of Europe is the fastest growing market, owing to considerable economic growth in Poland
The economic slowdown initially resulted in reduced spending on various building residential and non-residential building construction projects. However, owing to the introduction of various vaccines, the severity of COVID-19 pandemic has significantly reduced. As of mid-2022 the number of COVID-19 cases have diminished significantly. This has led to the full-fledged reopening of Europe flushing system Market manufacturing companies at their full-scale capacities. Furthermore, it has been more than two years since the outbreak of this pandemic, and many companies have already shown notable signs of recovery.
Europe flushing system Market

---
By Product Type
Pressure-assissted is the fastest growing segment, attributed to its water conservation properties.
In addition, integration of sensors and remotely operation technologies have fueled the development of smart toilets, thereby; providing lucrative growth opportunities. Furthermore, increasing environmental concerns are anticipated to drive the demand for flushing systems that require less water. This is encouraging the flush manufacturers to produce highly efficient flushing systems.
Europe flushing system Market

---
By Technology
Manual is the largest segment, owing to its extensive use in residential applications.
The Europe flushing system market is segmented on the basis of product type, mechanism, end user, and region. By product type, the market is categorized into gravity flush, dual flush, pressure-assisted flush, tornado flush, and others. On the basis of technology type, the market is categorized into manual, sensor, remote control, and waterless flushing technology. By the installation type, the market is categorized into surface flush, rear wall mounting, and others. And, on the basis of end user, it is bifurcated into residential, and commercial. Germany dominated the market in 2021, accounting for the highest revenue share. This is attributed to increase in spending building construction projects for residential and commercial purpose.
Europe flushing system Market

---
By Installation
Surface flush is the largest segment, attributed to its extensive use for residential and commercial applcitions.
Competition Analysis
Key companies profiled in the Europe flushing system market report include Alcadrain s.r.o.,  Jaquar, Jet Vacuum AS, LIXIL Corporation Group (Gorhe AG), Roca Sanitro, S.A, Sanipex Group, Schell GmbH & C0.KG, TOTO Ltd., Verotti Bathroom Culture, and Wirquin Ltd.
Europe flushing system Market

---
By End User
Europe Flushing Systems Market by End User, 2021-2031, ($Million)
Key Benefits For Stakeholders
The report provides an extensive analysis of the current and emerging europe flushing system market trends and dynamics. 
In-depth Europe flushing system market analysis is conducted by constructing market estimations for key market segments between 2021 and 2031.
Extensive analysis of the Europe flushing system market is conducted by following key product positioning and monitoring of top competitors within the market framework.
A comprehensive analysis of all the regions is provided to determine the prevailing of Europe flushing system Market opportunities.
The Europe flushing system market forecast from 2022 to 2031 is included in the report.
The key players within Europe flushing system market are profiled in this report and their strategies are analyzed thoroughly, which help understand the competitive outlook of the Europe flushing system industry.
 Europe flushing system Market Report Highlights
Aspects
Details
BY PRODUCT TYPE

Gravity Flush
Dual Flush
Pressure-Assisted Flush
Tornado Flush
Others

BY TECHNOLOGY

Manual
Sensor
Remote Control
Waterless Flushing System

BY INSTALLATION TYPE

Surface Flush
Rear Wall Mounting
Others

BY END USER

Residential
Non-residential

BY REGION

Europe (UK, Germany, France, Italy, Rest of Europe)

KEY PLAYERS

Alcadrain s.r.o.
Jaquar
Jet Vacuum AS
LIXIL Corporation Group (Gorhe AG)
Roca Sanitro, S.A
Sanipex Group
Schell GmbH & C0.KG
TOTO Ltd.
Verotti Bathroom Culture
Wirquin Ltd.