Europe Fresh Food Packaging Market Outlook-2026
The Europe fresh food packaging market size was valued at $3,718.2 million in 2017 and is expected to reach $4,890.6 million by 2026, registering a CAGR of 3.1% from 2019 to 2026. The vegetable segment leads in terms of Europe fresh food packaging market share and is expected to retain its dominance throughout the forecast period.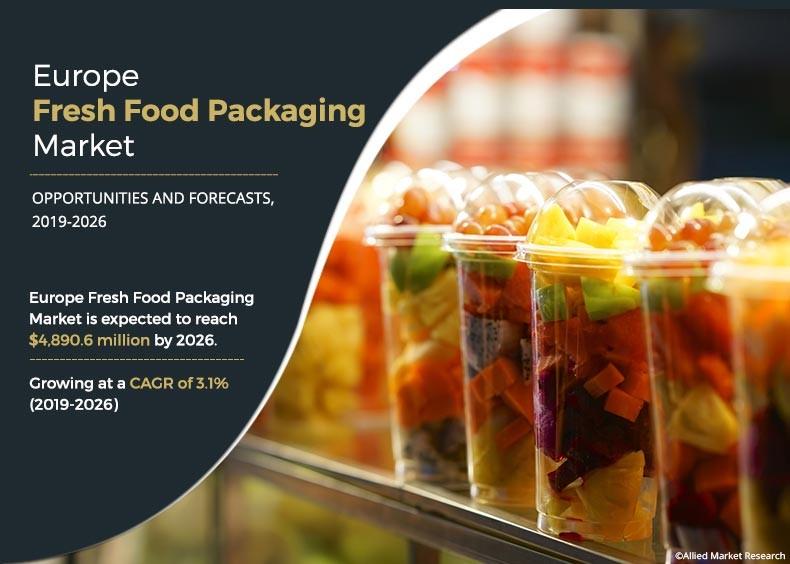 Packaging has now become an indispensable part of our day to day life. The principal requirement for packaging is to protect food products from outside influences and damage along with maintaining high level of freshness and taste. Food packaging helps in retardation of product deterioration, retainment of the beneficial effects of processing, helps in extension of shelf-life, and increasing and maintaining the quality and safety of food. Advancements in food packaging play a significant role from food logistics to maintain freshness. However, rise in need for packaging technology to balance food protection with critical issues, including material and energy costs, increased environmental and social and consciousness, disposal solid waste, and strict regulations on pollutants is the need of an hour. The design and construction of packaging plays a major role in determining the shelf life of a food product. As a result, right selection of materials for packaging and associated technologies plays a vital role in maintenance of product quality and freshness during storage and distribution. Materials that have traditionally been used in food packaging include paper and paperboards, textiles, wood, and plastics. In addition, different varieties of plastics have been introduced in both flexible and rigid forms. Convenience plays a vital role for the selection of packaging for the fresh food. Features such as handling, ease of access, easy disposal; product visibility and reseal- ability plays a vital role for the selection of materials.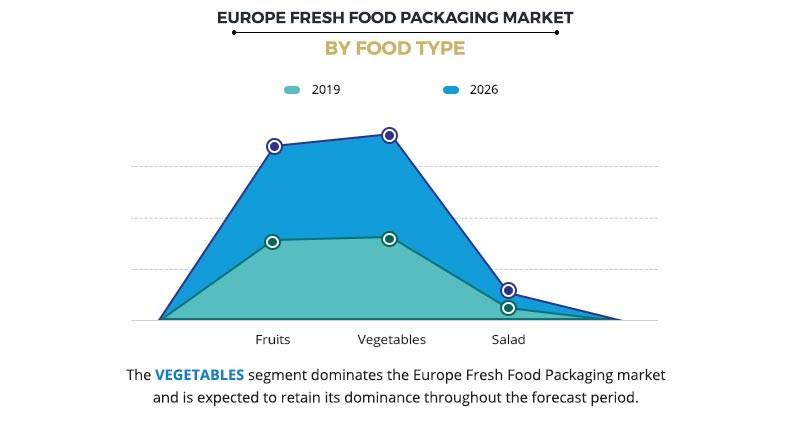 European countries have witnessed strong demand for fresh fruits & vegetables owing to paradigm shift toward organic variant and introduction of packaging that enhances shelf life. For 2018, vegetables and fruits accounted for 14% of the total value of the European Union agricultural production. According to Eurostat, fruits & vegetables are prominent agricultural products in the European countries, with an annual output value exceeding €57 billion in 2018 with vegetables leading the market share. Europe has placed a comprehensive support system, especially through the regulatory framework, to strengthen regional produce and support stakeholders in the agricultural sector. Increase in in fresh food production along with favorable government norms that augment the growth of the fresh fruits & vegetables market which in turn, drives the fresh food packaging market growth in the region.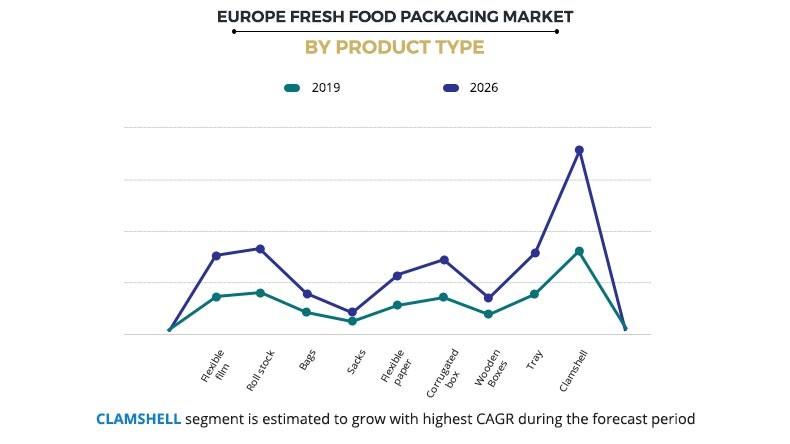 Emergence of modified atmosphere packaging has gained huge traction in the last few years. These types of packaging regulate in-pack gas atmosphere, enhancing freshness and extends shelf life for fresh food products. In addition, these types of packaging provide logistics benefits, counters anaerobic respiration, reduces microbial spoilage and enhances texture, color & freshness. Furthermore, reduced packaging waste of such types of packaging boost the demand for Europe fresh food packaging market. Furthermore, use of biodegradable polymers have gained huge traction in the last few years. Biodegradable polymers may serve several purposes, including the migration of moisture, aromas, & gases and improving the food's mechanical integrity or handling characteristics. While waste generation from packaging has grown in last few years, biodegradable polymers will play a significant role in Europe fresh food packaging market growth.
Manufacturers in the higher echelon are becoming extremely sensitive for investing in technology that is considered environment friendly. Climate changes and raw material shortage have resulted in accelerated search for better concepts for plastic packaging. Bioplastics are new environment friendly alternatives with much greater sustainability features. Introduction of new materials such as PHA, PLA, cellulose, or starch-based materials can be used to provide packaging solutions with completely new functionalities, such as compost ability/biodegradability.
The report focuses on the Europe fresh food packaging market trends, growth prospects, restraints, and prevailing market opportunities. The study provides Porter's five forces analysis to understand the impact of various factors such as competitive intensity of competitors, bargaining power of suppliers, threat of substitutes, threat of new entrants, and bargaining power of buyers of the Europe fresh food packaging market.
Segment review
The Europe fresh food packaging market is segmented based on food type, product type, material type, and country. Based on food type, the Europe fresh food packaging market is classified into fruits, vegetables, and salads. Based on product type, the Europe fresh food packaging market is studied across flexible film, roll stock, bags, sacks, flexible paper, corrugated box, wooden boxes, tray, and clamshell. Based on material, the Europe fresh food packaging market is classified into plastics, wood, paper, textile and others. The Europe fresh food packaging market is studied across Spain, UK, France, Italy, Russia, Germany, and rest of Europe
Some of the key players in the Europe fresh food packaging market are Sonoco Products Company, Hayssen, Inc., Smurfit Kappa Group, Visy, Ball Corporation, Mondi Group, and International Paper Company.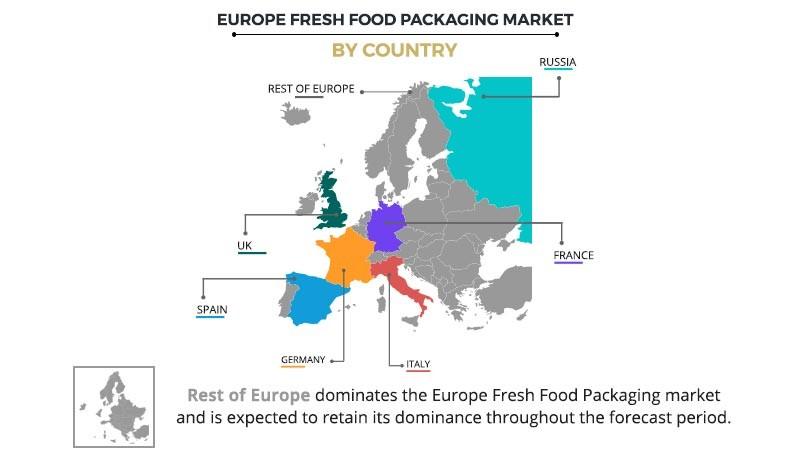 Regional Outlook
UK is at the brim of Brexit and no deal exit might have severe ramifications on the food packaging market. The UK food packaging industry relies heavily on cross-European supply chains. A no deal scenario might result in increased cost of imported raw material, renegotiation of supply contracts, delays in goods arriving and logistics attrition. Furthermore, research report by the UK Trade Policy Observatory shows that UK food and drink exports may decline in value by between 6.9% and 38.4% depending on the eventual Brexit outcome. Trade contraction might have cascading effect to the UK economy, which will get reflected in the Europe fresh food packaging industry as well.
Key Benefits For Europe Fresh Food Packaging Market:
The Europe fresh food packaging market report provides an extensive analysis of the current and emerging trends and opportunities.
The report provides detailed qualitative and quantitative analysis of the current trends and future estimations that help evaluate the prevailing market opportunities in the market.
Europe fresh food packaging market forecast is offered along with information related to key drivers, restraints, and opportunities.
The Europe fresh food packaging market analysis is conducted by following key product positioning and monitoring the top competitors within the market framework.
The report provides extensive qualitative insights on the potential and niche segments or regions exhibiting favorable growth.
 Key Market Segments & Key Market Players
Segments
Sub-segments
By Food Type
By Country

Spain
UK
France
Italy
Russia
Germany
Rest of Europe

Key Market Players
BALL CORPORATION, BARRY-WEHMILLER (HAYSSEN.INC), INTERNATIONAL PAPER COMPANY, MONDI GROUP, SONOCO PRODUCTS COMPANY, SMURFIT KAPPA, VISY