Europe LDPE and LLDPE Market Outlook - 2027
The Europe LDPE and LLDPE market was valued at $10.4 billion in 2019, and is projected to reach $16.8 billion by 2027, growing at a CAGR of 6.1% from 2020 to 2027.
Like most of the industries, the packaging industry, a leading consumer of LDPE and LLDPE is also facing economic and operational disruption due to COVID-19 impact, which affected the Europe LDPE and LLDPE market growth.
The Europe LDPE and LLDPE market consists of two commonly and abundantly used thermoplastics, which include low-density polyethylene (LDPE) and linear low-density polyethylene (LLDPE). LDPE is one of the main types of resin in the polyethylene family, characterized by low density and flexibility. It is formed by polymerization of ethylene. LLDPE can be defined as a sub-type of LDPE formed by blending LDPE with alpha-olefins such as butene, hexene, or octene. The resulting LLDPE resin has a similar density to LDPE but the linearity of HDPE. LDPE is the one of the ideal materials in the manufacturing of films for consumer, industrial, and food packaging applications. Other plastics that are used in packaging include high-density polypropylene (HDPE) and polypropylene (PP). LDPE and LLDPE resins are transformed by processes such as injection molding, film extrusion coating, and blow molding into different products. The high processability of LDPE and LLDPE has increased its use in multiple industry verticals and daily use in applications.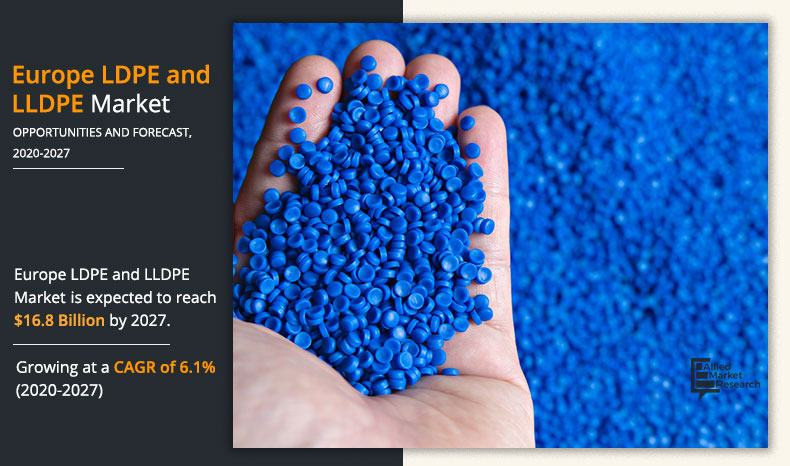 The present demand for LDPE and LLDPE is mainly from the packaging industry that caters to food as non-food consumer & industrial products. Packaging based on LDPE and LLDPE includes rigid packaging formats such as bottles & containers and flexible packaging formats such as films, stand-up pouches, squeezable tubes, cartons, and bag-on-box. Proper selection of packaging is essential to enable its proper transportation and long-term storage. Stretch films are used in the logistics industry to keep packaged goods free of dust, moisture, and dirt along with minimizing physical damages while shipping. LDPE foams are used in various applications such as flooring and acoustic underlay and camping mats. In the agricultural sector, the demand for high crop output has resulted in the use of covering made of plastic, predominantly LDPE. Films function as barrier for evaporation and weed management. The demand for food makes has led to development of specialty LDPE and LLDPE coverings; thereby, increasing product differentiation. In addition, growth of the pharmaceutical industry across Europe has led to surge in usage of LDPE for the packaging of medicines. 
LDPE does not degrade in biological waste processes, such as aerobic composting, anaerobic digestion, or mechanical-biological treatment (MBT). Although LDPE is recycled into compost bins and dispensing bottles, the cost of recycling them is high. Hence, they contribute to a large extent to the plastic waste generated. To minimize the waste generated, The European Union (EU) proposes to regulate the use of plastics. The EU has already banned LDPE-based oxo-degradable plastics. Such regulations are expected to impact the growth of the Europe LDPE and LLDPE market during the forecast period. 
Hence, development of bio-based LDPE and LLDPE resins will provide new opportunities for the LDPE and LLDPE market. In 2019, LyondellBasell and Neste jointly announced the first parallel production of bio-based polypropylene and bio-based low-density polyethylene at a commercial scale. In addition, developing and integrating recycle-ready LDPE and LLDPE resins into post-recycled plastics will help manufacturers and packers achieve circular plastic economy in the long run; thereby, achieving their sustainability goals. This trend will lead to more consumption of post-recycled plastics rather than new plastic manufacturing. Such developments are expected to drive the future demand for LDPE and LDPE plastics during the forecast period. 
The Europe LDPE and LLDPE market is segmented on the basis of type, end-use industry, and country. On the basis of type, the market is divided into low-density polyethylene (LDPE) and linear low-density polyethylene (LLDPE). On the basis of end-use industry, the Europe LDPE and LLDPE market is categorized into packaging, agriculture, construction, geomembranes, and others. The Europe LDPE and LLDPE market is studied across Germany, France, Italy, Spain, the UK, Romania, Bulgaria, Hungary, Slovakia, Slovenia, Czech Republic, Austria, Poland, and rest of Europe.
Europe LDPE and LLDPE market consists of many players. Manufacturers studied and profiled in the report are Agriplast SpA, Braskem S.A., Chevron Corporation, Dow Inc., Exxon Mobil Corporation, Flex Polymers, Ineos Group Holdings S.A., LyondellBasell Industries Holdings B.V., Mitsubishi Chemical Holdings, and Nova Chemicals Corporation. These companies have adopted business expansion and several product launches as a way to reinforce their presence in the European market.
Europe LDPE and LLDPE Market

---
By Country
UK would exhibit a CAGR of 9.6% during 2019-2027.
Europe LDPE and LLDPE Market, By Country
France accounted for the largest market share in 2019, owing to an established food and consumer goods market. UK is projected to be the fastest growing country. The growth of e-commerce sales, rise in demand for packaging from food and beverage manufacturers, increase in demand for personalization of products, and surge in industrial packaging are driving the growth of the LDPE and LLDPE market in the UK.
Europe LDPE and LLDPE Market

---
By Type
LLDPE is projected as the most lucrative segment.
Europe LDPE and LLDPE Market, By Type
LLDPE accounted for the largest Europe LDPE and LLDPE market share in 2019 as well as fastest growing segment, owing to the vast application and advantages of LLDPE over LDPE such as flexibility, tensile strength, and conformability. 
Europe LDPE and LLDPE Market

---
By End-use Industry
Packaging segment is projected as the most lucrative segment.
Europe LDPE and LLDPE Market, By End-Use Industry
The packaging segment holds the major chunk of the Europe LDPE and LLDPE market in 2019 and also the highest CAGR of 6.9%. Packaging includes various rigid and flexible formats of packing used in food and non-food applications. 
Key benefits for stakeholders
The report provides an extensive qualitative and quantitative analysis of the current trends and future estimations of the Europe LDPE and LLDPE market size from 2019 to 2027 to determine the prevailing opportunities.
A comprehensive analysis of the factors that drive and restrict the growth of the market is provided.
Estimations and forecast are based on factors impacting the Europe LDPE and LLDPE market growth, in terms of both value and volume.
Profiles of leading players operating in the market are provided to understand the competitive scenario in the European markets.
The report provides extensive qualitative insights on the significant segments and countries exhibiting favorable market growth.
Impact Of Covid-19 On The Europe Ldpe And Lldpe Market 
The COVID-19 outbreak is an unprecedented shock to the EU economy and society. Although the economic impacts have hit all EU countries, the effects are felt differently by different regions and population groups.
The economic growth disruption has affected consumer patterns, with declining car sales, housing and consumer goods, both a key consumer of LDPE and LLDPE.
Lockdown measures have hampered the tourism industry, in turn, affecting the food & beverage industry as well as the hotel industry. 
As food & beverages are considered to be essential commodities, there has been a local surge in demand for food & beverages. To avoid a shortage, people are stocking essential foods & beverages. 
This has led to increased demand for food packaging such as pouches and cartons.
Since March 2020, there has been rise in demand for LDPE and LLDPE bottles, stand-up pouches, and other dispensing formats for the storage of liquid soaps, sanitizers, and disinfectants. The ongoing pandemic also increased the demand for top handle and side handle containers for chemical storage such as Sodium Hypochlorite, which is a main disinfectant. 
 Europe LDPE and LLDPE Market Report Highlights
Aspects
Details
By Type

Low-Density Polyethylene (LDPE)
Linear Low-Density Polyethylene (LLDPE)

By End Use Industry

Packaging
Agriculture
Construction
Geomembranes
Others

By Country

Europe

UK
Germany
France
Italy
Spain
Romania
Bulgaria
Hungary
Slovakia
Slovenia
Czech Republic
Austria
Poland
Rest of Europe

Key Market Players
MITSUBISHI CHEMICAL HOLDINGS, BRASKEM S.A., CHEVRON CORPORATION, FLEX POLYMERS, NOVA CHEMICALS CORPORATION, DOW INC., EXXON MOBIL CORPORATION, LYONDELLBASELL INDUSTRIES HOLDINGS B.V., INEOS GROUP HOLDINGS S.A., AGRIPLAST SpA