Europe, Middle East & Africa Portable Printer Market Overview :
The Europe, Middle East & Africa Portable printer market was valued at $1,374.0 million in 2017, and is projected to reach $2,183.9 million by 2025, registering a CAGR of 5.8% from 2018 to 2025. In 2017, Europe garnered the highest share in the market. The Middle East & Africa segment is expected to grow at the fastest rate during the forecast period.
Portable printer is a peripheral device, which enables users to generate a hard copy of the data stored in digital devices such as smartphones, tablets, notebooks, computers, or others. It is connected to these digital devices through a universal serial bus (USB), Bluetooth, or Wi-Fi. It is used to print business or personal documents, receipts, labels, barcodes, or others. The features such as easy paper loading, high-speed printing, lightweight & compact design, and portability make it beneficial and easy to use. This evolution in portable printers offers users the flexibility to print documents on demand. For example, ticket printing for a passengers while travelling, receipt printout through the ATM machine, and other applications require quick services.
Portable printer helps in minimizing the administration cost of business by fast and on-demand printing of documents, which acts as a major driver of the Europe and Middle East & Africa portable printers market. Customer satisfaction is ensured by delivering the appropriate documentation as and when required by the client, which further propels the market growth. Moreover, shift in preference from time-consuming traditional business processes to new business processes, which use point-of-transaction printing to improve worker productivity, labeling accuracy, and responsiveness to customer needs drives the demand for portable printers. Furthermore, traditional office printer requires huge space, is inconvenient to move, and necessitates regular & proper maintenance. On the contrary, portable printers or mobile printers are smaller in size, and hence are easily movable. Thus, all these factors significantly contribute toward the growth of the Europe and Middle East & Africa portable printers market.
The key players operating in the portable printers market include Bixolon Co., Ltd., Brothers Industries, Ltd., Canon, Inc., Printek LLC, Fujitsu Limited, Hewlett Packard Enterprise (Hewlett Packard Enterprise Development LP), Honeywell International, Inc., PLR IP Holdings, LLC (Polaroid Corporation), Toshiba Corporation (Toshiba TEC Corporation), and Zebra Technologies Corporation.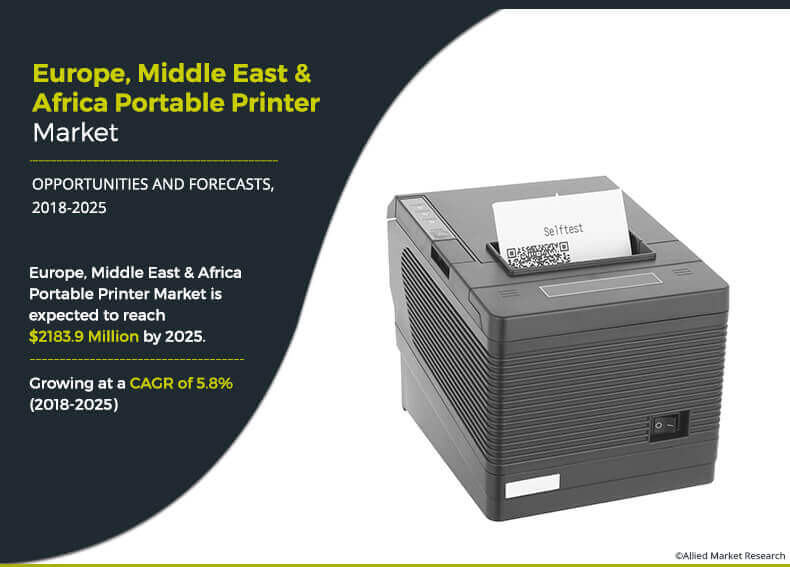 On the basis of technology, the thermal segment occupied the highest market share of 72.8% in 2017. According to industry vertical, the use of portable printer is expected to grow at the fastest CAGR of 7.4% in the transport & logistics sector during the forecast period.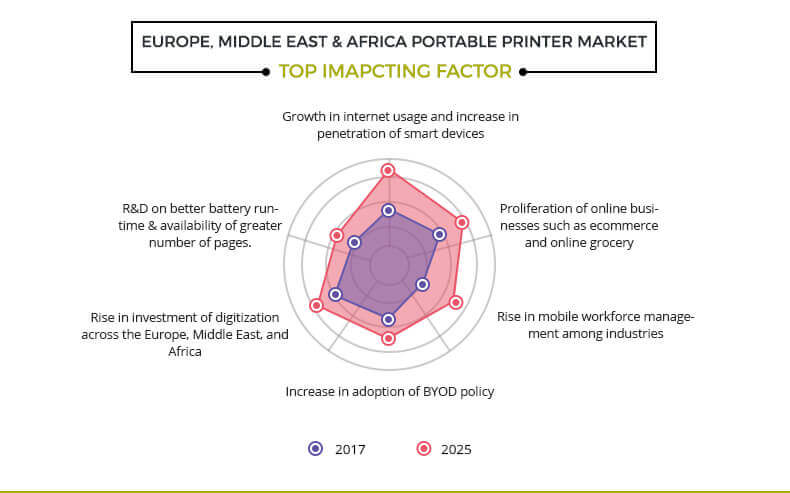 Growth in internet usage & increase in penetration of smart devices
Rise in internet penetration and huge network expansion across suburb & rural regions across the Europe, Middle East, and Africa drive the demand for portable printers. Increase in internet penetration ensures effective data sharing and management process. According to the International Telecommunications Union (ITU), the internet usage in Europe and Arab was 84.2% and 47.2%, respectively, in 2017, whereas international internet bandwidth grew by 72% in Africa. As per the ITU, penetration of internet in Africa is further expected to increase significantly in the near future. In addition, rise in adoption of smart devices, such as tablets and smartphones, provides easy accessibility and flexibility to print documents as per the requirements. Thus, availability of smart & connected devices with high-speed internet drives the adoption of the portable printers, thereby boosting the market growth
Proliferation of online businesses such as e-commerce and online grocery
Rapid digital device penetration and enhanced internet connectivity have led to the development of online shopping companies or websites. For instance, online business platforms in the Middle East are driven by major players such as Algigtz.com and Alshop.com, whereas top e-commerce players in Africa include Zando and Takelot. These online platforms are responsible for warehousing products and providing logistics and product dispatches to the right customer. The warehouse of online stores requires a portable printer for effective management of resource availability. This includes tagging and tracking of resource availability. Thus, effective operations management inside the warehouse, quick receipt generation, and others drive the demand for portable printers.
Rise in investment of digitization across Europe, Middle East, and Africa Digitization is the conversion of analog information into digital information. It leads to improved customer experience; increased marketing, sales, & service effectiveness; improved transaction speed; and improved supplier relationship management. Governments of various countries have been investing a significant amount and promoting the digital mode & medium of communication. This resulted in obsolescence in the printed document trends, thereby restricting the adoption of portable printers. For instance, the World Bank Group launched the Digital Economy for Africa (DE4A) initiative, which brought together African Finance and ICT ministers, global tech & telecom giants, and other dignitaries to discuss the role of digital economy. In addition, online food services, such as Foodpanda, have been providing e-receipts to consumers, replacing the need for mobile printers.
R&D on better battery runtime & availability of greater number of pages
Rise in adoption of digital technology & smart devices across various industry verticals drives the demand for portable printers. Vendors have been using various strategic approaches for innovation, R&D, and design of products and services such as increased battery runtime and availability of higher number of pages to be printed in a single loading. Thus, the need for enhanced flexibility in terms of battery backup and availability of higher number of pages printed through the printer at a remote location are anticipated to drive the market growth during the forecast period. For instance, Zebra offered an extended capacity battery for QLn220/320 and ZQ500 Series printers. Such developments provide lucrative opportunities for the growth of the portable printers market.
Key Benefits For The Europe, Middle East & Africa Portable Printer Market :
This study comprises the analytical depiction of the Europe, Middle East & Africa portable printer market analysis along with the current trends and future estimations to depict the imminent investment pockets.
The overall market potential is determined to understand the profitable trends to gain a stronger foothold.
The report presents information related to the key drivers, restraints, and opportunities of the Europe, Middle East & Africa portable printer market with a detailed impact analysis.
The current market is quantitatively analyzed from 2017 to 2025 to benchmark the financial competency.
Porters five forces analysis illustrates the potency of the buyers and suppliers in the industry.
 Europe, Middle East & Africa Portable Printer Market Report Highlights
Aspects
Details
By Technology
By Industry Vertical

Retail
Transport & Logistics
Healthcare
Telecom
Others

By Region

Europe (UK, Germany, France, Russia, Rest of Europe)
Middle East & Africa (UAE, Saudi Arabia, Qatar, Rest of Middle East, Africa)

Key Market Players
FUJITSU LIMITED, PLR IP HOLDINGS, LLC (POLAROID CORPORATION), HEWLETT PACKARD ENTERPRISE (HEWLETT PACKARD ENTERPRISE DEVELOPMENT LP), CANON, INC., HONEYWELL INTERNATIONAL, INC., TOSHIBA CORPORATION (TOSHIBA TEC CORPORATION), BIXOLON CO., LTD., PRINTEK LLC, ZEBRA TECHNOLOGIES CORPORATION, BROTHER INDUSTRIES, LTD.