Europe Nanomaterial Market Overview:
The Europe Nanomaterial Market generated revenue of $2,536 million in 2015 and is expected to reach $9,078 million by 2022 with a CAGR of 20.0% during 2016-2022. Nanomaterials can be defined as the materials with at least one external dimension in the size range of approximately 1 to 100 nanometers. The report focuses on current market trends and future growth opportunities of nanomaterials, in industries such as paints & coatings, adhesives & sealants, healthcare, energy, electronics & consumer goods, personal care, and others. It also emphasizes the various types of nanomaterials that are commercially available in the market, namely, carbon based (carbon nanotubes, fullerenes & POSS, and graphene), metal and non-metal oxides (titanium dioxide, zinc oxide, silicon dioxide, aluminum oxide, cerium oxide, antimony tin oxide, copper oxide, bismuth oxide, cobalt oxide, iron oxide, magnesium oxide, manganese oxide, and zirconium oxide), metals (silver, gold, nickel, and quantum dots), dendrimers, nanoclay, and nanocellulose. It also analyzes the current market trends of nanomaterials in different countries in Europe and suggests the future growth opportunities by analyzing government regulations & policies, which can further increase the consumer acceptance in that region.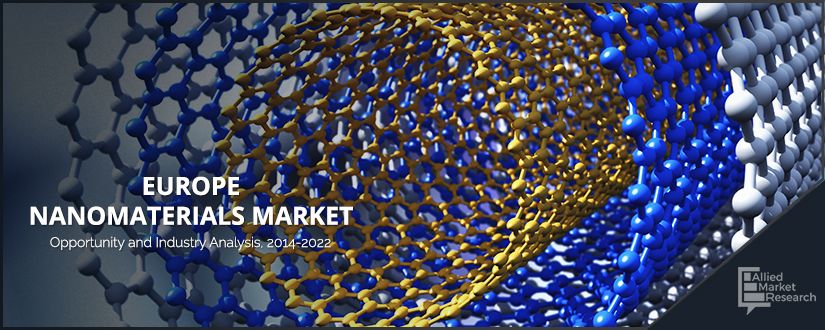 According to the perspective of leading companies, the factors that drive the demand for nanomaterials in various end-user industries are growing investment in research and development, growth in the penetration of nanomaterials in various application industries, and the excellent physio-chemical properties of nanomaterials. Nanomaterials are usually added in small quantities to improve the performance of the base material. However, factors such as stringent environmental regulations and high price of nanomaterials may hamper the market growth. Currently, the paints & coatings, adhesives & sealants, electronics & consumer goods, and personal care segments are the major end-user markets for nanomaterials.
Europe Nanomaterials Market Segmentation

Key players in the Europe nanomaterials market have adopted different business strategies such as capacity and business expansion, partnerships, mergers, acquisitions, and product & application development to survive in the global competitive market. The market players profiled in this report are nanomaterials manufacturers who either use it internally in some applications, or supply it to other end-users in the industry. The data pertaining to market players and their strategic moves are gathered through press releases of the respective companies, various blogs available on their websites, and primary calls made to the experts in the industry.
Top Investment Pockets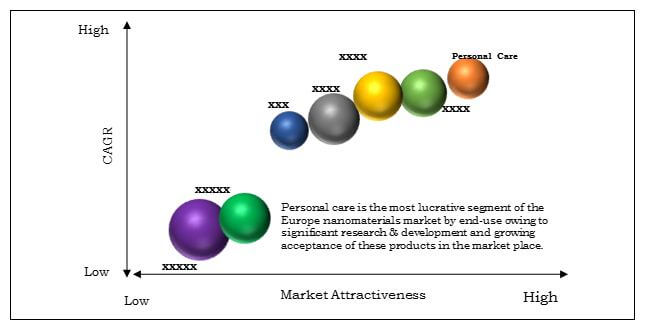 In the Europe nanomaterials market, with respect to by end-user industries, personal care is the most lucrative segment, followed by electronics & consumer goods, health care & life science, and others. Significant investment towards research and development by major companies along with consumer acceptance is driving the demand for nanomaterials in the personal care industry. In the European countries REACH and other regulatory bodies have stated separate guidelines for use of nanomaterials in personal care industry, to control and safeguard the interest of consumers.
Opportunities in Europe Nanomaterials Market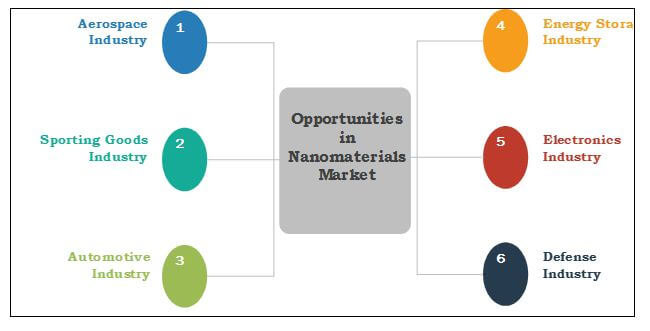 In the aerospace industry, aircraft manufacturers are striving towards making aerospace parts stronger, tougher, and long-lasting. Recent research has revealed that nano-enabled products in aircrafts can increase fatigue life by 200 to 300%. Components fabricated with carbon nanotubes reinforced polymers can deliver improved mechanical, electrical, and thermal properties. Similarly, polymer-silicate nanocomposites can be used in fuel storage tanks. Increased commercial application of nanomaterials in the aerospace industry will provide significant opportunity to the material suppliers and part fabricators.
Engineered nanomaterials are rapidly gaining wide acceptance in the form of cosmetics, food packaging, drug delivery systems, therapeutics, biosensors, and others. The worldwide production of nanomaterials has crossed the mark of 3.5 million tons and is expected to increase significantly in the coming years. Anything can be toxic at a higher dose, but the more important aspect is how toxic these nanomaterials are at the potential concentration at which they are used. It has been found that exposure to high levels of silvers over a long period of time can result in argyria; a condition in which the skin and other organs get decolorized to a bluish-gray color. However, to study the toxicity in and impact of nanomaterials on humans and the environment requires proper gathering of data and their analysis.
Nanomaterials are used in applications such as solar cells, li-ion batteries, supercapacitors, and hydrogen storage systems due to their huge surface to volume ratio, favorable transport properties, altered physical properties, and confinement effects. The benefits that nanomaterials deliver in energy storage include:
Providing a large surface area to boost the electrochemical reaction or molecular adsorption occurring at the solidliquid or solidgas interface
Generating optical effects to improve optical absorption in solar cells
Giving rise to high crystallinity and/or porous structure to facilitate the electron or ion transport and electrolyte diffusion, so as to ensure the electrochemical process occurs with high efficiency.
Europe is one of the prominent regions in terms of usage of nanomaterials and is forecast to have significant growth in demand during the forecast period. The decreasing prices of nanomaterials due to increasing mass production are responsible for the robust growth of the market.
UK Nanomaterials Market: 2014-2022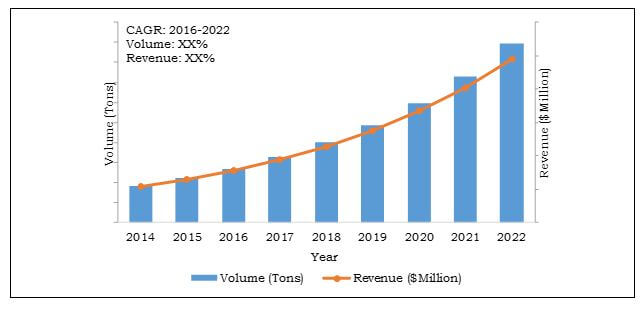 Key players profiled in this report include Ahlstrom, Air Products and Chemicals Inc., Arkema Group, CNano Technologies Ltd., Daikin Chemicals, DuPont, Fuso Chemical Co. Ltd., Nanoco, Nanocyl S.A., NanoIntegris, Nanophase Technologies Inc., Nanosys Inc., TDA Research, and Umicore Nanomaterials are provided in this report.
Key Benefits for Europe Nanomaterials Market:
Porter's five forces analysis helps to analyze the potential of buyers & suppliers and the competitive scenario of the industry for strategy building.
It outlines the current trends and future scenario of the market from 2016 to 2022 to understand the prevailing opportunities and potential investment pockets.
Major countries in each region have been mapped according to their individual revenue contribution to the global/regional market.
The key drivers, restraints, and opportunities and their detailed impact analyses are elucidated in the study.
The profiles of key players along with their key strategic developments are enlisted in the report
 Europe Nanomaterials Market Report Highlights
Aspects
Details
By Type of Material

Carbon-based Nanomaterials

Carbon Nanotubes
Fullerenes
Graphene

Metal & Non-Metal Oxides

Nano Titanium Dioxide
Nano Zinc Oxide
nano Silicon Dioxide
Nano Aluminium Oxide
Nano Cerium Oxide
Nano Antimony Tin Oxide
Nano Copper Oxide
Nano Bismuth Oxide
Nano Cobalt Oxide
Nano Iron Oxide
Nano Magnesium Oxide
Nano Manganese Oxide
Nano Zirconium Oxide

Metal Based Nanomaterials

Nano Silver
Nano Gold
Nano Nickel
Quantum Dots

Dendrimers Nanomaterials
Nanoclay
Nanocellulose

By End User

Paints & Coatings
Adhesives & Sealants
Health Care & Life Science
Energy
Electronics & Consumer Goods
Personal Care
Others

By Country

UK
Germany
France
Spain
Italy
Rest of Europe

Key Market Players
Ahlstrom Corporation, Air Products and Chemicals, Inc., THE ARKEMA GROUP, CNANO TECHNOLOGY LIMITED, DAIKIN INDUSTRIES, Ltd., E. I. DU PONT DE NEMOURS AND COMPANY, FUSO CHEMICAL CO., LTD., Nanoco Technologies Limited, NANOCYL S.A., NanoIntegris Inc., Nanophase Technologies Corporation, NANOSYS, INC, TDA Research, Inc., Umicore
Other players in the value chain include
Sigma Aldrich, Bayer AG, 3M, Wacker Chemie AG, Momentive Performance Materials Inc.