COVID-19
Pandemic disrupted the entire world and affected many industries.
Get detailed COVID-19 impact analysis on the Europe Pilates & Yoga Studios Market
Request Now !
The Europe Pilates & yoga studios market size was valued at $26,991.0 million in 2019, and is projected to reach $49,446.3 million by 2027, growing at a CAGR of 13.05% from 2021 to 2027.
Pilates & yoga studios offer workout sessions with instructors, providing coaching and motivation needed to achieve fitness. Yoga is a combination of physical, mental, and spiritual discipline that was practiced in India since ancient times. It is a spiritual discipline based on an extremely subtle science, which focuses on bringing harmony between mind and body. Pilates is a form of low-impact exercise that aims to strengthen muscles while improving postural alignment and flexibility. Pilates classes offer customer private session for practicing Pilates, along with necessary equipment and instructor to guide. The customers along with the instructors are able to set goals, and work on the body strength and muscle, which need improvement.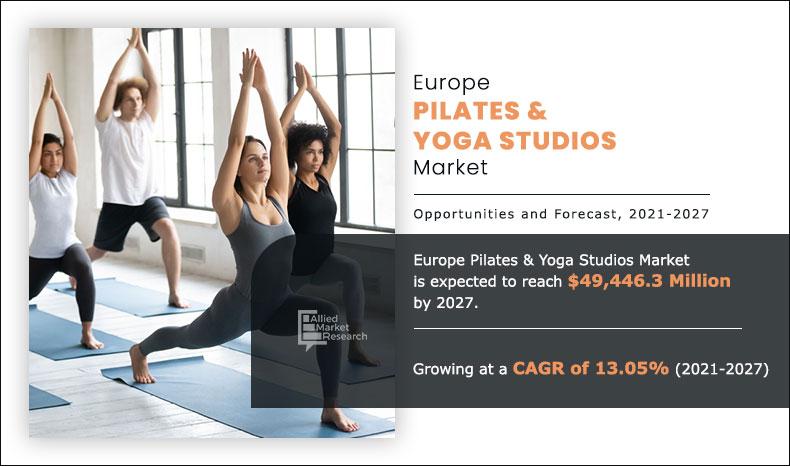 Get more information on this report : Request Sample Pages
The training of Pilates & yoga helps reduce stress, cultivate balanced posture, and build strength and support in the abdomen and low back for better overall health and wellbeing. In Pilates & yoga accreditation training studio, core yoga offers the benefits of both the rich teachings of yoga, and Pilates offers core control and dynamic strengthening of body. 
Yoga has also found its way in almost every element of wellness travel and has seen the launch of many new travel concepts such as Yoga Cruises, Yoga & Surf, Yoga & Detox, Yoga & Diving, Yoga & Sports, and Yoga & Wine along with the more popular Yoga & Meditation and Yoga & Ayurveda programs. In Europe, the fitness sector, including gyms, recreational activity centers, yoga centers, Pilates studios, fitness boutiques, and health clubs, is a mature market. Countries such as Germany, the UK, France, and Italy are among the world's largest fitness markets. 
Various recreational and fitness well-being options are available in the region. Fitness enthusiasts can choose from a wide range of activities, from the most advanced gym equipment, functional fitness, outdoor fitness, Pilates studios, yoga classes, and group training to dance fitness and online options. European fitness and recreational industry has strong presence of their own national brands and leaders, where countries such as Spain and Italy, are served by a large number of smaller enterprises in the fitness sector. However, the UK is often viewed as the regional leader, being a dynamic and competitive market where customers adapt to the latest trends and exercise innovations. Moreover, international players test their business models in the UK before they disseminate in the rest of Europe.
Increase in awareness toward regular physical activities to maintain healthy lifestyle encourage individuals for exercising on a regular basis, which, in turn, is anticipated to propel the Europe Pilates & yoga studios market growth. In addition, majority of the geriatric population in Europe is participating in yoga to improve their cardiovascular conditions. This trend significantly offers lucrative Europe Pilates & yoga studios market opportunities.
Obesity is associated with a number of health issues or disorders such as sudden cardiac arrest, hypertension, hypotension, and diabetes. Therefore, to lose weight, reduce stress, and improve blood circulation, obese people tend to participate in yoga, which supports the Europe Pilates & yoga studios market growth. Moreover, Tech-enabled high-end fitness offerings are being backed by strong social media credentials and fitness studios are connecting their customers through various social media platforms. With the availability of online yoga and Pilates classes on their hands, customers are accepting this digital trend, and hence the industry is shifting from physical to digital platforms.
The Europe Pilates & yoga studios market segmentation is based on activity, and country. Based on activity, the market is categorized into yoga classes, Pilates classes, Pilates & yoga accreditation training and merchandise sales. Country wise, the market is studied across Germany, France, UK, Italy, Spain, and Rest of Europe
Europe Pilates & Yoga Studios Market

---
By Activity Type
Yoga Classes

segment dominates the market and is expected to retain its dominance throughout the forecast period.
Get more information on this report : Request Sample Pages
The yoga classes segment occupied the highest Europe Pilates & yoga studios market share, as yoga is known to counter-balance to the stressful and overworked lifestyle, which lacks proper exercise and relaxation. Pilates are the second most preferred exercise, owing to their benefits of strengthening muscles.
Germany was the highest revenue contributor to the Europe Pilates & yoga studios market share with $5,111.2 million in 2019, and is estimated to reach $9,132.6 Million by 2027, registering a CAGR of 12.7% Key leading players operating in Pilates and Yoga Studios industry are Body & Soul Yoga Club, Core Pilates, Cheltenham Pilates & Yoga, Fitness Unlimited, Flex Studio, Hummingbird Pilates & Yoga, LV Yoga, Fareham, M Pilates+Yoga, Pilates Plus LLC and Sandstone Yoga & Pilates.
Europe Pilates & Yoga Studios Market

---
By Country
Germany dominates the market in 2019 and is expected to grow with a CAGR of 12.7% during the forecast period
Get more information on this report : Request Sample Pages
COVID-19 Impact and analysis on the market
The outbreak of COVID-19 pandemic had led to partial or complete shutdown of production facilities, which do not come under essential goods, owing to prolonged lockdown in major countries such as the U.S., China, Japan, India, and Germany. It has led to either closure or suspension of their production activities in most of the industrial units across the world.
With the COVID-19 affecting fitness and recreation activities industry adversely, some of the observations that are analyzed in the 2020 are as follows:
One of the top Europe pilates & yoga studios market trend is surge in demand for digital classes. With all the extra steps and precautions that in-person offline classes will have to take, many studio owners are deciding to shift toward digital options. 
COVID-19 has accelerated adoption of a hybrid model of online/in-person workouts that more brick-and-mortar studio owners and Pilates studio owners are likely to retain when the pandemic recedes. 
Fitness club owners, yoga studios owners, and boutique fitness operators, who were experiencing decline in their memberships have quickly caught on, with majority of them now offering on-demand and live stream group workouts. 
The upward trend for accessing digital content versus the attendance in physical yoga classes was inevitable given the COVID-19 backdrop.
As more employers are working from home in unprecedented numbers, more consumers will incorporate new practices for both self-care and cleaning into their personal spaces. Grabbing on opportunities offered by digital platforms will be the key strategy for market players to bring their businesses back to normal and expand to new horizons.
Key Benefits For Stakeholders
The report provides an extensive Europe Pilates & yoga studios market analysis of the current and emerging market trends and opportunities in the Europe Pilates & yoga studios market.
The report provides detailed qualitative and quantitative Europe Pilates & yoga studios market analysis of current Europe Pilates and yoga studio market trends and future estimations that help evaluate the prevailing market opportunities.
A comprehensive analysis of the factors that drive and restrict the growth of the Europe Pilates & yoga studios market is provided.
An extensive analysis of the market is conducted by following key product positioning and monitoring the top competitors within the market framework.
The report provides extensive qualitative insights on the potential segments or regions exhibiting favourable growth and showing Europe Pilates & yoga studios market forecast.
Key Market Segments
By Activity Type
By Country

Germany
France
UK
Italy
Spain
Rest of Europe
CHAPTER 1:INTRODUCTION
1.1.Report description
1.2.Key benefits for the stakeholder
1.3.Key market segments
1.4.Research methodology
1.4.1.Primary research
1.4.2.Secondary research
1.4.3.Analyst tools and models
CHAPTER 2:EXECUTIVE SUMMARY
2.1.Key findings
2.2.CXO perspective
CHAPTER 3:MARKET OVERVIEW
3.1.Market definition and scope
3.2.Key findings
3.2.1.Top player positioning
3.2.2.Top impacting factors
3.2.3.Top investment pockets
3.3.Porter's five force analysis
3.3.1.Bargaining power of suppliers
3.3.2.Bargaining power of buyers
3.3.3.Threat of new entrants
3.3.4.Threat of substitutes
3.3.5.Intensity of competitive rivalry
3.4.Market dynamics
3.4.1.Drivers
3.4.1.1.Rise in health awareness
3.4.1.2.Increase in obese population
3.4.1.3.Digitalization influencing the demand of Pilates and yoga studio
3.4.1.4.Upsurge in number of fitness enthusiasts
3.4.1.5.Health benefits associated with yoga and Pilates
3.4.1.6.Increase in celebrity endorsement & promotion
3.4.1.7.Initiation of International Yoga Day and other government initiatives
3.4.2.Restraint
3.4.2.1.Presence of other alternatives such as multi-specialty gym, fitness centers, and therapy classes
3.4.3.Opportunities
3.4.3.1.Increase in disposable income
3.4.3.2.Promotion of yoga for male participants
3.5.COVID-19 Impact and analysis on the market
CHAPTER 4:EUROPE PILATES AND YOGA STUDIOS MARKET, BY ACTIVITY TYPES
4.1.Overview
4.1.1.Market size and forecast
4.2.Yoga classes
4.2.1.Key market trends, growth factors and opportunities
4.2.2.Market size and forecast
4.2.3.Market analysis by country
4.3.Pilates classes
4.3.1.Key market trends, growth factors, and opportunities
4.3.2.Market size and forecast
4.3.3.Market analysis by country
4.4.Pilates & yoga accreditation training
4.4.1.Key market trends, growth factors, and opportunities
4.4.2.Market size and forecast
4.4.3.Market analysis by country
4.5.Merchandise sales
4.5.1.Key market trends, growth factors, and opportunities
4.5.2.Market size and forecast
4.5.3.Market analysis by country
CHAPTER 5:EUROPE PILATES AND YOGA STUDIOS MARKET, BY COUNTRY
5.1.Europe
5.1.1.Key market trends, growth factors and opportunities
5.1.2.Market size and forecast by country
5.1.3.Germany
5.1.3.1.Market size and forecast, by activity type
5.1.4.France
5.1.4.1.Market size and forecast, by activity type
5.1.5.UK
5.1.5.1.Market size and forecast, by activity type
5.1.6.Italy
5.1.6.1.Market size and forecast, by activity type
5.1.7.Spain
5.1.7.1.Market size and forecast, by activity type
5.1.8.Rest of Europe
5.1.8.1.Market size and forecast, by activity type
CHAPTER 6:COMPETITION LANDSCAPE
6.1.Top winning strategies
6.2.Product mapping
6.3.Competitive dashboard
6.4.Competitive heatmap
6.5.Key developments
6.5.1.Business expansion
6.5.2.Product launch
CHAPTER 7:COMPANY PROFILES
7.1.BODY & SOUL YOGA CLUB
7.1.1.Company overview
7.1.2.Key executives
7.1.3.Company snapshot
7.1.4.Product portfolio
7.2.CORE PILATES
7.2.1.Company overview
7.2.2.Key executives
7.2.3.Company snapshot
7.2.4.Product portfolio
7.3.CHELTENHAM PILATES & YOGA
7.3.1.Company overview
7.3.2.Key executives
7.3.3.Company snapshot
7.3.4.Product portfolio
7.3.5.Key strategic moves and developments
7.4.FITNESS UNLIMITED
7.4.1.Company overview
7.4.2.Company snapshot
7.4.3.Product portfolio
7.5.FLEX STUDIO
7.5.1.Company overview
7.5.2.Key executive
7.5.3.Company snapshot
7.5.4.Product portfolio
7.6.HUMMINGBIRD PILATES & YOGA
7.6.1.Company overview
7.6.2.Key executives
7.6.3.Company snapshot
7.6.4.Product portfolio
7.6.5.Key strategic moves and developments
7.7.LV YOGA, FAREHAM
7.7.1.Company overview
7.7.2.Key executives
7.7.3.Company snapshot
7.7.4.Product portfolio
7.7.5.Key strategic moves and developments
7.8.M PILATES+YOGA
7.8.1.Company overview
7.8.2.Key executive
7.8.3.Company snapshot
7.8.4.Product portfolio
7.9.PILATES PLUS
7.9.1.Company overview
7.9.2.Key executive
7.9.3.Company snapshot
7.9.4.Product portfolio
7.10.SANDSTONE YOGA & PILATES
7.10.1.Company overview
7.10.2.Key executives
7.10.3.Company snapshot
7.10.4.Product portfolio
7.10.5.Key strategic moves and developments
LIST OF TABLES
TABLE 01.EUROPE PILATES AND YOGA STUDIOS MARKET, BY ACTIVITY TYPE, 2019–2027 ($MILLION)
TABLE 02.EUROPE PILATES & YOGA STUDIOS MARKET FOR YOGA CLASSES, 2019–2027 ($MILLION)
TABLE 03.EUROPE PILATES & YOGA STUDIOS MARKET FOR PILATES CLASSES, 2019–2027 ($MILLION)
TABLE 04.EUROPE PILATES & YOGA STUDIOS MARKET FOR PILATES & YOGA ACCREDITATION TRAINING, 2019–2027 ($MILLION)
TABLE 05.EUROPE PILATES & YOGA STUDIOS MARKET FOR MERCHANDISE SALES, 2019–2027 ($MILLION)
TABLE 06.EUROPE PILATES AND YOGA STUDIOS MARKET, BY COUNTRY, 2019–2027 ($MILLION)
TABLE 07.GERMANY PILATES AND YOGA STUDIOS MARKET, BY ACTIVITY TYPE, 2019–2027 ($MILLION)
TABLE 08.FRANCE PILATES AND YOGA STUDIOS MARKET, BY ACTIVITY TYPE, 2019–2027 ($MILLION)
TABLE 09.UK PILATES AND YOGA STUDIOS MARKET, BY ACTIVITY TYPE, 2019–2027 ($MILLION)
TABLE 10.ITALY PILATES AND YOGA STUDIOS MARKET, BY ACTIVITY TYPE, 2019–2027 ($MILLION)
TABLE 11.SPAIN PILATES AND YOGA STUDIOS MARKET, BY ACTIVITY TYPE, 2019–2027 ($MILLION)
TABLE 12.REST OF EUROPE PILATES AND YOGA STUDIOS MARKET, BY ACTIVITY TYPE, 2019–2027 ($MILLION)
TABLE 13.BODY & SOUL YOGA CLUB: KEY EXECUTIVES
TABLE 14.BODY & SOUL YOGA CLUB: COMPANY SNAPSHOT
TABLE 15.BODY & SOUL YOGA CLUB: PRODUCT PORTFOLIO
TABLE 16.CORE PILATES: KEY EXECUTIVES
TABLE 17.CORE PILATES: COMPANY SNAPSHOT
TABLE 18.CORE PILATES: PRODUCT PORTFOLIO
TABLE 19.CHELTENHAM PILATES & YOGA: KEY EXECUTIVES
TABLE 20.CHELTENHAM PILATES & YOGA: COMPANY SNAPSHOT
TABLE 21.CHELTENHAM PILATES & YOGA: PRODUCT PORTFOLIO
TABLE 22.FITNESS UNLIMITED: COMPANY SNAPSHOT
TABLE 23.FITNESS UNLIMITED: PRODUCT PORTFOLIO
TABLE 24.FLEX STUDIO.: KEY EXECUTIVE
TABLE 25.FLEX STUDIO.: COMPANY SNAPSHOT
TABLE 26.FLEX STUDIO: PRODUCT PORTFOLIO
TABLE 27.HUMMINGBIRD PILATES & YOGA: KEY EXECUTIVES
TABLE 28.HUMMINGBIRD PILATES & YOGA: COMPANY SNAPSHOT
TABLE 29.HUMMINGBIRD PILATES & YOGA PRODUCT PORTFOLIO
TABLE 30.LV YOGA, FAREHAM: KEY EXECUTIVES
TABLE 31.LV YOGA, FAREHAM: COMPANY SNAPSHOT
TABLE 32.LV YOGA, FAREHAM: PRODUCT PORTFOLIO
TABLE 33.M PILATES+YOGA: KEY EXECUTIVE
TABLE 34.M PILATES+YOGA: COMPANY SNAPSHOT
TABLE 35.M PILATES+YOGA: PRODUCT PORTFOLIO
TABLE 36.PILATES PLUS: KEY EXECUTIVE
TABLE 37.PILATES PLUS: COMPANY SNAPSHOT
TABLE 38.PILATES PLUS: PRODUCT PORTFOLIO
TABLE 39.SANDSTONE YOGA & PILATES: KEY EXECUTIVES
TABLE 40.SANDSTONE YOGA & PILATES: COMPANY SNAPSHOT
TABLE 41.SANDSTONE YOGA & PILATES: PRODUCT PORTFOLIO
LIST OF FIGURES
FIGURE 01.KEY MARKET SEGMENTS
FIGURE 02.PILATES & YOGA STUDIOS MARKET SNAPSHOT
FIGURE 03.TOP IMPACTING FACTORS OF FITNESS EQUIPMENT MARKET, 2019–2027
FIGURE 04.TOP INVESTMENT POCKETS, BY ACTIVITY TYPE 2019
FIGURE 05.LOW BARGAINING POWER OF SUPPLIERS
FIGURE 06.MODERATE BARGAINING POWER OF BUYERS
FIGURE 07.HIGH THREAT OF NEW ENTRANTS
FIGURE 08.MODERATE-TO-HIGH THREAT OF SUBSTITUTES
FIGURE 09.MODERATE-TO-HIGH INTENSITY OF COMPETITIVE RIVALRY
FIGURE 10.PILATES & YOGA STUDIOS MARKET: DRIVERS, RESTRAINTS, AND OPPORTUNITIES, 2019–2027
FIGURE 11.EUROPE PILATES AND YOGA STUDIOS MARKET SHARE, BY ACTIVITY TYPES, 2019(%)
FIGURE 12.COMPARATIVE SHARE ANALYSIS OF EUROPE PILATES & YOGA STUDIOS MARKET FOR YOGA CLASSES, BY COUNTRY, 2019 & 2027 (%)
FIGURE 13.COMPARATIVE SHARE ANALYSIS OF EUROPE PILATES AND YOGA STUDIOS MARKET FOR PILATES CLASSES, BY COUNTRY, 2019 & 2027 (%)
FIGURE 14.COMPARATIVE SHARE ANALYSIS OF EUROPE PILATES & YOGA STUDIOS MARKET FOR PILATES & YOGA ACCREDITATION TRAINING, BY COUNTRY, 2019 & 2027 (%)
FIGURE 15.COMPARATIVE SHARE ANALYSIS OF EUROPE PILATES & YOGA STUDIOS MARKET FOR MERCHANDISE SALES, BY COUNTRY, 2019 & 2027 (%)
FIGURE 16.EUROPE PILATES AND YOGA STUDIOS MARKET SHARE BY COUNTRY, 2019(%)
FIGURE 17.GERMANY PILATES AND YOGA STUDIOS MARKET, 2019–2027 ($MILLION)
FIGURE 18.FRANCE PILATES AND YOGA STUDIOS MARKET, 2019–2027 ($MILLION)
FIGURE 19.UK PILATES AND YOGA STUDIOS MARKET, 2019–2027 ($MILLION)
FIGURE 20.ITALY PILATES AND YOGA STUDIOS MARKET, 2019–2027 ($MILLION)
FIGURE 21.SPAIN PILATES AND YOGA STUDIOS MARKET, 2019–2027 ($MILLION)
FIGURE 22.REST OF EUROPE PILATES AND YOGA STUDIOS MARKET, 2019–2027 ($MILLION)
FIGURE 23.TOP WINNING STRATEGIES, BY YEAR, 2018–2021*
FIGURE 24.TOP WINNING STRATEGIES, BY DEVELOPMENT, 2018–2021* (%)
FIGURE 25.TOP WINNING STRATEGIES, BY COMPANY, 2018–2021*
FIGURE 26.PRODUCT MAPPING OF TOP 10 KEY PLAYERS
FIGURE 27.COMPETITIVE DASHBOARD OF TOP 10 KEY PLAYERS
FIGURE 28.COMPETITIVE HEATMAP OF TOP 10 KEY PLAYERS