The Europe Pilates & yoga studios market was valued at $15,384.9 million in 2020, and is projected to reach $71,156.6 million by 2030, growing at a CAGR of 13.0% from2021 to 2030. Pilates & yoga studios offer workout sessions with instructors, providing coaching and motivation needed to achieve fitness. The report covers the study of the Pilates & yoga studios market along with type of activities and geographic prospects.
Increase in health awareness and rise in need for active, healthy lifestyle across Europe are the key drivers of the Pilates & yoga studios market. Sedentary lifestyle and changes in eating habits lead to increased health risks. Therefore, increase in awareness toward regular physical activities to maintain healthy lifestyle encourage individuals for exercising on a regular basis, which, in turn, is anticipated to propel the growth of the Pilates & yoga studios market. In addition, majority of the geriatric population in Europe is participating in yoga to improve their cardiovascular conditions. This trend significantly contributes toward the growth of the market.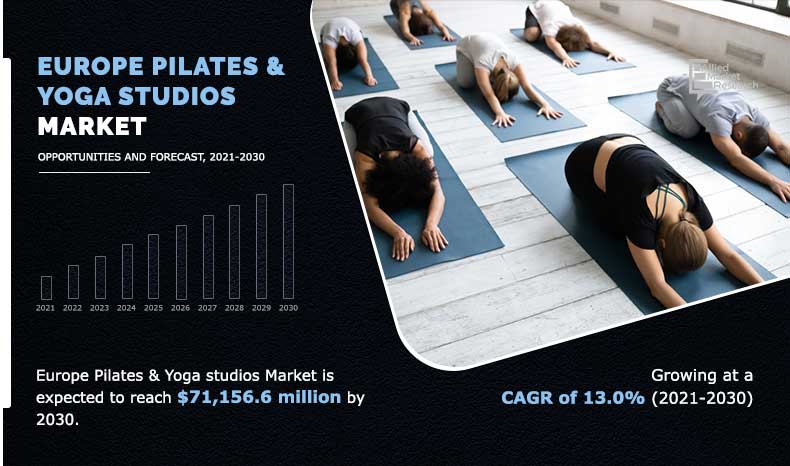 Alarming rise has been witnessed in the prevalence of obesity in Europe, especially in urban areas. According to the WHO, there has been a startling increase in the number of obese people worldwide. In 2016, Europe's 51.6% of adults aged 18 years and above were overweight and 15.9% were obese. Population in Europe aged 75 or over have higher the share of obese persons. Moreover, the obesity shares in Europe stood at 22.1% for people aged 65 to 74. Obesity is associated with a number of health issues or disorders such as sudden cardiac arrest, hypertension, hypotension, and diabetes. Therefore, to lose weight, reduce stress, and improve blood circulation, obese people tend to participate in yoga, which supports the market growth.
Covid-19 Impact Analysis:
With the COVID-19 affecting fitness and recreation activities industry adversely, some of the observations that are analyzed in the 2020 are as follows:
One of the top trends that is actively growing in the yoga and fitness industry is surge in demand for digital classes. With all the extra steps and precautions that in-person offline classes will have to take, many studio owners are deciding to shift toward digital options. 
COVID-19 has accelerated adoption of a hybrid model of online/in-person workouts that more brick-and-mortar studio owners and Pilate's studio owners are likely to retain when the pandemic recedes. 
Fitness club owners, yoga studios owners, and boutique fitness operators, who were experiencing decline in their memberships have quickly caught on, with majority of them now offering on-demand and live stream group workouts. 
The upward trend for accessing digital content versus the attendance in physical yoga classes was inevitable given the COVID-19 backdrop.
The Europe Pilates & yoga studios market is segmented into activity type. Based on activity type, the market is segmented into yoga classes, Pilate's classes, Pilates & yoga accreditation training, reformer Pilates and merchandise sale. Based on country, it is analyzed across Germany, France, the UK, Italy, Spain, and Rest of Europe.
Europe Pilates & Yoga Studios Market Share, By Activity Type
Based on activity, the yoga classes segment occupied the highest market share, as yoga is known to counter-balance to the stressful and overworked lifestyle, which lacks proper exercise and relaxation. Pilates are the second most preferred exercise, owing to their benefits of strengthening muscles. Western European nations, mainly led by the UK, Germany, France, and Italy, have moderate rates of participation in physical activity sector (36-57%), and they are one of the top ten countries for physical activity expenditures by virtue of their population size and consumer spending.
Some of the key players in the Pilates and yoga industry outside Europe include Endurance Pilates & Yoga, Core Pilates & Yoga Studio, Breathe Pilates & Yoga, Pure International, Alona Pilates, Authentic Pilates Ltd, The flow yoga and Pilates, Azulfit, The Movement Studio, Power Pilates Studio, Absolute Pilates SA and Pilates Unlimited.
Europe Pilates & Yoga Studios Market

---
By Product Type
Yoga classes segment would exhibit the highest CAGR of 13.8% during 2021-2030, owing to yoga is known to counter-balance to the stressful and overworked lifestyle, which lacks proper exercise and relaxation.
Key Benefits For Stakeholders
This report provides quantitative analysis of the current Europe Pilates & yoga studios market trends, estimations, and dynamics from 2020 to 2030, which assist to identify the prevailing Europe Pilates & yoga studios market opportunities. 
Major countries in each region have been mapped based on the revenue contribution to the Europe market. 
Market player positioning of the industry has been provided to provide a clear understanding of their competitive strengths.
The Porter's five forces analysis is used to illustrate the potential of suppliers and buyers in the industry.
Comprehensive analysis of factors that drive and restrict the growth of Europe Pilates & yoga studios market is provided. 
 Europe Pilates & Yoga Studios Market Report Highlights
Aspects
Details
By Activity Type

yoga classes
Pilate's classes
Pilates & yoga accreditation training
reformer Pilates
merchandise sales

Key Market Players
FLEX STUDIO, SANDSTONE YOGA & PILATES, BODY & SOUL YOGA CLUB, HUMMINGBIRD PILATES & YOGA, FITNESS UNLIMITED, LV YOGA, FAREHAM, M PILATES+YOGA, CORE PILATES, PILATES PLUS, CHELTENHAM PILATES & YOGA