Europe Residential Dehumidifier Market Overview:
Europe Residential Dehumidifier Market size was valued at $85.28 million in 2016 to reach $145.48 million by 2023, and is anticipated to grow at a CAGR of 8.1% from 2017 to 2023.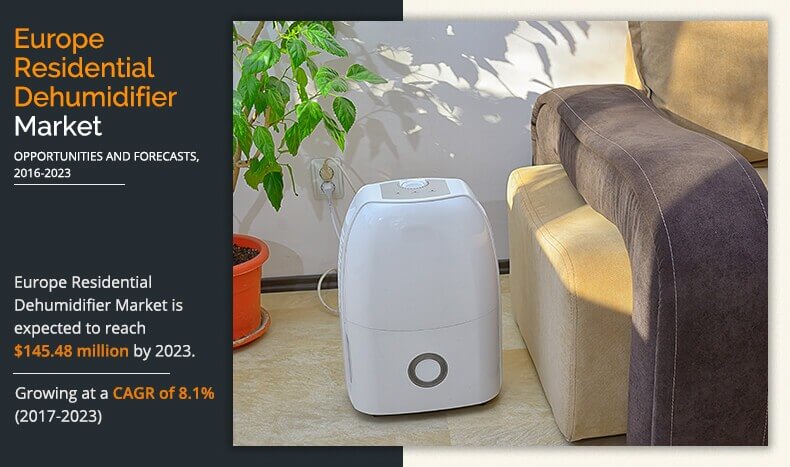 A dehumidifier is a household appliance that minimizes the level of humidity in the air. Improvement in economic condition and growth in disposable income are significant factors that propel the growth of the residential dehumidifier market. After the 2009 economic crisis in Europe, the European economy witnessed a standstill. However, strong recovery from the crisis resulted in notable economic growth, especially in Germany, and has led to increase in disposable income among the middle-income groups, thus, acting as a major driver for the market.
Rapid growth in consumers consciousness toward health and comfort, upsurge in real estate sector, and continuous changes in climatic conditions are projected to boost the growth of the Europe residential dehumidifier market. Furthermore, improvement in living standards and rise in health expenditure augment the demand for dehumidifiers in the Europe residential dehumidifier market. However, seasonal application and high cost associated with the product is anticipated to hamper the Europe residential dehumidifier market growth during the forecast period.
The report segments the Europe residential dehumidifier market based on type, distribution channel, and country. Based on type, the Europe residential dehumidifier market is classified into refrigerant type dehumidifier and chemical absorbent dehumidifier. Refrigerant type dehumidifiers accounted for the maximum share in 2016. By distribution channel, it is divided into supermarket, specialty store, online, and others. Based on country, the market is broadly classified into the UK, France, Germany, Holland, Spain, Belgium, and rest of Europe. In addition, the report highlights various factors that impact the growth of the Europe residential dehumidifier industry, such as key drivers, restraints, growth opportunities, and the role of different key players.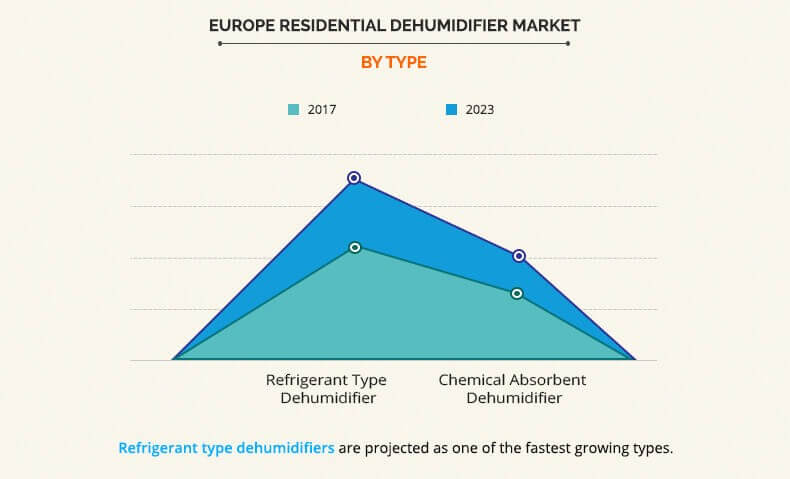 The growth in demand for refrigerant type dehumidifiers is attributed to its high durability and immense dehumidifying capacity, which handles strain of continuous work load for decades. Further, it is best suited to large or poorly insulated rooms. However, these machines are heavy, noisy, and ineffective in rooms at low temperature.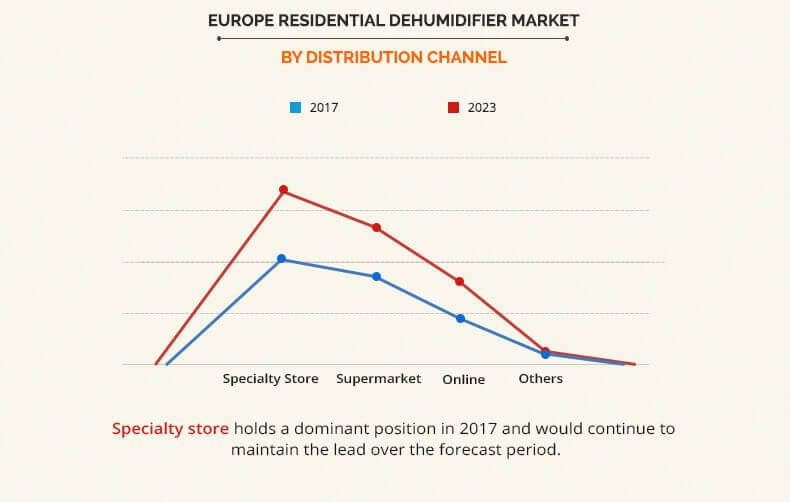 Specialty stores in the Europe residential dehumidifier market accounted for the maximum share in 2016 because these are small retail outlets that focus on selling a particular product range and associated items. Most specialty store business operators maintain considerable penetration in the type of product that they specialize in selling, usually at premium prices, in addition to providing higher service quality and expert guidance to shoppers.
However, online sale is one of the most efficient ways to create brand awareness and increase general sales. It is believed that web selling is more appropriate than the conventional mode of selling. Therefore, brands such as Ebac Ltd, Meaco (U.K.) Limited, Trotec GmbH, and others launch their websites to make purchasing any product hassle-free for the customers. The product can be bought either from an e-commerce website such as Amazon or from the company portal. These factors supplement the Europe residential dehumidifier market growth through online sales.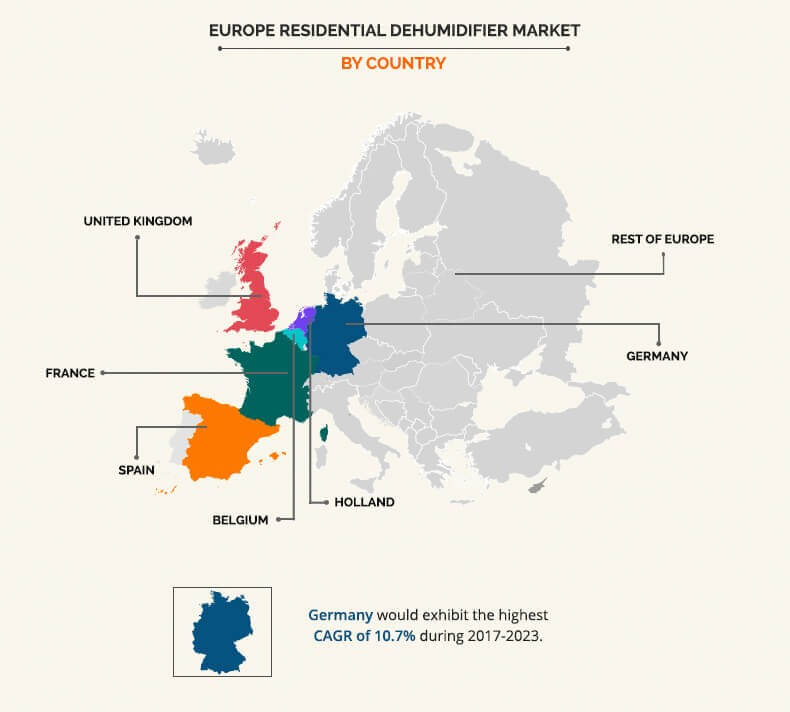 The growth in demand for residential dehumidifiers in Germany is attributed to the rise in consciousness of consumers toward health and wellness. Consumers are actively concerned to maintain a healthy living environment at home and these factors significantly drive the demand for products that improve air quality. In addition, residential dehumidifiers notably gain popularity owing to rise in incidences related to allergies in adults & infants. The key players including DeLonghi Appliances S.r.l focus to offer a small segment of premium products with high quality, functionality, and convenience standards.
The key players profiled in the report are DeLonghi Appliances S.r.l, Ebac Ltd, Chal-Tec GmbH, Meaco (U.K.) Limited, PVG International, Trotec GmbH, and Suntec Industries China.
Key Benefits
This report provides an extensive analysis of the current and emerging market trends and dynamics of the Europe residential dehumidifier market.
The market trend analysis for all the countries is conducted by constructing estimations for key segments between 2017 and 2023 to identify the prevailing opportunities.
The report assists to understand the strategies adopted by the leading companies in the industry.
Extensive analysis is conducted by key player positioning and monitoring the top competitors within the regional market.
 Europe Residential Dehumidifier Market Report Highlights
Aspects
Details
By Type

Refrigerant Type Dehumidifier
Chemical Absorbent Dehumidifier

By Distribution Channel

Supermarket
Specialty Store
Online Store
Others

By Country

UK
France
Germany
Spain
Holland
Belgium
Rest of Europe

Key Market Players
Chal-Tec GmbH, De'Longhi S.p.A. (De'Longhi Appliances S.r.l), Ebac Ltd., Meaco (U.K.) Limited, PVG Holding B.V., Suntec Industries (H.K.) Ltd., The Trotec Group (Trotec GmbH)