European Antibiotics Market Overview:
The European Antibiotics Market size was valued at $11,561.2million in 2019, and is projected to reach $13,529.8million by 2027 at a CAGR of 1.9% from 2020 to 2027. 
Antibiotics are medicines that fight bacterial infections in people and animals. They work by killing the bacteria or by making it hard for the bacteria to grow and multiply.In addition, they are used to cure several diseases such as strep throat, urinary tract infections, sinus infections, pneumonia, skin infections, ear infections, and others. There are numerous ways of classifying antibiotics, however, the most common classification is based on their chemical structures, spectrum of activity, and mode of action. Currently, the demand for beta lactam and beta lactamase inhibitors class of antibiotics is high among healthcare providers.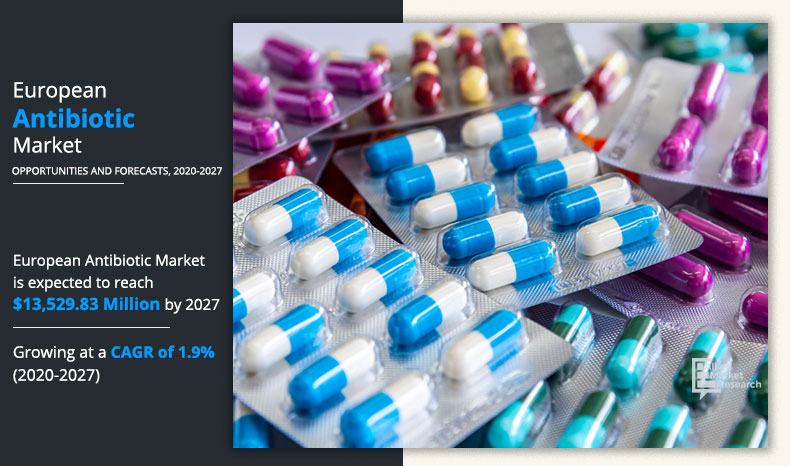 Almost every nation is dealing with the outbreak. Most markets are dropping down as COVID-19 outbreak has negatively affected various healthcare-related markets. This pandemic is expected to present growth opportunities for European antibiotics in the future.It is imperative to be aware of the unreported amounts of antibiotics that have been administered globally in just a few months and a marked increase in antimicrobial resistance should therefore be expected.Information on antimicrobial treatments given to patients with SARS-CoV-2 infection is rare. Although the antimicrobials used have been reported in some studies, there is insufficient consideration of their importance or of the possibility that they are being used broadly or inappropriately, especially when broad-spectrum antibiotics are used in combination. For instance, according to Journal of Antimicrobial Chemotherapy, 15% of COVID-19 patients received antifungal treatment and 71% received antibiotic treatment, 25% of whom were treated with a single antibiotic and 45% with combination therapy. The antibiotics used were cephalosporins, quinolones, carbapenems, tigecycline (against MRSA), and linezolid. Many sick patients received antibacterial therapy, such as moxifloxacin (64%), ceftriaxone (25%) and azithromycin (18%). The administration of antibiotics was also reported in a case of a neonate with non-specific symptoms of COVID-19 infection; this neonate received fluid therapy, oxygen therapy, and antibiotic therapy with vancomycin and amikacin.
European Antibiotics Market

---
By Drug Class
Beta Lactam and Beta Lactamase Inhibitors is projected as one of the most lucrative segment.
There is an increase in the demand for antibiotics, owing to rise in prevalence of infectious diseases. In addition, development of novel approaches for new antibiotics for treating bacterial infections and a large number of clinical trials further drive the market growth. However, development of antibiotic resistance, driven by misuse of antibiotics and the time taken for the regulatory approval is projected to impede the market growth. On the contrary, discovery of advanced prospect molecules and novel combination therapies to treat antibiotic-resistant microbial infections are expected to offer significant profitable opportunities for the market players.
The European antibiotics market is segmented on the basis of class, drug origin, spectrum of activity, route of administration, and country. By class, the market is classified into beta lactam & beta lactamase inhibitors, quinolones, macrolides, and others. Beta lactam & beta lactamase inhibitors is further segmented into Penicillin, Cephalosporin, Carbapenem, and Monobactam. By drug origin, the market is categorized into natural, semisynthetic, and synthetic. By spectrum of activity, the market is bifurcated into broad-spectrum antibiotic and narrow-spectrum antibiotic. By route of administration, the market is divided into oral, intravenous, and others.
European Antibiotics Market

---
By Spectrum Of Activity
Broad-spectrum antibiotic holds a dominant position in 2019 and would continue to maintain the lead over the forecast period.
Segmental review
By Drug class, beta lactam & beta lactamase inhibitors segment was the major revenue contributor in 2019, and is anticipated to continue this trend during the forecast period due to its spectrum of activity. These antibiotics are a class of broad-spectrum antibiotics. A broad-spectrum antibiotic acts against both Gram-positive & Gram-negative bacteria and effective on the infections with multiple groups of bacteria. Thus, the demand for beta lactam & beta lactamase inhibitors antibiotics is high. On the other side, the demand for quinolones is projected to exhibit the fastest European antibioticsmarket growth during the forecast period owing to the rise in demand of broad-spectrum bactericidal activity new generation quinolones, excellent oral bioavailability, good tissue penetration, and better safety & tolerability.
European Antibiotics Market

---
By Application
Telecom application hold a dominant position in 2018 and would continue to maintain the lead over the forecast period.
By drug origin, semisynthetic function presently dominates the European antibioticsmarket, and is expected to remain dominant during the forecast period. This is attributed to the fact that the semisynthetic antibiotics have improved coverage and effectiveness against a wide range of organisms. Also, the semisynthetic antibiotics can be administered either parenterally or orally as well as less costly to administer than other antibiotics in some cases. The synthetic antibiotics have various advantages over existing antibiotics such as a broad spectrum of activity, no cross-resistance with the existing antibiotics, rapid bactericidal activity, and a low probability for developing resistance.
European Antibiotics Market

---
By Country
2027
Rest Of European Countries 
UK Country would exhibit the highest CAGR of 3.1% during 2020-2027.
The key players operating in the European antibiotics market include Abbott Laboratories, Abbvie Inc. (Allergan Plc.), Bayer AG, F. Hoffmann-La Roche Ltd., GlaxoSmithKline plc, Merck & Co. Inc., Viatris Inc., Novartis International AG (Sandoz), Pfizer Inc., and Sanofi.
Key Benefits For Stakeholders
This report entails a detailed quantitative analysis along with the current European antibiotics market trends from 2020 to 2027 to identify the prevailing opportunities along with the strategic assessment.
The European antibioticsmarket forecast is studied from 2020 to 2027.
The European antibioticsmarket size and estimations are based on a comprehensive analysis of key developments in the industry.
A qualitative analysis based on innovative products facilitates strategic business planning.
The development strategies adopted by the key market players are enlisted to understand the competitive scenario of the European antibiotics market.
Key players are profiled and their strategies are analyzed thoroughly to understand the competitive outlook of the European antibiotics market.
 European Antibiotics Market Report Highlights
Aspects
Details
By DRUG CLASS

Beta Lactam and Beta Lactamase Inhibitors

Penicillin
Cephalosporin
Carbapenem
Monobactam

Quinolone
Macrolide
Others

By Drug Origin

Natural
Semisynthetic
Synthetic

By Spectrum Of Activity

Broad-spectrum Antibiotic
Narrow-spectrum Antibiotic

By Route Of Administration
By Country

Europe

Germany
France
Spain
Italy
UK
Rest of Europe

Key Market Players
ABBOTT LABORATORIES, ABBVIE INC.(ALLERGEN), BAYER AG., F. HOFFMANN-LA ROCHE LTD., GLAXOSMITHKLINE PLC, MERCK & CO. INC., VIATRIS INC.(MYLAN), NOVARTIS INTERNATIONAL AG (SANDOZ), PFIZER INC., SANOFI