The Europe Turbocharger market was valued at $5,811.05 million in 2020, and is projected to reach $9,492.68 million by 2030, registering a CAGR of 5.1% from 2021 to 2030.
The COVID-19 outbreak severely impacted the Europe turbocharger market. The most direct effect of the COVID-19 on the Europe turbocharger sector is the standstill of many OEM and supplier factories. Numerous companies operating in the Europe turbocharger market have been affected significantly by the COVID-19 pandemic. This is attributed to the imposed lockdown followed by the closure of international borders; thereby, affecting the overall automotive production as well as sales. Several companies reduced their employee strength during the pandemic to reduce their expenses and to handle the post COVID-19 scenario. However, owing to the positive outlook of automotive industry in the region, the post pandemic demand for turbochargers is foreseen to grow appreciably.
Turbocharger is an integral part of internal combustion (IC) engine, which improves its performance by increasing the amount of air intake in the combustion chamber with the help of ejected burnt air. An IC engine requires extra air for combustion of additional fuel for large power generation that decreases its efficiency, thus, turbocharger plays a significant role in enhancing the efficiency by supplying compressed air. Europe turbocharger market is expected to exhibit a notable growth in the coming years as these chargers ensure optimum engine performance and enhanced fuel efficiency. Turbocharger particularly works best on high engine speed and does not require any power source to operate. It is driven by flow of burnt gases discharged by engine. Presently, this technology is majorly used in automotive and aerospace industries. For example, manufacturers employ turbochargers in engines of fast racing cars to generate high amount of power even under harsh and high temperature conditions.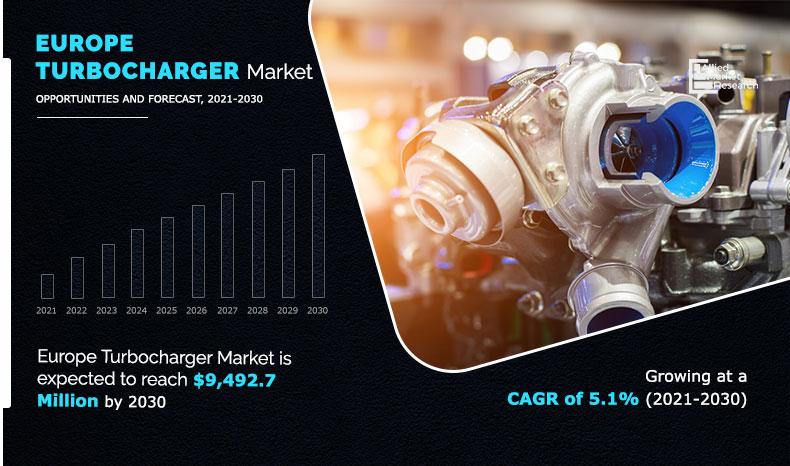 The COVID-19 crisis is creating uncertainty in the market, massive slow-down of supply chain, fall in business confidence, and increase in panic among customers. Governments of different countries have already announced total lockdown and temporary shutdown of industries, the overall production and sales being adversely affected. Therefore, the turbocharger market is witnessed a moderate dip in 2020, owing to the coronavirus (COVID-19) pandemic. Temporary lockdown of various design, development, and manufacturing facilities with limited operational launch stations also limits the market growth. Sluggish Europe economies with a major focus on fighting the pandemic is also expected to negatively impact the market demand. The post pandemic demand for Turbocharger- is foreseen to grow appreciably.
Europe Turbocharger Market

---
By Technology
Twin Turbo Technology segment is projected as the most lucrative segment
The Europe turbocharger market has been segmented on the basis of technology, application, industry vertical, fuel type, material, end-user, and country. By technology, the turbocharger market has been categorized into twin-turbo technology, waste-gate technology, and variable geometry technology (VGT). By application, turbochargers find application in light commercial vehicles, heavy commercial vehicles, ships & aircrafts, heavy duty vehicles, and locomotives. By industry vertical, the turbocharger market has been categorized into aerospace & defense, automotive, marine and agriculture & construction. By fuel type, it is segmented into gasoline and diesel. Cast Iron and Aluminum are different types of materials used for turbochargers. By end-user, the turbocharger market has been categorized into original equipment manufacturers (OEMs) and aftermarket players.
Europe Turbocharger Market

---
By Application
Light commercial vehicle segment is projected as the most lucrative segment
The key players analyzed in the BMTS Technology Gmbh & Co. KG, Borgwarner Inc, Cardone Industries, Continental AG, Cummins Inc, Eaton Corporation Plc, Garrett Motion Inc, IHI Corporation, Mitsubishi Heavy Industries, Ltd. and Turbo Dynamics Ltd.
Europe Turbocharger Market

---
By Material
Aluminum segment is projected as the most lucrative segment
Improved Engine Performance and Fuel Efficiency
In today's scenario, fuel efficiency is the biggest concern among consumers as fuel prices are skyrocketing on a regular basis owing to the limited availability of fuel. Performance of vehicle also depends upon engine. Hence, vehicle manufacturers are forced to manufacture efficient engines which can satisfy both the requirements and can deliver improved performance & fuel efficiency at the same time.
Europe Turbocharger Market

---
By Fuel Type
Diesel segment is projected as the most lucrative segment
Turbochargers are primarily turbo-boosted engines that are compact in size and specifically designed to increase fuel efficiency in compliance with the Corporate Average Fuel Economy standards. In addition, these chargers offer several advantages, for instance, increased air intake in the combustion chamber, high engine performance, and reuse of exhausted air. Turbochargers particularly work best on high engine speeds and do not require any power source to operate. Hence, improved engine performance and fuel efficiency is considered as one of the prime drivers for the Europe turbocharger market growth.
Europe Turbocharger Market

---
By End User
OEM segment is projected as the most lucrative segment
Government Regulations
Presently, government regulations provide huge impetus to the Europe turbocharger market growth. For instance, U.S. Department of Transportation's National Highway Safety Administration launched a national program that provides new standards for light-duty vehicles, which include the models manufactured from 2012-2016. These regulations are aimed at reducing greenhouse gas emissions and improving fuel economy. Turbochargers are already a key part of heavy-duty diesel engine technology. However, the need to meet emissions regulations is rapidly driving the use of turbo diesel and turbo gasoline engines for passenger vehicles.
Europe Turbocharger Market

---
By Country
Germany would exhibit the highest CAGR of 6.3% during 2021-2030.
Key Benefits For Stakeholders
This study presents analytical depiction of the turbocharger market analysis along with the current trends and future estimations to depict the imminent investment pockets.
The overall market potential is determined to understand the profitable trends to gain a stronger foothold.
The report presents information related to key drivers, restraints, and opportunities of the market with a detailed impact analysis.
The current turbocharger market size is quantitatively analyzed from 2021 to 2030 to benchmark the financial competency.
Porter's five forces analysis illustrates the potency of the buyers and suppliers in the Turbocharger industry.
Key Market Segments
By Technology
Twin Turbo Technology
Wastegate Technology
Variable Geometry Technology
By Application 
Light Commercial Vehicle
Heavy Commercial Vehicle
Ships and Aircrafts
Agriculture and Construction
Locomotives
By Material 
By Fuel Type 
By End User 
By Country
Europe

Germany
France
UK
Spain
Rest of Europe
Key Players
BMTS Technology Gmbh & Co. KG
Borgwarner Inc
Cardone Industries
Continental AG
Cummins Inc
Eaton Corporation Plc
Garrett Motion Inc
IHI Corporation
Mitsubishi Heavy Industries, Ltd.
Turbo Dynamics Ltd