Europic Chloride Market Research, 2031
The global europic chloride market was valued at $136.6 million in 2021, and is projected to reach $254.7 million by 2031, growing at a CAGR of 6.5% from 2022 to 2031.
COVID-19 had negative impact on europic chloride market owing to decreased in demand from chemical and petrochemical industry.
Europic chloride (EuCl3), also known as anhydrous europium chloride (III), is an inorganic compound. By rapidly absorbing water, the anhydrous chemical may be immediately transformed into the white crystalline hexahydrate (EuCl36H2O), which is a yellow solid. There are several other names for europic chloride, including , europium chloride (VAN), europium chloride (EuCl3), europium trichloride, europium chloride (Eu2Cl6), and europium (III) chloride anhydrous Europium is present in high-grade minerals such calcium aluminum silicates. It is a soft metal with a silvery hue that resembles lead. In the food & beverage sector, europic chloride is utilized in the process of food preservation. In addition, it can be utilized in the process of desalination, which draws out chloride salts from seawater to produce drinkable water.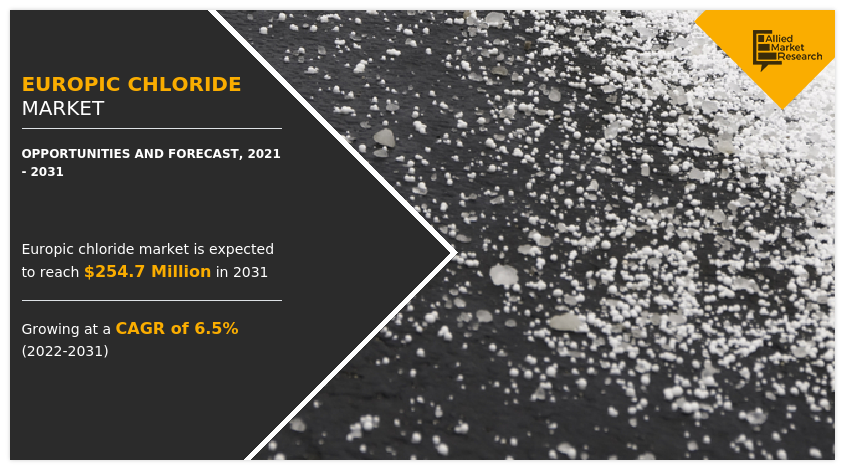 The principal application for europium is in phosphors, which are compounds that emit light. Red phosphors, which are more widely accessible, can be used to create televisions with brighter colors. Europium oxide-based phosphors provide red and blue light, which may be combined with yellow–green phosphor to produce white light. Europium phosphors are used in TVs, certain LEDs, and fluorescent lighting. Europium is further used in other optoelectronic devices and in lasers. As more people opt to buy their food already packed, there has been a simultaneous rise in the utilization of europic chloride as a food preservative.  This factor is the primary reason behind the growth of the europic chloride market. Furthermore, in the chemical and petrochemical industries, europic chloride is utilized as a source of alternative energy to produce electricity and to catalyze the decomposition of chloride-based materials via the electrolysis process, which results in the production of chlorine gas and metal.  Furthermore, expansion of the chemical and petrochemical industries is fueling the demand for europic chloride, which, in turn, is propelling the growth of the europic chloride market. However, europic chemical results in quick defecation, writhing, incoordination, hard breathing, and lethargy upon inhalation. It can further cause respiratory and cardiac collapse, leading to death. These factors are expected to hamper the expansion of europic chloride market.
The global europic chloride market is segmented into end-use industry and region. On the basis of end-use industry, the market is categorized into food & beverage, chemical, petrochemical, marine, and others. Region wise, the market is studied across North America, Europe, Asia-Pacific, and LAMEA.
The major players operating in the global europic chloride market include AK Scientific, Inc., Alfa Aesar Thermo Fisher Scientific, American Elements, Glentham Life Sciences Limited, MaTecK GmbH, Otto Chemie Pvt., Ltd., Santa Cruz Biotechnology, Inc., Stanford Advanced Materials, Strem Chemicals Inc., TCI Chemicals (India) Pvt., Ltd.
Other players operating in the europic chloride market are SRL (Sisco Research Laboratories Private Limited), Central Drug House, and Shanghai Xinglu Chemical Technology Co.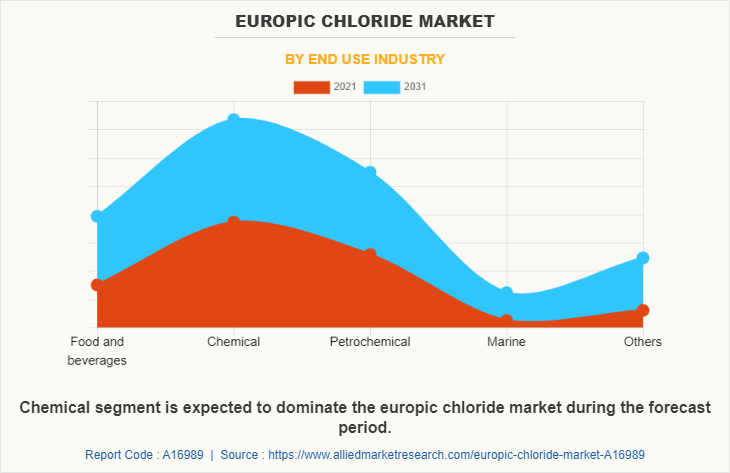 The chemical segment accounted for the largest share, i.e., 34.5%, and is estimated to grow at a CAGR of 5.9% during the forecast period. This is attributed to increased demand for europic chloride from the chemical sector ,as it is used in the production of electrolyte.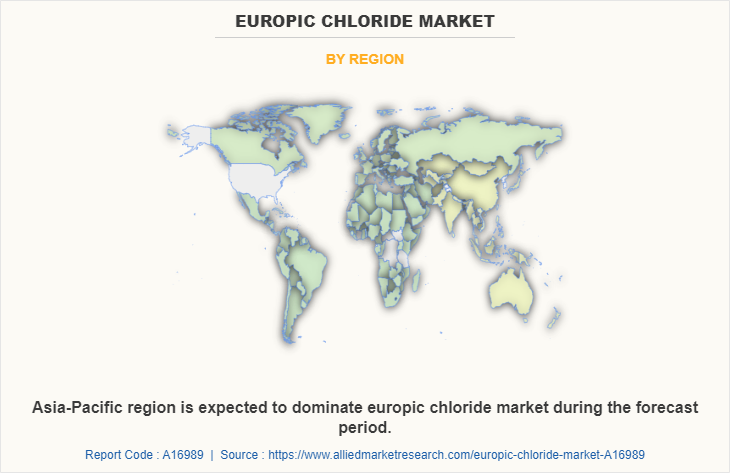 Asia-Pacific contributed the 46.4% market share in 2021, and is projected to grow at CAGR of 7.1% during the forecast period. This is attributed to surge in demand from chemical and petrochemical industries in Asia-Pacific.
COVID-19 Impact Analysis On The Global Europic Chloride Market
COVID-19 is an infectious disease that originated in Hubei province of the Wuhan city in China in late December. The highly contagious disease, caused by a virus, severe acute respiratory syndrome coronavirus 2 (SARS-CoV-2), is transmitted from humans to humans. Since the outbreak in December 2019, the disease has spread to almost 213 countries around the globe with the World Health Organization declaring it a public health emergency on March 11, 2020. 
The outbreak of COVID-19 pandemic had led to partial or complete shutdown of production facilities, which do not come under essential goods, owing to prolonged lockdown in major countries such as the U.S., China, Japan, India, and Germany. It has led to either closure or suspension of their production activities in most of the industrial units across the world. There is an uneven impact of COVID-19 pandemic on the europic chloride market, owing to implementation of lockdowns worldwide to halt spread of the virus. This resulted in shutting off of almost all operations, manufacturing, and distribution of all industries.
This has resulted in decrease in demand from chemical industry which, in turn, has led to sluggish growth of the market.
The demand–supply gap, disruptions in raw material procurement, price volatility, and many other such factors are expected to hamper growth of the chemical industry during the COVID-19 pandemic.
The COVID-19 crisis has affected the chemical industry supply chain to a major extent, thus, having a major impact on raw material procurement.
However, increase in demand for distilled and drinkable water due to the awareness regarding the cleanliness and hygiene boosts growth of the europic chloride market, which, in turn, tends to overcome effects of COVID-19 on this sector.
The future of the europic chloride market industry will be shaped by post pandemic changes in social, economic, trade, and political situations, as well as planned environmental regulatory reforms.
Key Benefits For Stakeholders
This report provides a quantitative analysis of the market segments, current trends, estimations, and dynamics of the europic chloride market analysis from 2021 to 2031 to identify the prevailing europic chloride market opportunities.
The market research is offered along with information related to key drivers, restraints, and opportunities.
Porter's five forces analysis highlights the potency of buyers and suppliers to enable stakeholders make profit-oriented business decisions and strengthen their supplier-buyer network.
In-depth analysis of the europic chloride market segmentation assists to determine the prevailing market opportunities.
Major countries in each region are mapped according to their revenue contribution to the global market.
Market player positioning facilitates benchmarking and provides a clear understanding of the present position of the market players.
The report includes the analysis of the regional as well as global europic chloride market trends, key players, market segments, application areas, and market growth strategies.
 Europic Chloride Market Report Highlights
Aspects
Details
By End use industry

Food and beverages
Chemical
Petrochemical
Marine
Others

By Region

North America (U.S., Canada, Mexico)
Europe (Germany, France, U.K., Spain, Italy, Rest of Europe)
Asia-Pacific (China, Japan, India, South Korea, Australia, Rest Of Asia Pacific)
LAMEA (Brazil, Saudi Arabia, South Africa, Rest of LAMEA)

Key Market Players
TCI Chemicals, stanford advance materials, santa cruz biotechnology, strem chemicals, otto chemie, AK scientific incorporation, matech, alfa aesar a johnson matthey company, American Elements, Glentham Life Science