Explosion-proof Cable Glands Market Overview:
The cable gland also known as cable connector is a device designed to connect electrical devices, which provides support, sealing, retention, insulation, and earthing. Explosion proof cable glands, also known as sealing glands or strain reliefs that facilitate barrier penetration and offer sealing protection. They can be utilized with probes, wires, power, and signaling cables. Manufacturers offer an extensive range of Explosion-proof cable glands depending upon material, mode of utilization, cable size, type of cable, pressure range and others.
Explosion-proof cable glands are used to increase safety in hazardous environment with features such as high load bearing capacity and robust design. Apart from sealing wires and cables, these glands provide other functions such as earthing, environmental protection, ingress protection, and strain relief.
Increase in the number of refineries and rise in need for safety, drive the explosion-proof cable glands market. In addition, wide applications in various sectors that include oil & gas, mining, chemicals, manufacturing & processing, and others. However, high material cost restricts the growth of the market. Moreover, explosion-proof cable is used for underground mining to increase safety in drilling and excavation operation. Such factors are expected to offer lucrative opportunities in the future.
The key players operating in the global explosion-proof cable glands market are CMP Products Limited, Bartec Feam, Elsewedy Electric, Weidmller Interface GmbH & Co., Jacob GmbH, Hummel AG, Eaton corporation plc. (Cooper Crouse-Hinds, LLC), Emerson Electric Co. (Appleton Grp LLC), Amphenol Industrial Products Group, and Cortem Group.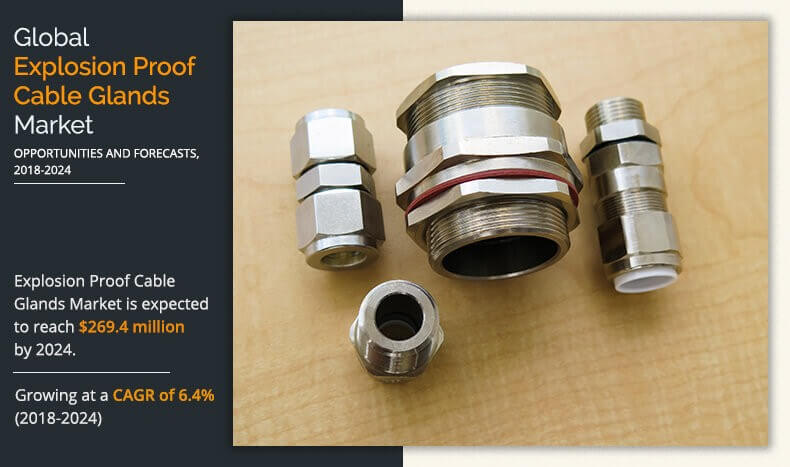 Segment Overview
The market is segmented into type, cable type, material, end user, and region. Based on type, it is categorized into increased safety, flameproof, EMC, and others. Based on cable type, it is bifurcated into armored and unarmored. The material segment is divided into brass, stainless steel, plastic/nylon, and others. The end user for the market include oil & gas, mining, chemical, manufacturing & processing, and others. Based on region, the market is analyzed across North America, Europe, Asia-Pacific, and LAMEA.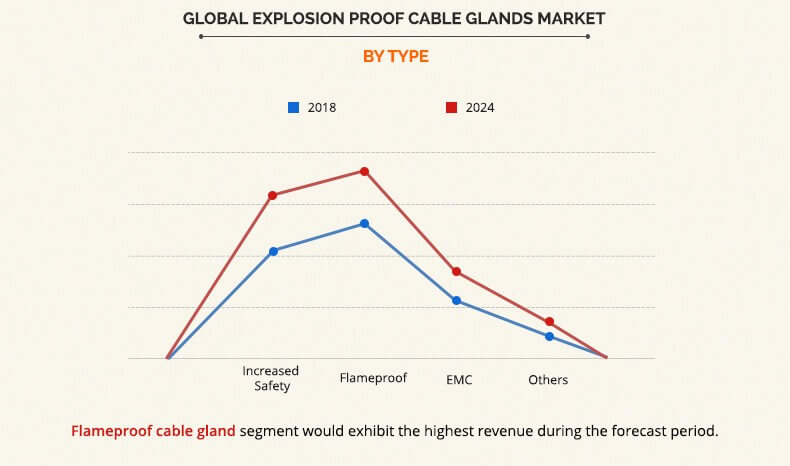 Top Impacting Factors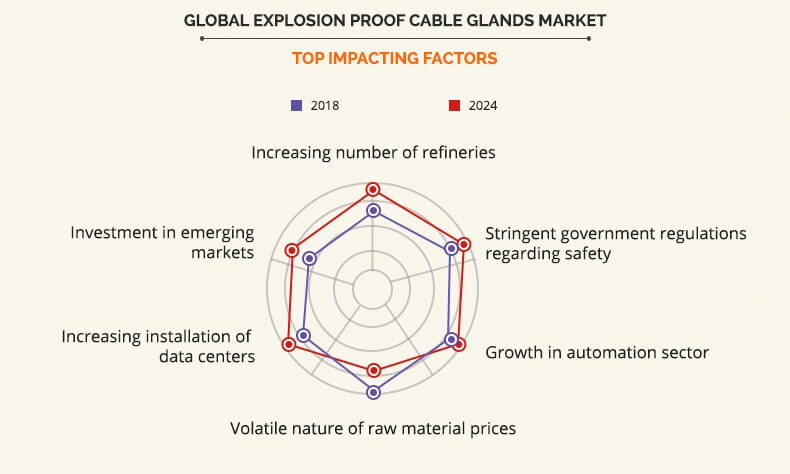 Increase in Number of Refineries
With rise in production of diesel, gasoline, and jet fuel, developments in heavy refinery projects such as installation of regasification plants, increase in conversion capacity, and upgradation in refining, there is a requirement for installation of explosion proof cable glands, which boosts the demand for explosion-proof cable during the forecast period.
Stringent Government Regulations Regarding Safety
The government of various countries across the globe have made it mandatory for the industries working in a hazardous environment to follow proper safety measures for the operations to run smoothly. Safety equipment such as explosion-proof cable glands provide protection from the uncertain and hazardous environments such as dust and explosive gases. Thus, the government plays an important role to fuel the demand for explosion proof cable glands.
Volatile Nature of Raw Material Prices
The raw materials used to develop explosion-proof cable glands include brass, steel, plastic, and others. The unstable prices of these essential ingredients have affected the global market. This is responsible for the growth of the Explosion-proof Cable Glands Market in the future.
Key Benefits
The report includes in-depth analysis of different segments and provides market estimations between 2018 and 2024.
Porters Five Forces model illustrates the potency of buyers & sellers, which is estimated to assist the market players to adopt effective strategies.
The key market players are profiled to understand the strategies adopted by them.
This report provides a detailed analysis of the current trends and future estimations from 2018 to 2024, which helps identify the prevailing market opportunities.
 Explosion-proof Cable Glands Market Report Highlights
Aspects
Details
By Type

Increased Safety
Flameproof
EMC
Others

By Cable Type
By Material

Brass
Steel
Plastic/Nylon
Others

By End User

Oil & gas
Chemical
Mining
Manufacturing & processing
Others

By Region

North America (U.S., Canada, Mexico)
Europe (UK, Germany, Spain, France, Russia, Italy, Rest of Europe)
Asia-Pacific (China, India, Japan, Singapore, South Korea, Australia, Rest of Asia-Pacific)
LAMEA (Latin America, Middle East, Africa)

Key Market Players
HUMMEL AG, JACOB GMBH, EATON CORPORATION PLC. (COPPER CROUSE-HINDS, LLC.), BARTEC FEAM, HUBBELL Group, WEIDMÜLLER, EL SEWEDY ELECTRIC COMPANY SAE, CMP PRODUCTS LIMITED, AMPHENOL INDUSTRIAL PRODUCTS GROUP, Emerson Electric Co., CORTEM GROUP