Extended Warranty Market Research, 2031
The global extended warranty market size was valued at $122.89 billion in 2021, and is projected to reach $274.94 billion by 2031, growing at a CAGR of 8.6% from 2022 to 2031.
With changing trends and buying behavior, companies are strategically focused on enhancing virtual shopping to provide an integrated physical experience during the pandemic situation. Consumers are demanding for extended warranty claim processes, multiple extended warranty coverage options, and self-service videos via online portals. Therefore, rise in demand and change in preference propel growth of the extended warranty market.
An extended warranty is a sort of warranty that extends beyond the manufacturer's guarantee to cover the repair and maintenance of a product. It's more of a service contract than a warranty because it is an optional coverage for service-related claims acquired by the buyer. Like expressed warranties, extended warranties have terms and conditions, and coverage can be denied if the buyer breaches the agreement. Extended warranties are most commonly available on high-value items like cars, electronics, and appliances. Although sold by the retailer, the manufacturer is responsible for executing the extended warranty on behalf of the customer.
The rise of the extended warranty market is fueled by the increased adoption of smartphones, computers, home appliances, and other similar products. These items usually come with a hefty price tag at the time of purchase. Therefore, to maintain safety of their electronic products post expiry of sellers' warranty, consumers largely purchase extended warranties. As a result, these factors propelling the extended warranty market growth. In addition, increased awareness regarding the extended warranty policies among the consumers are some of the factors propelling the market growth. However, unit shipment for personal computers (PC) have been on the decline globally and thus, the decline in sales of PCs have lowered the demand for extended warranty policies. On the contrary, developing economies offer significant opportunities for insurers to expand their business by strengthening policies to support the development of extended warranty. In addition, extended warranty provides a huge potential for expanding existing products and services, and the insurers have numerous opportunities such as to offer value added services to customers and expand product & service offerings by executing partnerships. Furthermore, agreements and partnerships are projected to help manufacturers and merchants obtain buyer confidence and maintain profit margins. Therefore, these factors are expected to provide lucrative extended warranty market opportunity in the coming years.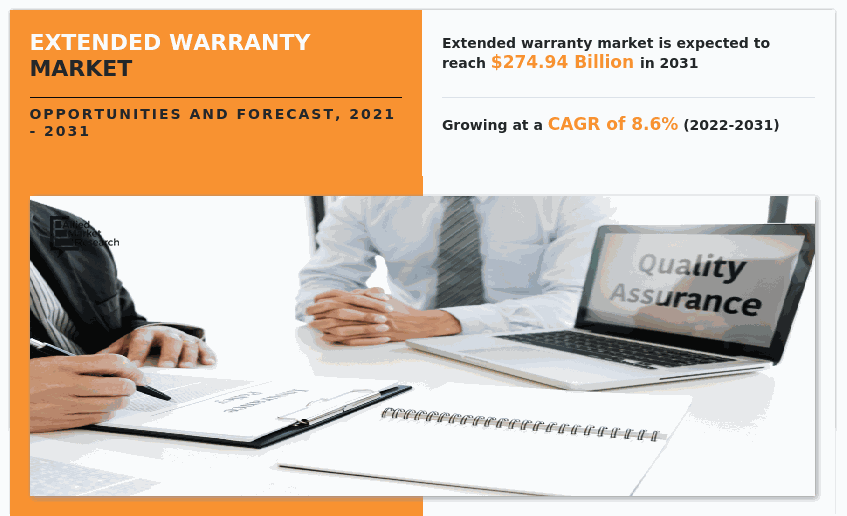 The extended warranty market is segmented on the basis of coverage, application, distribution channel, end user, and region. By coverage, it is segmented into standard protection plan and accidental protection plan. By application, it is bifurcated into automobiles, consumer electronics, home appliances, mobile devices & PCs, and others. By distribution channel, it is segregated into manufactures, retailers, and others. By end user, the market is divided into business and individuals. By region, it is analyzed across North America, Europe, Asia-Pacific and LAMEA.
Extended Warranty Market

---
By Application
Automobiles segment accounted for the highest revenue in extended warranty market. Due to increase in sales of extended warranty at the time of purchase of vehicles is the major growth factor for extended warranties in the automobile sector. In addition, with selling extended warranty plans after initial purchase of a vehicle, third-party providers are playing vital role in the expansion of extended warranty services in the market, thereby representing a significant growth in the segment during the forecast period.
Get more information on this report :
Request Sample Pages
By application, the automobiles segment attained the highest extended warranty market share in 2021. This is attributed to the fact that car manufacturers and their dealers use extended warranties to acquire new customers and retain existing customers and to maintain brand loyalty for their product offerings.
Extended Warranty Market

---
By Region
Asia-Pacific is expected to exhibit significant growth during the forecast period owing to emerging economies, high costs of repairs, several offers & benefits, and better customer experience provided under extended warranties in the region and is anticipated to maintain its dominance during the forecast period.
Get more information on this report :
Request Sample Pages
By region, North America attained the highest growth in 2021. This is attributed to limit financial risk for car breakdowns, consumers take protection via extended warranties, which boosts the market growth in the region. Further, in Canada, typically new vehicles carry minimum five years of warranty from dealers, which further promotes customers to purchase extended warranty from same vehicle dealers in the country.
The report analyzes the profiles of key players operating in the extended warranty market such as ASSURANT, INC., American International Group, Inc., AXA, AmTrust Financial, Asurion. CARCHEX, CarShield, LLC, Endurance Warranty Services, LLC, Edel Assurance, and SquareTrade, Inc. These players have adopted various strategies to increase their market penetration and strengthen their position in the extended warranty market.
COVID-19 impact analysis
The COVID-19 has affected extended warranty market globally. Warranty providers have learned the importance of customer experience. In this pandemic people and technology goes parallel to each other, while technology enabled advanced and modernize capabilities for better customer experience, people in sales have also realized the importance of all customers.  Furthermore, cost structures have changed, shifting form offline to online, yielded greater profit to firms that are able to harness the power of the digitalization. In addition to this, financial well-endowed technology companies are leveraging these techs and analytics to perform well in sales and administration. However, the landscape is changing along with the financial institutions, and the insurtech companies are entering the extended warranty market outlook with more innovative and modernized ideas.
Top impacting factors
Increased awareness for extended warranty
The expensive consumer electronics and vehicles have become a crucial part of one's lifestyle, and hence the market for extended warranty is expanding. The increasing requirement of regular maintenance and repair of smartphones and home appliances can cost a hefty amount of nearly one-fifth of the unit price. This is the reason consumers are opting for an extended warranty on electronic products such as laptops, smartphones, and tablets to prevent unexpected finances, which is propelling the extended warranty market growth. In addition to this, the extended warranty industry growth is aided by the transferability of extended warranties offered by prominent businesses, which ensures that the product is covered even after it is passed to other owners. Furthermore, the rise in demand to extend the product life and get stress-free post-sales experience by value-conscious consumers have increased the quality of after services offered by many companies. Therefore, companies are providing extended warranty solutions to enhance consumer loyalty, which is significantly contributing to the market growth. Therefore, increasing awareness regarding extended warranty among consumers is one of the major driving factors of the extended warranty market.  
Rise in penetration of laptops, smartphones and tablets  
With an increase in use of laptops, smartphones, tablets, and other brown goods, the protection for these goods has grown at a faster rate in the market. As a result, the availability of extended warranties for these items has increased competition in the extended warranty industry. Moreover, rise in prices of raw materials continue to imply pressure on profit margins of manufacturers and retailers of consumer electronic products. Furthermore, extended warranty solutions for these goods are continuously evolving and are expected to maintain their dominance. Therefore, the increasing use and adoption of laptops, smartphones, tablets, and other products among consumers is one of the major driving factors of the extended warranty industry.  
Key benefits for stakeholders
This report provides a quantitative analysis of the market segments, current trends, estimations, and dynamics of the extended warranty market analysis from 2021 to 2031 to identify the prevailing extended warranty market opportunity.
The market research is offered along with information related to key drivers, restraints, and extended warranty market opportunity.
Porter's five forces analysis highlights the potency of buyers and suppliers to enable stakeholders make profit-oriented business decisions and strengthen their supplier-buyer network.
In-depth analysis of the extended warranty market forecast segmentation assists to determine the prevailing market opportunities.
The report includes the analysis of the regional as well as global extended warranty market trends, key players, market segments, application areas, and market growth strategies.
 Extended Warranty Market Report Highlights
Aspects
Details
By Distribution Channel

Manufacturers
Retailers
Others

By Coverage

Standard Protection Plan
Accidental Protection Plan

By Application

Automobiles
Consumer Electronics
Home Appliances
Mobile Devices and PCs
Others

By End User
By Region

North America (U.S., Canada)
Europe (Germany, United Kingdom, France, Italy, Spain, Netherlands, Rest of Europe)
Asia-Pacific (China, Japan, India, Australia, South Korea, Rest of Asia-Pacific)
LAMEA (Latin America, Middle East, Africa)

Key Market Players
ASSURANT, INC, American International Group, Inc, AXA, AmTrust Financial, Asurion, CARCHEX, CarShield, LLC, Endurance Warranty Services, LLC, Edel Assurance, SquareTrade, Inc