The global eyewear market size was valued at $110,900.0 million in 2020, and is projected to reach $237,051.1 million by 2030, registering a CAGR of 8.4%.
The global eyewear market has witnessed a notable growth in the recent years, especially in the emerging countries of Asia-Pacific, such as India and China. Surge in visual impairment and eye defects cases coupled with inclination toward latest fashion trends are the major factors that drive the growth of the global eyewear market. Rise in use of digital devices and gadgets by the young generation have led to an upsurge in the number of eye disorders, thereby, increasing the demand for vision correction products. In addition, factors such as increased disposable income and improved standard of living in the developing economies, such as India and Brazil have led to the adoption of premium quality and branded eyewear.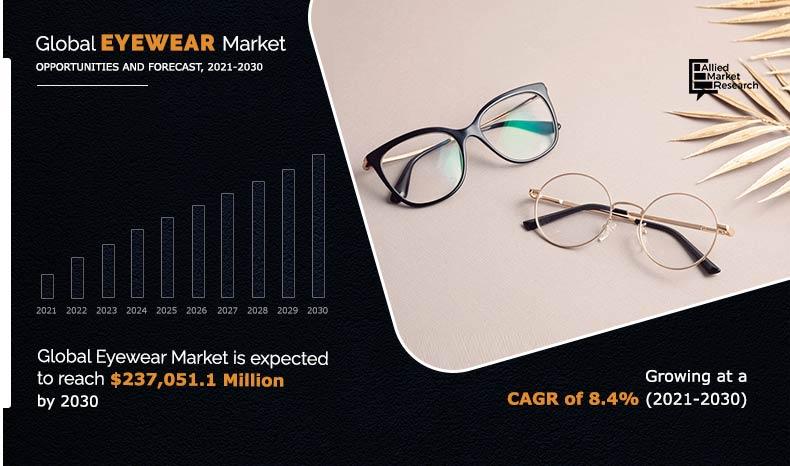 The market has witnessed an increase in demand from female consumers, particularly for trendy and branded eyewear. The rise in number of female professionals and economic independency of women are the key factors that foster the adoption of eyewear products among women. Endorsement by celebrities has increased the demand for designer and premium eyewear. Increased preference for contact lenses has boosted the overall growth of the eyewear market.
The COVID-19 pandemic had an adverse effect on the eyewear market, however the sales are expected to ramp up in the upcoming years. This is majorly due to surge in demand for eyewear products especially in the North America and Europe. 
Conscious efforts are now being put into standardization of medical and vision care facilities in rural areas in a bid to reduce eyesight related issues. Governments in various countries in partnership with different organizations are initiating programs to provide reasonable eye care facilities to the rural population. With such initiatives in place, rural populations are expected to benefit from efficient healthcare and eye care facilities. Thus, these collaborations with different institutions are anticipated to drive the growth of eyewear market.
Eyewear Market

---
By Product Type
Contact lenses segment is expected to grow at highest CAGR of 8.8% during the forecast period
Extended live expectancy and ageing population are major factors that boost the growth of eyewear market. Old aged people tend to experience a wide gamut of vision related problems such as presbyopia and cataract, thereby fostering an increase in demand for eyewear products.
According to eyewear market analysis, the market is segmented on the basis of product type, mode of sale, end user, and region. On the basis of product type, the eyewear market is categorized into prescription glasses/spectacles, sunglasses, and contact lenses. According to mode of sale, it is fragmented into retail stores and online stores. As per end user, the market is divided into men and women. Region wise, the eyewear market is analyzed across North America, Europe, Asia-Pacific, and LAMEA. North America contributed the highest revenue in 2020 and is expected to dominate the market during the forecast period.
Eyewear Market

---
By Mode Of Sale
Online stores segment is expected to grow at highest CAGR of 9.0% during the forecast period.
By product type, the prescription glasses/spectacles segment garnered the highest eyewear market share in 2020, due to increased rate of education and longer life expectancy across the world, which has resulted in growth in demand for prescription glasses. Depending on mode of sale, the retail stores segment led the market in 2020. This is attributed to the fact that the market players have equipped their eyewear retail stores with the latest technology and services, coupled with a wide range of local as well as international eyewear brands to meet consumer need. On the basis of end user, the men segment is anticipated to dominate the eyewear market with the highest share during the eyewear market forecast. This is attributed to men preferring superior quality and designer sunglasses, which according to them determine a social status.
Several companies that operate in the global eyewear market have adopted product launch and acquisition as their key growth strategies to sustain the intense competition in the market and to increase their market presence. The products of prominent companies, such as Carl Zeiss and Prada are endorsed by renowned celebrities to boost their net sales and increase their popularity. With change in technology and availability of a variety of light-weight raw materials, several companies now offer high-quality and innovative designs in eyewear models. 
Eyewear Market

---
By End User
Women segment is expected to grow at highest CAGR of 8.7% during the forecast period.
Numerous companies are proactively setting up new retail outlets, especially in emerging countries, such as India and China, to expand their geographical presence. Many companies have acquired leading regional online eyewear companies to expand their online presence and increase their customer base. Intensive marketing campaigns by prominent companies have increased brand awareness in the global market; thus, leading to the growth of the eyewear market.
The prominent eyewear industry participants include Carl Zeiss AG, Essilor Luxottica, Grand Vision, Johnson & Johnson, Inc., Safilo Group S.p.A., Prada S.p.A, Valeant Pharmaceuticals, Cooper Vision Inc., Alcon, Marcolin SpA, De Rigo Vision SpA, Hoya Corporationand, and Fielmann AG.
Eyewear Market

---
By Regions
Asia-Pacific dominates the market and is expected to grow at highest CAGR of 9.3% during the forecast period.
Key Benefits For Stakeholders
This report provides a quantitative analysis of the current eyewear market trends, estimations, and dynamics of the global eyewear market from 2021 to 2030 to identify the prevailing eyewear market opportunities.
Porter's five forces analysis highlights the potency of buyers and suppliers to enable stakeholders to make profit-oriented business decisions and strengthen their supplier–buyer network.
In-depth analysis of the market segmentation assists to determine the prevailing market opportunities.
Major countries in each region are mapped according to their revenue contribution to the global industry. 
The market player positioning segment facilitates benchmarking while providing a clear understanding of the present position of the key market players.
The report includes analyses of the regional as well as global market, key players, market segments, application areas, and eyewear market growth strategies.
 Eyewear Market Report Highlights
Aspects
Details
By Product Type

Prescription glasses/spectacles
Sunglasses
Contact lenses

By Mode of Sale

Retail stores
Online stores

By End User
By Region

North America (U.S., Canada, Mexico)
Europe (UK, France, Italy, Germany, Spain, Netherlands, Rest of Europe)
Asia-Pacific (China, Japan, India, South Korea, AustraliaR, Rest of Asia-Pacific)
LAMEA (Brazil, South Africa, United Arab Emirates, Rest of LAMEA)

Key Market Players
Carl Zeiss AG, Essilor International S.A., GrandVision, Johnson & Johnson, Inc., Safilo Group S.p.A, Prada S.p.A, Luxottica Group S.p.A, Valeant Pharmaceuticals International, Inc., Cooper Companies, Inc., Fielmann AG