Face Concealer Market Research, 2031
The global Face Concealer Market Size was valued at $7.2 billion in 2021, and is projected to reach $12 billion by 2031, growing at a CAGR of 5.5% from 2022 to 2031.
The COVID-19 pandemic has influenced consumer spending habits, resulting in a decline in market growth, due to various government restrictions and multiple measures aimed at reducing the spread of coronavirus, which reduces the sale of facial makeup including face concealer because it does not fall under necessary goods and services.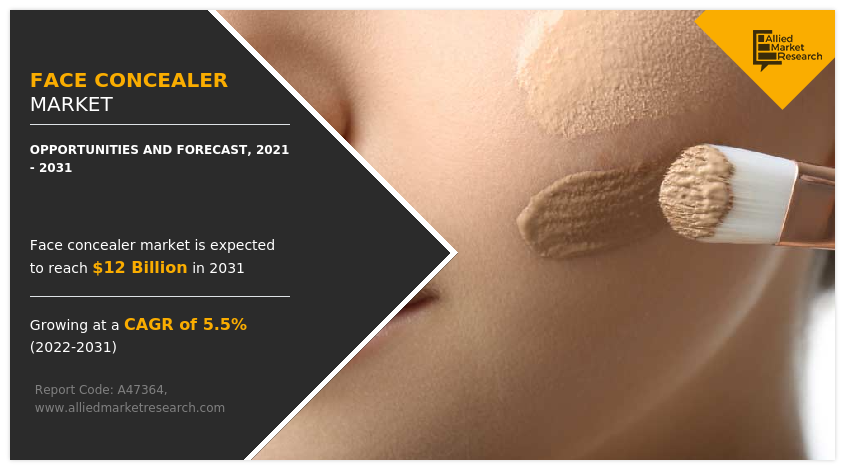 The Face Concealer Market valued for $7,153.30 million in 2021 and is estimated to reach $12,012.80 million by 2031, exhibiting a CAGR of 5.5% from 2022 to 2031.
Concealer is like foundation in which it conceals dark circles, age spots, blemishes, and other imperfections by hiding pigments and blending them into the skin. A concealer is a type of cosmetic that is used to even out the skin tone. It is primarily used to conceal dark circles, age spots, and other visible blemishes on the skin. It conceals small marks and dark areas on the face. It is majorly used by women or those in the glamour industry. It is like foundation, but it is applied to specific areas of the face rather than the entire face. The type of concealer to be used varies according to people's skin tones and skin types. As a result, companies have developed a variety of shades and tones to suit different skin tones.  The manufacturers offer concealers in a variety of basic colors, including red, orange, and green, in addition to different natural skin tones. They have become one of the most popular products for use with facial makeup. They are available in a variety of sizes in the market, including tubes, bottles, chapsticks, powder kits, and others. These items are widely available in supermarkets, medical stores, department stores, and shopping malls.
The global facial makeup market is rapidly expanding, which is driving the global concealer market growth. There is an increase in the demand for facial makeup around the world with the growing trend for polished looks and groomed personalities. This, in turn, fosters the growth of the global facial make-up market. Other factors that contribute toward the growth of the concealer market include an increase in disposable income. The surge in number of working women is also expected to be a driving factor in the global concealer market. Furthermore, the availability of concealers on e-commerce websites has increased their global market sales.
E-commerce websites, on the other hand, can be dangerous due to the availability of counterfeit products. Furthermore, frequent use of concealers may be harmful to the user's skin over time. Concealer manufacturing involves numerous chemical combinations that may have negative effects on the skin. Manufacturers are constantly working to develop chemical-free and skin-friendly formulas to address the issue of skin damage. Many concealer manufacturers release their products after clinical testing to ensure that they are safe for the user.
Surge in awareness among people about their physical appearance is one of the most important factors influencing the global sales of concealer products. Furthermore, shift in consumer preferences for organic products fuels the demand for natural-ingredient face makeup. In addition, rise in influence of social media platforms, as well as increase in trend of vlogging and creating unique social media content provide a positive market outlook. In addition, the introduction of multi-functional facial creams is boosting the market's outlook. Furthermore, the market is being driven by the growing number of salons, as well as the proliferation of the e-commerce industry, which provides seamless access to products, doorstep deliveries, exciting deals and discounts, and secure payment methods. Furthermore, leading manufacturers' increased emphasis on marketing strategies and promotional activities via television (TV), celebrity endorsements, and social media campaigns is propelling the market growth. Furthermore, increase in investments in research and development (R&D) activities by leading industry players to introduce high-quality product variants is expected to drive the market.
Demand for long-lasting product varieties has increased in Asia-Pacific due to surge in trend of skin-whitening chemicals. Rise in demand for various facial care products, as well as developments in the R&D industry drive the growth of the market in Europe. North America is expected to grow significantly due to the considerable spending power of the region's working professionals. 
The demand for vegan and plant-based ingredient blends in these products has increased owing to more people choosing cruelty-free products as a result of their increased concern for animal welfare and the environment. An increase in the number of people who are becoming a part of corporate culture and giving importance to personal grooming fuels the growth of the market. The market is anticipated to be driven by the increase in spending on cosmetics products by consumers. Surge in self-grooming consciousness and an increase in disposable income are anticipated to have a positive impact on market growth. An increase in awareness through advertisements, social media blogs, YouTube channels, and influencers is likely to augment the demand further. 
The face concealer market is segmented on the basis of type, gender, end user, distribution channel, and region. By type, the market is divided into liquid concealer, cream concealer, stick, and balm. By gender, the market is categorized into men, women, and unisex. By end-user, the market is bifurcated into personal and commercial. By distribution channel, the market is classified into hypermarkets/supermarkets, specialty stores, online sales channels, and others. Region-wise the market is classified into North America, Europe, Asia-Pacific, and LAMEA. 
Face Concealer Market

---
By Type
Liquid Concealer segment dominated the global market in the year 2021, this is attributed to its numerous advantages making it an excellent choice for nearly all skin types
Based on type liquid concealer segment dominated the global market in the year 2021. Liquid face concealer is the most widely used type of concealer. Its numerous advantages make it an excellent choice for nearly all skin types. Liquid concealers typically provide full coverage and are effective at concealing blemishes, dark circles, and acne. Even though most formulas are suitable for all skin types, liquid concealers with a matte finish should be avoided if the user has extremely dry skin because it will highlight the dry patches.
Face Concealer Market

---
By Gender
The women segment dominated the global market in the year 2021 this is attributed to surge in the number of beauty-conscious females
According to market analysis, by gender, the women segment gained a major Face Concealer Market Share in 2021 and is expected to sustain its market share during the forecast period. The growth of the women segment is due to increased usage of cosmetic products by the global women population as cosmetics are an integral part of women. Increase in skin problems in females, improved awareness of the need of maintaining long-term beauty, and lifestyle changes, contribute significantly toward the growth of the market. Furthermore, Face Concealer Market Demand for vegan and natural face concealer products increases among women, and this trend is expected to continue during the forecast period.
Face Concealer Market

---
By End User
The personal segment dominated the global market in the year 2021 this is attributed to rise in regaular consumption of cosmetics due to the availability of quality products.
By end user, the personal segment gained a major share in the Face Concealer industry in 2021 and is expected to sustain its market share during the Face Concealer Market Forecast period. The growth of the personal segment is due to increased usage of face concealer products by the global population for personal use as cosmetics are required by consumers on a regular basis. Cosmetics are gaining popularity among consumers as the global population is growing and people are becoming more cognizant of the need for using sustainable cosmetics. The usage of cosmetics for personal use is increasing in households as consumers become aware of the advantages of using quality cosmetic products. The availability of cosmetics in the market for regular use has encouraged consumers for daily usage to protect the skin from damage caused by air population, dust, and direct contact of sun rays on the skin. The use of cosmetics by global consumers for personal use holds a major share in the market.
Face Concealer Market

---
By Distribution Channel
The Hypermarket/Supermarket segment dominated the global market in the year 2021 as it is the most convenient distribution channel to reach out among consumers.
By distribution channel, the hypermarkets/supermarkets segment gained a major share in 2021 and is expected to sustain its market share during the forecast period. Hypermarkets/supermarkets are the most common place where consumers prefer to buy cosmetics products and offer access to various products that are unavailable in other channels. The availability of face concealer products in hypermarkets is fueling Face Concealer Market Growth. In addition, the online sales channel is likely to be the fastest growing segment during the forecast period. The online sale of face concealer is likely to gain significant traction in the coming years. Consumers can obtain access to products manufactured in a different country through online retail. Consumers who demand a product from a specific brand but do not have access to the physical store, can easily purchase it from online portals. Therefore, online stores enable attracting a larger consumer base across the world. It is regarded as the fastest-growing sales channel in the global market.
Face Concealer Market

---
By Region
Asia-Pacific region dominated the global market in the year 2021. Many companies are operating in the Asia-Pacific market to increase their customer base and expand their operating areas across countries.
The market in Asia-Pacific offers lucrative growth opportunities for operating players, owing to the presence of countries such as India, China, Australia, and New Zealand. The increase in adoption of western lifestyle, surge in population, and rise in disposable income of consumers in developing countries such as China, India, and others majorly drive the growth of the market. Moreover, an increase in awareness regarding skin care products and their associated benefits has further led to the growth of the market. Developing regions offer potential growth opportunities to market players for launching innovative skin care products. Moreover, countries in Latin America, such as Brazil, are anticipated to unfold attractive business opportunities, owing to an increase in awareness regarding skin care products and their benefits.
The players operating in the global market have adopted various developmental strategies to expand their market share, increase profitability, and remain competitive in the market. Key players included in the analysis of the face concealer market are - Amway Corporation, Avon Products Inc, Bobbi Brown Professional Cosmetics, Inc., Dior, Estee Lauder Companies, FSN E-Commerce Ventures Limited, L'Oreal S.A., Oriflame Cosmetic S.A., Pacifica Beauty, Revlon Inc, Shiseido Co.,Ltd. , Skin Food Co Ltd, The Procter& Gamble Company, Unilever Plc, and Weleda.
The report offers a thorough analysis of Face Concealer Market with detailed study of various aspects of the market such as market dynamics, vital segments, major geographies, key players, and competitive landscape. The report provides a clear picture of the current market situation and future trends of the Face Concealer Market based on the impact of various market dynamics and vital forces influencing the market. The drivers and opportunities in the market contributing to the market growth are acknowledged in the market dynamics. Besides, challenges and restraints that hold potential to hamper the market growth are also premeditated in the Face Concealer Market. Porter's five forces analysis is delivered through the report which precisely highlights the effects of key forces on the Face Concealer Market. The report offers market size and estimations analyzing Face Concealer Market through various segments.
In addition, the report includes geographical market analysis of these segments. Each segment entailed in the report is studied at regional and country level as well to provide complete coverage of Face Concealer Market. The report categorizes the Face Concealer Market into four major geographies including North America, Europe, Asia-Pacific, and LAMEA. These geographies are further sub-categorized into countries to cover Face Concealer Market scenario across in respective regions. Furthermore, the report covers competitive scenario of the Face Concealer Market. The key players operating in the Face Concealer Market are studied in the report to understand their current market position and competitive strengths in the industry.
The report profiles 15 key companies. Moreover, the company profiles include various data-points such as company overview, company executives, recent financials of the company, major growth strategies espoused by company, new initiatives and advancements by company to sustain and mend their position in the Face Concealer Market, and others.
Key Benefits For Stakeholders
This report provides a quantitative analysis of the Face Concealer industry segments, current trends, estimations, and dynamics of the face concealer market analysis from 2021 to 2031 to identify the prevailing face concealer market opportunities.
The market research is offered along with information related to key drivers, restraints, and opportunities.
Porter's five forces analysis highlights the potency of buyers and suppliers to enable stakeholders make profit-oriented business decisions and strengthen their supplier-buyer network.
In-depth analysis of the face concealer market segmentation assists to determine the prevailing market opportunities.
Major countries in each region are mapped according to their revenue contribution to the global market.
Market player positioning facilitates benchmarking and provides a clear understanding of the present position of the market players.
The report includes the analysis of the regional as well as global face concealer market trends, key players, market segments, application areas, and market growth strategies.
 Face Concealer Market Report Highlights
Aspects
Details
Market Size By 2031
USD 12 billion
Growth Rate
CAGR of 5.5%
Forecast period
2021 - 2031
Report Pages
250
Type

Liquid Concealer

Sub-type

Radiant Shimmer
Matte
Satin

Cream Concealer
Stick
Balm

Gender
End User
Distribution Channel

Hypermarket/Supermarket
Specialty Stores
Online Sales Channel
Others

By Region

North America (U.S., Canada, Mexico)
Europe (UK, Germany, France, Italy, Spain, Russia, Sweden, Netherlands, Denmark, Poland, Rest of Europe)
Asia-Pacific (China, Japan, India, Australia, South Korea, Thailand, Malaysia, Singapore, Indonesia, New Zealand, Rest of Asia-Pacific)
LAMEA (Brazil, Argentina, South Africa, Middle East, Saudi Arabia, Egypt, Nigeria, Rest of LAMEA)

Key Market Players
Amway Corporation, Skin Food, Armani Beauty, The Avon Company, Pacifica Beauty LLC, Procter & Gamble, L'Oréal Professional, Global cosmetics (HK) Company Limited, Unilever plc, Dior, Oriflame Cosmetics S.A., Elizabeth Arden, Weleda, Shiseido Company, Limited, Estee Lauder Companies Inc.