The global face mask market size was valued at $6,792.0 million in 2019, and is estimated to reach $9,052.1 million by 2027 with a CAGR of -11.1% from 2021 to 2027. Face mask is a type of protective mask that serves to protect against airborne diseases like COVID19, influenza, chickenpox, mumps, and measles. It is a half face mask which protects the nose, chin, and mouth. Furthermore, the outbreak of respiratory infection based pandemic diseases like H1N1 and COVID19 fuel the demand for face mask among frontline health workers such as first responders, nurses, and medical practitioners. N95 respirator masks are finding considerable use in protecting healthcare workers against job-related exposure to infectious viruses and micro-organisms. Health regulatory authorities have recommended the use of N95 respirators to be limited to healthcare workers, however, number of individuals are also buying these masks to diminish the risk of getting COVID19 infection and preventing its transmission across the globe. Therefore, such factors are significantly boosting the sales of face masks from medical outlets. This fuels the demand for face masks in the market.
Globally, millions of people are suffering from pandemic disease like COVID19 and H1N1 infectious viruses owing to which millions of people have already died. Moreover, social distancing and use of face masks is only the way to keep people away from infectious virus like COVID19. In addition, to avoid scarcity of face mask government has initiated more investment in its manufacturing activity, which fuels the growth of the face mask market. Furthermore, the U.S. government has ordered Honeywell International to expand its production of N95 masks in the country, so that masks are available for general public also.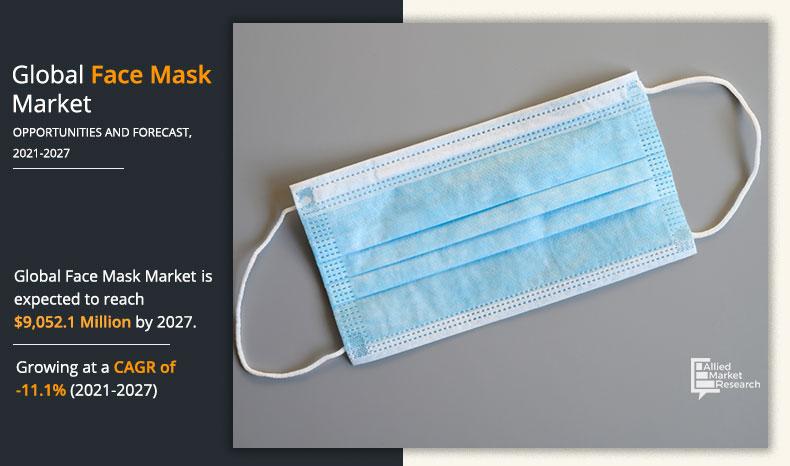 The number of social media users have increased considerably with the rise in internet penetration. Taking this into consideration, most of the key players in the face mask market strategize on promoting their products and services on these social media platforms. Social media marketing is one of the major strategies adopted by various companies and industries on imparting awareness about their product offerings among target customers on social media channels. Thus, through social media marketing strategy, the global face mask market sights critical opportunity in gaining traction and increasing its customer reach among its target segments. However, high prices and rise in popularity of face mask such as N95 respirator, surgical mask, and dust mask have led to the advent of counterfeit brands. Counterfeit brands are usually available in the developing economies where customers are highly price-sensitive. This factor hampers the sale of the existing original face mask brands in these economies. Counterfeit brands are of low quality and often lead to inconvenience & safety issues that subsequently develop negative perceptions among customers. Online distribution channel is one of the major platforms where transaction of counterfeited brands can be easily concealed. Thus, development of the counterfeited industry is anticipated to hamper the face mask market growth.
The face mask market is segmented into type, material, nature, distribution channel, and region. By type, the market is categorized into surgical mask, N95 respirators and dust mask. By material, it is bifurcated into cotton, polypropylene, and others. By nature, it is categorized into reusable and disposable. By distribution channel, it is classified into direct distribution and retail distribution. By region, it is analyzed across North America (U.S., Canada, and Mexico), Europe (Germany, France, Italy, Spain UK, The Netherlands, Belgium, Portugal, Hungry, Sweden, Denmark, Norway and Rest of Europe), Asia-Pacific China, Japan, India, Australia & New Zealand, ASEAN and rest of Asia-Pacific), and LAMEA (Latin America, Middle East, and Africa).
By type, the surgical mask segment led in terms of market share in 2019, and is expected to retain its dominance during the forecast period. There is an increase in the demand for surgical mask owing to its advanced usage in the field of medical surgery and diagnosis. 
Dust mask segment dominates the global market and is expected to retain its dominance throughout the forecast period.
By material, the polypropylene segment led the face mask market share in 2019. Polypropylene is one of the major commodity plastic resins, which is produced in large quantities in many countries. It can be easily converted into spun-bonded fabric and structures with a wide range of properties owing to which it is considered as a major raw material for the production of face mask.
Face Mask Market

---
By Material
Polypropylene segment is expected to grow at a highest CAGR of -10.8% during the forecast period.
By nature, the disposable segment led in terms of market value in 2019, and is expected to retain its dominance during the face mask market forecast period. Moreover, increase in online and offline advertisement for the use of disposable mask to protect body from harmful bacteria of COVID19 boosts the growth of the face mask market.
Face Mask Market

---
By Nature
Disposable segment is expected to grow at a highest CAGR of -10.3% during the forecast period.
By distribution channel, the pharmacies segment led the market share in 2019. Significant presence of pharmacies in the developed and the developing countries has contributed toward higher share in the face mask market. Furthermore, improvement in healthcare infrastructure and surge in number of consumers visiting pharmacies are anticipated to drive the adoption of face mask through pharmacies.  
Face Mask Market

---
By Distribution Channel
Direct disribtion segment is expected to grow at a highest CAGR of 6.7% during the forecast period.
The key players operating in the face mask industry include 3M Company, Honeywell, Kimberly-Clark Corporation, Prestige Ameritech, Alpha ProTech, Shanghai Dasheng Health Products Manufacturing Co., Ltd., Moldex-Metric, Inc., The Gerson Company, Cardinal Health, and Cambridge Mask Co.
Face Mask Market

---
By Region
North America dominates the market and is expected to grow with a CAGR of -9.1% during the forecast period
Covid-19 Impact Analysis
Covid-19 is an infectious disease that originated in Hubei province of the Wuhan city in China in late December 2020.
The COVID-19 pandemic has forced the global population to adopt new lifestyle with wearing of masks becoming a new norm.
Manufacturers have increased their R&D efforts and introduced multifunctional masks with properties such as antimicrobial activity, hydrophobicity, transparent see-through surfaces, sensing-cleaning, self-powered, and even sensing and detection capabilities.
Due to COVID-19 crisis many face mask producing companies increased their production to meet the demand of the customers. Thus, COVID-19 has positively impacted the face mask market, as production and sales of companies have increased in 2020, owing to COVID-19 pandemic across the world.
Key Benefits For Stakeholders
This report provides a quantitative analysis of the market segments, current trends, estimations, and dynamics of the face mask market analysis from 2019 to 2027 to identify the prevailing face mask market opportunities.
The key countries in all the major regions are mapped on the basis of market share.
The market research is offered along with information related to key drivers, restraints, and opportunities.
Porter's five forces analysis highlights the potency of buyers and suppliers to enable stakeholders make profit-oriented business decisions and strengthen their supplier–buyer network.
In-depth analysis of the face mask market segmentation assists to determine the prevailing market opportunities.
Major countries in each region are mapped according to their revenue contribution to the global market industry. 
Market player positioning facilitates benchmarking and provides a clear understanding of the present position of the market players.
The report includes the analysis of the regional as well as global face mask market trends, key players, market segments, application areas, and market growth strategies. 
 Face Mask Market Report Highlights
Aspects
Details
By Type

SURGICAL MASK
DUST MASK
N RESPIRATORS

Cone style
Valved N95 mask
Facepiece respirator

BY MATERIAL

Cotton
Polypropylene
Others

By Nature
BY DISTRIBUTION CHANNEL

Direct distribution

Hospitals
Laboratories
Community Health Center

Retail distribution

Hypermarket/Supermarket
Pharmacies
Convenience stores
Online
Others

By Region

NORTH AMERICA (US, CANADA, MEXICO)
EUROPE (GERMANY, FRANCE, ITALY, SPAIN, UK, THE NETHERLAND, BELGIUM, PORTUGAL, HUNGRY, SWEDEN, DENMARK, NORWAY, REST OF EUROPE)
ASIA-PACIFIC (CHINA, JAPAN, INDIA, AUSTRALIA & NEW ZEALAND, ASEAN, REST OF ASIA-PACIFIC)
LAMEA (LATIN AMERICA, MIDDLE EAST, AFRICA)

Key Market Players
3M COMPANY, ALPHA PRO TECH, LTD., CAMBRIDGE MASK CO, CARDINAL HEALTH, INC., HONEYWELL INTERNATIONAL INC., KIMBERLY-CLARK CORPORATION, MOLDEX-METRIC, IN, PRESTIGE AMERITECH, SHANGHAI DASHENG HEALTH PRODUCTS MANUFACTURING CO., LTD, THE GERSON COMPANY