Fatty Bases For Suppositories Market Research, 2031
The global fatty bases for suppositories market size was valued at $197.9 million in 2021, and is projected to reach $339.5 million by 2031, growing at a CAGR of 5.6% from 2022 to 2031. Suppositories are solid or semi-solid dosages in a variety of shapes and weights that are designed to be inserted into a person's vaginal, rectal, or urethral orifice. At body temperature, the suppositories melt or dissolve. This suppository has protective or therapeutic properties that deliver systemic action.
The COVID-19 outbreak caused severe supply chain disruption across the globe, thus, hampering the manufacturing of therapeutic suppositories. The stringent lockdowns forced many manufacturing plants to shut down due to labor shortages. This, in turn, ultimately lowered the demand for fatty bases for suppositories.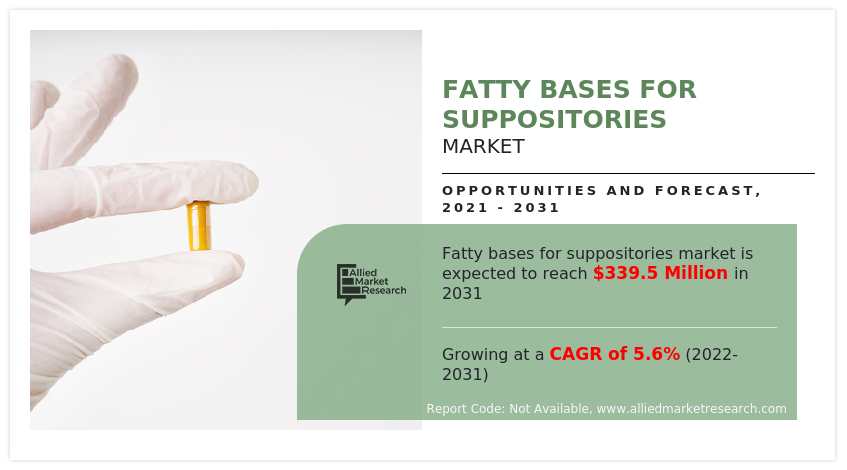 Suppositories are classified as rectal, vaginal, and urethral suppositories depending on where they are inserted. Suppositories may not be the most comfortable product you've ever used. They can, make it easier to take medication that you can't swallow or that your stomach or intestines won't absorb properly. The ideal suppository base such as fatty bases should be non-irritating, non-toxic, inert, easily formed by molding or compression, and compatible with medicaments. It should also disintegrate or dissolve in the existence of mucous secretions or else melt at body temperatures to allow for the discharge of the medication. The fatty bases for suppositories play a crucial role in both the extent and rate of the release of medications as with the ointment bases. Fatty bases consist of synthetic triglyceride mixtures of Cocoa butter or obroma oil as a suppository base. This mixture is used majorly due to its ideal qualities. At a room temperature of 15° to 25°C, it is a rigid amorphous solid, but at 30° to 35°C, i.e., it melts to a blend at body temperature. While preparing suppositories with a base of cocoa butter, the base must not be heated above 35°C as it is a polymorphic compound. If this compound is inflamed will transform into a metastable structure which melts in the 25° to 30°C range. Hence, the finished suppository would not be used as it melts at room temperature. 
The global fatty bases industry for suppositories is growing significantly due to the advantageous properties of fat-based suppositories, such as retention of large volumes, rapid absorption of many low molecular weight medicines, and the potential for lymphatic system absorption. A further factor driving demand for fat-based suppositories and the expansion of the market is their importance in the drug delivery of elderly and pediatric patients. Furthermore, the use of fatty excipients in the management of viral infections is likely to open up lucrative prospects for market expansion. Although fatty bases for suppositories have a long history of use in rectal and vaginal drug delivery, the current global market for these products is constrained primarily by a lack of consumer acceptance and willingness to use rectal products. Additionally, it is thought that the difficulties in producing oil-based suppositories will somewhat restrain the market expansion.
The modern healthcare industries are looking for improved medications and better alternatives that could help patients recover from infectious diseases such as allergies, anxiety, constipation, fever and many more. There is a good chance of developing an antiretroviral suppository drug delivery system, according to ongoing research conducted globally by numerous institutions, biotech companies, and pharmaceutical companies. Topical vaginal and rectal microbicides have demonstrated efficacy in the management of viral infections and disease and are essential in the delivery of antiretroviral therapy. These delivery systems, which are currently undergoing significant development, give high-risk patients accessible and efficient options. Numerous methods are currently being developed and researched for topical antiviral drug delivery systems via the vaginal and rectal routes. These factors will significantly increase the fatty bases for suppositories market opportunity worldwide.The global fatty bases for suppositories market is segmented on the basis of base type and region. By base type, the market is segmented into hard fat,  water miscible base, and emulsifying bases. By region, the market is analyzed across North America, Europe, Asia-Pacific, and LAMEA.
The fatty bases for suppositories market is segmented into base type and Region.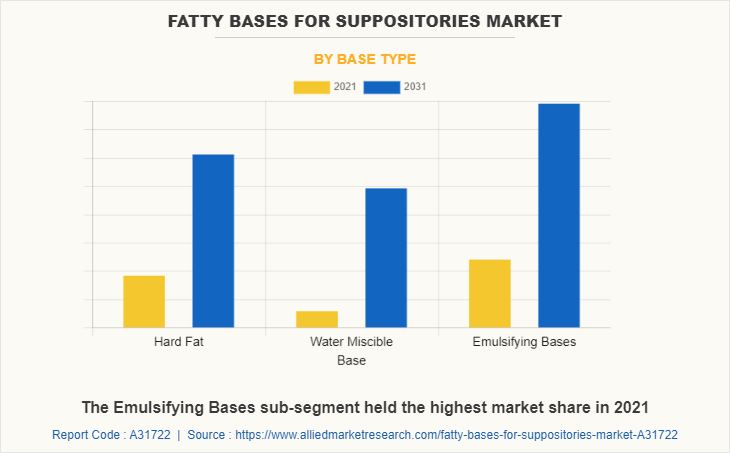 By base type, the emulsifying bases sub-segment is projected to hold the major Fatty Bases for Suppositories Market Share in forecasted years. Emulsions are combinations of two or more types of liquids, one of which is spread throughout the other as tiny or even ultra-small droplets. These are typically created from the components of liquids, either naturally or more frequently via the use of mechanisms such as agitation, as long as the fluids being combined are not mutually soluble. Emulsions are believed to be stabilized by substances that create films on the droplet's surface or by those that give them a certain degree of mechanical stability. These are predicted to be the major factors affecting the fatty bases for suppositories market size during the forecast period too.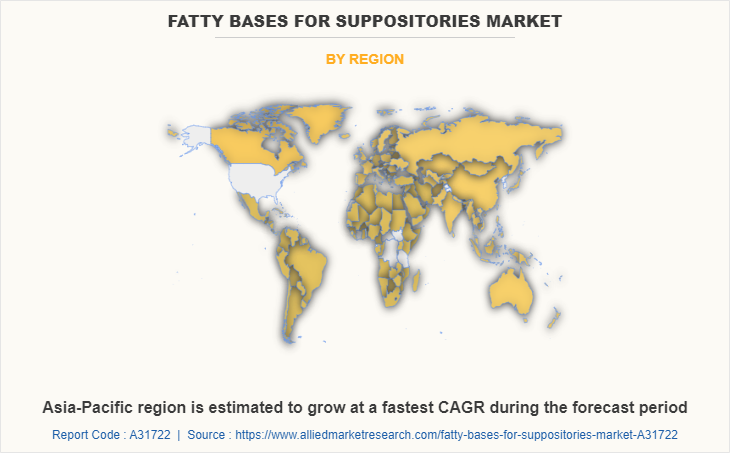 By region, Europe is predicted to have a dominant market share in the forecasted years. This is mainly due to the rising patients of gynecological diseases and urology disorders in the region. For example, as per a recently published report, in the Europe, Bacterial Vaginosis (BV) is one of the most common bacterial infections and approximately 30% of women of reproductive age suffer from such diseases. These factors may lead to foster the fatty bases for suppositories market growth of the Europe market, in the forecast period.
The key players profiled in this report include Unither, Bliss GVS Pharma Ltd., Delpharm, ATRAL, Aenova Holding GmBH, FAMAR, LGV (Laboratories Mayoly Spindler), and Priyans Drugs.
Impact of COVID-19 on the Global Fatty Bases for Suppositories Industry
Self-medication was a common practice for taking medications during the COVID-19 pandemic surge. The pandemic forced the closure of numerous treatment centers and clinics with just one doctor, depriving common people of timely medical care.
Self-medication has been promoted during the pandemic. The most popular forms of self-medication were topical corticosteroids. Anti-acne medications, corticosteroids, combos (corticosteroids, antibiotics, and antifungals), moisturizers, and suppositories were the most popular topical medications.
The market for suppositories has benefited from the increase in demand for over-the-counter and topical medications brought on by self-medication.
The market for suppositories has benefited from the increase in demand for over-the-counter and topical medications brought on by self-medication
Key Benefits For Stakeholders
This report provides a quantitative analysis of the market segments, current trends, estimations, and dynamics of the fatty bases for suppositories market analysis from 2021 to 2031 to identify the prevailing fatty bases for suppositories market opportunities.
The market research is offered along with information related to key drivers, restraints, and opportunities. 
Porter's five forces analysis highlights the potency of buyers and suppliers to enable stakeholders make profit-oriented business decisions and strengthen their supplier-buyer network.
In-depth analysis of the fatty bases for suppositories market segmentation assists to determine the prevailing market opportunities.
Major countries in each region are mapped according to their revenue contribution to the global market.
Market player positioning facilitates benchmarking and provides a clear understanding of the present position of the market players.
The report includes the analysis of the regional as well as global fatty bases for suppositories market trends, key players, market segments, application areas, and market growth strategies.
 Fatty Bases for Suppositories Market Report Highlights
Aspects
Details
Market Size By 2031
USD 339.5 million
Growth Rate
CAGR of 5.6%
Forecast period
2021 - 2031
Report Pages
250
By Base Type

Hard Fat
Water Miscible Base
Emulsifying Bases

By Region

North America (U.S., Canada, Mexico)
Europe (Germany, United Kingdom, France, Spain, Italy, Rest of Europe)
Asia-Pacific (China, Japan, India, South Korea, Australia, Rest Of Asia Pacific)
LAMEA (Brazil, Saudi Arabia, UAE, South Africa, Rest of LAMEA)

Key Market Players
STEARINERIE DUBOIS, CD Formulation, Croda International Plc, IOI Oleo GmbH, SpecializedRx Products, LLC, Dow, Tianshui Huayuan Pharmaceutical Equipment technology Co.,ltd, Gattefossé