Feed Pallet Machine Market Research, 2031
The global feed pellet machine market size was valued at $120.2 million in 2021, and is projected to reach $191.9 million by 2031, growing at a CAGR of 4.7% from 2022 to 2031. A biomass molding device is a feed palletizing machine. Pellets made from oil cake, flour made from corn, and other ingredients. Pellets made with this equipment are often favored for animal feed. Bean pulp, maize, grass, rice husks, straw, wheat stalks, alfalfa, and other raw materials are utilized. They are placed into the feeder and squeezed by the roller in the matrix. Due of the high pressure and friction in the matrix, the materials are heated to high temperatures (between 60 and 80 degrees Celsius). The ingredients are then ground and pressed into molds at a higher temperature and pressure to create pellets. After cooling, the pellets are quite strong.
The feed pellet machine market was hampered as the demand for meat in hotels and restaurants had decreased. However, the market recovered by the end of 2021.
Growing animal feed industry and rising demand for convenience and high-quality food products, rising urban population, which leads to increased pet adoption, rising consumption of processed and packaged food for animals around the world, rising disposable income of pet owners, and multi-functionality of pet food are all driving the feed pellet machine market growth. For instance, in February 2020, Nestle S.A. launched 'Unleashed' a global pet care industry's international innovation program. This program aimed to provide a total of $ 51,922.4 in funding to start-up companies involved in the production of various pet care items from Europe, North America, and the Middle East by the end of March 31, 2020.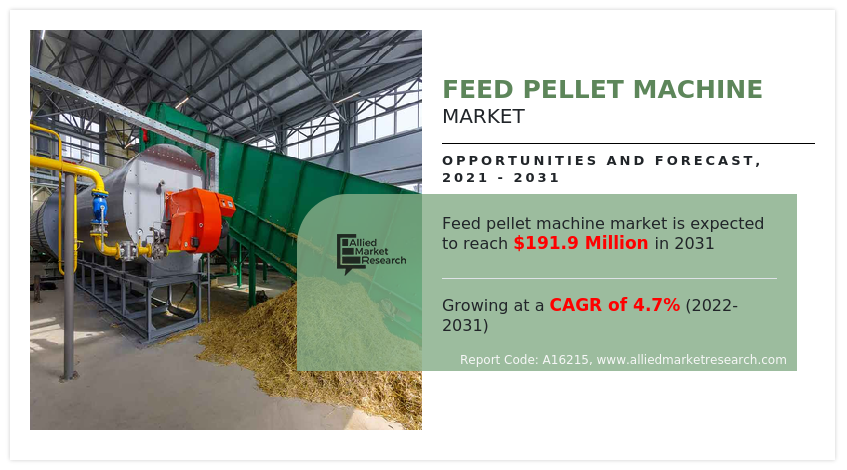 Additionally, throughout the projected period, changing consumer lifestyles in developed nations, a developing pharmaceutical and food sector, pet humanization, and the advent of new product development in pet food products are expected to provide possibilities for manufacturers in the global market. Hence, these are the factors that drive the growth of feed pellet machine industry.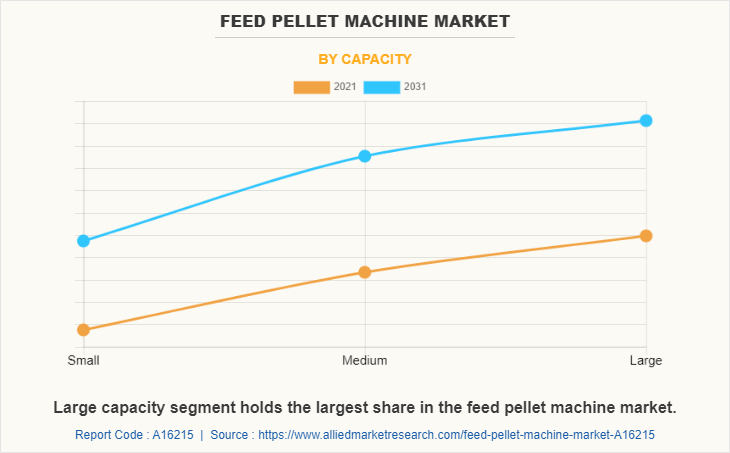 Increasing demand of organic food for animal food over processed food is decreasing the demand for feed pellet machine. Such instances are decreasing the demand of processed food and in turn decreasing the demand for feed pellet machine retraining the growth of feed pellet machine market.
Furthermore, during the outbreak of the COVID-19 pandemic, construction, manufacturing, hotel, and tourism industries were majorly affected. Manufacturing activities were halted or restricted. Construction and transportation activities, along with their supply chains, were hampered on a global level. This led to decline in manufacturing of feed pellet machine as well as their demand in the market, thereby restraining the growth of the feed pellet machine market. Conversely, industries are gradually resuming their regular manufacturing and services. This is expected to lead to re-initiation of feed pellet machine companies at their full-scale capacities, which is likely to help the market to recover by end of 2021.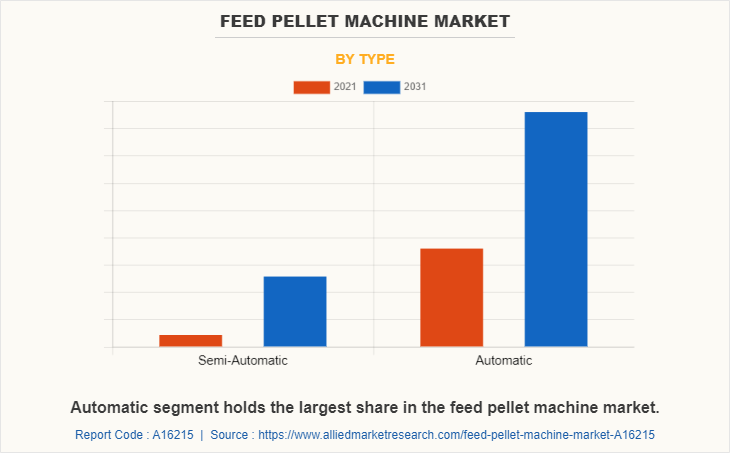 Moreover, recent years have seen potential technical advancements and an increase in urbanization. Pet owners want their pets to eat as much as they do as the humanization of pets grows. With more and more businesses developing premium pet food lines, more than 40% of pet owners now purchase premium pet food for their cat or dog. To combine and preserve the ingredients for better outcomes, quality machinery is needed. And automation in feed pellet machine is expected to create lots of opportunity for growth of the feed pellet machine market trends.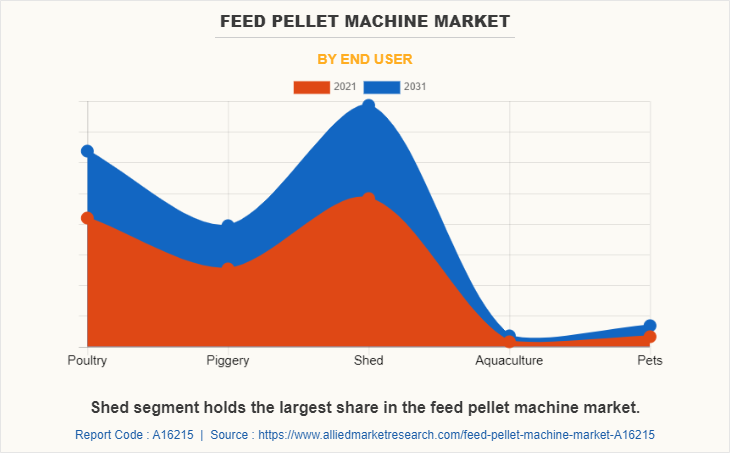 The feed pellet machine market is segmented into Capacity, Type and End User. Based on capacity, the market is divided into small, medium, large. Based on type, the market is divided into automatic and semi-automatic. Based on application, the market is divided into poultry, piggery, shed, aquaculture and pet. Region wise, the global market analysis is conducted across North America (the U.S., Canada, and Mexico), Europe (the UK, France, Germany, Italy, and rest of Europe), Asia-Pacific (China, Japan, India, South Korea, and rest of Asia-Pacific), and LAMEA (Latin America, the Middle East, and Africa).
On the basis of Capacity, in 2021, the large segment dominated the feed pellet market, in terms of revenue, whereas the small segment is expected to witness growth at the highest CAGR during the forecast period. As per type, in 2021, the semi-automatic segment led the feed pellet market, however, the automatic segment is expected to exhibit highest CAGR in the near future. End User, the shed segment led the market in 2021, in terms of revenue; however, the aquaculture segment is anticipated to register highest CAGR during the forecast period. Region wise, Europe garnered the highest revenue in 2021; however, Asia-Pacific is anticipated to register highest CAGR for feed pellet machine market share during the forecast period.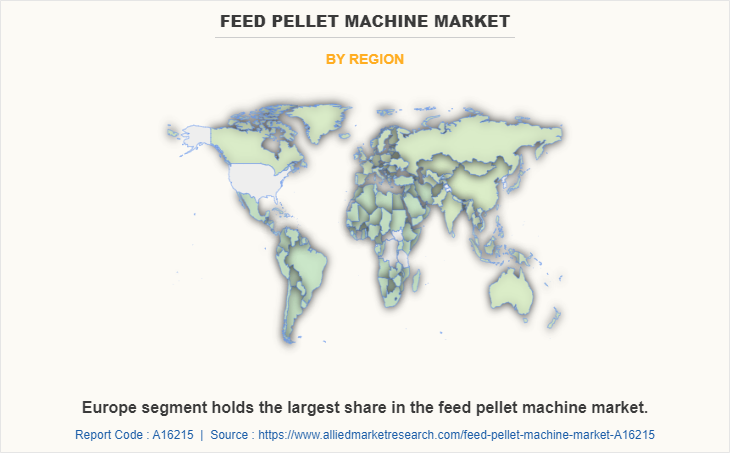 COMPETITION ANALYSIS
The major players profiled in the feed pellet machine industry report includes ABC Machinery, Amisy pellet machinery, Bharath engineering's, Metal tech engineers, Nav indus food machines pvt. ltd, Namdhari industrial works khanna, Shandong double crane machinery, S. G. global solutions, xinxiang longxing machinery equipment co., Ltd., Zhengzhou fusmar machinery co., ltd. Major companies in the market have adopted product launch as their key developmental strategies to offer better products and services to customers in the market.
Key Benefits For Stakeholders
This report provides a quantitative analysis of the market segments, current trends, estimations, and dynamics of the feed pellet machine market analysis from 2021 to 2031 to identify the prevailing feed pellet machine market outlook.
The feed pellet machine market overview research is offered along with information related to key drivers, restraints, and opportunities.
Porter's five forces analysis highlights the potency of buyers and suppliers to enable stakeholders make profit-oriented business decisions and strengthen their supplier-buyer network.
In-depth analysis of the feed pellet machine market segmentation assists to determine the prevailing market opportunities.
Major countries in each region are mapped according to their revenue contribution to the global market.
Market player positioning facilitates benchmarking and provides a clear understanding of the present position of the market players.
The report includes the analysis of the regional as well as global feed pellet machine market forecast.
 Feed Pellet Machine Market Report Highlights
Aspects
Details
Market Size By 2031
USD 191.9 million
Growth Rate
CAGR of 4.7%
Forecast period
2021 - 2031
Report Pages
240
By Capacity
By Type
By End User

Poultry
Piggery
Shed
Aquaculture
Pets

By Region

North America (U.S., Canada, Mexico)
Europe (Germany, UK, France, Italy, Rest of Europe)
Asia-Pacific (China, Japan, South Korea, India, Rest of Asia-Pacific)
LAMEA (Latin America, Middle East, Africa)

Key Market Players
Metal Tech Engineers, S. G. Global Solutions, ABC Machinery, Nav Indus Food Machines, Amisy pellet, Bharat engineering, ZHENGZHOU FUSMAR MACHINERY CO., LTD, Namdheri Industrial Works, Shandong Double Crane Machinery, Xinxiang Longxing Machinery Equipment Co., Ltd