Femtocell Market Statistics: 2028
The femtocell market size was valued at $3,827 million in 2020, and is projected to reach $15,419 million by 2028, growing at a CAGR of 19.3% from 2021 to 2028. A femtocell is a fully featured, low-powered, small, cellular base station. A femtocell is always connected to a mobile number service provider network by a typical broadband and cable service. Femtocell are small and they can replace Wi-Fi routers. They are basically designed for residential or office establishments. The femtocell designed for home support up to four connections and commercial femtocell typically support connections to up to 16 users. This is cost-effective solution can be used for high-speed internet.  
The COVID 19 pandemic truly changed way of working and day to day operations of the corporate sector. The government and private sectors in emerging countries are working together to speed up the development of telecommunication infrastructure in the wake of the pandemic. However, the COVID-19 pandemic delayed in some installation projects of femtocell infrastructure in some parts of the world, it has impacted minimally on the market.
Depending on application, the indoor segment dominated the femtocell market share in 2020, and is expected to continue this trend during the forecast period. The growth of the segment is attributed to numerous benefits provided by this indoor femtocell such as it can fulfill the demands of high-speed voice and data traffic for the indoor users. However, the outdoor segment is expected to witness highest growth in the upcoming years, as the outdoors femtocell allows commercial end users to focus on their major activities such as providing high speed internet for heavy user base area such as stadium, street path, and protection from incident such as network jamming due to heavy user traffic, which notably contributes toward the growth of the global femtocell market.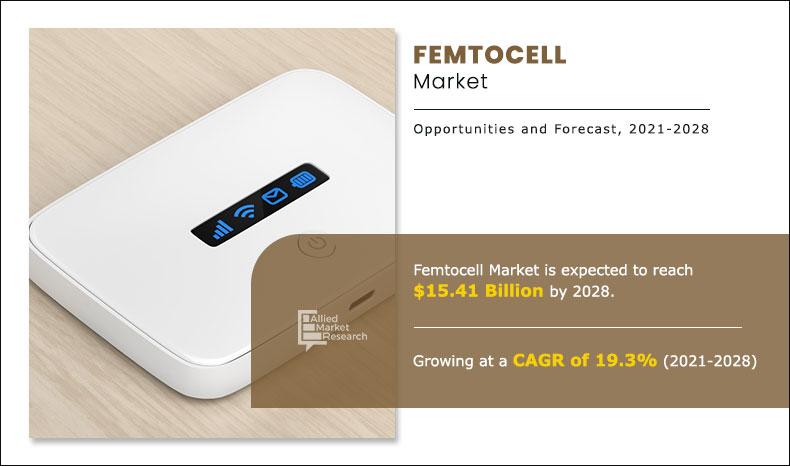 On the basis of femtocell type, the 4G femtocell segment dominated the overall femtocell market share globally in 2020, and is expected to continue the tread during the forecast period. This is attributed to increase in need for low powered internet device as well as surge in the use of smart phone around the globe. However, the 5G femtocell segment registered the highest growth in the market as the 5G technology is emerging and low latency networking technology will provide low cost and high-speed internet, having 1 Gbps data speed, which is expected to drive the femtocell market growth. 
Depending on the end users, the residential femtocell segment generated the highest revenue in the femtocell market in 2020, and is expected to continue the same during forecast period. This is attributed to high demand of wireless internet service in residential complex. However, the commercial segment is highest growing segment in 2020, and is expected to continue this trend during the forecast period due to increasing demand for low powered, high-speed, and secure internet connection in the commercial spaces.
North America generated highest revenue in 2020, and is expected to continue this trend during the forecast period. This is attributed to rapid growth in the telecommunication sector such adoption of 5G and rise in need for internet provider device which can be withstand to heavy internet traffic. However, the substantial rise has been experienced in the usage of femtocell technology across Asia-Pacific. This is attributed to the fact that large population in this region has created an extensive pool of mobile subscribers for telecom companies. Moreover, the region is the largest contributor to the total number of mobile internet subscribers across the globe, and is expected to add more subscribers to its network in the upcoming years. Asia-Pacific is further anticipated to witness heavy growth in femtocell deployments in the upcoming years due to major shift toward digital transformation and the technological advancement in countries, including China, South Korea, and Japan.
The report focuses on the growth prospects, restraints, and femtocell market analysis. The study provides Porter's five forces analysis of femtocell industry to understand the impact of various factors such as bargaining power of suppliers, competitive intensity of competitors, threat of new entrants, threat of substitutes, and bargaining power of buyers on the femtocell market trends.
Segment review
The femtocell market is segmented on the basis of technology, femtocell type, application, end users, and region. By technology, it is bifurcated into IMS/SIP and IU-H. By femtocell type, the market is divided into 2G femtocell, 3G femtocell, 4G femtocell, and 5G femtocell. By application, it is categorized into indoor and outdoor. By end users, it is classified into residential, commercial, and public space. By region, the market is analyzed across North America, Europe, Asia-Pacific, and LAMEA.
5G femtocell type is projected as one of the most lucrative segments.
Impact of COVID-19 on the femtocell market
The COVID-19 outbreak has a positive impact on the growth of the femtocell market as femtocell technologies are helping enterprises to address the extensive capacity demand of internet traffic. Most of the internet and data service providers are observing around 30–45% growth over a year in the global internet traffic. The COVID-19 pandemic is anticipated to result in surge in implementation of industrial automation across various industry verticals such as e-commerce, manufacturing, and transportation & logistics sectors, which is expected to drive the demand for femtocell for Internet of Things connectivity. In the European region, some countries are hit by COVID-19, due to which private LTE femtocell deployment plans have been postponed or expected to delay as the supply chain of femtocell accessories had disturb due to nationwide lockdown. Furthermore, detection of large number COVID-19-positive cases in the LAMEA region has negatively impacted several investment activities, which are focused on smart city infrastructure; thereby, affecting the deployment of industrial automation technologies. On the contrary, in Asia-Pacific, the number of COVID-19-positive cases are declining in China and India. Thus, the country is lifting restrictions gradually, and the manufacturing production facilities are resuming their work. Conclusively, the pandemic has had both positive as well as negative impact on the global femtocell market.
There is growing need to ensure the femtocell service providers are having enough ability and capacity to deliver data service with high performance during the increased traffic demand. Therefore, service providers, such as local mobile network operator and data service provider, are making considerable investments in femtocell market in a number of use cases. Furthermore, femtocell help organizations to cope with the ongoing pandemic and maintain economically positive operations.
Femtocell Market

---
By End User
Residential segment is projected as one of the most lucrative segments.
Top impacting factors    
Numerous factors such as less power consumption and low cost of femtocell as well as increase in need for wireless networks for business due to shifting business toward digitization boost the market growth. Moreover, increase in the penetration of smart phone and wearable devices drives the market growth globally. However, availability of substitutes such as 5G small cell and portable Wi-Fi device may hinder the growth of the market globally. Furthermore, increase in demand for 5G network and low latency high speed internet is anticipated to create lucrative femtocell market opportunity.
Increase in need for wireless networks among businesses due to major shift toward digitization
Increase in need for high-speed wireless network is an integral part of installing femtocell, which ensures massively increased data rates, from megabits per second (Mbps) to gigabits per second (Gbps), and ultra-reliable lower latency, from tens of milliseconds to milliseconds. As well as it is low powered device. Successful femtocell implementation is majorly dependent on network densification, which is increasing available network capacity by adding more femtocells. Femtocell also competes with public 4G and 5G cellular networks. However, it can be the better choice when large amounts of data are transferred that stress the public network in a given area. The cost of high data-transfer volume can also be prohibitive in femtocell. Femtocell can be deployed anywhere, including areas beyond the reach of public carriers, as it provides secure network and femtocell can be optimized to handle traffic types with specific requirements. For example, real-time industrial automation applications can be guaranteed extremely low latency for immediate response. Furthermore, the penetration of digital services such as autonomous cars and remote surgeries, industrial automation has been witnessed to increase significantly, which, in turn, boosts the demand for stronger connectivity and faster speed. Thus, driving the growth during the femtocell market forecast period. 
Femtocell Market

---
By Region
Asia-Pacific is projected as one of the most significant region.
Key Benefits For Stakeholders
The study provides an in-depth analysis of femtocell market along with the current trends and future estimations to elucidate the imminent investment pockets.
Information about key drivers, restraints, and opportunities and their impact analysis on the femtocell market size is provided.
Porter's five forces analysis illustrates the potency of buyers and suppliers operating in the content delivery in the femtocell market.
The quantitative analysis of the femtocell market from 2020 to 2028 is provided to determine the market potential.
 Femtocell Market Report Highlights
Aspects
Details
BY TECHNOLOGY
BY TYPE

2G FEMTOCELL
3G FEMTOCELL
4G FEMTOCELL
5G FEMTOCELL

BY APPLICATION
BY END USER

Residential
Commercial
Public Space

BY REGION

North America (U.S, Canada)
Europe (UK, Germany, France, Russia, Italy, Rest of Europe)
ASIA-PACIFIC (Japan, China, Australia, India, South Korea, Rest of Asia-Pacific)
LAMEA (Latin America, Middle East, Africa)

Key Market Players
ARICENT, INC, CHINA MOBILE LTD, CISCO SYSTEM INC, ERICSSON, FUJITSU LIMITED, HUAWEI TECHNOLOGIES CO. LTD, NOKIA CORPORATION, SAMSUNG ELECTRONICS CO LTD, VODAFONE GROUP PLC, ZTE CORPORATION