Fermentation Products Market Overview:
The Fermentation Products Market was valued at $149,469 million in 2016, and is expected to reach $205,465 million by 2023, registering a CAGR of 4.7% from 2017 to 2023. Fermentation is a metabolic process that involves conversion of sugar, cellulosic material, and starch into food, feed, fuel, and other industrial products. This conversion uses microorganisms or enzymes as raw materials and is carried out in bioreactors or fermenters. After this process, subsequent downstream processing is required to purify and isolate the target product. Fermentation products are necessary ingredients utilized in the production of bio-based products. Stringent government regulations imposed by key regulatory authorities in developed economies are anticipated to increase the demand for fermentation products during forecast period. These products assists in food preservation and extend shelf life of products in the food & beverage industry. Continuous R&D activities and acquisitions & mergers have been adopted by fermentation product manufacturers to expand their existing product portfolio and increase their market share.
Growth of the bioethanol industry, and rise in awareness among customers regarding bio-based products and ecological concerns drive growth and development of fermentation products market. Increase in demand for antibiotics & steroids and rise in use of fermentation products as raw material in textile, leather, plastic, chemical, and rubber industries further supplement market growth. North America is the leading region, due to increase in popularity of food and pharmaceutical products produced by use of fermentation products. Regulations framed by agencies, such as the Environmental Protection Agency (EPA) and European Commission, categorically promote green chemistry, growth of which is supported by utilization of fermentation products. However, irregular supply of raw materials, such as nutrients & microorganisms utilized in production of fermentation products, stringent regulations, and high manufacturing cost limit the market growth. In addition, economic viability of global fermentation-based chemical industry depends on price of alternative feedstock and relative product yields. Diversified demand for fermentation products in the emerging economies, such as India, China, and Brazil, technological innovation, and rise in number of applications are anticipated to provide lucrative opportunities for market expansion.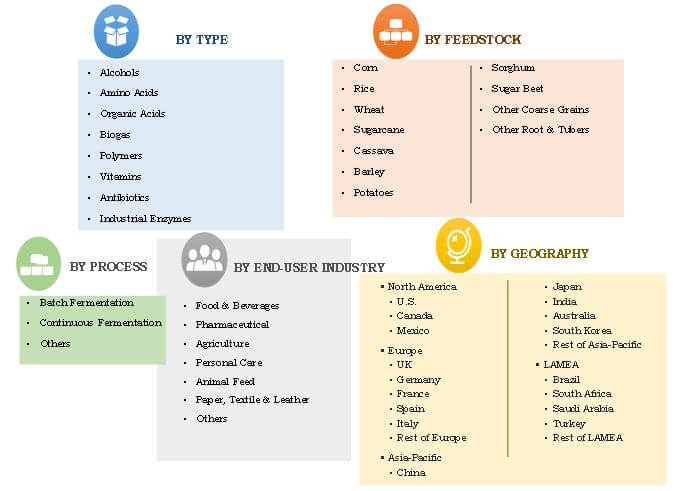 The fermentation products market is segmented based on type, feedstock, process, end-user industry, and geography. On the basis of type, it is divided into alcohols, amino acids, organic acids, biogas, polymers, vitamins, antibiotics, and industrial enzymes. According to feedstock, it is categorized into corn, rice, wheat, sugar cane, cassava, barley, potatoes, sorghum, sugar beet, other coarse grains, and other roots & tubers. Other coarse grains comprise oats, millet, triticale, buckwheat, rye, canary seed, fonio, and quinoa, while other roots & tubers include yams, sweet potatoes, yautia, and taro. Based on process, the market is classified into batch fermentation, continuous fermentation, and others (aerobic fermentation and anaerobic fermentation). According to end-user industry, it is divided into food & beverages; pharmaceutical; agriculture; personal care; animal feed; textile & leather; and others (paper, bioremediation, environment, and biochemistry). Geographically, the market is analyzed across North America, Europe, Asia-Pacific, and LAMEA.
Top Investment Pocket
Organic acids segment is the most prominent segment by type in global fermentation products market, and is expected to be first preference for new entrants, due to their high use in food & beverage industry. Lactic acid is utilized in food & beverage products as a flavor enhancer, acidulant, and shelf life extender.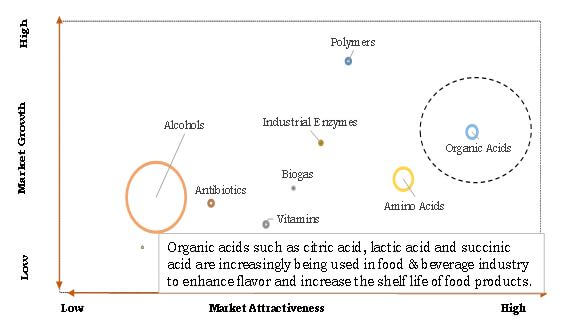 Asia-Pacific Analysis
India accounted for the highest market share in the Asia-Pacific fermentation products market in 2016, owing to high demand for antibiotics. Progress in the bioethanol industry and rise in awareness among consumers about the benefits associated with bio-based products propel the demand of fermentation products in the region. South Korea fermentation products market generated revenue of $289 million in 2016, and is estimated to reach $468 million by 2023, growing at a CAGR of 7.1% during the forecast period.
South Korea Fermentation Products Market, 2015-2023 ($Million)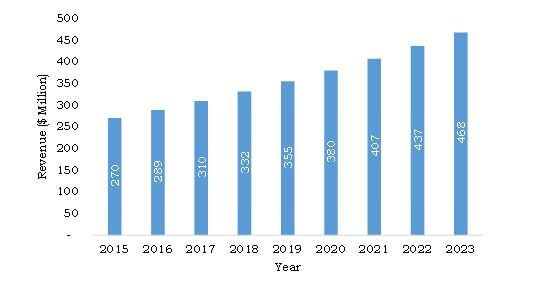 Key leading players operating in this market include AB Enzymes GmbH, Ajinomoto Company Incorporation, Amano Enzyme Inc., BASF SE, Chr. Hansen A/S, Du Pont Danisco A/S, Evonik Industries AG, Lonza Group Ltd., Novozymes A/S, and The Dow Chemical Company.
The other key market players in the value chain include Koninklijke DSM N.V., Archer Daniels Midland Company, Cargill Inc., Alcogroup S.A., Syngar Technologies Inc., Dhler Group, CBH Qingdao Co., Ltd., and Hebei Kangdali Pharmaceutical Co., Ltd.
Key Benefits for Stakeholders
This report provides quantitative & qualitative analyses of the current market trends and estimations from 2016 to 2023, which assists to identify the prevailing market opportunities.
Market trends of major countries in each region are mapped according to anticipated market revenue.
Top investment pockets highlight the opportunities in the most lucrative application segment.
Comprehensive analysis of the factors that drive and restrict the growth of fermentation products market is provided.
An in-depth analysis of different regulations within the market is provided.
Key manufactures of fermentation products are profiled and their recent developments are listed.
 Fermentation Products Market Report Highlights
Aspects
Details
By Type

Alcohols
Amino Acids
Organic Acids
Biogas
Polymers
Vitamins
Antibiotics
Industrial Enzymes

By Feedstock

Corn
Rice
Wheat
Sugarcane
Cassava
Barley
Potatoes
Sorghum
Sugar Beet
Other Coarse Grains
Other Roots & Tubers

By Process

Batch Fermentation
Continuous Fermentation
Others

By End Use Industry

Food & Beverages
Pharmaceutical
Agriculture
Personal Care
Animal Feed
Textile & Leather
Others

By Geography

North America
Europe

UK
Germany
France
Spain
Italy
Rest of Europe

Asia-Pacific

China
Japan
India
Australia
South Korea
Rest of Asia-Pacific

LAMEA

Brazil
South Africa
Saudi Arabia
Turkey
Rest of LAMEA

Key Market Players
AMANO ENZYME INC., NOVOZYMES A/S, LONZA GROUP LTD., THE DOW CHEMICAL COMPANY, EVONIK INDUSTRIES AG, AJINOMOTO COMPANY INCORPORATION, BASF SE, AB ENZYMES GMBH, CHR. HANSEN A/S, DU PONT DANISCO A/S