Fiber Optic Connectors Market Statistics: 2030
The global fiber optic connectors market was valued at $4.87 billion in 2020, and is projected to reach $11.44 billion by 2030, growing at a CAGR of 9.1% from 2021 to 2030. An optical fiber connector joins optical fibers, and enables quicker connection and disconnection than splicing. Fiber optic connections are being used across data centers, telephony, inter/intra building applications, community antenna TVs, security systems, and high-density connectivity are just a few of the areas where are used. The market is mostly driven by end customers' constantly increasing demand for high bandwidth services. The need for high-speed data has risen as a result of applications such as TV-on-demand, video services, and online gaming. Growing security and safety concerns as well as the need for 4G services, are all driving this industry forward. For better performance output, consumers are shifting toward smaller, more efficient, and multi-fiber connections.
The COVID-19 outbreak had a positive impact on the growth of fiber optic connector market owing to, surge in investment by various governments across the globe for enhancement of network infrastructures for better connectivity in the region and growing need for higher bandwidth connectivity across the developing nations of Asia-Pacific and LAMEA region
Increasing demand for high bandwidth, greater safety concerns and wider applications of fiber optics connector is boosting the growth of the global fiber optic connectors market. In addition, increased application of FTTH (Fiber to the Home) and increased adoption of mobile devices positively impacts the growth of the market. However, high investment cost, growing adoption of wireless broadband and other technologies and new infrastructure requirements hamper the market growth. On the contrary, increased investments by governments, diverse applications, and emerging economies is expected to offer remunerative opportunities for expansion of the market during the forecast period.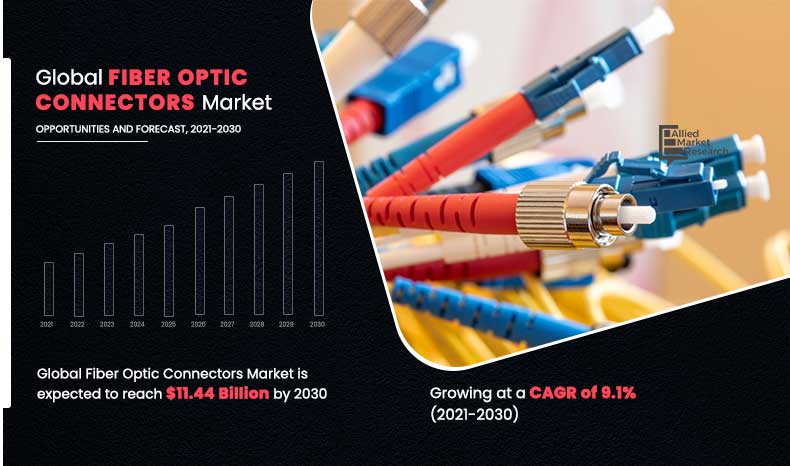 In terms of application, the telecom segment holds the largest share of the fiber optic connectors market. This is attributed to possibility of low costs and services including Broadband, IPTVs, and IP Video call. However, the medical segment is expected to grow at the highest rate during the forecast period, owing to acceptance of fiber optic connectors in healthcare, and pharmaceutical equipment companies for higher performance and better management of network. 
Region wise, the fiber optic connectors market was dominated by Asia-Pacific in 2020, and is expected to witness significant growth during the forecast period, owing to presence of a number of large enterprises, universities, government organizations, and banks in the region. In addition to this, increased need of connectivity by enterprises, government organizations, and educational centers, thereby, increasing the demand for fiber optic connectors.
The report focuses on growth prospects, restraints, and analysis of the global fiber optic connectors market trend. The study provides Porter's five forces analysis to understand the impact of various factors, such as bargaining power of suppliers, competitive intensity of competitors, threat of new entrants, threat of substitutes, and bargaining power of buyers on the global fiber optic connectors market share.
Segment Review
The global fiber optic connectors industry is segmented on the basis of type, application, and region. Depending on type, the market is classified into lucent connector (LC), subscriber connector (SC), straight tip (ST), multi-fiber termination push on/pull off (MTP), master unit (MU), fiber distributed data interface (FDDI), and sub multi assembly (SMA) and others. By application, it is segregated into telecom, oil and gas, military & aerospace, BFSI, medical, railway, and others. Region wise, it is analyzed across North America, Europe, Asia-Pacific, and LAMEA. Some of the key players operating in the global fiber optic connectors industry include 3M, Amphenol Corporation, Aptiv, Broadcom, Extron, Molex, OCC, Siemens AG, Shenzhen ADTEK Technology Co., Ltd., and T.E. Connectivity. These players have adopted various strategies to increase their market penetration and strengthen their position in the industry.
Covid-19 Impact Analysis
The fiber optic connectors market has witnessed significant growth in the past few years; however, owing to the outbreak of the COVID-19 pandemic, the market is projected to witness a sudden increase in demand. This is attributed to implementation of lockdown by governments in majority of the countries and shut down the real business across the globe. Moreover, most of the companies started adopting fiber optic to transmit information in various forms like text, sound, voice, and video. In addition, most companies already have business continuity plans, but those may not fully address the fast-moving and unknown variables of an outbreak such as COVID-19.
Fiber Optic Connectors Market

---
By Type
Lucent connector (LC) segment is projected as one of the most lucrative segments.
Typical contingency plans ensure operational effectiveness following events like natural disasters, cyber incidents and power outages, among others. They don't generally take into account the widespread quarantines, extended school closures and added travel restrictions that may occur in the case of a health emergency. Thus, driving the growth of the fiber optic connectors market size.
Top Impacting Factors
Increase In Demand For High Bandwidth
The bandwidth needs of internet users have consistently grown since the early days of the internet, with video and gaming being two of the largest drivers of higher bandwidth. According to a Cisco study, 82% of internet traffic this year will be from video. Bandwidth demands typically grow by about 50% per year. While a light home internet user might be able to get by with 5 to 10 Mbps today, in five years, nearly 40 Mbps is expected to be required to provide a similar experience. In 10 years, this is likely to grow to a staggering 300 Mbps. These growth trends are more likely for networks that rely on streaming video services, or in settings where there are early adopters of new technologies. While it seems nearly impossible to believe, this rate of growth has been observed since the early days of the internet. Moreover, there is a constant trend toward higher bandwidth services. Streaming video services have growing catalogs of 4K video content, which in turn is driving the demand for fiber optics connector to reduce the loss of speed and data loss while transmission.
Fiber Optic Connectors Market

---
By Application
Telecom segment is projected as one of the most lucrative segments.
Increased Application Of Ftth
The demand for FTTH dramatically increases connection speeds available to computer users compared with technologies now used in most places. FTTH promises connection speeds of up to 100 megabits per second (Mbps)
These speeds are 20 to 100 times as fast as a typical cable modem or DSL (Digital Subscriber Line) connections. Implementing FTTH on a large scale would be costly because it requires installation of new cable sets over the "last links" from existing optical fiber cables to individual users. In addition, FTTH has many benefits related to speed and capacity and that is the reason legacy copper-based networks are being replaced with Fiber to the X (FTTx). Other advantages include higher transmission rates and lower energy consumption. Fiber to the X network takes fiber closer to the end-user. This helps in leveraging the latest construction, connection and transmission techniques. With the development of cloud computing, smart cities and 5G, requirements for higher bandwidth and network speed have increased. Fiber to the X offers a low-latency, high-bandwidth fiber network that can fulfil all these requirements. In addition, it also helps in achieving high capacity and consistent connectivity. It also helps in providing long-distance signal transmission, a lightweight form factor, and immunity against electromagnetic interference. Thus, fueling the growth of fiber optic connectors market size.
Fiber Optic Connectors Market

---
By Region
Asia-Pacific would exhibit the highest CAGR of 10.3% during 2021-2030.
Key Benefits For Stakeholders     
The study provides an in-depth analysis of the global fiber optic connectors market forecast along with current & future trends to explain the imminent investment pockets.
Information about key drivers, restraints, & opportunities and their impact analysis on global deep learning market trend is provided in the report.
The Porter's five forces analysis illustrates the potency of the buyers and suppliers operating in the industry.
The quantitative analysis of the market from 2021 to 2030 is provided to determine the fiber optic connectors market potential.
 Fiber Optic Connectors Market Report Highlights
Aspects
Details
By Type

Lucent Connector (LC)
Subscriber Connector (SC)
Straight Tip (ST)
Multi-Fiber Termination Push On/Pull Off (MTP)
Master Unit (MU)
Fiber Distributed Data Interface (FDDI)
Sub Multi Assembly (SMA)
Other

By Application

Telecom
Oil and Gas
Military & Aerospace
BFSI
Medical
Railway
Others

By Region

North America (U.S., Canada)
Europe (UK, Germany, France, Spain, Italy, Rest of Europe)
Asia-Pacific (China, India, Japan, Australia, Singapore, Rest of Asia-Pacific)
LAMEA (Latin America, Middle East, Africa)

By Key Market Players

3M
Amphenol Corporation
Aptiv
Broadcom
Extron
Molex
OCC
Siemens AG
Shenzhen ADTEK Technology Co., Ltd.
TE Connectivity