Fibromyalgia Treatment Market Research, 2032
The global fibromyalgia treatment market size was valued at $3.1 billion in 2022, and is projected to reach $4.6 billion by 2032, growing at a CAGR of 4.0% from 2023 to 2032. Fibromyalgia is a chronic pain syndrome characterized by abnormal processing of pain signals in the central nervous system. The primary symptom of fibromyalgia is chronic pain throughout the body. However, patients with fibromyalgia often experience a range of other symptoms, including fatigue and mood disturbances. Many individuals with fibromyalgia struggle with sleep disturbances, such as difficulty in falling asleep, staying asleep, or waking up feeling unrefreshed.
The complex nature of fibromyalgia requires a multidimensional approach to its diagnosis and management, involving healthcare professionals from various specialties to address the diverse symptoms and comorbidities. Its treatment may include a combination of medications along with some lifestyle and diet modifications. 
"The COVID-19 pandemic had a mixed impact on the fibromyalgia market with stress and uncertainties of the pandemic elevated the symptoms of fibromyalgia in people and thus increased the demand for fibromyalgia treatment medications. On the other hand, limited access to healthcare services and disrupted appointments affected the diagnosis and management of fibromyalgia."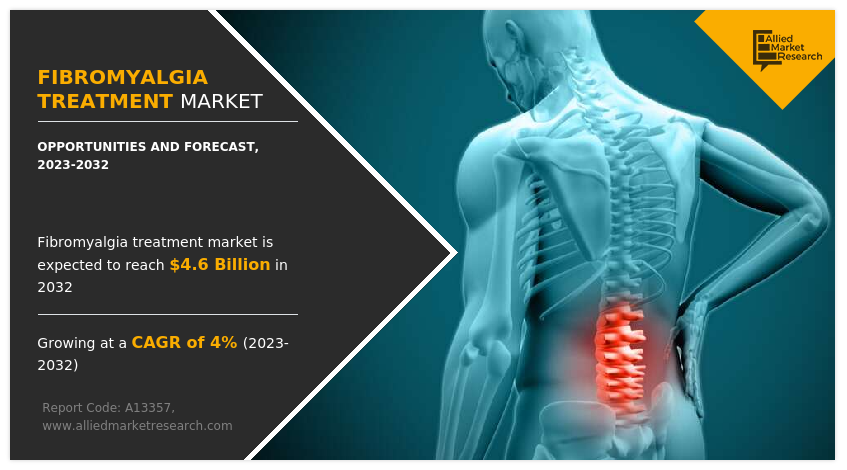 The growth of fibromyalgia treatment market size is attributed to increase in prevalence of fibromyalgia, rise in awareness regarding the development of new treatment options, and increase in healthcare expenditure. The American College of Rheumatology stated that fibromyalgia is a chronic condition causing chronic pain and affects 2–4% of people globally. In addition, fibromyalgia is becoming more recognized and diagnosed, leading to a growing patient population seeking treatment. As awareness about the condition improves among healthcare professionals and the public, more individuals are likely to receive appropriate diagnosis and treatment for their fibromyalgia symptoms. This increased prevalence and awareness contribute to the fibromyalgia treatment market share . 
Furthermore, enhanced access to generic medications for fibromyalgia treatment is contributing to the market growth. The availability of generic versions of medications approved for fibromyalgia offers several benefits that positively impact the market. The generic medications are more affordable compared to their brand name counterparts. This affordability improves accessibility, especially for individuals who may have financial constraints or lack comprehensive insurance coverage, thereby driving market growth.  
On the other hand, in underdeveloped countries, one significant challenge in the market is the lack of awareness about the condition. Limited healthcare resources and inadequate education about fibromyalgia among healthcare providers and the general population contribute to the lack of awareness. This lack of awareness hinders early detection, diagnosis, and appropriate management of fibromyalgia in these regions, resulting in negative impact on the growth of fibromyalgia treatment market share. 
On the contrary, researchers and pharmaceutical companies continue to explore and develop new treatment options for fibromyalgia. These include medications specifically targeting the symptoms and underlying mechanisms of the condition. Thus, the introduction of novel treatments provides additional options for healthcare providers and patients for treatment, which is anticipated to drive the market in the fibromyalgia treatment market forecast period. 
The COVID-19 pandemic had a mixed impact on the fibromyalgia market. One notable effect has been the shortage of medications, primarily due to disruptions in the supply chain and the availability of raw materials used in manufacturing. This has led to production delays and supply chain disruptions, resulting in medication shortages in certain regions. In addition, clinical trials investigating new treatments for fibromyalgia were temporarily halted or delayed due to restrictions on research activities and the prioritization of COVID-19 research. These factors have negatively affected the fibromyalgia treatment market.  
Moreover, individuals with fibromyalgia faced unique challenges during the pandemic. The heightened stress and anxiety experienced during the pandemic led to increased pain, fatigue, and other fibromyalgia symptoms among patients. Consequently, the demand for medications to manage fibromyalgia symptoms increased, which positively impacted the fibromyalgia treatment market.  
Furthermore, a study published by the National Center for Biotechnology Information (NCBI) suggests that fibromyalgia is common among individuals who have recovered from COVID-19. This finding indicates a potential increase in the prevalence of fibromyalgia among those who have had COVID-19, which could contribute to an increased demand for fibromyalgia treatment post pandemic. 
Segmental Overview 
The global fibromyalgia treatment market is segmented into drug class, distribution channel, and region. Depending on drug class, the market is categorized into antidepressants, anticonvulsants, muscle relaxants, and others. On the basis of distribution channel, the market is divided into hospital pharmacies, drug stores and retail pharmacies, and online providers. Region wise, the market is analyzed across North America (U.S., Canada, and Mexico), Europe (Germany, France, UK, Italy, Spain, and rest of Europe), Asia-Pacific (Japan, China, Australia, India, South Korea, and rest of Asia-Pacific), and LAMEA (Brazil, South Africa, Saudi Arabia, and rest of LAMEA). 
By Drug Class:  
Depending on drug class, the anticonvulsants segment held the largest revenue share of the market in 2022. This growth can be attributed to increase in adoption of anticonvulsant medications for the treatment of fibromyalgia. Anticonvulsants, such as pregabalin tablets, have been approved for fibromyalgia treatment and have gained significant acceptance among healthcare providers and patients.  
Furthermore, the effectiveness of anticonvulsants in managing fibromyalgia symptoms, particularly in reducing pain and improving sleep, has made them a preferred choice for many patients. As a result, the demand for anticonvulsant medications has increased, thus driving the growth of this segment. 
However, the antidepressants segment is expected to grow at a fastest rate during the forecast period, owing to the wide range of antidepressant alternatives available for patients with fibromyalgia. The availability of multiple antidepressants provides flexibility in prescribing and increases the likelihood of finding an appropriate medication for each patient. In addition, the availability of generic forms of antidepressants approved for fibromyalgia is expected to contribute to the growth of this segment. Generic versions are more affordable than brand-name drugs, making them more accessible to a larger patient population.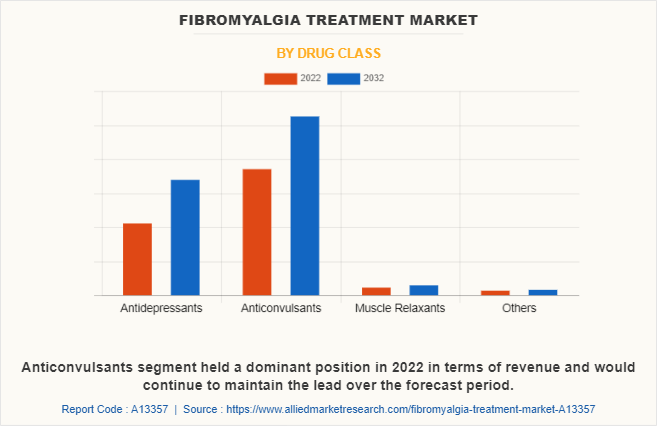 By Distribution Channel:  
By distribution channel, the drug stores and retail pharmacies segment held the largest share of the fibromyalgia market. Drug stores and retail pharmacies are widely accessible to the general population, with numerous locations in various neighborhoods and communities. This widespread presence ensures convenient access to medications and treatments for individuals with fibromyalgia. In addition, these establishments often employ trained pharmacists and healthcare professionals who can provide guidance and information about fibromyalgia medications, dosages, potential side effects, and drug interactions.  
Furthermore, drug stores and retail pharmacies are well-equipped to process insurance claims, making it easier for patients to access medications and have them covered by their insurance plans. This convenience encourages patients to choose these outlets for their fibromyalgia medication needs. 
However, the online providers segment is expected to grow at the fastest rate during the forecast period. This is attributed to the fact that online providers offer the convenience of purchasing fibromyalgia medications and related products from the comfort of one's own home. This accessibility attracts patients who prefer the convenience of online shopping and may have limited mobility or face challenges in physically visiting stores. In addition, online providers often offer competitive pricing for fibromyalgia medications. This affordability can be a driving factor for patients seeking cost-effective options for their fibromyalgia management.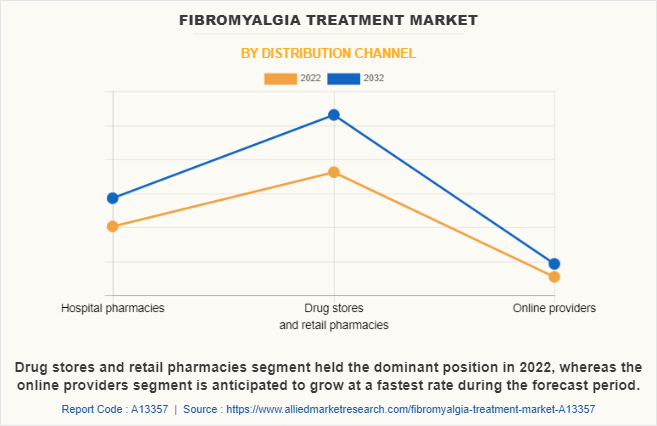 By Region:  
North America accounted for a major share of the fibromyalgia treatment market in 2022 and is expected to maintain its dominance during the forecast period. The North America market is driven by several factors such as increase in prevalence of fibromyalgia, advancements in treatment options, and a supportive healthcare infrastructure. Furthermore, the presence of well-established healthcare infrastructure, high purchasing power, and rise in adoption rate of medications for fibromyalgia are expected to drive the market growth. 
In addition, presence of several major players such as Abbott Laboratories, Abbvie Inc, Amneal Pharmaceuticals LLC, Eli Lilly and Company, and Lupin along with advancements in manufacturing technologies to develop efficient products by these companies is driving the fibromyalgia treatment industry in this region. Moreover, significant prevalence of fibromyalgia in the U.S. and other countries in this region and sufficient awareness among the population regarding the condition are propelling the growth of the market.  
The Asia-Pacific is expected to grow at the fastest rate during the forecast period. Many countries in Asia-Pacific are investing in the development of their healthcare infrastructure. Improved healthcare facilities, better access to medical professionals, and advancements in healthcare technologies create a favorable environment for the diagnosis and treatment of fibromyalgia. The growing healthcare infrastructure supports the growth of the fibromyalgia treatment market. 
In addition, awareness about fibromyalgia has been growing in Asia-Pacific. As awareness improves, more individuals with fibromyalgia symptoms are likely to seek medical attention and receive a proper diagnosis. This increased awareness and diagnosis contribute to the growth of the market.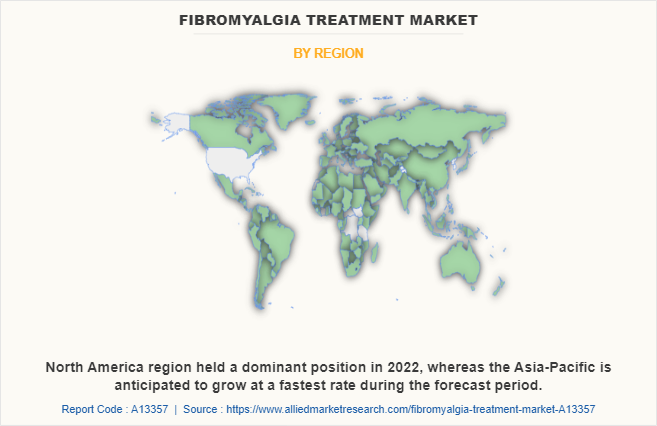 COMPETITION ANALYSIS 
Competition analysis and profiles of the major players in the fibromyalgia treatment industry, such as Abbott Laboratories, Abbvie Inc, Amneal Pharmaceuticals LLC, Eli Lilly and Company, Lupin, Novartis AG, Sun Pharmaceutical Industries Ltd., Teva Pharmaceutical Industries Limited, Viatris Inc., and Zydus Lifesciences Limited are provided in this report. There are some other important players in the market such as Glenmark Pharmaceuticals, InvaGen Pharmaceuticals, MSN Laboratories Ltd., Rising Pharmaceuticals, and Sciengen Pharmaceuticals. Major players have adopted product approval, agreement, partnership, and acquisition as their key developmental strategies to improve the product portfolio of the fibromyalgia treatment.
Recent Approvals in Fibromyalgia Treatment Market
In February 2022, Zydus Cadila received final approval from the U.S. Food and Drug Administration (FDA) to market Nortriptyline Hydrochloride Capsules USP, 10 mg, 25 mg, 50 mg, and 75 mg used to treat mental problems such as depression.  
In May 2022, Lupin received approval from the U.S. FDA for its Abbreviated New Drug Application (ANDA), Pregabalin Capsules, 25 mg, 50 mg, 75 mg, 100 mg, 150 mg, 200 mg, 225 mg, and 300 mg to market a generic equivalent of Lyrica Capsules, and will be manufactured at Lupin's facility in Aurangabad, India. 
Recent Acquisition in the Fibromyalgia Treatment Market
In May 2020, AbbVie completed its acquisition of Allergan Plc following receipt of regulatory approval from all government authorities required by the transaction agreement.  
Recent Agreement in the Fibromyalgia Treatment Market  
In January 2023, Amneal Pharmaceuticals, Inc. signed a long-term license agreement with Orion Corporation to commercialize several Amneal's complex generic products to market in Europe, Australia, and New Zealand. 
Key Benefits For Stakeholders
This report provides a quantitative analysis of the market segments, current trends, estimations, and dynamics of the fibromyalgia treatment market analysis from 2022 to 2032 to identify the prevailing fibromyalgia treatment market opportunity.
The market research is offered along with information related to key drivers, restraints, and opportunities.
Porter's five forces analysis highlights the potency of buyers and suppliers to enable stakeholders make profit-oriented business decisions and strengthen their supplier-buyer network.
In-depth analysis of the fibromyalgia treatment market segmentation assists to determine the prevailing market opportunities.
Major countries in each region are mapped according to their revenue contribution to the global market.
Market player positioning facilitates benchmarking and provides a clear understanding of the present position of the market players.
The report includes the analysis of the regional as well as global fibromyalgia treatment market trends, key players, market segments, application areas, and market growth strategies.
 Fibromyalgia Treatment Market Report Highlights
Aspects
Details
Market Size By 2032
USD 4.6 billion
Growth Rate
CAGR of 4%
Forecast period
2022 - 2032
Report Pages
233
By Drug Class

Antidepressants
Anticonvulsants
Muscle Relaxants
Others

By Distribution Channel

Hospital pharmacies
Drug stores and retail pharmacies
Online providers

By Region

North America (U.S., Canada, Mexico)
Europe (Germany, France, UK, Italy, Spain, Rest of Europe)
Asia-Pacific (Japan, China, India, Australia, South Korea, Rest of Asia-Pacific)
LAMEA (Brazil, Saudi Arabia, South Africa, Rest of LAMEA)

Key Market Players
Teva Pharmaceutical Industries Ltd., Abbott Laboratories, Eli Lilly and Company, Zydus Lifesciences Limited, Viatris Inc., Sun Pharmaceutical Industries Limited, Lupin Limited., Amneal Pharmaceuticals LLC, Novartis AG, AbbVie Inc.
Analyst Review
This section provides various opinions of top-level CXOs in the global fibromyalgia treatment market. The market presents several opportunities and challenges for the key players in the market. The market is driven by the significant prevalence of fibromyalgia and its awareness among the population around the globe. This increased awareness has led to a growing demand for effective treatment options for individuals affected by fibromyalgia.
Furthermore, the fibromyalgia patients often face significant challenges in finding effective treatments that alleviate their symptoms and improve their quality of life. Thus, key players in the market are focusing on the development of innovative and targeted therapies to address the unmet needs of patients.
The North America is expected to witness the highest growth, in terms of revenue, owing to surge in demand for effective fibromyalgia treatment medications, developed healthcare infrastructure, and easy availability of medicines through established distribution channels. Furthermore, Asia-Pacific is anticipated to witness notable growth during the forecast period owing to rise in awareness among the population in Asia-Pacific, large population base, improvement in healthcare infrastructure, and rise in healthcare expenditure.