5PL Solutions Market Statistics 2022-2035:
The global fifth-party logistics market is expected to be valued at $9.21 billion in 2025, and is likely to reach $17.30 billion in 2035, registering a CAGR of 6.5%.    
The COVID-19 outbreak proved very drastic for a variety of businesses and forced governments across the globe to implement strict lockdowns and led to social distancing being made mandatory to contain the spread of the virus, which disrupted the supply chain and halted logistics activities across the world. As a consequence of the COVID-19 epidemic, countries were left with no alternative but to temporarily halt their transportation and logistical operations with one another, which significantly impacted the supply of commodities, consequently producing a disruption in the supply chain. The reverse logistics market is predicted to observe substantial recovery in 2021, owing to changing social distancing measures, rising E-commerce, retail, and pharmaceutical sales, and refurbishment initiatives of automotive industry. Furthermore, logistics companies took various steps to tackle the COVID-19 pandemic, depending on the pre-crisis maturity of their supply chain risk management capabilities. Companies with little or no risk management experience tend to invest in new software tools, while more mature organizations focus primarily on implementing new practices. Proactive supplier risk monitoring was the primary focus of these efforts, but significant blind spots remain in most companies' supply chain risk management setup.
Fifth-party logistics provider is responsible for management of networks of supply chain. Fifth-party logistics service providers construct, organize, and implement logistics solutions and technologies on behalf of multiple clients. Moreover, fifth-party logistics companies combine the shipping needs of multiple logistics companies. Fifth-party logistics companies serve third-party logistics companies by acting as logistics aggregators and they aggregate third-party logistics demands into bulk volumes for more favorable rates.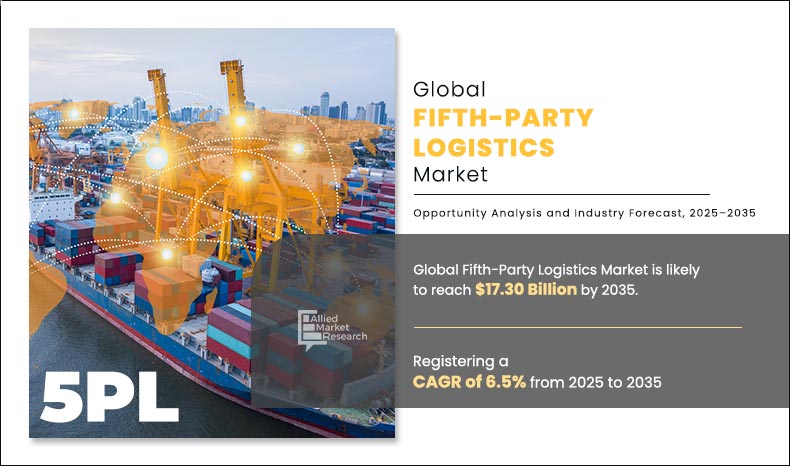 The global fifth-party logistics market is dominated by Europe followed by North America, Asia-Pacific, and LAMEA. Europe is expected to maintain its dominance in the global market, as the demand for technology-driven supply chain management services is increasing in the region. Moreover, surge in adoption of blockchain for logistic management is driving the growth of this market.
Factors such as expansion of the e-commerce industry, rise in efficiency of supply chain & management systems, and increase in international trade are expected to drive the growth of the fifth-party logistics market. However, complex supply chain and government barriers for logistics companies restrain the market growth. Conversely, technological advancement and introduction of blockchain are projected to offer lucrative growth opportunities for the market players.
The fifth-party logistics market is segmented into type, application, and region. On the basis of type, the market is categorized into such as transportation, warehousing, and other services. It categorizes the market in terms of application into e-commerce, traders, logistics company, and others. Region wise, the market is analyzed across North America, Europe, Asia-Pacific, and LAMEA. 
The key players operating in the global fifth party logistics market include 5PL Logistics Solutions LLC, Toll Holdings Ltd, DHL International, Renaissance Network Reinvent, MGL Global Logistics, Maine Pointe, Deloitte, Bain and Company, Boston Consulting Group, and McKinsey & Company.
Development of E-commerce Industry
In current scenario, the e-commerce industry is growing rapidly, due to rise in penetration of internet. Multiple benefits associated with e-commerce such as facility of home delivery, improvements in logistics services, and ease in payments have made it an ideal platform for purchasing.  For instance, in May 2021, according to UNCTAD, a United Nation Conference on Trade and Development expert, the share of the global e-commerce sector's retail sales increased dramatically from 16% to 19% in 2020. Similarly, according to the India Brand Equity Foundation (IBEF), India's e-commerce is expected to reach $99 billion by 2024, growing at 27.00% compared to 2019–2024, with food and fashion apparel likely to be major products. 
Furthermore, countries across the globe are improving the connectivity infrastructure to improve internet connectivity. For instance, according to the Organisation for Economic Co-operation and Development (OECD) organization, Austria, Belgium, Chile, Ireland, Israel, and the UK all expanded their fiber connections by more than 50% in 2020. Similarly, according to the World Bank, by 2022, total annual internet usage is expected to increase by approximately 50% from 2020 levels to reach 4.8 zettabytes, equivalent to 150,000 GB per second. Furthermore, increase in global internet traffic is astounding. Personal data is expected to make up a significant portion of the total amount of cross-border data. Thus, as result of the growth of the e-commerce industry, the infrastructure of logistic industry is improving, due to rise in internet penetration globally, which helps consumers to shop through online platforms. Moreover, third-party and fourth-party logistics companies are expected to give contracts to fifth-party logistics companies. For instance, in December 2019, M3B GmbH partnered with DHL Trade Fairs and Events, part of DHL Global Forwarding and Freight, as the official logistics supplier. DHL provides all freight transportation services for five years from January, 2020 in its 40,000 sq.mt. exhibition center. Thus, fifth-party logistics all these factors collectively are expected to drive the growth of the global market during the forecast period.
Increase in Efficiency of Supply Chain Management Systems
Fifth-party logistics companies focusing on customizing the supply chain according to need of customer, improving supply chain efficiency, and increasing transparency in supply chain operations. However, the problem with this scenario is that traditional supply chain management (SCM) methods cannot identify potential supplies for a particular user. In the current scenario, enterprises need well-developed infrastructure, out-of-the-box complementary services, and need to build an integrated supply chain that relies on logistics as a network technology, which works as a bridge between logistics company and consumers. 
SCM requires consistent optimization. Products need to move efficiently along the supply chain, from parts manufacturers to distribution centers, various retailers, and end customers. To achieve optimal efficiency, it is important to use the right tools, software, and the best supply chain model. Therefore, the fifth-party logistics model was developed to help e-commerce companies find a supply chain management approach that effectively addresses the increasing pressures they face. In addition, fifth party logistics enhances a company's revenue by reducing the overall cost of network participants. This can be implemented depending on new interaction models in current digital environment through system integration and using advanced supply chain management solution . Thus, all these factors notably contribute toward the growth of the overall market.
Complex Supply Chain
Modern supply chains are highly complex and involve multiple parallel physical and information processes to ensure that products are delivered in proper quantities to the right location and at a reasonable cost. Supply networks, rather than supply chains, may be a more descriptive term. In recent years, there has been a shift toward thinner supply networks, which has made these networks more sensitive. There is relatively little inventory in the system to "buffer" any supply disruptions, and as a result, any shutdowns can have a quick impact on the supply network. 
Fifth-party Logistics Market

---
By Type
Warehousing is projected as the most lucrative segments
Furthermore, in fifth-party logistics companies majorly have long-term partnerships/contracts with their clients. Due to complexity in supply chain network, there are chances the improper communication between manufacturer/client and fifth party logistic company which may affects the partnerships/ contracts between them.
Logistics companies have long recognized the importance of disaster recovery and emergency preparedness, particularly in areas such as information technology and manufacturing operations. In addition, logistics companies (and their insurers) are paying more attention to business risk, particularly in terms of market share loss, and the time and expense of re-entering a market after a severe supply disruption. Thus, the complex supply chain in the logistics industry is expected to hinder the market growth.
Fifth-party Logistics Market

---
By Application
Logistics Companies is projected as the most lucrative segments
Technological Advancements
Increase in penetration of Internet of Things (IoT) in the logistics sector enables freight companies and consumers to directly access the company network via the internet. The logistics infrastructure is constantly upgraded to meet the needs. Moreover, increase in use of AI, machine learning, radiofrequency identification (RFID), and Bluetooth coupled with other newly introduced technologies, such as drone delivery and driverless vehicles, is being witnessed in logistics services. These technological advancements act as the catalyst to the growth of the fifth-party logistics market. In addition, some of the logistics companies across the world are increasing their spending and using technologically advanced systems for logistics enhancement, which are further expected to propel the growth of the logistics market. For instance, SimpliRoute, an urban logistics solution raised the $3 million funding to improve its AI-powered logistics platform. The new funding will help the start-up to grow its logistics intelligence platform and expand to other countries besides Mexico, Chile, Peru, and Uruguay.
In addition to setting up AI based data analysis and performance management tools, fifth-party logistics operators also offer more technology-based services. For instance, fifth-party logistics can provide an online payment solution that customers can integrate with supply chain network. Some fifth-party logistics companies offer call center facilities to ensure a high level of customer service. Thus, these advancements by companies creates opportunities for market players during the forecast period.
Fifth-party Logistics Market

---
By Region
Asia-Pacific would exhibit the highest CAGR of 7.47% during 2025-2035.
COVID-19 impact analysis 
The COVID impact on the logistics market is unpredictable and it is expected to remain in force till the second quarter of 2021. 
The COVID-19 outbreak forced governments across the globe to implement strict lockdowns and made social distancing mandatory to contain the spread of the virus. This led to a sudden downfall in global trade, which further reduced the demand for logistics across the world. 
Moreover, the nationwide lockdown forced the logistics service providers to partially or completely shut their operations which resulted in delays in the supply chain activities.
Rise in pharmaceutical and e-commerce sales owing to the pandemic has increased the demand for the logistics market
Key Benefits For Stakeholders
This study presents analytical depiction of the global fifth-party logistics market analysis along with the current trends and future estimations to depict imminent investment pockets.
The overall market opportunity is determined by understanding profitable trends to gain a stronger foothold.
The report presents information related to key drivers, restraints, and opportunities of the global market with a detailed impact analysis.
The current market is quantitatively analyzed from 2025 to 2035 to benchmark the financial competency.
The Porter's five forces analysis illustrates the potency of the buyers and suppliers in the industry.
 Fifth-party Logistics Market Report Highlights
Aspects
Details
By Type

Transportation
Warehousing
Other service

BY APPLICATION

E-commerce
Traders
Logistics company
Others

By Region

North America (U.S., Canada, Mexico)
Europe (UK, Germany, France, Italy, Rest of Europe)
Asia-Pacific (China, Japan, India, South Korea, Rest of Asia-Pacific)
LAMEA (Latin America, Middle East, Africa)

Key Market Players
5PL Logistics Solutions, Bain & Company Inc., Boston Consulting Group (BCG), Deloitte, DHL International, Maine Pointe, McKinsey & Company, MGL Global Logistics, Renaissance Network Reinvent, Toll Holdings Limitedb