Fire Sprinkler Market Statistics - 2027
The global fire sprinkler market size was valued at $10,200.0 million in 2019, and is projected to reach $14,525.5 million by 2027, registering a CAGR of 6.5% from 2020 to 2027. Fire sprinkler is a fire protection system. These are very common type of fire protection systems used in various places such as residential buildings, hospitals, factory buildings, office spaces, school, colleges, and sports stadiums for security and safety of assets and human lives. Fire sprinklers are capable of detecting fire at early stage and hence are able to restrict spread of fire with minimal water usage.
The COVID 19 outbreak has affected the growth of the fire sprinkler industry owing to the lockdown measure in different countries and delay in manufacturing and production of fire sprinkler components such as alarm valve, stop valve, fire sprinkler head, and others.
Rise in demand for fire sprinklers can be attributed to rapid development of the construction industry across the globe as this leads to increase in need for safety from the risk of fire. For instance, the UK government has framed an objective of building 300,000 residential houses per year in the next three years (i.e., 2017 to 2020) in its autumn budget of 2017. This is expected to drive growth of the market during the forecast period. In addition, strict government regulations of different countries around the globe have made compulsions for use of fire sprinkler systems in construction of new buildings and factories. For instance, in October 2019, MHCLG (Ministry of Housing, Communities and Local Government) based in the UK introduced new regulations for design and installation of fire sprinklers in apartment buildings in England to enhance safety and security of buildings against fire.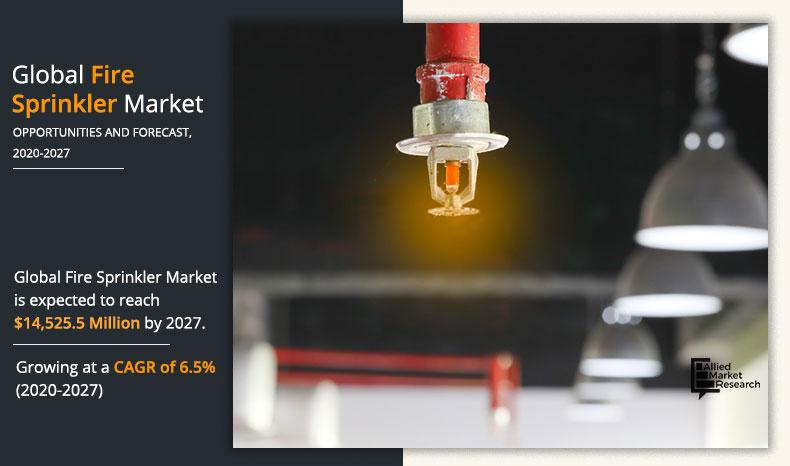 Governments around the globe are investing in residential and infrastructural construction to develop their economy and improve standard of living. For instance, in 2017, the government in Europe spent around $112 billion on commercial building construction. Similarly, in October 2019, NBS (National Bureau of Statistics) reported that China's investment on infrastructure has increased by 4.2% during from 2019 to August 2019 as compared to corresponding period of 2018. This is expected to augment growth of the construction sector, which, in turn, is expected to contribute toward growth of the market during the forecast period. 
Key players in the market are continuously taking efforts to improve their product offerings to cater to dynamic requirements of the industry. For instance, in December 2018, Johnson Controls International plc based in the U.S. launched TY3934 under "TYCO RAPID RESPONSE Series LFII," which is a series of residential fire sprinklers.
Fire Sprinkler Market

---
By Type
Services segment is projected to grow at a significant CAGR
Design, installation, commissioning, and testing of fire sprinklers require trained professional, hence lack of skilled labor is expected to hamper growth of market during the forecast period. In addition, fluctuations in prices of raw materials such as steel, aluminum, and plastic affects profitability of manufacturers of fire sprinkler systems, which is anticipated to restrain  growth of the global fire sprinkler market during the forecast period.
Advance technologies such as smart building, BIM (building information modeling), Internet of Things (IoT), advanced sensors, and alarms are expected to provide lucrative opportunities for growth of the fire sprinkler market during the forecast period. For instance, Plumis Inc., a U.S. based company, offers "Automist Smartscan Hydra," a smart fire sprinkler system, which uses 90% less water than traditional fire sprinkler systems.
Fire Sprinkler Market

---
By Application
Commercial segment holds dominant position in 2019
The global fire sprinkler market is segmented into type, component, technology, application, and region. Depending on type, the market is divided into products and services. On the basis of component, it is fragmented into stop valve, alarm valve, fire sprinkler head, alarm test valve, and motorized alarm bell. By technology, it is classified into active fire protection and passive fire protection. On the basis of application, it is divided into residential, commercial, and industrial. Region wise, the market is analyzed across North America, Europe, Asia-Pacific, and LAMEA.
North America dominated the fire sprinkler market in 2019, however Asia-Pacific is anticipated to grow with highest CAGR of 9.3% throughout the forecast period. 
Fire Sprinkler Market

---
By Region
North America holds a dominant position in 2019 and Asia-Pacific is expected to grow at a significant rate during the forecast period.
Key Benefits For Stakeholders
The report provides an extensive analysis of the current and emerging fire sprinkler market trends and dynamics.  
In-depth fire sprinkler market analysis is conducted by constructing market estimations for the key market segments between 2020 and 2027. 
Extensive analysis is conducted by following key product positioning and monitoring of the top competitors within the fire sprinkler market framework.
A comprehensive analysis of all the regions is provided to determine the prevailing opportunities.
The global fire sprinkler market forecast analysis from 2020 to 2027 is included in the report.
The key players within fire sprinkler market are profiled in this report and their strategies are analyzed thoroughly, which help to understand the competitive outlook of the fire sprinkler industry. 
 Fire Sprinkler Market Report Highlights
Aspects
Details
By Type
By COMPONENT

Stop Valve
Alarm Valve
Fire Sprinkler Head
Alarm Test Valve
Motorized Alarm Bell

By TECHNOLOGY

Active fire protection
Passive fire protection

By APPLICATION

Residential
Commercial
Industrial

By Region

North America (U.S., Canada, Mexico)
Europe (Germany, France, UK, Italy, Spain, Sweden, Russia, Rest of Europe)
Asia-Pacific (China, India, Japan, Rest of Asia-Pacific)
LAMEA (Latin America, Middle East, Africa)

Key Market Players
MINIMAX GmbH & CO. KG, SIEMENS AG, AMERICAN FIRE TECHNOLOGIES, API GROUP, ROBERT BOSCH GmbH, AG FIRE SPRINKLER, GW SPRINKLER A/S, JOHNSON CONTROLS INTERNATIONAL PLC, SIRON FIRE PROTECTION, HONEYWELL INTERNATIONAL INC