The global fire truck market size was valued at $6.2 billion in 2022, and is projected to reach $9.9 billion by 2032, growing at a CAGR of 5% from 2023 to 2032.
Report Key Highlighters:
The fire truck market studies more than 15 countries. The research includes a segment analysis of each country in terms of value ($ million) for the projected period 2022-2032.

The study integrated high-quality data, professional opinions and analysis, and critical independent perspectives. The research approach is intended to provide a balanced view of global markets and to assist stakeholders in making educated decisions to achieve their most ambitious growth objectives.

Over 3,700 product literature, annual reports, industry statements, and other comparable materials from major industry participants were reviewed to gain a better understanding of the market.

The fire truck market is moderately fragmented, with several players including Oshkosh Corporation, MORITA HOLDINGS CORPORATION, Rosenbauer International AG, Alexis Fire Equipment Company, Scania, Zoomlion Heavy Industry Science & Technology Co., Ltd., NAFFCO, REV Group, Magirus, and Albert Ziegler GmbH. Key strategies such as partnership, agreement, product launch, product development and other strategies of the players operating in the market are tracked and monitored.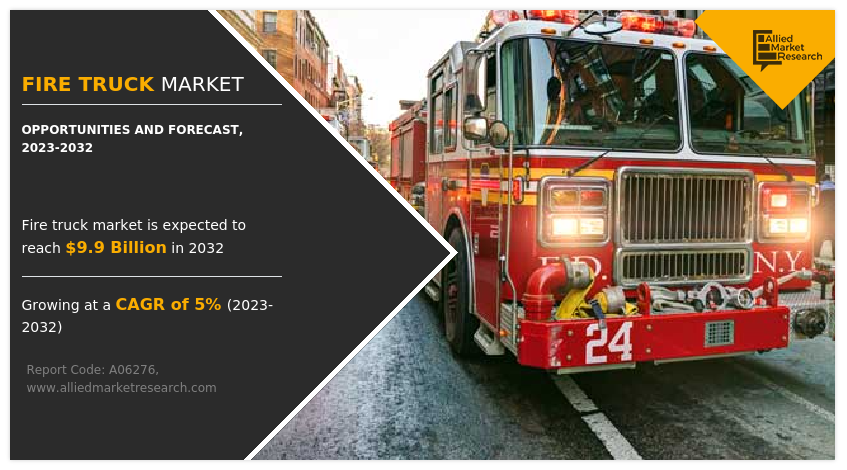 A fire truck is a vehicle designed and equipped to respond to emergencies such as fires, hazardous material incidents, medical emergencies, and extrication situations. These vehicles are designed with distinctive lights and markings that make them easily recognizable for efficient identification during emergency situations. Firefighting, rescue efforts, and emergency medical care are applications where fire trucks are utilized by the fire departments. Fire trucks are designed to transport vital firefighting supplies such as hoses, water pumps, ladders, and a variety of other gear needed to extinguish fires. Firefighters may respond to emergencies more quickly and efficiently owing to fire vehicles, which lowers the danger and protects people and property.
Factors such as growth in stringent fire safety regulations, electrification of fire trucks, and rise in replacement of aging fire truck fleets drive the growth of the fire truck market. However, regulatory compliance and safety standards, and high initial investment hinder the growth of the market. Furthermore, the surge in the integration of advanced safety features, and technological advancements offer remarkable growth opportunities for the players operating in the fire truck industry.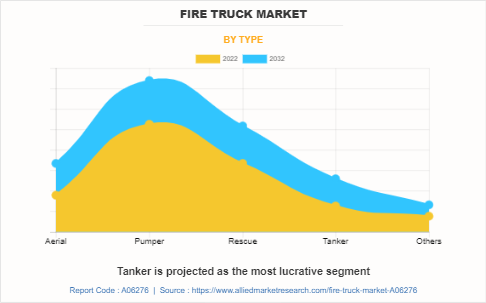 The fire truck market is segmented on the basis of type, application, propulsion type, and region. By type, it is classified into aerial, pumper, rescue, tanker, and others. By application, it is fragmented into residential & commercial, enterprises & airport, military, and others. By propulsion type, it is bifurcated into ICE, and electric. By region, the market is analyzed across North America, Europe, Asia-Pacific, and LAMEA.
The leading companies profiled in the fire truck market report include Oshkosh Corporation, MORITA HOLDINGS CORPORATION, Rosenbauer International AG, Alexis Fire Equipment Company, Scania, Zoomlion Heavy Industry Science & Technology Co., Ltd., NAFFCO, REV Group, Magirus, and Albert Ziegler GmbH. To strengthen the market position and increase the fire truck market share, the players have implemented strategies such as expansion, product development, agreement, contract, and others.
Europe includes the UK, Germany, France, Spain, and the rest of Europe. Fire departments in Europe are placing a greater focus on improving safety features and operational efficiency in fire trucks. The fire department requires vehicles that incorporate advanced technologies such as automatic vehicle location systems, integrated communication systems, state-of-the-art firefighting equipment, and enhanced ergonomic designs. Moreover, fire truck manufacturers market share is expected to steadily increase with the development and integration of electric and hybrid propulsion systems in fire trucks. These advancements are crucial for ensuring effective and safe firefighting operations in the region. Therefore, the rise in demand for fire trucks is anticipated to propel the growth of the market during the forecast period.
Stringent fire safety regulations
Demand for modern and technologically advanced fire trucks is fueled by the implementation of strict fire safety rules, which in turn drives the market for fire trucks.  The construction of fire suppression systems, the provision of proper access for emergency responders, and the availability of firefighting tools such as fire trucks are the requirements for fire protection measures that are outlined in fire safety regulations. Fire departments and organizations are required to abide by these rules by providing themselves with innovative, effective fire trucks that correspond to the set safety standards. Fire trucks are important vehicles in responding to fires and performing rescue operations effectively. They have specialized equipment such as water pumps, hoses, ladders, and other pieces of firefighting gear required for extinguishing fires and conducting rescue operations. During the forecast period, the demand for fire vehicles is driven by the requirement to adhere to fire safety regulations.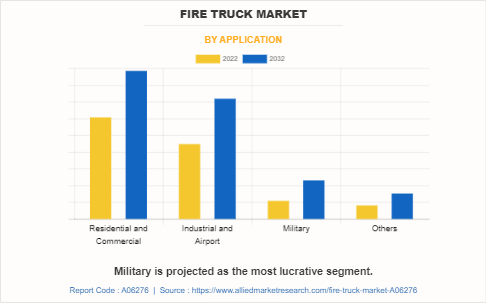 Electrification of fire trucks
The rise in the demand for electric-powered fire trucks is driving the growth of the fire truck market. There is a rise in the global focus on sustainability and environmentally friendly solutions to reduce carbon emissions and promote cleaner energy alternatives. Electric fire trucks offer significant environmental advantages over traditional combustion engine vehicles. Manufacturers increasingly develop electric fire trucks to improve air quality, reduce carbon footprint, and decrease noise pollution during firefighting operations. For instance, in April 2022, REV Fire Group unveiled Vector, the first fully electric North American-style fire truck at Fire Department Instructors Conference (FDIC) 2022. The Vector is designed to meet the specific requirements and standards of North American fire departments, offering a fully electric alternative to traditional combustion engine fire trucks. In addition to their environmental benefits, electrified fire trucks provide operational advantages. Electric powertrains offer instant torque and smoother acceleration, enhancing the maneuverability and responsiveness required in emergency situations. Fire departments and municipalities are recognizing the advantages of electric fire trucks in terms of their environmental impact, operational capabilities, and potential cost savings. For instance, in April 2023, the city of Boulder, Colorado purchased its first electric fire truck, showcasing the growing trend of adopting electric vehicles in the firefighting industry. Therefore, the demand for electric-powered firefighting vehicles is increasing, driving innovation and development within the fire truck market. Manufacturers are investing in research and development to provide advanced electric fire trucks that meet the specific needs of fire departments and comply with safety regulations. Such developments to create a greener and more sustainable firefighting fleet are expected to boost the growth of the market.
Regulatory compliance and safety standards
Regulatory compliance and safety standards can act as restraints on the fire truck market by imposing specific requirements and limitations on manufacturers. The effectiveness of firefighting operations and the safety of firefighters are based on the regulations, which are developed by organizations such as the National Fire Protection Association (NFPA). Such regulations provide difficulties and restrictions for both manufacturers and consumers. Manufacturers are constrained by the need to commit a large amount of time and money to ensuring adherence to these requirements. They have to develop fire trucks that meet the required safety requirements, which may involve stringent testing, certification procedures, and following specific criteria. This can make production more expensive and may prevent certain manufacturers from competing in the market. Moreover, stringent safety standards may restrict the level of innovation and customization options available to manufacturers. While safety regulations are essential for ensuring the reliability and performance of fire trucks, they can also limit the flexibility for manufacturers to introduce new features or design variations that may better suit the specific needs of fire departments or address emerging firefighting challenges.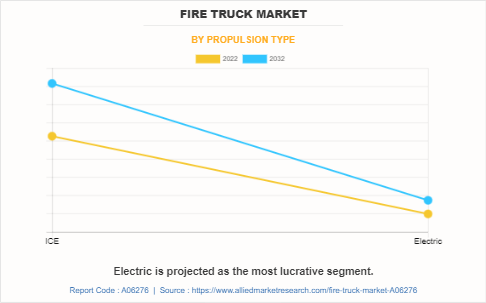 High initial investment
High investment acts as a restraint to the fire truck market due to the substantial costs associated with manufacturing and purchasing fire trucks. Fire truck manufacturers need to make significant investments in research and development, engineering, manufacturing facilities, and specialized equipment. They are expected to incorporate advanced technologies, materials, and manufacturing processes to meet evolving safety standards, enhance performance, and improve overall capabilities. These investments can be substantial, particularly during the integration of innovative features such as advanced firefighting systems and integrated communication technologies. Moreover, fire departments and organizations face the challenge of the high cost of purchasing fire trucks. The complexity of design, specialized equipment, and safety features contribute to the high cost of fire trucks. In addition, ongoing maintenance, repairs, and training add to the overall cost of ownership for fire trucks. Routine servicing, equipment inspections, replacement parts, and training programs for firefighters are necessary to ensure the effective operation and maintenance of the vehicles. The combination of manufacturing and purchasing costs, along with the ongoing expenses for maintenance and training, can impose financial burdens on both manufacturers and fire departments. These high investments are expected to hinder market growth.
Surge in the integration of advanced safety features
Manufacturers incorporate safety technologies that are expected to significantly enhance firefighter protection and operational efficiency. The focus of the manufacturers is expected to be on improving features such as ergonomics, vision systems, driving assistance systems (ADAS), collision avoidance systems, and autonomous capabilities. Manufacturers efficiently respond to the changing needs of fire departments, enhance the overall security of their vehicles, and gain a competitive edge in the market by prioritizing the integration of these cutting-edge safety measures. Fire departments and universities are actively testing V2V (Vehicle-to-Vehicle) communication systems for potential integration into their fire truck fleets. This emerging technology holds significant promise for enhancing firefighter safety, particularly during emergency responses. Fire departments have the option to either have the V2V devices installed by the fire truck manufacturer or retrofit them onto existing vehicles at a later stage. By enabling communication between fire trucks and other vehicles on the road, V2V technology has the potential to improve situational awareness, coordination, and response effectiveness, thereby reducing the risks and hazards faced by firefighters while en route to emergency calls. Such factors are anticipated to provide significant opportunities for the growth of the market.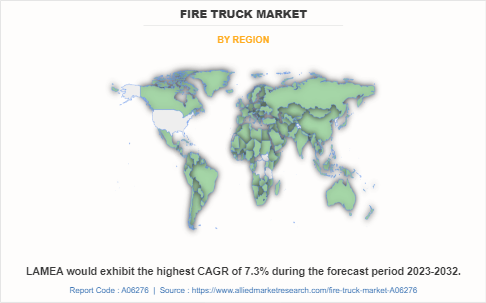 Recent Developments:
In June 2023, Rosenbauer International AG delivered two electrically powered basic firefighting vehicles (BLF) through an agreement with the fire department and civil protection of Vienna. It is equipped with a high-voltage battery with a capacity of 66 kWh & 225 kW energy backup system (EBU) for prolonged power outages.

In May 2023, Oshkosh Corporation through its subsidiary Pierce Manufacturing Inc. received an order through an agreement from the City of San Diego Fire-Rescue Department. Order includes 18 custom fire apparatus, including 17 Pierce fire trucks and one Frontline Communications mobile command vehicle.

In February 2023, Oshkosh Corporation through its subsidiary Pierce Manufacturing Inc. signed a purchase agreement with the City of Madison fire department in Wisconsin for Pierce Volterra Electric Pumper. Pierce Volterra Electric Vehicle Configuration includes custom chassis with seating for six 1,500 GPM single-stage pumps, and a 500-gallon water tank.

In April 2023, Scania launched a hybrid system for airport fire trucks, at Interschutz. It is equipped with a 6-liter, up to 770hp combustion engine and 380hp E-machine. The complete hybrid solution enables quicker response time and more sustainable and safe operations.

In December 2022, Albert Ziegler GmbH signed an agreement to deliver a new Z6 Airfield and Rescue firefighting (ARFF) vehicle to the International Airport of Košice, Slovakia. The vehicle is built on a TITAN 6x6 chassis T39-770 6x6 and is equipped with a 770 HP Scania V8 engine.

In March 2020, NAFFCO delivered six firefighting vehicles through an agreement to Missan Oil Fields in Iraq. The vehicles are a mix of water/foam and water/foam/dry chemical powder configurations. It is built on a Scania 6x4 with automated transmission Opti-cruise and 410 HP engine with water tanks & foam tanks.
The outbreak of COVID-19 resulted in global economic downturn, with many countries experiencing recessions and reduced government budgets. decreased This caused decreased public spending and budget constraints for numerous municipalities and fire departments. However, post-pandemic, economic conditions gradually improved as economies reopened and stabilized. Governments and municipalities regained financial stability, enabling them to allocate funds to essential services, including fire departments. This positive economic shift created a favorable environment for fire departments to consider investing in new fire trucks.
Key Benefits For Stakeholders
This report provides a quantitative analysis of the market segments, current trends, estimations, and dynamics of the fire truck market analysis from 2022 to 2032 to identify the prevailing fire truck market opportunities.
The market research is offered along with information related to key drivers, restraints, and opportunities.
Porter's five forces analysis highlights the potency of buyers and suppliers to enable stakeholders make profit-oriented business decisions and strengthen their supplier-buyer network.
In-depth analysis of the fire truck market segmentation assists to determine the prevailing market opportunities.
Major countries in each region are mapped according to their revenue contribution to the global market.
Market player positioning facilitates benchmarking and provides a clear understanding of the present position of the market players.
The report includes the analysis of the regional as well as global fire truck market trends, key players, market segments, application areas, and market growth strategies.
 Fire Truck Market Report Highlights
Aspects
Details
Market Size By 2032
USD 9.9 billion
Growth Rate
CAGR of 5%
Forecast period
2022 - 2032
Report Pages
267
By Type

Aerial
Pumper
Rescue
Tanker
Others

By Application

Residential and Commercial
Industrial and Airport
Military
Others

By Propulsion Type
By Region

North America (U.S., Canada, Mexico)
Europe (UK, Germany, France, Spain, Rest of Europe)
Asia-Pacific (China, Japan, India, South Korea, Rest of Asia-Pacific)
LAMEA (Latin America, Middle East, Africa)

Key Market Players
Albert Ziegler GmbH, NAFFCO, Rosenbauer International AG, MORITA HOLDINGS CORPORATION, Alexis Fire Equipment Company, REV Group, Zoomlion Heavy Industry Science &Technology Co., Ltd., Magirus, Scania, Oshkosh Corporation