Firewood Market Research, 2031
The global Firewood Market Size was valued at $878.5 million in 2021, and is projected to reach $1.5 billion by 2031, growing at a CAGR of 4.2% from 2022 to 2031.
As impoverished people in underdeveloped nations shifted to wood and charcoal because they are less expensive and more readily available than other fuels like liquefied petroleum gas, Covid19 had a favorable effect on the firewood industry.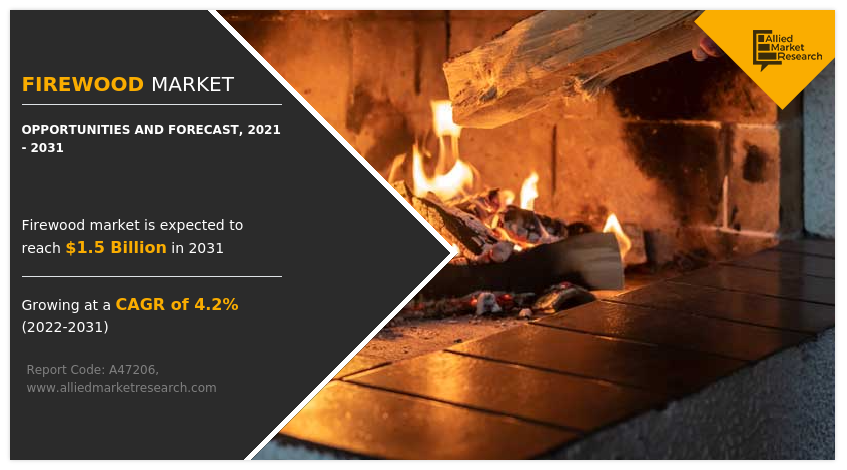 Firewood is a significant source of home energy for the rural population in many developing nations. It is estimated that 2.6 billion people in poor nations primarily rely on fuelwood for cooking and space heating, a practice that is regarded as wasteful, harmful, and unsustainable. Future predictions indicate that this trend will persist, particularly in developing nations' rural areas. One of the least developed nations in the world with one of the lowest per-capita energy consumption rates is Nepal. In Nepal, energy use and access levels are far below those required to meet basic human needs, and firewood is predicted to continue to be the predominant source of energy for cooking for the foreseeable future.  According to Nepal's household survey from 2015–16, firewood is a significant source of cooking fuel for more than half of the nation's households, with 76.5% of rural and 38.0% of urban households using it to meet their daily cooking energy needs. The rural population is forced to employ inefficient solid biomass energy sources that, if handled improperly, can result in dangerous events due to low money.
According to estimates from the World Health Organization (WHO), 2.8 billion people in underdeveloped nations rely on solid fuels and conventional cook stoves for cooking and heating. Numerous indoor air contaminants that have an adverse effect on the residents' health are released when solid fuel is burned in inefficient conventional stoves. Unfavorable indoor environments are produced by small, inadequately ventilated structures that limit the dilution of indoor pollutants and raise the concentration of hazardous gases.
The most frequent reason for concern while burning wood fuel to meet environmental standards is the emission of particles. There are times when burning wood in fireplaces and stoves is not allowed in several American cities under certain climatic circumstances, particularly air inversions. Lower emission rates can be attained with the aid of catalytic stoves. The use of inefficient stoves, such as outside wood boilers, which are becoming increasingly rare, has been linked to an increase in asthma cases and other breathing problems.
There is an increase in the demand for high-quality firewood from clients. In addition, clients like smaller firewood, particularly if they use it as their home's primary source of heat. Customers demand shorter and smaller-sized firewood because modern fireplaces and heaters are frequently smaller. A lot of firewood producers opt to use the conventional, natural drying method for drying their firewood, which is often highly effective. Professionals may also decide to invest in artificial drying if the circulation period for the firewood must be shortened or if the consumers have certain requirements for the firewood's quality and/or dimensions. Therefore, in response to the growing need, major companies are moving forward to close the supply-demand gap. This, in turn, encourages Firewood Market expansion.
Another trend in the firewood business is currently the growing commercialization of the sector. Fewer and fewer make their own firewood, which means that more customers buy their firewood from the market. This has led to the commercialization of the sector and firewood manufacturers are using ever larger machines and producing larger quantities of wood. The commercialization of the business and the increased production volumes have professionalized the sector. The productivity and user comfort of firewood processors are therefore getting more prestigious features. An ergonomic firewood processor features for example smartly designed joysticks that give the operator full control while retaining precision cutting and splitting. A simple user interface helps to minimize human errors and semi-automated features reduce delays in the cutting and splitting cycle. Well, designed log deck helps to increase ergonomics and production efficiency.
However, handling wood logs close to fire takes caution to prevent damage from the flame since the tools used to move the wood can become extremely hot and hurt a person if touched when hot. Creosote builds up in the chimney or chute as the logs burn, which needs to be cleaned out since it could spark a fire. Additionally, localized heat is produced by a wood-burning stove as opposed to central heating, which can have vents in every room of a house. As a result, the area immediately around a fireplace or stove may get significantly warmer than other heated areas of the house or room. As a result of these problems, alternative goods like electric heating and electric firewood logs are becoming more popular, which is limiting the expansion of the firewood business.
Despite the many unknowns, the Firewood Industry may be significantly impacted by scientific and technological advancements. These include managerial technology, technologies that increase production (like tree improvement), and the creation of novel goods and procedures. Real-time resource monitoring and change detection are being transformed by remote sensing technology. During the projection period, efforts to create 'biorefinery' and commercially viable cellulosic biofuel technologies will have a substantial impact on the use of wood.
The firewood market is segmented on the basis of type, end user, distribution channel and region. By type, the market is classified into log wood, wood chips, pellets and forestry residues. By end user, the Firewood Market is bifurcated into commercial and residential. By distribution channel the market is subdivided into hypermarkets/supermarkets, specialty stores, online sales channels and others. Region-wise, it is analyzed across North America (the U.S., Canada, and Mexico), Europe (UK, Germany, France, Italy, Spain, Russia, Sweden, Netherlands, Denmark, Poland and rest of Europe), Asia-Pacific (China, India, Japan, Australia, South Korea, Thailand, Singapore, Indonesia, New Zealand, and rest of Asia-Pacific), and LAMEA (Brazil, Argentina, South Africa, Middle East, Saudi Arabia, Egypt, Nigeria and rest of LAMEA).
Firewood Market

---
By Wood Type
Based on type, the log wood segment dominated the global market in the year 2021 and is likely to remain dominant during the forecast period.
Based on type, the log wood segment dominated the global market in the year 2021 and is likely to remain dominant during the forecast period. The majority of the valuable logwood brought into the UK each year comes from Jamaica, Campeachy, Honduras, and St. Domingo. At the age of 11, trees are harvested, and 3-foot logs are exported.
Firewood Market

---

By End User
Based on end user, the commercial segment dominated the global market, this is attributed to high wood consumption in the commercial segment.
Based on end user, the commercial segment dominated the global Firewood Industry in the year 2021 and is likely to remain dominant during the forecast period. These days, consumers from all around the world are actively participating in recreational activities like hiking, fishing, camping, and others. This is because participating in recreational activities is often portrayed as exciting & fun activities and is also beneficial for personal development & growth, physical health, reduces stress, promotes psychological well-being, helps in connecting with nature, and creates educational awareness about the environment and others. This increases the number of recreational activities enthusiasts and has also increased the Firewood Market Demand for survival tools such as pocket tools, first aid kits, compasses, and others, which in turn is boosting the firewood market growth.
Firewood Market

---

By Distribution Channel
Based on distribution channels, the specialty stores segment dominated the global market in the year 2021 this is attributed to easy availability with better prices and quality of the wood.
Based on distribution channels, the specialty stores segment had the dominating Firewood Market Share in the year 2021 and is likely to remain dominant during the Firewood Market Forecast. Specialty stores are on the top list to be considered for the Firewood Market Growth. Specialty stores are famous for their characteristics. Any product is easily available in their specialty stores. So, it can be predicted that specialty stores will have a great impact on the firewood market. Manufacturers are constantly taking efforts to increase the visibility of their products on the shelf and are therefore mainly targeting specialty stores. As a result, larger varieties of firewood are available in specialty stores. In addition, specialty stores offer options such as discounts as well as the benefit of immediate gratification, which results in the growth of the firewood market. First time firewood buyers seek help while choosing the product, trained specialist store staff helps buyers explain every detail of the product and advise them to buy the appropriate product. This makes buyers prefer specialty stores and boosts the Firewood Industry of specialty stores. Thus, this fact is expected to offer numerous opportunities for the manufacturers to boost the market for firewood through these stores.
Firewood Market

---

By Region
North America
Asia-Pacific
LAMEA
Based on region, the European region dominated the global market this is attributed to the high customer demand due to cold climate in the region.
Based on region, the European region Firewood Market Size remained dominating in the year 2021 and is likely to remain dominant during the Firewood Market Forecast. Large portions of the UNECE region are becoming more subject to the very variable pricing of coal, natural gas, and heating oil, which forces vulnerable parts of the population to return to using inefficient and highly polluting wood stoves for cooking and heating instead of gas and electricity.
Participants in the 80th session of the Committee on Forests and the Forest Industry (COFFI), which runs from November 2 to 4, 2022, came to the conclusion that this vulnerability highlights the urgent need for a speedier transition to sustainable renewable energy sources. Wood can be a low-emission fuel source if it is cut, stacked, stored, and dried properly before being used in a stove that is extremely efficient.
In the Asia-Pacific area, more than 75% of all wood production is utilized as fuel, and wood remains the primary energy source in many emerging nations. The data that are now available indicate that output has remained roughly constant over the last 15 years at just about 800 million m3. The percentage of people who use wood as their main source of energy has decreased as a result of rising incomes and better access to more practical fuels. The benefits of woodfuel are being rediscovered in the context of energy policies and climate change, and new technologies are improving efficiency and ease of use, so there are hints that this trend is changing.
The players included in the Firewood Market Analysis have adopted various developmental strategies including but not limited to product launches, geographical expansion, and acquisitions to increase their Firewood Market Share, gain profitability, and remain competitive in the market. The key players included in the market analysis are - Norestven Firewood, WOODBIOMA, Bois Belleau NV., PC WOOD – DERIVADOS DE MADEIRA,UNIPESSOAL LDA, UAB VLI TIMBER, EHLBECK & CORDES, Coal & Pallets , Firewood Fuel MK Ltd , Woodmill, Vli Timber, JB Firewood, Surefirewood, Pinnacle Firewood Company, Cornish Firewood and Lost Coast Forest Products
Key Benefits For Stakeholders
This report provides a quantitative analysis of the market segments, current trends, estimations, and dynamics of the firewood market analysis from 2021 to 2031 to identify the prevailing firewood market opportunities.
The market research is offered along with information related to key drivers, restraints, and opportunities.
Porter's five forces analysis highlights the potency of buyers and suppliers to enable stakeholders make profit-oriented business decisions and strengthen their supplier-buyer network.
In-depth analysis of the firewood market segmentation assists to determine the prevailing market opportunities.
Major countries in each region are mapped according to their revenue contribution to the global market.
Market player positioning facilitates benchmarking and provides a clear understanding of the present position of the market players.
The report includes the analysis of the regional as well as global firewood market trends, key players, market segments, application areas, and market growth strategies.
 Firewood Market Report Highlights
Aspects
Details
Market Size By 2031
USD 1.5 billion
Growth Rate
CAGR of 4.2%
Forecast period
2021 - 2031
Report Pages
250
Distribution Channel

Hypermarkets and Supermarkets
Specialty Stores
E-Commerce
Business to Business

Wood Type

Log wood
Wood chips
Pellets
Forestry residues

End User

Residential
Commercial

Subsegment

Food Services
Power Production
Others

By Region

North America (U.S., Canada, Mexico)
Europe (UK, Germany, France, Italy, Spain, Russia, Austria, Netherlands, Denmark, Poland, Rest of Europe)
Asia-Pacific (China, Japan, India, Australia, South Korea, Thailand, Malaysia, Singapore, Indonesia, New Zealand, Rest of Asia-Pacific)
LAMEA (Brazil, Argentina, South Africa, Middle East, Saudi Arabia, Egypt, Nigeria, Rest of LAMEA)

Key Market Players
Norestven Ltd., Woodbioma, Cutting Edge Firewood, LLC., Wilson Enterprises, Inc., Wood Step, LDA, Woodmill, Surefire Wood, Lost Coast Forest Products, Premier Firewood Company, LLC,, UAB Vli Timber, Firewood Fuel MK, JB Firewood Co., Pinnacle Firewood Company, Cornish Firewood, The Log Store Group