The global fishing equipment market size was valued at $13,481.1million in 2019, and is estimated to reach $16,107.8million by 2027 with a CAGR of 4.0% from 2021 to 2027.Launch of new fishing equipment with enhanced technology by leading market players has raised interest of fishing among general public. These fish equipment manufacturers have taken care of problems that were faced during fishing and have come up with necessary solutions. AquaDrone is the leading producer in the fish equipment market, which offer customized drones specifically to catch fishes. Moreover, the drone is designed to find fishes using sonar, take images using camera installed on it, install a bait & lure, and visit the same spot to catch fishes. The device is 100% water proof and can be used in both fresh and salt water. Furthermore, AquaDrone has become more popular among young generation and ones with less patience to wait to catch fishes. Thus, rapid advancementsin technology in fishing equipment boosts growth of the market.
Increase in interest of children toward fishing and its related activities has created new business opportunities for stakeholders. Moreover, fishing activities havebecome one of the favorite outdoor activities for kids as well as adults. In addition, parents are encouraging children to start fishing as it helps them to boost their concentration level and patience level.  Furthermore, there are a variety of simple poles available for fishing, which are designed specificallyfor children.  These short rods equipment are available with kid-friendly characters. In addition, Mitchell, a manufacturer of fishing equipment, produces number of 5 ½ foot combos that are perfect for kids aged 7 and up.  Thus, rise ininterest of children toward fishing activities and easy availability of fishing equipment for children further propels the fishing equipment market growth.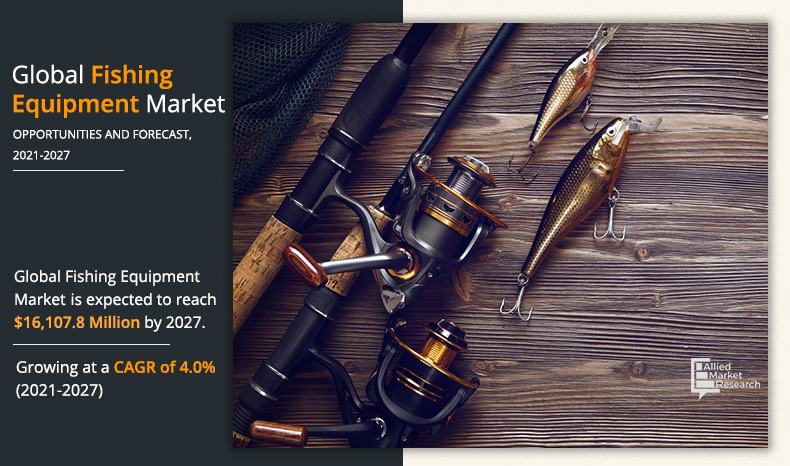 With rise in adoption of internet across the globe, number of social media users has increased considerably. This has led most players in the fishing equipment market strategize on promoting their products and services on suchsocial media platforms. E-commerce is one of the major strategies adopted by various companies and industries to impart awareness about their product offerings among target customers on e-commerce channels. Thus, through e-commerce marketing strategy, the global fishing equipment market sights critical opportunities to gain traction and increasecustomer reach among its target segments. However, modern fishing equipment and techniques are changing ocean environments in various ways such as disturbing sea floors, changing food webs, and shifting many important ecosystem functions. Moreover, abandoned and lost fishing gears or equipment aredeadly formarine life as it makes up for a major part of plastic pollution in oceans, rivers, or ponds. In addition, lost or forgotten fishing gears are more destructive asthey can ensnare animals. Thus, adverse effects of modern fishing equipment lead to disturbance of marine environment and hence hamper growth of the fishing equipment market. 
COVID-19 was declared a pandemic by the World Health Organization (WHO) on March 11, 2020. The outbreak of coronavirus has significantly impacted the fishing equipment industry along with all stages of supply chain and value chain. Moreover, COVID-19 has further affected consumer behavior with regards to purchasing fishing equipment products globally, which has led to decline in the fishing equipment market.
The fishing equipment industry is segmented into type, nature, distribution channel, and region. By type, the market is categorized into hooks, lines, sinkers & floats, rods, reels, nets & traps, spears& gaffs, and others. By nature, it is divided into fresh water, salt water, and fly fishing. By distribution channel, it is bifurcated into online and offline. By region, the market is analyzed across North America (the U.S., Canada, and Mexico), Europe (the UK, Germany, France, Russia, Italy, Spain,andrest of Europe), Asia-Pacific (China, Japan, India, Australia & New Zealand, Korea, ASEAN, and rest of Asia-Pacific), and LAMEA (Brazil, South Africa, Turkey, Saudi Arabia, and rest of LAMEA).
Fishing Equipment Market

---
By Type
Hooks segment dominates the global market and is expected to retain its dominance throughout the forecast period.
By type, the hooks segment accounted for a major share in the fishing equipment market in 2019, owing to increase in interest of fishing related activities across various regions.
Fishing Equipment Market

---
By Nature
Fly fishing segment is expected to grow at a highest CAGR of 6.3% during the forecast period.
By nature, the fresh water segment held the largest market share, accounting for around 64.9% of the total revenue in 2019, followed by the salt water segment. This wasattributed to increase in fishing activities in fresh water for commercial and domestic purposes.
Fishing Equipment Market

---
By Distribution Channel
Online segment is expected to grow at a highest CAGR of 5.5% during the forecast period.
By distribution channel, the offline segment held a major share in the market, and is projected to remain dominant during the fishing equipment market forecast period. Moreover, increase in establishment of specialty stores across various regions to increase customer reach and customer base also fuels growth of the offline segment.
Fishing Equipment Market

---
By Region
North America dominates the market and is expected to grow with a CAGR of 3.2% during the forecast period
The key players operating in the fishing equipment market includesRome Specialty Company, Inc., Daiwa Corporation, Pure Fishing, Inc., Sea Master Enterprise Co., Ltd., Maver UK Ltd, Jarvis Walker Pty, Inc., Pradco Outdoor Brands, Johnson Outdoors Inc., Okuma Fishing Tackle Co., Ltd and Tica Fishing Tackle. 
Key Benefits For Stakeholders
This report provides a quantitative analysis of the market segments, current trends, estimations, and dynamics of the fishing equipment market analysis from 2019 to 2027 to identify the prevailing market opportunities.
The key countries in all major regions are mapped on the basis of fishing equipment market share.
The market research is offered along with information related to key drivers, restraints, and opportunities.
Porter's five forces analysis highlights the potency of buyers and suppliers to enable stakeholders make profit-oriented business decisions and strengthen their supplier–buyer network.
In-depth analysis of the market segmentation assists to determine the prevailing fishing equipment market opportunities.
Major countries in each region are mapped according to their revenue contribution to the global fishing equipment market. 
Market player positioning facilitates benchmarking and provides a clear understanding of the present position of the market players.
The report includes the analysis of the regional as well as global fishing equipment market trends, key players, market segments, application areas, and market growth strategies. 
 Fishing Equipment Market Report Highlights
Aspects
Details
By Type

HOOKS
LINES
SINKERS & FLOATS
RODS
REELS
NETS & TRAPS
SPEAR & GAFFS
OTHERS

By Nature

FRESH WATER
SALT WATER
FLY FISHING

By Distribution Channel
By Region

NORTH AMERICA (US, CANADA, MEXICO)
EUROPE (UK, GERMANY, FRANCE, RUSSIA, ITALY, SPAIN, REST OF EUROPE)
ASIA-PACIFIC (CHINA, INDIA, AUSTRALIA & NEW ZEALAND, KOREA, ASEAN, REST OF ASIA-PACIFIC)
LAMEA (BRAZIL, SOUTH AFRICA, TURKEY, SAUDI ARABIA, REST OF LAMEA)

Key Market Players
DAIWA CORPORATION, GAMAKATSU, .JARVIS WALKER PTY, INC., JOHNSON OUTDOORS INC., MAVER UK LTD, .PRADCO OUTDOOR BRANDS, PURE FISHING, INC., ROME SPECIALTY COMPANY, INC., SEA MASTER ENTERPRISE CO., LTD., TICA FISHING TACKLE