Flex Fuel Engine Market Statistics 2021-2030:
The global flex fuel engine market was valued at $63.21 billion in 2020, and is projected to reach $105.11 billion by 2030, registering a CAGR of 5.6%. Rest of the world was the highest revenue contributor, accounting for $21.76 billion in 2020, and is estimated to reach $36.84 billion by 2030, with a CAGR of 5.7%.
The COVID-19 crisis is creating uncertainty in the market, massive slowing of supply chain, falling business confidence, and increasing panic among the customer segments. Governments of different regions have already announced total lockdown and temporarily shutdown of industries, thereby adversely affecting the overall production and sales. Countries around the globe have posed stringent restrictions ranging from days to months of lockdown periods. Owing to this pandemic, many businesses are halted and are waiting for the market conditions to improve. The rapid spread of the virus had a significant impact on automotive industry, which, in turns, affects the flex fuel engine market. Flex fuel engine manufacturers production capacity has been hampered by a widening gap between supply and demand for raw materials, as well as the closure of automobile component manufacturing sites. Owing to the increased difficulty, the flex-fuel engine maintenance schedule was disrupted, leading to large costs for fleet owners and engine manufacturers.
A flexible-fuel vehicle (FFV) is a vehicle having an internal combustion engine that can run on a combination of fuels, most often gasoline and ethanol. Although a flex-fuel engine can be designed to run on pure ethanol, FFVs in the U.S. are optimized to run on E85, a gasoline-ethanol blend with 51 to 83 percent ethanol, according to the U.S. Department of Energy. The actual composition of E85 varies based on region and season to ensure that the automobile can start in cold weather. Leading automakers such as General Motors, Toyota Motor Corporation, Ford Motor Company, and others have stepped up their efforts to develop flex-fuel engines for passenger and commercial vehicles, offering a significant growth opportunity for the flex-fuel engine market.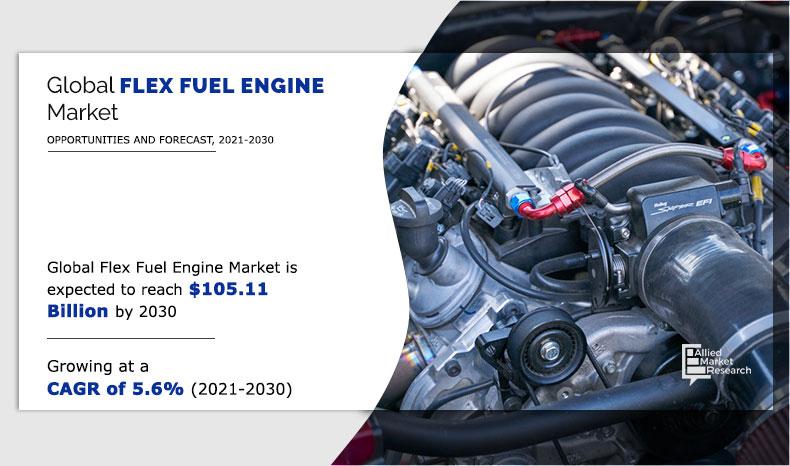 Increased demand for carbon-neutral automobiles around the world to counter rise in global pollution levels propels the flex fuel engine market forward during the forecast period. Flex-fuels have various advantages, including domestic production capabilities and renewability, which might lessen the country's reliance on foreign petroleum. E85 produces fewer greenhouse gas emissions and benzene emissions than gasoline, which encourages the use of flex-fuel engines. For instance, in June 2020, General Motors Company introduced the Chevrolet Silverado HD and GMC Sierra HD, both of which are equipped with Flex Fuel-capable engines that can run on E85 ethanol and gasoline. During the forecast period, such advancements are expected to fuel expansion in the flex-fuel engine market.
The factors such as the stringent environmental regulations and vehicle emission norms, and depleting fossil-fuel reserves are expected to drive the flex-fuel engine market. However, engine damage concerns, scarcity of flex-fuel stations, and development of electric and hybrid electric vehicles are the factors expected to restrict the growth of the market during the forecast period. Moreover, the increase in adoption of sustainable automotive technologies and increased automotive performance on higher ethanol blends across the world in the coming years are the factors anticipated to supplement the flex-fuel engine market's growth in the coming years. 
The flex fuel engine market is segmented into fuel type, vehicle type, blend type, and region. Based on fuel type, it is divided into gasoline and diesel. On the basis of vehicle type, it is bifurcated into passenger vehicles and commercial vehicles. Based on the blend type, it is segmented into E10 to E25, E25 to E85, above E85, and others. Region-wise it is analyzed across North America, Europe, Asia-Pacific, and the Rest of the world.
Key players, including Cummins Inc., Ford Motor Company, Volkswagen AG, Fiat Chrysler Automobiles, General Motors Company, Honda Motor Co., Ltd., Mitsubishi Motors Corporation, Nissan Motor Co., Ltd., Toyota Motor Corporation, AB Volvo, and others hold major flex fuel engine market share.
Flex Fuel Engine Market

---
By Fuel Type
Gasoline is projected as the most lucrative segments
Stringent environmental regulations and vehicle emission norms
Automobiles are major source of ozone, particulate matter, and other smog-forming pollutants. The dangers of air pollution on one's health are enormous. Poor air quality exacerbates respiratory illnesses such as asthma & bronchitis, raises the risk of life-threatening disorders such as cancer, and costs the health-care system a lot of money. Particulate pollution is responsible for up to 30,000 deaths prematurely each year. Mobile sources of pollution are those that move around. Vehicles, engines, and motorized equipment that emit exhaust and evaporative pollutants are illustrations of these sources. Vehicles utilized on roadways for passenger or freight transportation are considered on-road sources. Vehicles, motors, and equipment used for construction, agriculture, recreation, and a variety of other applications are examples of off-road sources. To reduce the environmental impact of the vehicle sector, governments all over the world are passing strict environmental restrictions. For instance, a group of 21 state attorneys general, the District of Columbia, and several large U.S. cities encouraged the US government to implement stringent automobile emissions laws in September 2021. Automobile manufacturers create alternative fuel-powered vehicles that provide a greener driving experience with little or no hazardous emissions. For instance, Porsche announced plans to produce synthetic fuels in February 2021, which is expected to reduce CO2 emissions by automobiles by 85%. Emission regulations are regulatory criteria that govern the emission of air pollutants into the atmosphere. Governments often construct them to meet air quality regulations while protecting human life. Vehicle emissions are regulated differently in different regions and countries. For instance, the European Union had set a target of 147 g/km for light commercial cars by 2020. The adoption of flex-fuel engines is being driven by a growth in awareness of pollution reduction and increased vehicle emission standards. Furthermore, the surge in demand for eco-friendly automotive engines has fuelled the flex-fuel engine market's growth.
Flex Fuel Engine Market

---
By Vehicle Type
Passenger Vehicles is projected as the most lucrative segments
Depleting fossil-fuel reserves
According to the International Energy Agency, fossil fuels continue to dominate the global energy system, accounting for 81 percent of primary energy consumption. The volume of conventional oil extracted, which accounts for three-quarters of all liquid oils, has been declining since last decade. The volume of energy per barrel of oil has fallen dramatically in recent years, as have the rates of energy return from oil exploration and extraction, resulting in stagnation in the quantity of energy delivered to the world population for use each year from all liquid oil in recent years. Owing to the rapid rise of the human population, the amount of energy accessible per person has already declined internationally. Since exporting countries' domestic consumption has increased, the volume of oil placed on the world market, which is currently around half of total production has already reduced. Furthermore, as fossil fuel supplies are depleting, the cost of fuels has risen, increasing the country's overall import expenditure by relying on petroleum goods from neighboring countries. This has prompted governments to enact policies aimed at diminish their dependence on imported oil. In addition, due to concerns about fossil fuel depletion, the demand for alternative fuels has grown in the automotive sector. For instance, Maruti Suzuki announced plans to investigate the potential of flex-fuel engines in India in October 2021. Concerns about fossil fuel depletion propel the growth of the flex fuel engine market in the anticipated timeframe.
Flex Fuel Engine Market

---
By Blend Type
Above E85 is projected as the most lucrative segments
Engine damage concerns
Since flex-fuel collects dirt easily, it can cause corrosion and engine damage. Various materials, such as some types of plastic, rubber, and metals, can be corroded by ethanol. When a sensitive substance is exposed to ethanol for an extended period of time, it deteriorates. This can cause significant engine damage. Weather and moisture content affect the quality of all gasoline, however ethanol exacerbates the situation. When there is a larger proportion of alcohol in a gas tank, it can grip and hold more water than pure gasoline. If the water concentration rises high enough, the alcohol and water are expected to separate from the gasoline, resulting in a mixture that the automotive engine may not be able to use. It can happen at any point during the transit, storage, or even use process, and it can get worse as time goes on. In summary, ethanol increases the likelihood of the vehicle being damaged when attempting to process and burn contaminated fuel. Ethanol has engine cleaning qualities, so the flex-fuel cleans old deposits from engine components. However, those deposits do not dissolve easily, so they just get carried along until they get stuck, resulting in engine clogging. Furthermore, ethanol has a lower energy content per gallon than gasoline, resulting in a drop in fuel economy while using flex-fuel. According to the U.S. Department of Energy, flex-fuel vehicles typically achieve 20 to 30 percent fewer miles per gallon when using E85. Flex-fuel, often known as E85, is a mixture of gasoline and up to 85% ethanol alcohol. The market for flex-fuel engines is limited by issues regarding engine damage and fuel efficiency.
Increase in adoption of sustainable automotive technologies
With increased concerns about climate change and environmental degradation, automotive companies have made sustainability a strategic goal. Governments, consumers, and investors put pressure on automakers to modify their working practices, culture, and products. This is anticipated to have far-reaching consequences for the sector, which, despite making significant progress, still needs to increase its sustainability efforts. The automotive sector has faced significant pressure from governments and society in recent decades to adopt a more sustainable growth model. Scania, for instance, co-founded collaboration in December 2018 to promote the adoption of bio-gas-fuelled vehicles (which are 90% less polluting and come from waste & leftovers). It plans to develop a network of gas filling stations along Europe's major economic routes. The development of eco-friendly flex-fuel engines are expected to be aided by this increase in the adoption of sustainable vehicle technologies. Automakers have been steadily improving vehicle fuel efficiency, resulting in significant reduction in emissions per vehicle. However, the increased demand for automobiles is diminishing any advances made through traditional approaches. The shift away from sedans and wagons, which continue to have the best fuel economy and lowest CO2 emissions, and toward vehicle types with lower fuel economy and higher CO2 emissions, has offset some of the fleet-wide benefits that would have otherwise been realized from improvements within each vehicle type. Companies are anticipated to migrate to alternative energy sources powered by automobiles, such as flex-fuel driven automobiles, with zero emissions, to minimize overall GHG emissions. The growth in number of government and commercial initiatives to develop and implement cleaner automobile technology has created a potential growth opportunity for the flex-fuel engine market.
Flex Fuel Engine Market

---
By Region
Asia Pacific would exhibit the highest CAGR of 6.5% during 2021-2030.
COVID-19 Impact Analysis 
The impact of COVID-19 on the flex fuel engine market is unclear and it is expected to remain restricted until the last quarter of 2021. 
To prevent the spread of the COVID-19 virus, governments across the globe implemented strict lockdowns and made social distancing mandatory. Consequently, several organizations began work from home programs as a precautionary measure. This led to a sudden fall in global demand for automobiles.
Moreover, nationwide lockdowns disrupted the supply chain as several automotive engine manufacturing facilities across the globe were forced to partially or completely shut down their operations.
The adverse impacts of the COVID-19 pandemic resulted in massive supply-demand challenges across the globe.
Key Benefits For Stakeholders
This study presents the analytical depiction of the flex-fuel engine analysis along with the current trends and future estimations to depict imminent investment pockets.
The overall flex fuel engine market opportunity is determined by understanding profitable trends to gain a stronger foothold.
The report presents information related to key drivers, restraints, and opportunities ofthe market with a detailed impact analysis.
The current market is quantitatively analyzed from 2020 to 2030 to benchmark financial competency.
Porter's five forces analysis illustrates the potency of the buyers and suppliers in the industry.
 Flex Fuel Engine Market Report Highlights
Aspects
Details
By Fuel Type
By Vehicle Type

Passenger vehicles
Commercial vehicles

By Blend Type

E10 to E25
E25 to E85
Above E85
Others

By Region

North America (U.S, Canada, Mexico)
Europe (Germany, France, UK, Italy, Rest of Europe)
Asia-Pacific (China, Japan, India, South Korea, Rest of Asia-Pacific)
Rest of the World (Brazil, Argentina, South Africa, Rest of ROW)

Key Market Players
AB Volvo, Cummins Inc., Fiat Chrysler Automobiles, Ford Motor Company, General Motors Company, Honda Motor Co., Ltd., Mitsubishi Motors Corporation, Nissan Motor Co., Ltd., Toyota Motor Corporation, Volkswagen AG