Flexible Concrete Vibrator Market Research, 2030
The global flexible concrete vibrator market size was valued at $266.42 million in 2020, and is projected to reach $376.00 million by 2030, growing at a CAGR of 3.3% from 2021 to 2030. Flexible concrete vibrators are used to eliminate air bubbles from concrete while pouring it in the formwork. It comprises a vibrating poker needle attached to a flexible shaft, which is connected to a motor or an internal combustion engine. The poker needle is immersed in the freshly poured concrete to consolidate it in the form. Moreover, flexible concrete vibrators are typically hand-held type or stand mounted. It is powered by an electric motor, internal combustion engine, or can be pneumatically powered.
The flexible concrete vibrator market was negatively impacted during the outbreak of COVID-19 pandemic, owing to restrictions on construction activities. Furthermore, distr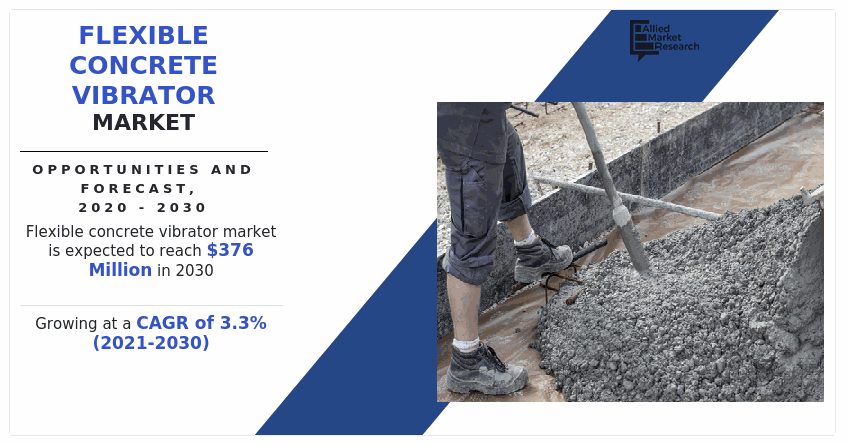 Flexible concrete vibrator is an indistinguishable part of the construction industry. It is used for compacting concrete to make strong concrete structures. Hence, rise in construction activities across the world has led to rise in demand for flexible concrete vibrators. Furthermore, availability of a wide range of flexible concrete vibrators in various size and capacities makes them suitable for use in small, big, or complex formworks. Thus, flexible concrete vibrators are extensively used in construction of narrow retaining walls, wide concrete columns & beams, and other structural elements. Moreover, incorporation of advanced battery technologies in flexible concrete vibrators have significantly helped in increasing their demand in places where electricity is not readily available on the spot. In addition, integration of mobile connectivity feature in this equipment has led to flexible concrete vibrator market growth.
Major players in the flexible concrete vibrator industry have focused on development of high-performance cordless backpack flexible concrete vibrator and new connected flexible concrete vibrator. For instance, in September 2021, Milwaukee Tool, which is a leading provider of flexible concrete vibrator and other industrial equipment, launched mx fUEL Backpack Concrete Vibrator. It is one of a kind modular concrete vibrator in the market. This new backpack vibrator enables operators to access remote concreting sections. It is more consistent than many petrol solutions available in the market. Advancements in computer technologies along with other industry 4.0 technologies have played a key role in development of new range of connected flexible concrete vibrator. For instance, in January 2022, Minnich Manufacturing, a manufacturer of concrete dowel pin drills, concrete vibrators, and vibrator monitoring systems, launched its new Control Speed Vibrator (CSV). It is a lightweight, electric flexible concrete vibrator, which is controlled through an iOS or Android device connected to the equipment via Bluetooth, and operated using the Minnich app.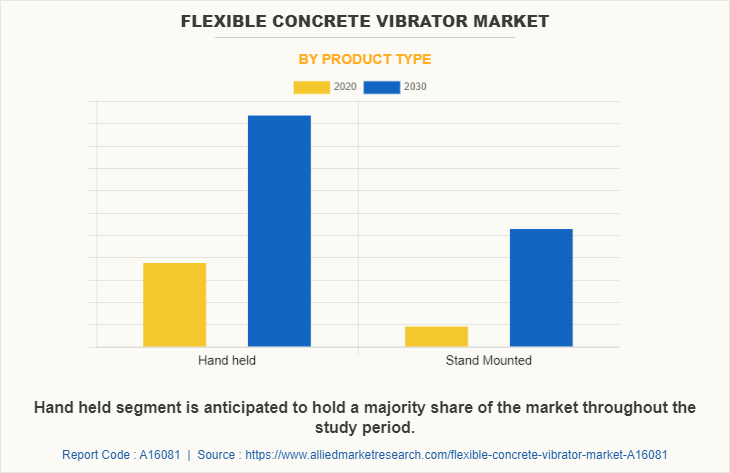 The novel coronavirus has rapidly spread across various countries and regions, causing an enormous impact on lives of people and the overall community. It began as a human health condition and has now become a significant threat to global trade, economy, and finance. The COVID-19 pandemic has halted production of many components of flexible concrete vibrator, owing to lockdown. The economic slowdown initially resulted in reduced spending on construction activities from small and big contractors. Furthermore, the number of COVID-19 cases is expected to reduce in the future as the vaccine for COVID-19 is introduced in the market. This has led to reopening of flexible concrete vibrator manufacturing companies at their full-scale capacities. This is expected to help the market to recover by the start of 2022. After COVID-19 infection cases begin to decline, flexible concrete vibrator manufacturers must focus on protecting their staff, operations, and supply networks to respond to urgent emergencies and establish new methods of working.
Furthermore, increase in global tourism has significantly led to rise in demand for hospitality buildings such as hotels, resorts, and amusement parks across the globe, thereby increasing use of flexible concrete vibrator in their construction. In addition, rise in spendings on development of infrastructure by governments across the world has positively influenced the flexible concrete vibrator market.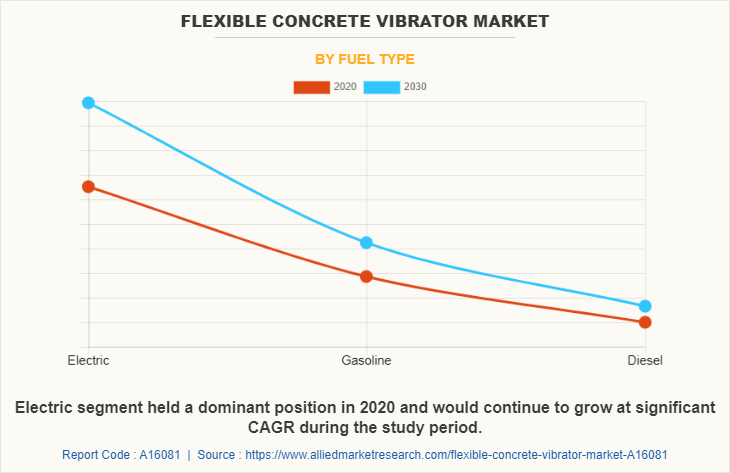 The global flexible concrete vibrator market is segmented on the basis of type, application, fuel type, and region. By type, the market is categorized into hand-held and stand mounted. On the basis of application, it is categorized into building construction and infrastructure. On the basis on fuel type, it is categorized into electric, gasoline, and diesel. Region wise, the market is analyzed across North America, Europe, Asia-Pacific, and LAMEA. Asia-Pacific dominated the market in 2020, accounting for largest flexible concrete vibrator market share, and is anticipated to maintain this trend throughout the forecast period. This is attributed to increase in spending of construction activities.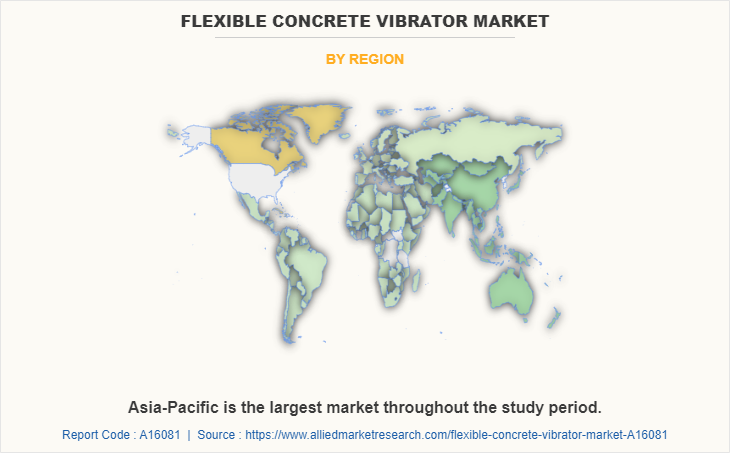 COMPETITION ANALYSIS
Key companies profiled in the flexible concrete vibrator market forecast include Atlas Copco Group, Badger Meter, Inc., Enar Group, Exen Group, Foshan Yunque Vibrator Co., Ltd., Multiquip Inc., Vibco Inc., Wacker Neuson Group, Wamgroup S.p.A, and Weber Maschinentechnik GmbH.
KEY BENEFITS FOR STAKEHOLDERS
This report provides a quantitative analysis of the market segments, current trends, estimations, and dynamics of the flexible concrete vibrator market analysis from 2020 to 2030 to identify the prevailing flexible concrete vibrator market opportunity.
The market research is offered along with information related to key drivers, restraints, and opportunities.
Porter's five forces analysis highlights the potency of buyers and suppliers to enable stakeholders make profit-oriented business decisions and strengthen their supplier-buyer network.
In-depth analysis of the flexible concrete vibrator market segmentation assists to determine the prevailing market opportunities.
Major countries in each region are mapped according to their revenue contribution to the global market.
Market player positioning facilitates benchmarking and provides a clear understanding of the present position of the market players.
The report includes the analysis of the regional as well as global flexible concrete vibrator market trends, key players, market segments, application areas, and market growth strategies.
 Flexible Concrete Vibrator Market Report Highlights
Aspects
Details
By Product Type
By Fuel Type
By Application

Building Construction
Infrastructure

By Region

North America (U.S., Canada, Mexico)
Europe (Germany, France, Italy, U.K., Rest of Europe)
Asia-Pacific (China, Japan, India, South Korea, Rest Of Asia Pacific)
LAMEA (Latin America, Middle East, Africa)

Key Market Players
Wamgroup S.p.A, Atlas Copco Group, Foshan Yunque Vibrator Co., Ltd., multiquip inc., Exen Group, Enar Group, Weber Maschinentechnik GmbH, Badger Meter, Inc., Wacker Neuson Group, Vibco Inc.