Flexible Pipes Market Outlook - 2027
The global flexible pipes market size was valued at $0.8 billion in 2019, and is anticipated to generate $1.2 billion by 2027. The market is projected to experience growth at a CAGR of 4.7% from 2020 to 2027.  
A flexible pipe is formed up of several layers, and the major parts are leak-proof thermoplastic barriers and corrosion-resistant steel wires, which provide flexibility and superior dynamic behavior to the structure. Flexible pipes are used to transfer liquids and fluids such as crude oil, and they can operate under high temperature and pressure conditions.
High-density polyethylene (HDPE) tubing is extensively used in transporting water, air, and chemicals. Polyvinylidene fluoride (PVDF) flexible piping exhibits abrasion-resistant property, which helps fluoro-polymer to be widely used in applications requiring chemical resistance with low permeability. PVDF tubing and piping provides enhanced abrasion resistance and both physical as well as mechanical strength with use of many solvents and chemicals.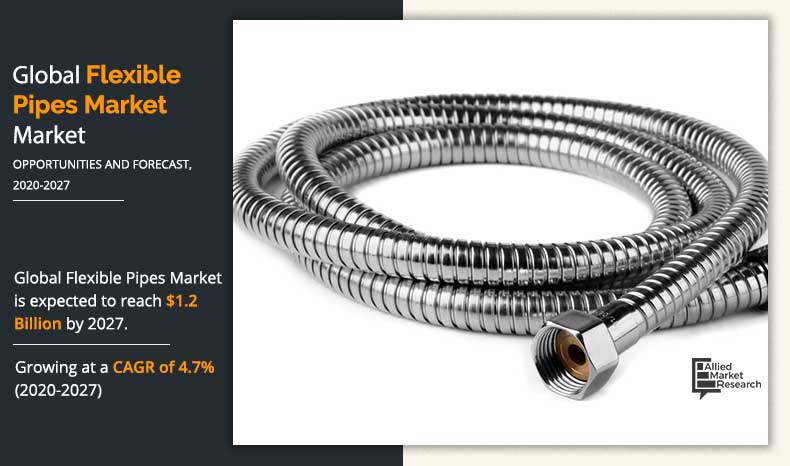 The global flexible pipes market is segmented into raw material, application, and region. Depending on raw material, the market is segregated into high-density polyethylene, polyamide, polyvinylidene fluoride, and others. On the basis of application, it is categorized into onshore and offshore. Region wise, the flexible pipes market analysis is done across North America, Europe, Asia-Pacific, and LAMEA (Latin America, Middle East, and Africa).
The key players operating in flexible pipes industry include National Oilwell Varco, Inc., Baker Hughes Company, Magma Global Ltd., FlexSteel Pipeline Technologies, Inc., Shawcor Ltd., Pipelife Nederland B.V., Airborne Oil & Gas B.V., Technip FMC Plc., Prysmian Group, and ContiTech AG. The key players have adopted strategies such as partnership and business expansion to sustain the intense competition in the market.
Flexible pipes market, by raw material 
HDPE is a commonly used petroleum thermoplastic for a wide range of applications. It is cost-effective, can withstand temperatures from −148 to 176° Fahrenheit, non-leaching, UV-resistant, and is resistant to most chemical solvents. HDPE dominated the market in 2019, whereas PVDF is expected to grow at highest CAGR, owing to stability of fluoropolymers when exposed to harsh thermal, chemical, and ultraviolet environments while retaining the properties of a conventional thermoplastic material.
Global Flexible Pipes Market

---
By Raw Material
PVDF is projected as the most lucrative segment.
Flexible pipes market, by application
Offshore oil and gas activities are making up nearly 30% of global crude oil production. These are some of the harshest operating environments on the earth. Drilling in waters up to 3,000 meters deep requires equipment that is reliable and safe. Flexible pipes offer the safety owing to their stiffness, thus fostering the growth of the market. Offshore segment dominates the market, however, onshore segment is expected to grow at higher CAGR during the forecast period.
Global Flexible Pipes Market

---
By Application
Onshore is projected as the most lucrative segment.
Flexible pipes market, by region
The flexible pipes market was dominated by North America in 2019, while Asia-Pacific is expected to grow at a higher CAGR, owing to high demand from emerging economies. Asia-Pacific is an emerging region in the flexible pipes market owing to the demand from emerging economies in the region such as China, India, Australia, and South Korea.
Global Flexible Pipes Market

---
By Region
Asia-Pacific is projected as the most lucrative market.
Key Benefits For Stakeholders
The report provides an in-depth analysis and flexible pipes market forecast along with the current and future trends.
This report highlights the key drivers, opportunities, and restraints of the flexible pipes market along with the impact analyses during the forecast period.
Porter's five forces analysis helps analyze the potential of the buyers & suppliers and the competitive scenario of the flexible pipes industry for strategy building.
A comprehensive analysis of the factors that drive and restrain the flexible pipes market growth is provided.
The qualitative data in this report aims on flexible pipes market trends, dynamics, and developments.
The flexible pipes market size is provided in terms of revenue.
The report provides extensive qualitative insights on the significant segments and regions exhibiting favorable flexible pipes market share.
 Global Flexible Pipes Market Report Highlights
Aspects
Details
By Raw Material Type

High-density Polyethylene
Polyamide
Polyvinylidene Fluoride
Others

By Application
By Region

North America (U.S., Canada, Mexico)
Europe (Germany, France, UK, Italy, Spain, Rest of Europe)
Asia-Pacific (China, Japan, India, Australia, South Korea, Rest of Asia-Pacific)
LAMEA (Brazil, Saudi Arabia, South Africa, Rest of LAMEA)

Key Market Players
National Oilwell Varco, Inc., Baker Hughes Company, Magma Global Ltd., FlexSteel Pipeline Technologies, Inc., Shawcor Ltd., Pipelife Nederland B.V., Airborne Oil & Gas, TechnipFMC plc, Prysmian Group, ContiTech AG