Global Flow Meter Market Outlook – 2026
The global flow meter market size was valued at $7.3 billion in 2018, and is projected to reach $11.9 billion by 2026, growing at a CAGR of 6.3% from 2019 to 2026. 
Flow meter is an integral tool that measures linear, non-linear, volumetric or mass flow rate of a liquid or a gas or mixture of both. Fluid characteristics, flow profile, flow range, and the need for accurate measurements are the key factors for determining the right flow meter for a particular application. There are various types of flow meters available in the market depending upon the accuracy required and their application in various end-use industries. Types of flow meter include differential pressure, positive displacement, ultrasonic, turbine, magnetic, coriolis, vortex, and others. The overall accuracy of flow meter also depends on the circumstances of the application. The above-mentioned types of flow meter are classified by considering the circumstances of the application. As the effect of temperature, pressure, fluid, and dynamic influences may potentially alter the measurement being taken.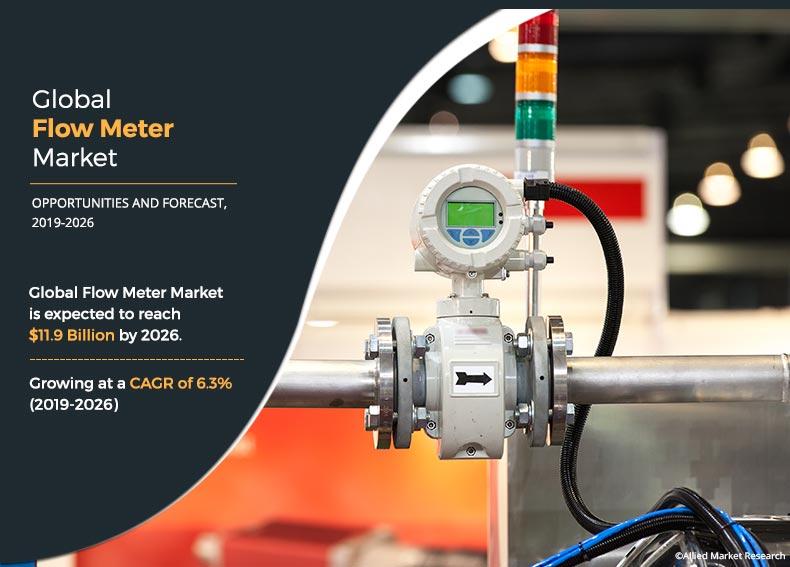 Get more information on this report : Request Sample Pages
The flow meter industry is operating in its growth phase and it is expected to explore significant growth opportunities during the forecast period. The use of the flow meter is highly favorable in the process industries. Also, the government from various geographies is making the use of flow meters mandatory due to various advantages associated with them. Water and wastewater, oil & gas, chemical, power generation, and pulp & paper are some of the major end-users. Therefore, factors such as increase in number of initiatives to build safe water management infrastructure, rise in industrial output, and surge in energy needs majorly boost the demand for flow meters. 
Increase in demand from the municipal sector, rise in textile production, and surge in oil & gas extraction activities are leading to huge wastewater generation across the globe. Flow meters are increasingly used in these industries to treat wastewater thereby significantly contributing to the overall market growth. On the other hand, process automation is one of the recent flow meter market trends observed due to the need of mass manufacturing. This creates a need for accurate flow measuring tools to undertake efficient manufacturing processes; making flow meters an ideal tool. Therefore, increase in industrial production across the globe is expected to drive the flow meter market growth. 
In each end use industry, the use of flow meter is specified due to which there is a need of different flow meter in each industry. Currently, the market is lacking in the customized manufacturing of flow meter which restrains the growth of global flow meter market. Nevertheless, the flow meter market opportunity is likely to be developed by technological development in the key regions like North America and Asia-Pacific. 
The global flow meter market is segmented into type, end user, and region. Depending on type, the global market is divided into differential pressure, positive displacement, ultrasonic, turbine, magnetic, coriolis, vortex, and others. By end user, it is classified into water & wastewater, oil & gas, chemicals, power generation, pulp & paper, food & beverages, and others. Region-wise, the global market is analyzed across North America, Europe, Asia-Pacific, and LAMEA.
Asia-Pacific is the largest regional market in the global flow meter market wherein China, Japan, India, South Korea, and Australia is emerged as one of the major contributors. High manufacturing base of food & beverages, pulp & paper, chemical, textile, refining & petroleum, water & wastewater treatment industries in this region is the key factor driving the adoption of industrial flow meter. 
Some of the major market players operating and profiled in this market are Honeywell International Inc., Siemens AG, Emerson Electric Company, ABB Ltd, Schneider Electric SE, Yokogawa Electric Corporation, Azbil Corporation, Badger Meter Inc., Hitachi, Ltd., and KROHNE Messtechnik GmbH. The other players in the value chain include Seametrics Inc, Thermal Instruments Co, Katronic Technologies Ltd., Flow Meter Group, Litre Meter Limited., and others. Key players are adopting numerous strategies such as product launch, agreement, and business expansion, to stay competitive in the market. 
For instance, in September 2019 Badger Meter launched a versatile ultrasonic flow & energy meter named Dynasonics TFX-5000. It is designed for non-invasive, ultrasonic transit time measurement, which is known to be ideal in water and wastewater treatment, heating/ventilation/air conditioning (HVAC), and oil & gas applications. 
Global Flow Meter Market, by Type
By type, the differential flow meter segment accounted for largest flow meter market share in 2018 due to its wide application in most of the end use industries. Differential flow meter is perfectly suitable for utilization in the oil & gas industry, most specifically, in natural gas measuring applications. It measures volumetric flow but not mass flow that makes it favorable in oil & gas measuring applications. The U.S. is one of the major consumers of this type of flow meter where natural gas (shale gas) is produced at a mass scale. Increase in natural gas processing activities across the U.S. is further expected to drive the demand for differential pressure flow meter.
Flow Meter Market

---
By Type
Differential Pressure is projected as the most lucrative segment.
Get more information on this report : Request Sample Pages
Global Flow Meter Market, by End User 
By end-user, the power generation segment accounted for the highest market share in 2018. Rise in energy requirement across the globe in response to consistent surge in population, increase in urbanization, and development in industrialization has made power generation segment the major consumer of flow meters 
Flow Meter Market

---
By End User
Power Generation is projected as the most lucrative segment.
Get more information on this report : Request Sample Pages
Global Flow Meter Market, by Region
By region, Asia-Pacific acquired the largest share of flow meter market owing to increase in industrial output, rise in urbanization, and highest automotive sales & production over other regions.  In addition, it is the highly populous region that leads to the consistent demand for food and energy at a rapid pace. Consequently, existing power and food processing plants are expanding their operating capacities, driving the demand for flow meters across the region.           
Flow Meter Market

---
By Region
Asia-Pacific holds a dominant position in 2018 and would continue to maintain the lead over the forecast period.
Get more information on this report : Request Sample Pages
Key Benefits for Stakeholders:
The report provides an in-depth analysis of the flow meter market forecast along with the current and future market trends
This report highlights the key drivers, opportunities, and restraints of the market along with the impact analyses during the forecast period
Porter's five forces analysis helps analyze the potential of the buyers & suppliers and the competitive scenario of the global flow meter industry for strategy building
A comprehensive flow meter market analysis covers factors that drive and restrain market growth
The qualitative data in this report aims on market dynamics, trends, and developments
 Key Market Segments & Key Market Players
Segments
Sub-segments
By Type

Differential Pressure Flow Meter
Positive displacement Flow Meter
Ultrasonic Flow Meter
Turbine Flow Meter
Magnetic Flow Meter
Coriolis Flow Meter
Vortex Flow Meter
Others Flow Meter



By End User

Water & Wastewater
Oil & Gas
Chemicals
Power Generation
Pulp & Paper
Food & Beverages
Others



By Region

North America
Europe

Germany
France
Italy
Spain
UK
Rest of Europe

Asia-Pacific

China
Japan
India
South Korea
Australia
Rest of Asia-Pacific

LAMEA

Brazil
Saudi Arabia
South Africa
LAMEA



Key Market Players

ABB Ltd.
Azbil Group
Badger Meter Inc.
Emerson Electric Company
Hitachi, Ltd.
Honeywell International, Inc.
Krohne Group
Schneider Electric SE
Siemens AG
Yokogawa Electric Corporation