Fluorescent Paint Market Research, 2031
The global fluorescent paint market was valued at $357.3 million in 2021 and is projected to reach $677.9 million by 2031, growing at a CAGR of 6.8% from 2022 to 2031.
Report key highlighters
Quantitative information mentioned in the global fluorescent paint market includes the market numbers in terms of value (USD Million) and volume (Kilolitres) with respect to different segments, pricing analysis, annual growth rate, CAGR (2022-31), and growth analysis.
The analysis in the report is provided on the basis of type and application. The study will also contain qualitative information such as the market dynamics (drivers, restraints, opportunities), Porter's Five Force Analysis, key regulations across the region, and value chain analysis.
A few companies, including Radiant Color N.V., LuminoChem, Ronan Paints, Glow Paint Industries, GLOWTEC LTD, hold a large proportion of the fluorescent paint market.
This report makes it easier for existing market players and new entrants to the sonochemical coatings business to plan their strategies and understand the dynamics of the industry, which ultimately helps them make better decisions.
Increased adoption in various end-user industries, including oil & gas, microbiology, and construction drives the global fluorescent paint market. In addition, the use of fluorescent paints to highlight road lines is expected to contribute to growth over the forecast period.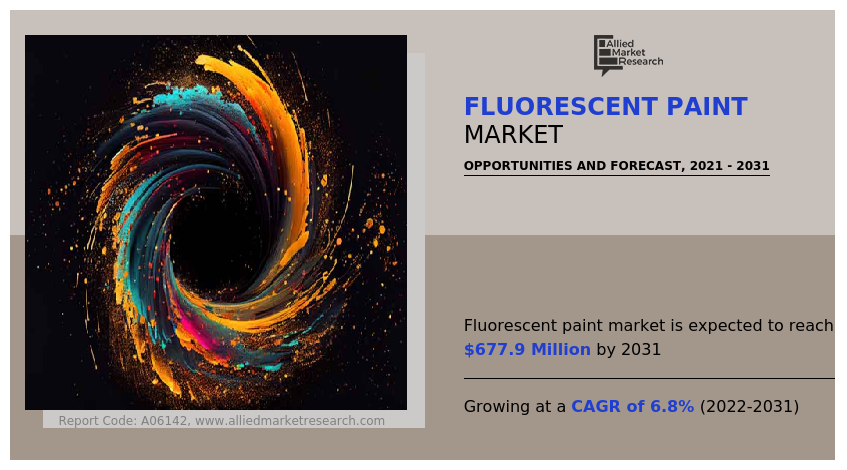 Fluorescent paint is a form of a coating that emits visible or colored light when exposed to light. Fluorescent paints are utilized in paints and coatings, plastics, fabrics, paper goods, and leather goods, among others. It comprises two components, fluorescent paint that absorbs ultraviolet or blue light and re-emits it as visible light with a different wavelength (color). This sort of paint color emits light without the aid of an external source.
Fluorescent paint refers to paint that can absorb both visible and non-visible electromagnetic waves and radiation and then swiftly release the absorbed energy at the required wavelength. When the light of the expected wavelength is released onto this paint, it also emits a very particular hue. On a commercial scale, fluorescent paint has been utilized in a variety of applications, including the formulation of paint and coating solutions, inks, and textiles, to mention a few. There are two forms of fluorescent paint used commercially: organic and inorganic, which are derived from distinct sources. Organic fluorescent paint is made from natural and synthetic basic materials, while inorganic fluorescent paint is synthesized by combining various metal oxides. Both varieties are commercially accessible in powder and dispersion form, with formulations tailored to the requirements of the end-user industry.
Most fluorescent paints can withstand demanding applications due to their remarkable properties, such as resilience to adverse weather conditions, high temperatures, heat, and other chemicals. These characteristics facilitate the use of this fluorescent paint in a variety of applications. Similarly, this fluorescent paint is used as a colorant for engineering plastics in the automotive industry.
Increasing demand from building and construction industry
The construction industry's demand for fluorescent paint for applications such as building paints, coatings, sign markings, and road lines is increasing. In commercial structures, luminous pigments or paints are utilized for coatings, markings, ornamentation, and sign marks. Fluorescent paints have applications in the construction industry for artificial lighting such as stage lighting, posters, and others. According to the U.S. Census Bureau, construction spending in the United States increased by 1.3% from December 2021 to January 2022, reaching $1,677 billion. Moreover, the increase in construction and infrastructure projects is boosting the market for fluorescent paint, creating development potential for market participants.
Fluorescent Paints provide superior features such as resistance to oil, water, grime, and corrosion. In developing regions, the number of new roadways and infrastructure projects has led to a rise in the use of fluorescent paints for a variety of applications, such as regulatory, emergency, and warning signs. Numerous countries around the globe have begun to work on the design and implementation of smart cities. China alone has around 300 smart city projects in development, with substantial industry and government participation. India has also allocated trillions of dollars for the development of more than 100 smart cities. Transportation is a crucial aspect of a smart city. Increasing demand for fluorescent paints to construct intelligent highways is driving the market for fluorescent paints.
Innovation is the key to generating new items, and as a result, alternatives begin to hamper market expansion. Increased use of phosphors with no radium content, such as copper-magnesium, copper, and silver, in conjunction with activators such as copper, copper-magnesium, and silver, is impacting the growth of the fluorescent paint market. The thin layer is utilized so that light can absorb itself. Fluorescent paints are expensive due to their lengthy illuminating life and hazardous due to their use of radioactive materials.
The invention of fluorescent paints led to their application in various industries and for various reasons. The use of gadgets that do not require additional electrical power for visibility in all conditions is expanding, and these can be utilized in remote places where the electrical power supply is limited. The helicopter's primary and tail rotors are painted with fluorescent paint to improve its visibility. The tail rotors are hazardous due to their rapid rotation and invisibility, especially when the vision limit is reached. According to the International Air Transport Association (IATA), the total aircraft fleet reached 24,500 by the end of the year, up from approximately 8,000 at the year's low point in April, but 18% lower than in 2019. The global fleet is not expected to return to pre-COVID levels until at least the end of 2022, but long-term projections show a recovery for the industry. Thus, expanding applications in the military and aviation sectors will create lucrative market opportunities for fluorescent.
The fluorescent paint market is segmented into type, application, and region. Depending on the type, the market is divided into Inorganic fluorescents, optical whiteners, and daylight fluorescents. On the basis of application, it is categorized into safety equipment, commercial buildings, road line markings, facilities, and others. Region-wise, the market is studied across North America, Europe, Asia-Pacific, and LAMEA.
The major players operating in the global fluorescent paint market are Radiant Color N.V., LuminoChem, Ronan Paints, Glow Paint Industries, GLOWTEC LTD, Krylon Products Group, DayGlo Color Corp, Brilliant Group, Inc., Aron Universal Limited, and Vicome Corp. Other players operating in the market are Midstar, Xcolor, DANE Color Group and Solar Color Dust.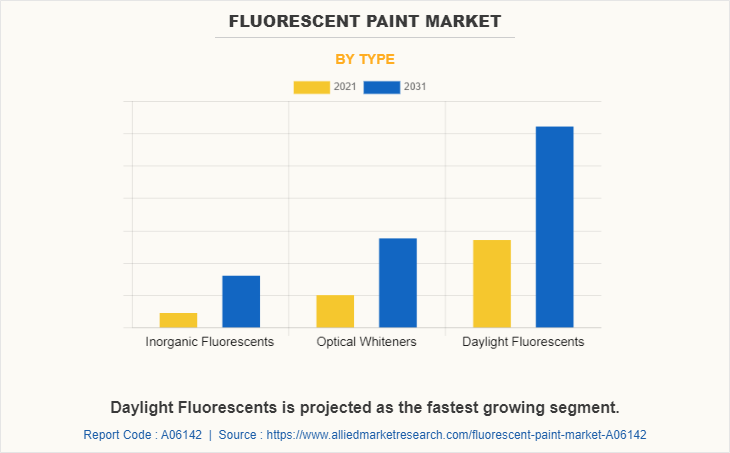 The daylight fluorescents segment accounted for the largest share and is the fastest-growing segment with a CAGR of 7.0%, The characteristic of luminosity is provided by the daylight fluorescent material when the fluorescent color emits light. Daylight fluorescent paints are non-toxic and are utilized due to their ability to attract attention and provide extremely high visibility. These pigments are utilized in advertising, protective gear, documentation, inks, and several biomedical applications.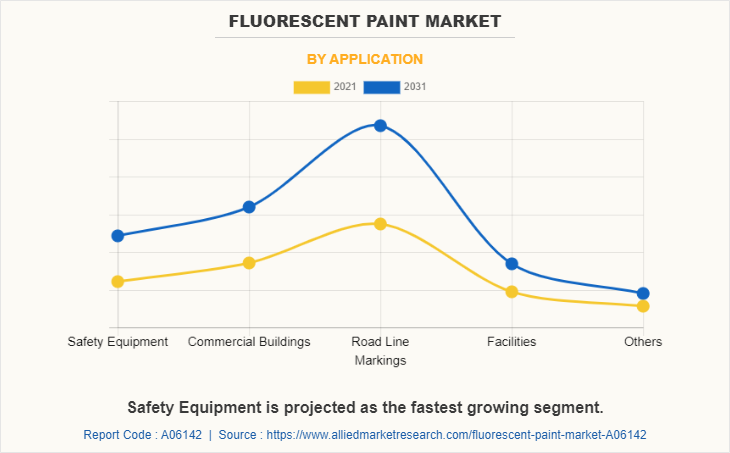 The road line markings segment accounted for the largest share, due to raising awareness through signals, sign boards, and important messages, mandating respect to traffic laws, and other approaches such as organizing awareness camps are all examples of road safety initiatives. Signboards are the most commonly used approach, mostly for preventing traffic accidents and mishaps. Because roads are the most common mode of transportation, users such as bicycles, pedestrians, and motor vehicle drivers are in danger of collisions. Because of measures such as sidewalks, safe crossing sites, bike lanes, rumble strips, and other traffic calming measures, the demand for road line marking has significantly increased.
The safety equipment segment is the fastest-growing segment with a CAGR of 7.4%, Fluorescent paints are used to paint or paint clothing that is subsequently worn as safety equipment. Fluorescent-coated clothing helps to decrease workplace accidents and injuries by making workers visible to one another. The usage of worker safety equipment on construction sites or in dangerous conditions, such as those near roadways, in the dark, or where personnel may be obstructed by trees and traffic barriers, is becoming more common in the industrial sector.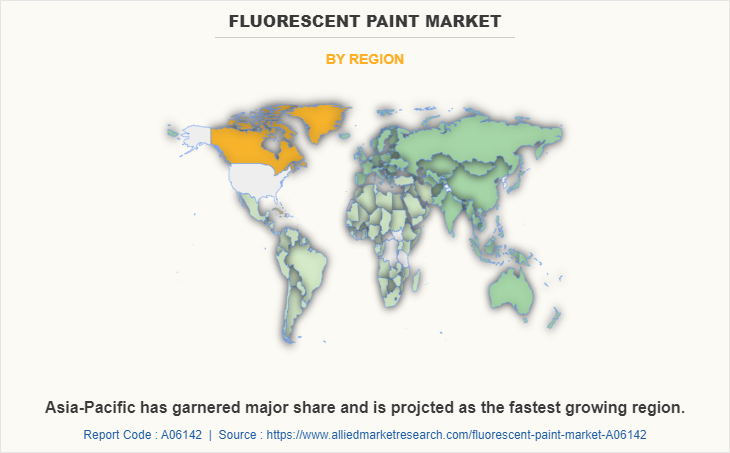 Asia-Pacific garnered the largest share. China and India are boosting demand in Asia-Pacific due to the expansion of transportation and infrastructure developments. Strong and healthy growth in the infrastructural sector is related with the expansion of government projects, such as the Indian government's plan to construct highways worth Rs. 15 lakh crore ($204,000 million) over the next two years. Numerous infrastructure development projects necessitate the use of fluorescent paints for road safety signs, markings, emergency signs, and others. This has resulted in the expansion of the market for fluorescent paint in the Asia-Pacific region.
Key Market Trends:
The European countries are concentrating on mergers and acquisitions for product development and launches that will aid in the expansion of businesses in the region by the conclusion of the forecast period.

Manufacturers from the Asia-Pacific region are concentrating heavily on the growth of fluorescent paint market applications in the area's growing and developed economies.

The Latin American register is in the process of reviving the economy and using the prospects accessible to businesses operating in both Brazil and Mexico.

As part of the North American market, the U.S. market focuses on creating demand through packaging materials, entertainment sources, and educational and safety-related product content.

With its Limelight i8 vehicle, BMW made tremendous progress. They have discovered a new approach to combine fluorescent pigment into their car models to give them a glossy appearance. This strategy of BMW Italia has assisted the corporation in giving their automobile a futuristic appearance.
 Recent developments undertaken by key players
In January 2022, Luminochem developed and manufactured unique luminescent photoactive materials and markers, with a focus on organic fluorescent security pigments and dyes and near infra-red absorbing materials. This launch improves the growth of the product portfolio.

In October 2020, Brilliant Group, Inc., the leader in providing a simple, end-to-end experience for manufacturers and distributors to implement fluorescent pigments, announces that their new warehouse location in The Netherlands is fully operational. This expansion will improve the growth of the fluorescent paint market.
Key Benefits For Stakeholders
This report provides a quantitative analysis of the market segments, current trends, estimations, and dynamics of the fluorescent paint market analysis from 2021 to 2031 to identify the prevailing fluorescent paint market opportunities.
The market research is offered along with information related to key drivers, restraints, and opportunities.
Porter's five forces analysis highlights the potency of buyers and suppliers to enable stakeholders make profit-oriented business decisions and strengthen their supplier-buyer network.
In-depth analysis of the fluorescent paint market segmentation assists to determine the prevailing market opportunities.
Major countries in each region are mapped according to their revenue contribution to the global market.
Market player positioning facilitates benchmarking and provides a clear understanding of the present position of the market players.
The report includes the analysis of the regional as well as global fluorescent paint market trends, key players, market segments, application areas, and market growth strategies.
 Fluorescent Paint Market Report Highlights
Aspects
Details
Market Size By 2031
USD 677.9 million
Growth Rate
CAGR of 6.8%
Forecast period
2021 - 2031
Report Pages
420
By Type

Daylight Fluorescents
Inorganic Fluorescents
Optical Whiteners

By Application

Safety Equipment
Commercial Buildings
Road Line Markings
Facilities
Others

By Region

North America (U.S., Canada, Mexico)
Europe (Germany, France, Italy, UK, Spain, Rest of Europe)
Asia-Pacific (China, India, Japan, South Korea, Australia, Rest of Asia-Pacific)
LAMEA (Brazil, Saudi Arabia, South Africa, Rest of LAMEA)

Key Market Players
Krylon Products Group, Radiant Color N.V., Aron Universal Limited, Brilliant Group, Inc., GLOWTEC LTD, DayGlo Color Corp, Glow Paint Industries, Ronan Paints, Vicome Corp., LuminoChem