Fluoropolymers Market Outlook - 2027
The global fluoropolymers market was valued at $7.7 billion in 2019, and is projected to reach $11.7 billion by 2027, growing at a CAGR of 6.5% from 2020 to 2027.
Due to the COVID -19 crisis the automotive and aerospace industries have experienced a significant decline owing to the lack of labor, production facility closures and so on. This resulted in decline of fluoropolymers demand globally.
Fluoropolymer is a chemical compound, containing bonds of carbon fluoride. It offers different properties such as chemical resistance, electrical and mechanical insulation, thermal resistance, stress cracking, and others. For many applications, these properties pave the way for fluoropolymers, from coatings to industrial films. It is also used in domestic uses, building, and electrical & electronics.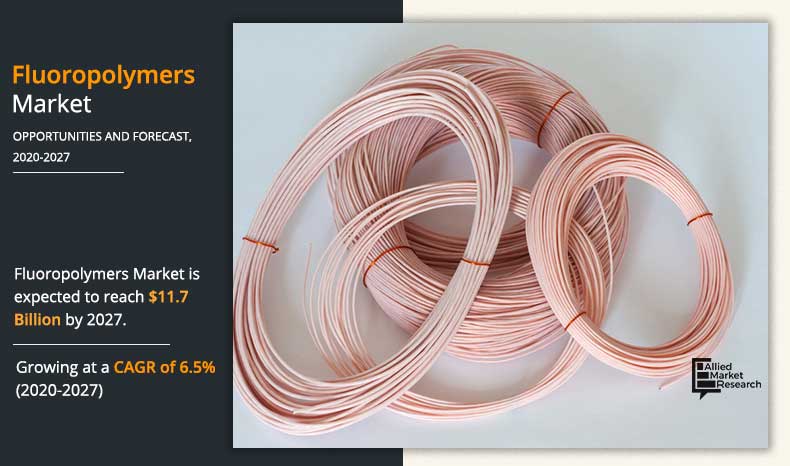 The global market growth is driven primarily by rise in demand from the end-use application sectors. Fluoropolymers have various beneficial properties. They are highly lubricant, biocompatible, and have excellent dielectric applications. They are thus gaining growing demand from the medical sector, especially for medical surgery. Currently, it is common to use plastic items in many different surgeries, such as corneas or heart valves. Such products can affect the body toxically, as they are not biocompatible. This also raises significant long-term questions about the overall health of the patient. This made the use of fluoropolymers in such medical procedures extremely attractive.
The global fluoropolymers market is segmented on the basis of product type, application, end-use industry, and region. On the basis of product type, the market is divided into PTFE, FEP, PVDF, Fluoroelastomer, PVF, PFA, ETFE, and others. The others sub-segment is further divided into PCTFE, ECTFE, and others. Depending on application, the fluoropolymers market is divided into film, tube, sheet, pipe, membrane, sealant, roofing, additives, and others. 
By end-use industry, the market is segmented into transportation equipment, electrical and electronics, construction, industrial equipment, and others. The transportation segment is further divided into automotive vehicles, aerospace, and others. Whereas, the electrical and electronics segment is divided into wire & cable, photovoltaic modules, batteries, and fuel cells. Industrial equipment is further separated into chemical & pharmaceutical equipment, semiconductor manufacturing equipment, and other industrial process. The others segment is categorized into cookware, textiles, lubricants, and others. Region wise, the fluoropolymers market is analyzed across North America, Europe, Asia-Pacific, and LAMEA. 
The market players operating in the global fluoropolymers market are Arkema SA, Asahi Glass Company Limited, The Chemours Company, Daikin Industries, Dongue Group, Dupont, Honeywell, Mitsubishi Chemical, SABIC Innovative Plastics, Saint-Gobain, Shin-Etsu Chemical, Solvay SA, and 3M Company.
Fluoropolymers Market

---
By Type
PTFE is projected as the most lucrative segment.
Fluoropolymers Market, By Product Type
By product type, the PTFE segment dominated the fluoropolymers market in 2019, and is projected to remain the fastest-growing segment. PTFE exhibits excellent chemical & thermal resistance, very low coefficient of friction, and high electrical insulation. It is used in a wide range of applications such as semiconductors, automotive components, electrical appliances, and non-stick frying pans.
Fluoropolymers Market

---
By Application
Pipe is projected as the most lucrative segment.
Fluoropolymers Market, By Application
By application, the pipes segment accounted for the highest market share of around 30.1% in 2019, and is projected to maintain the same during the forecast period. Fluoropolymers pipes are commonly used by petrochemicals, pharmaceuticals, chemicals, and almost every business involved in the handling of extremely volatile and corrosive solvents and acids for their manufacturing needs.
Fluoropolymers Market

---
By End-use Industry
Industrial Equipment is projected as the most lucrative segment.
Fluoropolymers Market, By End-Use Industry
By end-use industry, the industrial equipment segment accounted for around 39.8% of the fluoropolymers market share in 2019. Fluoropolymers are widely used in industrial processing industries for various applications such as pumps, impellers, tanks, heat exchanger coatings, reaction vessels, autoclaves, flue duct expansion joints, and others.
Fluoropolymers Market

---
By Region
Asia-Pacific holds a dominant position in 2019 and would continue to maintain the lead over the forecast period.
Fluoropolymers Market, By Region
By region, Asia-Pacific is projected to be the fastest growing market, owing to rise in demand for fluoropolymers products. The presence of large manufacturing hubs in China and India drives the Asia-Pacific fluoropolymers market, owing to increase in demand for high-quality medical, automotive, consumer, and electronics products.
Key Benefits For Stakeholders
The report provides an in-depth analysis of the fluoropolymers market trends along with the current and future market forecast.
This report highlights the key drivers, opportunities, and restraints of the market along with the impact analyses during the forecast period.
Porter's five forces analysis helps analyze the potential of the buyers & suppliers and the competitive scenario of the fluoropolymers industry for strategy building.
A comprehensive fluoropolymers market analysis covers factors that drive and restrain the market growth.
The qualitative data in this report aims on market dynamics, trends, and developments.
Impact Of Covid-19 On The Fluoropolymers Market
The COVID-19 fallout is unprecedented. There is uneven impact of COVID-19 pandemic on the fluoropolymers market, due to the lockdown implemented in almost every economy across the globe to break the chain of spreading of coronavirus. This resulted in shutting off the operations, manufacturing, distribution, and retail stores. Thus, there is decrease in demand for end products from the various end-use industries due to shutdown, which in turn resulted in the sluggish growth in the current year.
The automotive and aerospace industries are the largest consumer's fluoropolymers globally, and due to the current COVID -9 crisis these industries have experienced a significant decline. The automotive industry is dealing with a sudden and widespread cessation of economic activity as workers are ordered to stay at home, grind production chains to a halt, and close factories. The lockout restricting people's movement and the abrupt cessation of economic activity culminated in a significant contraction in sectorial production and GDP. Factory closures in Europe and North America are reported to have triggered the withdrawal of some millions of passenger vehicles from the production schedules. These declines in production have a cascading effect, which affects the OEMs and suppliers of material. Both of these factors have impacted fluoropolymer demand.
The pandemic also had a significant influence on aviation manufacturing. For instance, Airbus-one of the largest commercial aircraft manufacturing firms worldwide, due to the COVID-19 pandemic has reduced its aircraft production levels by around one-third. Boeing had also posted a loss of USD 641 million in the first quarter. This greatly influenced the use of fluoropolymers used in the manufacture of new aircraft, as well as MRO operations.
However, the demand for medical grade fluoropolymers is bombing at significant peace. Owing to corona outbreak there is high demand for testing and other health equipment. Which in turn to drive the global fluoropolymer market in near future.
 Fluoropolymers Market Report Highlights
Aspects
Details
By Product Type

Polytetrafluoroethylene (PTFE)
Fluorinated ethylene-propylene (FEP)
Polyvinylidene fluoride (PVDF)
Fluoroelastomer
Polyvinyl fluoride (PVF)
Perfluoroalkoxy polymer (PFA)
Ethylene tetrafluoroethylene (ETFE)
Others

By Application

Film
Tube
Sheet
Pipe
Membrane
Sealant
Roofing
Additives
Others

By End Use Industry

Transportation Equipment

Automotive vehicles
Aerospace
Others

Electrical and Electronics

Wire and cable
Photovoltaic modules
Batteries
Fuel cells

Construction
Industrial Equipment
others

Cookware
Textiles
Lubricants
Others

By Region

North America (U.S, Canada, Mexico)
Europe (Germany, UK, France, Italy, Spain, Rest of Europe)
Asia-Pacific (China, Japan, India, South Korea, Australia, Rest of Asia-Pacific)
LAMEA (Brazil, Saudi Arabia, South Africa, UAE, Argentina, Rest of LAMEA)

Key Market Players
ARKEMA S.A., AGC INC., THE CHEMOURS COMPANY, DAIKIN INDUSTRIES, LTD., DONGYUE GROUP CO., LTD., DUPONT, HONEYWELL INTERNATIONAL INC., MITSUBISHI CHEMICAL CORPORATION, SABIC, SHIN-ETSU CHEMICAL CO., LTD., SAINT GOBAIN, SOLVAY SA, 3M COMPANY