Focused Ion Beam Market Outlook - 2022
The global focused ion beam (FIB) market is projected to reach $4.9 billion by 2022, registering a CAGR of 7.4% from 2016 to 2022. Focused ion beamis a high-energy ion beam produced by FIB-enabled equipment. This equipment is majorly used in semiconductor industry and in 3D imaging techniques. Increased R&D investment for materials science and bio materials is a major factor that boosts the growth of the market. Increase in demand for FIB-based failure analysis equipment in electronics industry and circuit editing application using FIB are other major factors that propel the focused ion beam market growth.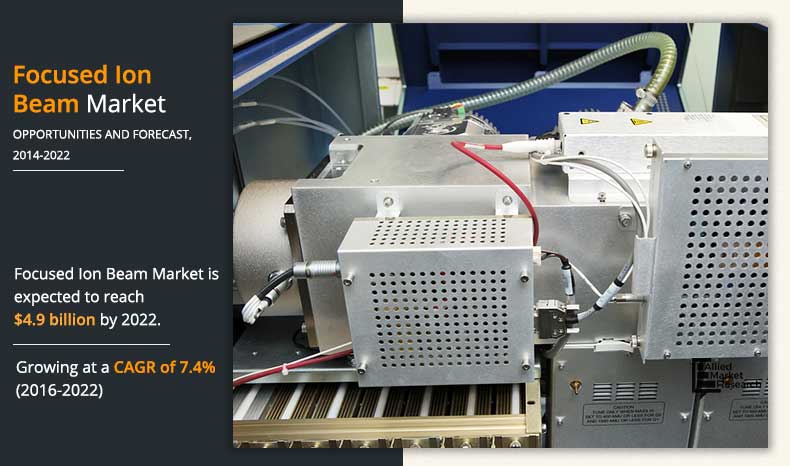 Key players have introduced technologically upgraded FIB equipment such as multibeam FIB system. However, high cost of theseequipment is a major restrain of focused ion beam market. Development of new ion sources such as helium, lithium, and others provides growth opportunities for the market. Despite high success of FIB micro equipment, development of nano-FIB equipment is anticipated to be the major attraction in the year to come.
The focused ion beam market is segmented on the basis of ion source, application and geography. Based on ion source, the market is segmented into iridium, gold, gallium, and others. By application, the market is categorized into failure analysis, material science, nanofabrication, device modification, circuit edit, and others. Geographically, the market is analyzed across North America (U.S., Canada, and Mexico), Europe (UK, France, Germany, Russia, Spain, and rest of Europe), Asia-Pacific (India, China, Japan, Australia, and rest of Asia-Pacific), and LAMEA (Latin America, Middle East, and Africa).
The key players profiled in the focused ion beam market report include Hitachi High-Technologies Corporation, Evans Analytical Group, Fibics Incorporated, FEI, Carl Zeiss AG, ZEROK Nanotech, Thermo Fisher Scientific Inc., NanoLab, Tescan, and Waters. These key players have adopted various strategies such as product portfolio expansion, mergers & acquisitions, agreements, geographical expansion, and collaborations to increase their market penetration and strengthen their position in the industry.
Key Benefits for Stakeholders:
Comprehensive analysis of the current trends and future estimations in the global focused ion beam market is provided.
The report offers a competitive scenario of the focused ion beam market with growth trends, structure, drivers, scope, opportunities, and challenges.
It includes a detailed analysis of the key segments to provide insights on market dynamics.
Porters Five Forces analysis highlights the potential of buyers and suppliers as well as the competitive structure of the focused ion beam market to devise effective growth strategies and facilitate better decision-making.
 Focused Ion Beam Market Report Highlights
Aspects
Details
By Ion Source

Iridium Source FIB
Gold Source FIB
Gallium Source FIB
Other Sources FIB

By Application

Focused Ion Beam Failure Analysis
FIB Material Science
FIB Nanofabrication
FIB Device Modification
FIB Circuit Edit
FIB Other Applications

By Geography

North America
Europe

UK
Germany
France
Italy
Rest of Europe

Asia-Pacific

China
Japan
India
Oceania
Rest of Asia-Pacific

LAMEA

Latin America
Saudi Arabia
South Africa

Key Market Players
Hitachi High-Technologies Corporation, Evans Analytical Group, Fibics Incorporated, FEI, Carl Zeiss AG, ZEROK Nanotech, NanoLab, Tescan, Waters