Food Recycler Market Research, 2031
The global food recycler market was valued at $26.3 billion in 2021, and is projected to reach $48.8 billion by 2031, growing at a CAGR of 6.4% from 2022 to 2031.
The COVID-19 pandemic had a negative effect on the market for food recyclers owing to labor shortages, broken supply chains, and lack of raw materials as a result of regulations requiring a statewide lockdown, and social segregation restrictions. Furthermore, the market growth will be positively impacted by the progressive removal of these obstacles and the restart of production activities in the present. Since the hospitality industry was completely shut down as a result of government guidelines for lockdown, the market for food recycler has experienced a sharp decline in demand. According to the report of the National Library of Medicine, U.S. food supply chains are highly integrated and strongly dependent on global conditions. Therefore, economic, and political threats and natural disasters may disrupt their integrity. The COVID-19 pandemic has put into evidence the lack of resilience of food supply chains, leading to economic and social crises with global consequences.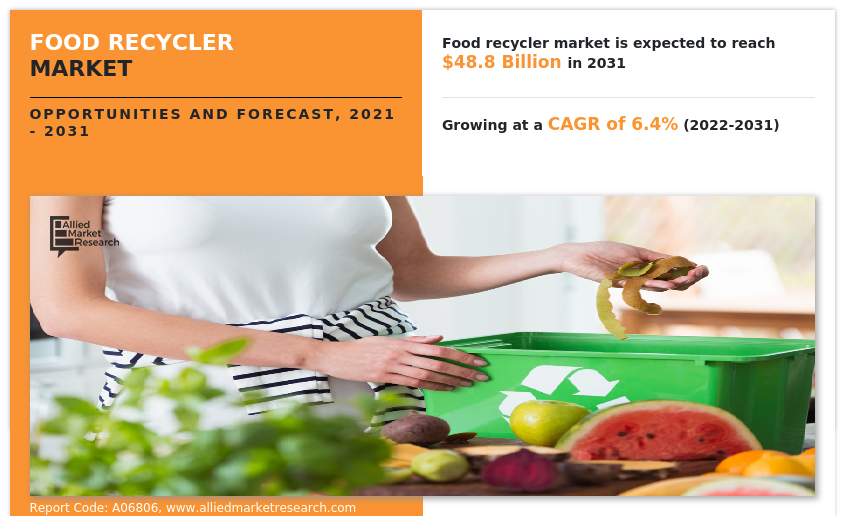 Food wastage has emerged as a big challenge in all the countries around the globe. This has created a huge opportunity for the products that can help overcome this situation. Recycling organic waste has emerged as a challenge in several economies which drives the food recycler market demand in those economies. A food recycler is a machine that is used in both commercial and household to recycle waste food into fertilizer or manure. 
The rapid increase of urbanization and government initiatives like smart city, go green, etc. is expected to propel the growth of the food recycler industry. According to United Nations Conference on Trade and Development in 2010, 51.6% lived in urban areas. By 2020, the share of the urban population increased to 56.2%. It is generally higher in the developed (79.2% in 2020) than in the developing world (51.6%). According to an article by the World Resource Institute, food waste already comprises 50 to 70 percent of municipal solid waste in several Chinese cities, including Beijing and Shanghai. Along with the rise in urbanization, the number of people who are opting for food waste management and are concerned about the environment will rise owing to this the food recycler industry is expected to increase at a significant rate.
The rising concern of people regarding efficient food waste management will drive the growth of the food recycler market size as with rising concern towards efficient waste management more consumers will prefer food recyclers. According to the World Bank upper-middle and high-income countries provide nearly universal waste collection, and more than one-third of waste in high-income countries is recovered through recycling and composting. Low-income countries collect about 48% of waste in cities, but only 26% in rural areas, and only 4% is recycled. Overall, 13.5% of global waste is recycled and 5.5% is composted. On September 16, 2015, the U.S. Department of Agriculture (USDA) and EPA announced the U.S. 2030 Food Loss and Waste Reduction goal, the first-ever domestic goal to reduce food loss and waste. The goal seeks to cut food loss and waste in half by the year 2030.
There is a huge increase in the demand for organic products owing to the rising awareness regarding the health benefits of organic products.  Compost improves soil structure and nutrient content, which reduces the need for chemical fertilizers. Moreover, the demand for organic products is growing in developed markets like Europe and North America due to higher consumer awareness, higher adoption of healthy food habits, and increased health consciousness among the population. Such a surge in the demand for organic products will result in an increasing demand for organic fertilizer. Food recyclers convert food waste into fertilizer without the use of any chemical, owing to this it is expected that there will be a surge in the demand for food recyclers. However, the global food recycler market faces a major drawback due to the development of cold chain facilities and the rising trend of feeding people and animals among the population. Instead of feeding landfills, people are feeding people and animals nearby them. Even there are various organization working that takes excess food and distributes it to needy people. For instance, one can contact the America EXITEXIT EPA WEBSITE or local food rescue organizations for information about where they can donate and what types of food their local organization is able to accept. In 2012, the U.S. Department of Agriculture National School Lunch Program provided nutritionally balanced, low-cost, or free lunches to more than 31 million children each school day. According to the Food and Agriculture Organization of the United Nations, from 2012 to 2014 there were about 805 million hungry people on earth. They predict that by eliminating food loss and wasted food there would have been enough food to feed all the chronically undernourished. They also expect that they wouldn't have to increase food production or put additional pressure on natural resources to do so. Such a rise in the trend of feeding people and animals coupled with rising awareness regarding organization working for it can hold back the growth of the global food recycler market size.
Technological advancements coupled with rising initiatives regarding food wastage management will create an opportunity for the growth of the food recycler market size since food wastage is reaching alarming heights and has become a global issue. According to the United Nations Environment Programme in the U.S. alone, an estimated 133 billion pounds of edible food (worth over $161 billion) goes to waste every year. Food waste also contributes to the largest volume of material in U.S. landfills accounting for 21% of the waste stream. Food waste costs Canadians $31 billion annually or about 2% of the country's GDP. According to the U.S. Department of Agriculture in the United States, food waste is estimated at between 30-40 percent of the food supply. It has emerged as a challenge for the government to overcome all such wastage, for example in 2015, the USDA joined with the U.S. Environmental Protection Agency to set a goal to cut our nation's food waste by 50 percent by the year 2030. Such a huge amount of food wastage coupled with the initiative by the governments is expected to present a food recycler market opportunity for the growth 
The food recycler market is segmented on the basis of capacity, end-user, distribution channel, and region. By capacity, the food recycler market is classified into 0-50 kg/day, 51-100 kg/day, 101-300 kg/day, 301-500 kg/day, 501-1000 kg/day, and above 1000 kg/day. By end-user, the market is categorized into commercial and household. By distribution channel, the market is fragmented into OEM, distributors, retailers, and e-commerce. By region, the market is analyzed across North America, Europe, Asia-Pacific, and LAMEA.
As per the food recycler market forecast, depending on capacity, the 0-50 kg/day segment is expected to sustain its dominance during the forecast period. The 0-50kg/day segment accounted for 33.67% of the food recycler market share in 2021. This dominance is attributed to the huge use in households, restaurants, and small hotels. The 0-50 kg/day segment is expected to grow at a CAGR of 6.7% owing to the number of restaurants and hotels coupled with increasing food wastage issues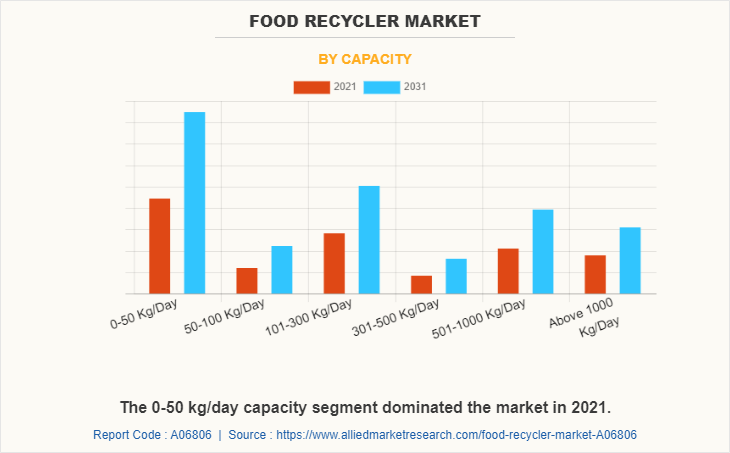 As per the food recycler market trends, on the basis of end-user, the commercial segment is expected to be the dominant segment during the forecast period. The commercial segment garnered revenue of around $ 23397.6 million in 2021 and is expected to grow at a CAGR of 6.3% during the forecast period. The rapid increase of the hospitality industry coupled with rising demand for proper food wastage management is expected to drive food recycler market growth.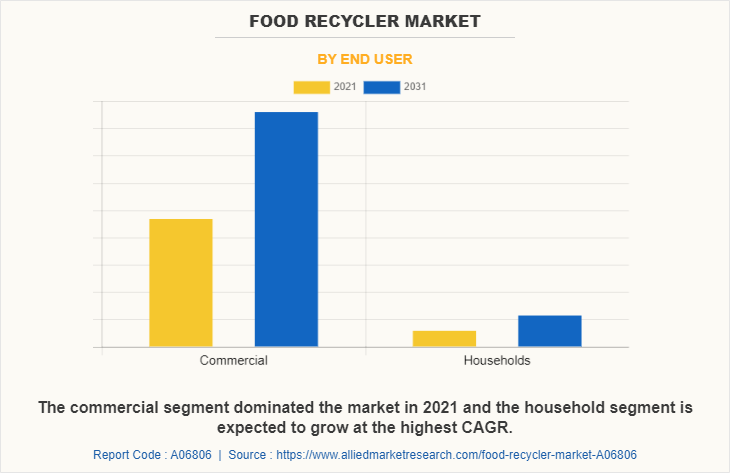 Based on the distribution channel, the OEM segment dominated the market with a 33.83 % market share of the global food recycler market in 2021 followed by the distributors and retailers segments. The segment accounts for the major share owing to the convenient price of the product and special guidance needed to install a food recycler.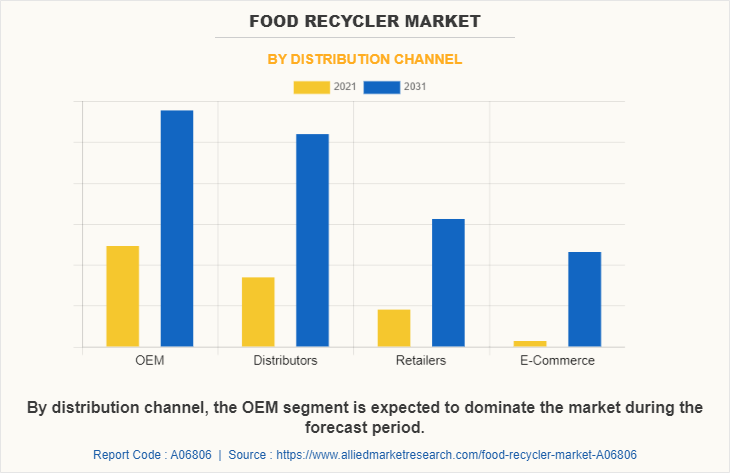 Region-wise, the food recycler market has been analyzed across North America, Europe, Asia-Pacific, and LAMEA. North America dominated the market in 2021, garnering a market share of 32.5 %, followed by Europe with 28.7%. Asia-Pacific is expected to witness the highest CAGR during the forecast period, owing to the growing number of players in the food recycler market coupled with the rapid rate of urbanization and rising awareness regarding food wastage management. According to an article by the European Commission in the EU, around 88 million tonnes of food waste are generated annually with associated costs estimated at 143 billion euros (FUSIONS, 2016). While an estimated 20% of the total food produced is lost or wasted. The EU is committed to meeting the Sustainable Development Goal Target 12.3 to halve per capita food waste at the retail and consumer level by 2030 and reduce food losses along the food production and supply chains. Such initiatives in the region are expected to drive the growth of the market in the region.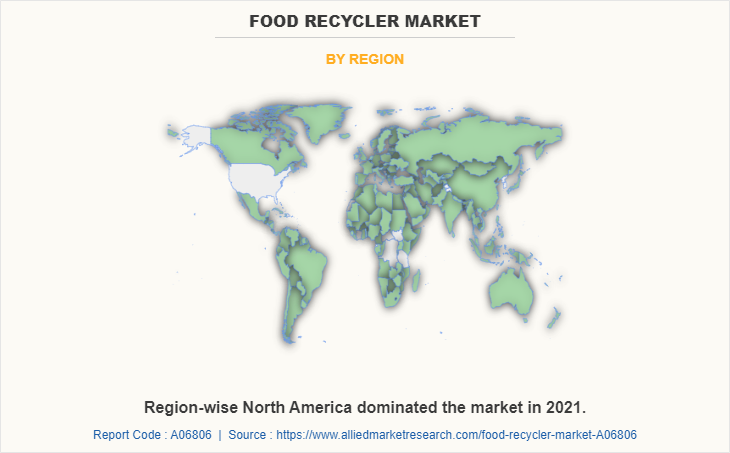 Key Benefits For Stakeholders
This report provides a quantitative analysis of the market segments, current trends, estimations, and dynamics of the food recycler market analysis from 2021 to 2031 to identify the prevailing food recycler market opportunities.
The market research is offered along with information related to key drivers, restraints, and opportunities.
Porter's five forces analysis highlights the potency of buyers and suppliers to enable stakeholders make profit-oriented business decisions and strengthen their supplier-buyer network.
In-depth analysis of the food recycler market segmentation assists to determine the prevailing food recycler market opportunities.
Major countries in each region are mapped according to their revenue contribution to the global market.
Market player positioning facilitates benchmarking and provides a clear understanding of the present position of the market players.
The report includes the analysis of the regional as well as global food recycler market trends, key players, market segments, application areas, and market growth strategies.
 Food Recycler Market Report Highlights
Aspects
Details
Market Size By 2031
USD 48.8 billion
Growth Rate
CAGR of 6.4%
Forecast period
2021 - 2031
Report Pages
298
By Capacity

0-50 Kg/Day
50-100 Kg/Day
101-300 Kg/Day
301-500 Kg/Day
501-1000 Kg/Day
Above 1000 Kg/Day

By End User

Commercial

Sub-Segment

Hotels
Restaurant
Food Processing Centers
Composting Sites
School/ Universities

Households

By Distribution Channel

OEM
Distributors
Retailers
E-Commerce

By Region

North America (U.S., Canada, Mexico)
Europe (UK, Germany, Italy, Spain, Rest of Europe)
Asia-Pacific (China, Japan, India, Australia, Rest of Asia-Pacific)
LAMEA (Brazil, Argentina, South Africa, Saudi Arabia, Rest of LAMEA)

Key Market Players
Bhor Engineering Pvt., Ltd., simplehuman, Hanmi Flexible Co., Ltd., Joseph Joseph Ltd., Ecovim, MEIKO Maschinenbau GmbH & Co. KG, Oklin International Ltd., Kollvik Recycling S.L., Ninestars, Emerson Electric Co., CP Group, Neterwala Group, WEIMAR Enterprise Sdn Bhd, Mentari Alam Eko (M) Sdn Bhd, FoodCycler, SmartCara, Kompakt, Hungry Giant Recycling, Ridan Composting Limited, Renovare Environmental, Inc.