Food Traceability Market Outlook - 2025
Global food traceability market size was valued at $10,963.0 million in 2017, and is expected to reach $22,274.1 million by 2025, registering a CAGR of 9.3% from 2018 to 2025. Food traceability (tracking technologies) comprises the ability to identify and validate various stages of the food chain from production to distribution. It involves recognizing the origin of food and its destination from where it is expected to be distributed to different end users. This system is essential for food investigations and is crucial in global food trade as multi-ingredient food includes materials from variety of food chain & countries. This makes importers dependent upon traceability systems of other countries up to the point of import. The main applications of food traceability market include meat & livestock, fresh produce & seeds, dairy, beverages, fisheries, and others. The different equipment meant for supporting the system are PDA with GPS, thermal printers, 2D & 1D scanners, tags & labels, sensors, and others.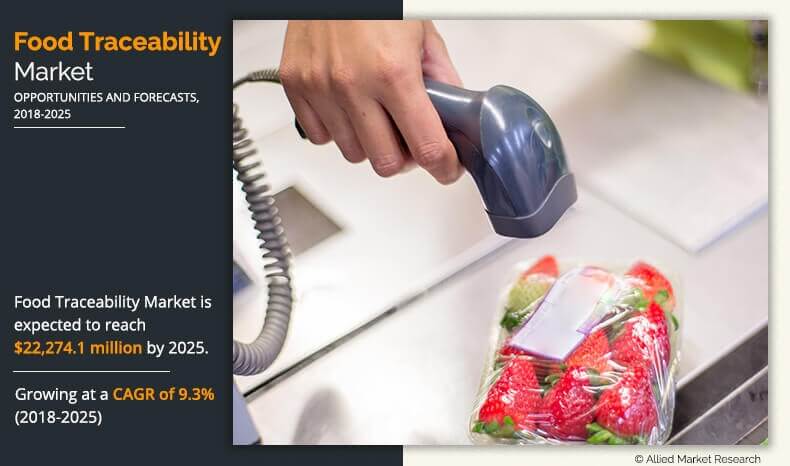 Legislative framework and certifications & standardizations are the key drivers for the global food traceability market growth. This is due to the compulsion by different governments of several developed and developing countries to follow standards and laws related to food safety, which further support market expansion. Other factors that fuel the market are competitive edge & brand loyalty, tracing contamination & product recall, and flow of information upstream & downstream of supply chain.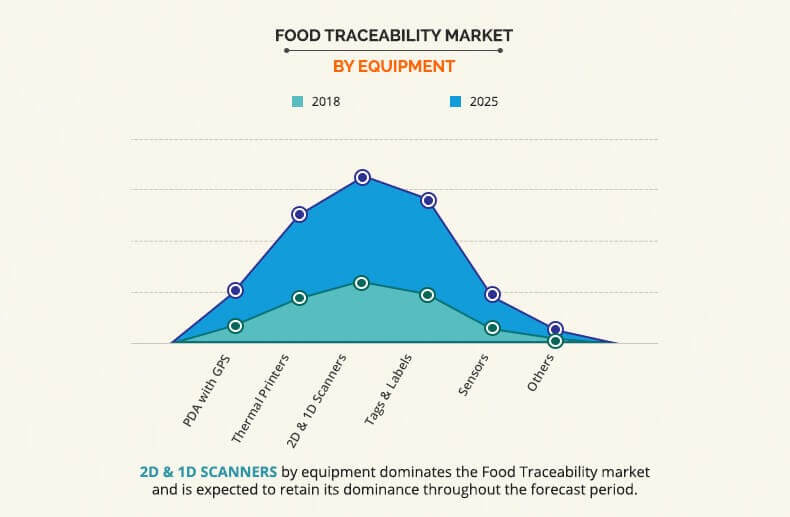 The equipment segment of food traceability market covers equipment & devices that are used by the food supply chain to trace the details of the produce throughout the product lifecycle. Equipment with different functionalities use varied technologies to produce accurate information required in the food traceability market. Various equipment analyzed in this report include personal digital assistance (PDA) with GPS, thermal printer, two-dimensional (2D) & one-dimensional scanners, tags & labels, sensors, and others.
Use of barcodes, data-matrix codes, QR codes, and dot codes is mandatory on packaging used in food, beverage, pharmaceutical, personal care, and other industries. This has led to increase in demand for implementation of traceable solutions, such as barcode scanners across various industries, which display information in a format that can be read electronically. Thus, 2D & 1D scanners are required to read the data on barcodes, data-matrix codes, QR codes, and dot codes and retrieve information about the item.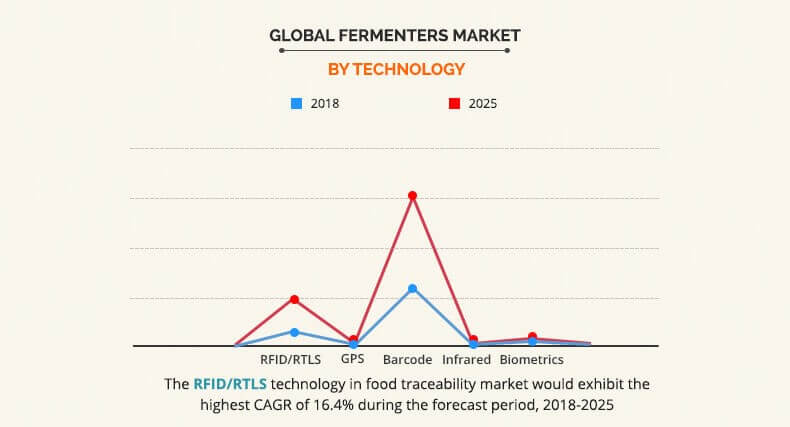 Food traceability is related to the tracking and monitoring of food products being in transit to reach its potential customer or retailer. Technology used in this process traces the exact location, thus, preventing mixing of contaminated or discarded food with the consumable food. A number of technologies exist in the food traceability market with varying applications, which focus on enabling quick and effective corrective actions if something goes out of control, and thereby helps isolate the contaminated food from reaching the customers.
Radio frequency identification technology (RFID) is used to track real-time information with the help of a tag, which identifies and tracks the food products by radio waves. RFID technology is advantageous as it tracks information and complex parameters such as temperature, air pressure, and humidity. It is also advantageous over its counterparts as it does not require user-initiated, line-of-sight efforts and efficiency of simultaneously reading & writing hundreds of tags, and thus, reducing labor resource and associated costs. RFID assists organizations to acquire data with minimum chances of error.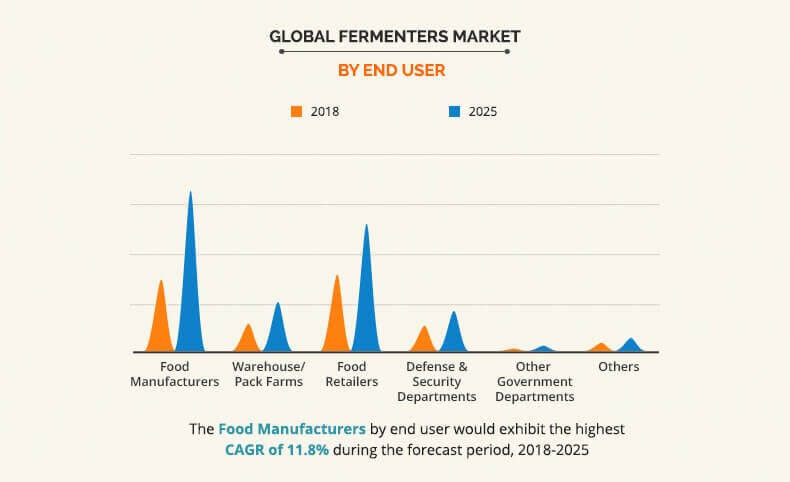 The end user segment of the food traceability market caters to the people who use various equipment and technologies to implement the traceability system. It consists of the supply chain participants who are directly impacted by the system. Food manufacturers, warehouse or pack farms, food retailers, defense & security departments, other government departments and others constitute the end user segment of the food traceability market. The main end users employing food traceability (tracking technologies) are food retailers and food manufacturers. Moreover, these segments occupied a major portion of food traceability market share in 2017, and are expected to grow at lucrative CAGRs, during the forecast period.
The primary goal of any food manufacturer is to prevent contamination and deliver safe quality products to consumers, thereby controlling recall expenditure. According to the Centers for Disease Control and Prevention, U.S., roughly 1 in 6 individual falls ill from contaminated food each year. Thus, the U.S. Food and Drug Administration (FDA) and United States Department of Agriculture's (USDA) Food Safety and Inspection Service (FSIS) have implemented several regulations for food traceability, thereby boosting the food traceability market growth.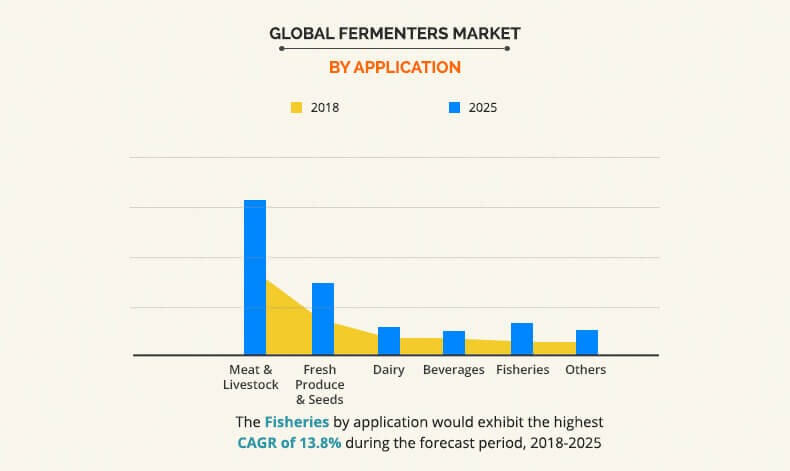 The application segment of the food traceability market is categorized based on various types of food. All food product variants have indigenous characteristics and based on those, food producers need to implement a customized system that suits the need of their food produce. Based on application, the global food traceability market is sub-segmented into meat & livestock, fresh produce & seeds, dairy, beverages, fisheries, and others.
Fisheries segment is anticipated to witness highest growth rate in the global food traceability market throughout the forecast period. As per the recent guidelines by the European Union, Japan, and the U.S., traceability is now a mandate for all the companies operating in the seafood and fisheries market.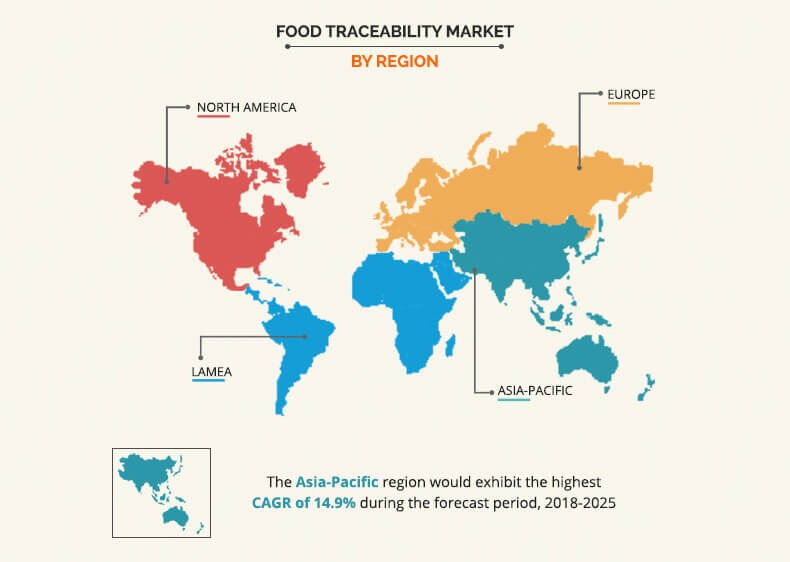 Based on region, the global food traceability market is analyzed across North America, Europe, Asia-Pacific, and LAMEA. Unlike North America and Europe, the adoption rate of food traceability systems is low in emerging economies. Still, consumers in these developing nations have an increased awareness for food safety. This has led to increase in consumer demand for food traceability (tracking technologies) in developing countries and growth opportunities to the food traceability companies for expansion. Associated costs and different needs for different food products are major factors that limit the food traceability market growth, which are expected to increase the price of related products, leading manufacturers to avoid food tracing to some extent.
Key leading players operating in food traceability market are Bio-Rad Laboratories, Inc., CH Robinson Worldwide Inc., Cognex Corporation, E. I. Du Pont de Nemours and Company (DuPont), Honeywell International Inc., International Business Machines Corporation, Motorola Solutions, Inc., SGS SA, Zebra Technologies Corporation and MASS Group Inc.
Other players in the value chain include HarvestMark-Trimble Navigation Ltd., FoodLogiQ, Verify Technologies, Fresh Surety, Verigo, Nima Labs, Inc., AstRoNA Biotechnologies, Controlant, and Helium.
Key Benefits for Food Traceability Market:
The report provides an extensive analysis of the current and emerging market trends and opportunities in the food traceability industry.
The report provides a detailed qualitative and quantitative analysis of the current trends and future estimations that help evaluate the prevailing food traceability market opportunity.
A comprehensive analysis of the factors that drive and restrict the growth of the market is provided.
Food traceability market analysis has been conducted by following key product positioning and monitoring the top competitors within the market framework.
The report provides extensive qualitative insights on the potential and niche segments or regions exhibiting favorable growth.
 Food Traceability (Tracking Technologies) Market Report Highlights
Aspects
Details
By Equipment

PDA with GPS
Thermal Printers
2D & 1D Scanners
Tags & Labels
Sensors
Others

By Technology

RFID/RTLS
GPS
Barcode
Infrared
Biometrics

By End User

Food Manufacturers
Warehouse/Pack Farms
Food Retailers
Defense & Security Departments
Other Government Departments
Others

By Application

Meat & Livestock
Fresh Produce & Seeds
Dairy
Beverages
Fisheries
Others

By Region

North America (U.S., Canada, Mexico)
Europe (UK, Germany, France, Spain, Rest of Europe)
Asia-Pacific (India, China, Japan, Australia, South Korea, Rest of Asia-Pacific)
LAMEA (Brazil, Saudi Arabia, South Africa, Turkey, Rest of LAMEA)

Key Market Players
SGS SA (SGS), MASS Group Inc. (MASS Group), E. I. Du Pont de Nemours and Company (DuPont), CH Robinson Worldwide Inc. (CH Robinson), Cognex Corporation (Cognex), Bio-Rad Laboratories, Inc., Honeywell International Inc., Zebra Technologies Corporation (Zebra Technologies), Motorola Solutions, Inc. (Motorola Solutions), International Business Machines Corporation (IBM)