The foot care products market size was valued at $2.92 billion in 2019, and is anticipated to reach $4.59 billion by 2027, with a CAGR of 7.10% during the forecast period from 2021 to 2027. Foot care products are essential for maintaining the health of the feet. These products are involved in the preventive and remedial care of ankle and foot. Foot care products help to heal the foot issues such as heel pain, toe pain, finger pain, and nail health. Manufacturers are focusing on advanced product packaging to increase usability of foot care products. To meet the ever-changing need of customers, companies are focusing on R&D activities to introduce a novel product line in the foot care products market. These companies are further investing in packaging and marketing activities to gain maximum visibility among consumers.   
 
Increase in penetration of internet and rise in awareness for e-commerce distribution channels have significantly increased the adoption of locally produced goods, which is anticipated to offer lucrative opportunities for local manufacturers. Rise in number of individuals suffering from foot infections has further boosted the foot care products market demand. Moreover, surge in demand from millennial, improvement in marketing strategies, and improved distribution channels drive the foot care products market growth. The impact of these drivers is expected to increase significantly due to increase in investments by small and medium-sized food manufacturing companies. However, price sensitivity is a factor projected to restrain the market growth. The cosmetic industry has been strongly hit by counterfeit activity due to large consumer base purchasing products through online sales channels. In addition, lack of brand loyalty among consumers purchasing cosmetic products is responsible for decreased penetration of cosmetic products. Companies operating in foot care products market are facing challenges in fake product distribution and witnessing reduction in terms of sales. Such increased counterfeit activities due to lack of effective supply chain management is expected to hamper the revenue growth of foot care products market size.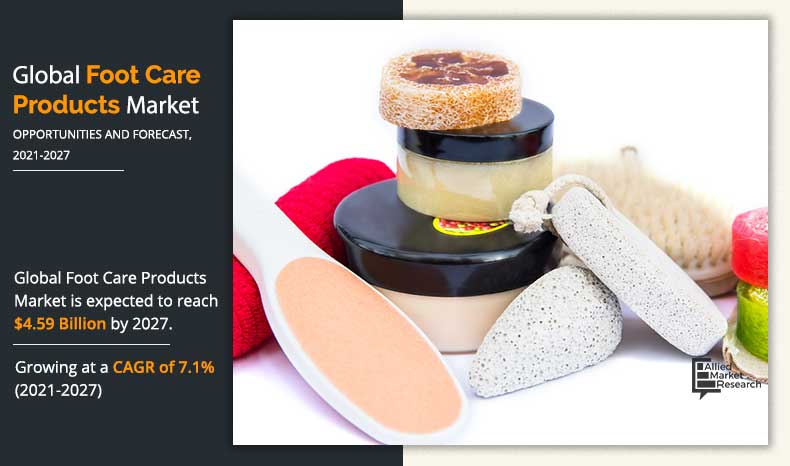 Leading players in the market are targeting direct distribution of their products through authorized outlets and online portals. These players are focusing on promoting their unique product offerings and supplying them through direct sales channel. The adoption of direct distribution strategies is anticipated to provide strong revenue growth in foot care products market opportunity for the foot care products market during the forecast period.       
 
Strong global concerns about the COVID-19 pandemic have negatively influenced the global foot care products industry. Moreover, due to increase in the supply–demand gap, the prices of foot care products are likely to rise in 2020 to overcome on economic instability. Furthermore, disruption of the supply chain in shipping could lead to temporary shortage in supply, which leads to increase in prices of foot care products
According to the foot care products market analysis, the market is segmented into product, application, distribution channel, and region. By product, it is categorized into foot repair ointment, foot creams, foot cleansing lotions, slough scrub products, and others. The applications covered in the study include sports & athletics, medical, and personal comfort. On the basis of distribution channel, the market is segregated into drug stores & pharmacies, hospitals & clinics, online stores, and others. Region wise, it is analyzed across North America (U.S., Canada, and Mexico), Europe (Germany, France, the UK, Spain, the Italy, and rest of Europe), Asia-Pacific (China, Japan, India, Australia, South Korea, and rest of Asia-Pacific), and LAMEA (Latin America, Middle East and Africa).       
Foot Care Products Market

---
By Products
The Foot Creams segment helds the major share of 30.41% in 2019
On the basis of product, the foot creams accounted for the maximum share in the global foot care products market segment in 2019. Personal care and cosmetic products have been gaining popularity among target costumers, owing to the convenient packaging design. In addition, owing to their creamy texture, foot creams help to keep the feet hydrated, preventing dry skin and heels. Thus, all these factors collectively are expected to drive the market for foot care products in the coming years.          
Foot Care Products Market

---
By Application
The Personal Comfort segment witness a highest CAGR of 7.80% from 2021-2027
On the basis of application, the medical segment held the 42.79% in the global foot care products market share in 2019. Rise in popularity of foot care products in medical application has boosted the growth of the segment, owing to improvement in standard of livings and rise in awareness about the benefits of the products. Moreover, increase in incidence of skin cancer such as melanoma and non-melanoma and active initiatives from the government authorities toward skin cancer are anticipated to boost the demand for foot care products market.    
Foot Care Products Market

---
By Distribution Channel
The Hospitals & Specialty Clinics segment helds the higest market share of 35.51% in 2019
On the basis of distribution channel, the hospitals & specialty clinics segment held the major share of 35.5% in the global foot care products market, and is likely to remain dominant throughout the forecast period. Hospitals & specialty clinics offer more effective foot care products, thereby propelling the growth of the market.    
Foot Care Products Market

---
By Region
The Asia-Pacific region helds the higest market share of 32% in 2019
Region wise, Asia-Pacific was the prominent market in 2019, which accounted for the maximum share. This is attributed to rise in purchasing power of the Asia-Pacific population, increase in urbanization, presence of wide customer base, and preference for different cosmetics & personal care products. Consumers in this region are more focused on products, which cater to skincare regimes. In addition, consumers increasingly demand cosmetics manufactured using natural and organic ingredients instead of synthetic. Furthermore, rise in preference for attractive and smaller packaging for travel has contributes toward the growth of foot care products market, as such products are easy to carry.      
 
The players in the foot care products market have adopted various developmental strategies to expand their market share, increase profitability, and remain competitive in the market. The key players profiled in this report include Johnson & Johnson, Del Laboratories, HoMedics, PediFix, Inc., Alva-Amco Pharmacal, Inc., Revlon, Aetna Foot Products, Blistex Inc., Glaxosmithkline Plc, and Miracle of Aloe.     
 
Key Benefits for Stakeholders:
The report provides a quantitative analysis of the current foot care products market trends, estimations, and dynamics of the market size from 2019 to 2027 to identify the prevailing opportunities.     
Porter's five forces analysis highlights the potency of buyers and suppliers to enable stakeholders to make profit-oriented business decisions and strengthen their supplier–buyer network.
In-depth analysis and the market size and segmentation assist to determine the prevailing foot care products market opportunity.      
The major countries in each region are mapped according to their revenue contribution to the market.    
The market player positioning segment facilitates benchmarking and provides a clear understanding of the present position of the market players in the foot care products industry.   
 Foot Care Products Market Report Highlights
Aspects
Details
By Application

Sports & athletics
MEDICAL
PERSONAL COMFORT

By Distribution Channel

DRUG STORES & PHARMACIES
HOSPITALS & SPECIALTY CLINICS
ONLINE STORES
OTHERS

By Region

NORTH AMERICA (US, CANADA, MEXICO)
EUROPE (GERMANY, FRANCE, UK, ITALY, SPAIN, REST OF EUROPE)
ASIA-PACIFIC (CHINA, JAPAN, INDIA, AUSTRALIA, SOUTH KOREA, REST OF ASIA-PACIFIC)
LAMEA (LATIN AMERICA, MIDDLE EAST, AFRICA)

Key Market Players
Johnson & Johnson, Blistex Inc, Del Laboratories, Aetna Foot Products, PediFix, Inc, Glaxosmithkline Plc, Revlon, Alva-Amco Pharmacal, Inc, HoMedics, Miracle of Aloe