The football sportswear market size was valued at $89,505 million in 2019, and is estimated to reach $114,414.1 million by 2027, registering a CAGR of 5.3% from 2021 to 2027. 
Football sportswear includes pants, shorts, track pants, socks, and shoes, which are for playing and training purposes. Football sportswear has gained a major share in the global sportswear market in 2019, and is expected to sustain its share throughout the forecast period. This is majorly attributed to growth in popularity of football, increase in events of football at international and national levels, and rise in interest of youth in internationally recognized sports such as running, badminton, and football. Football sportswear includes specialized designed footwear and clothing, which provides comfort and agility to football players and their trainers. For instance, football footwear is designed for green pitches and have studs on outsole to aid grip. Football is one of the most popular sports in the world and is expected to gain significant popularity in developing countries including India, Indonesia, Iraq, Bulgaria, and Cambodia.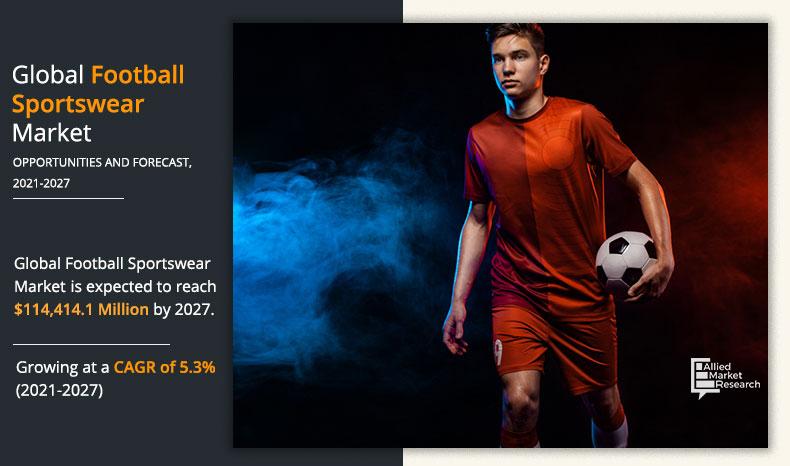 Growth in consumer spending on sports and recreational activities, and rise in disposable income significantly drive the football sportswear market growth. In addition, initially, sports apparel was mostly worn by athletes, however, with time, it has become quite common among regular gym-goers and other non-athletes. Football apparel is usually made from breathable material that allows sweat to evaporate faster and help the wearer remain fresh for longer. Polyester, microfiber, calico, and spandex are some of the most commonly used fabrics in the production of these clothing.
The outbreak of the COVID-19 pandemic has adversely affected the football sportswear market. People are restricted to stay at their homes to stop the spread of the diseases. Governments have been forced to introduce and maintain social and mobility restrictions in an attempt to control spread of the disease. In this context, the sports sector has been forced to close facilities, ban travel, and cancel sporting events and leagues. Many major football sports events have been cancelled during the lockdown period, which is expected to halt growth of the football sportswear market. For instance, the Euro 2020 championships, originally scheduled to take place from June 12 to July 12, 2020 was postponed by a year to June 11 to July 11 2021.
Football Sportswear Market

---
By Type
Footwear segment helds the major share of 61.4% in 2019
According to the football sportswear market analysis, the football sportswear market is segmented into type, end user, distribution channel, and region. On the basis of type, the market is categorized into footwear, apparel, and others. By end user, it is segregated into men, women, and children. On the basis of distribution channel, it is segmented into e-commerce, supermarkets/hypermarkets, brand outlets, and others. Region wise, it is analyzed across North America (the U.S., Canada, and Mexico), Europe (Germany, the UK, France, Russia, Italy, Spain, and rest of Europe), Asia-Pacific (China, Japan, Australia, India, South Korea, and rest of Asia-Pacific), and LAMEA (Latin America, the Middle East, and Africa)
Football Sportswear Market

---
By End User
Men segment helds the major share of 61.8% in 2019
On the basis of type, the footwear segment accounted for around one-third of the global football sportswear market share in 2019, and is expected to sustain its share during the forecast period. Football footwear includes shoes and socks, which is specially designed for football players. For instance, shin guard or shin pad, is a piece of equipment worn on front of an athlete's shin to protect it from injury. Football shin pads are worn by football players for comfort and protection of legs. It reduces risk of major leg injuries. Football shoes have gained significant popularity among customers, owing to its various attributes such as stylish look, quality, durability, and color.  These football shoes are essential for football players as it provides flexibility, stability, motion control, torsional stability, and other benefits.      
Football Sportswear Market

---
By Distribution Channel
Brand Outlets segment helds the major share of 32.1% in 2019
On the basis of end user, the women segment was valued at $20,088.9 million in 2019, and is expected to reach $ 27,327.8 million by 2027, with a CAGR of 6.1%. 
The women segment is an emerging customer segment of the football sportswear market. Women are increasingly participating in sports as they have started realizing that sports and fitness activities can help ensure good health and reduce risk of chronic disorders such as depression, cardiovascular diseases, and diabetes. For instance, according to the FA's participation tracker, 2.6 million women said they play football in June 2019, the highest amount ever recorded. School and colleges are providing equal opportunities to girls and boys in every stage sports. From school and college, girls are getting promoted to take part in sporting activities, which indirectly favors growth of the sportswear market. For instance, according to the Women and Sport report 2018, women who participate in sporting activities at school have a 76% chance to remain interested in sports for rest of their lives.  
According to the football sportswear market trends, depending on distribution channel, the e-commerce segment was valued at $ 26,142.2 million in 2019, and is expected to reach $32,563.6 million by 2027, with a CAGR of 4.9%. Easy accessibility offered by e-commerce platforms boosts their adoption in the football sportswear market, thus becoming a popular medium for purchase of footwear and apparel. Easy availability of desired brands, designs, and colors of football sportswear drives growth of the e-commerce segment. Furthermore, time-saving feature and the facility of home delivery contribute toward growth of the market. Online distribution of football sportswear is gaining major popularity among customers, owing to proliferation of Internet of Things at commercial level. 
Football Sportswear Market

---
By Region
Europe region helds the higest market share of 46.3% in 2019
Region wise, North America dominated the product market in 2019, and is expected to sustain its dominance throughout the football sportswear market forecast period. The key factors driving growth of the product market in the region include popularity of football sports, increase in participation, and increase in football events at national and international level. Growth in sponsorship for football events further adds to growth of the product market during the forecast period. For instance, according to Crimson Hexagon, it is estimated that the global sponsorship spending for 2016 exceeded $60 billion, and in North America, 70% of that sponsorship money was spent on sports alone.  
The players operating in the global football sportswear market have adopted various developmental strategies to expand their market share, increase profitability, and remain competitive in the market. The key players profiled in this report include Adidas AG., Asics Corporation, Columbia Sportswear Company, Fila Holding Corporation, Lululemon Athletica, Inc., Nike, Inc.,  New Balance, Inc., Ralph Lauren Corporation, Puma SE, and Under Armour, Inc. 
Key Benefits For Stakeholders
The report provides a quantitative analysis of the current market trends, estimations, and dynamics of the market size from 2019 to 2027 to identify the prevailing opportunities.
Porter's five forces analysis highlights the potency of buyers and suppliers to enable stakeholders to make profit-oriented business decisions and strengthen their supplier–buyer network.
In-depth analysis and the market size and segmentation assist to determine the prevailing football sportswear market opportunities.
The major countries in each region are mapped according to their revenue contribution to the market. 
The market player positioning segment facilitates benchmarking and provides a clear understanding of the present position of the market players in the football sportswear industry.
 Football Sportswear Market Report Highlights
Aspects
Details
By Type
By End User
By Distribution Channel

E-COMMERCE
SUPERMARKET & HYPERMARKET
BRAND OUTLETS
OTHERS

By Region

NORTH AMERICA (US, CANADA, MEXICO)
EUROPE (GERMANY, UK, FRANCE, RUSSIA, ITALY, SPAIN, REST OF EUROPE)
ASIA-PACIFIC (CHINA, INDIA, JAPAN, AUSTRALIA, SOUTH KOREA, REST OF ASIA-PACIFIC)
LAMEA (LATIN AMERICA, MIDDLE EAST, AFRICA)

Key Market Players
UNDER ARMOUR, INC, NIKE, INC., LULULEMON ATHLETICA, INC., .COLUMBIA SPORTSWEAR COMPANY, FILA HOLDING CORPORATION, ASICS CORPORATION, PUMA SE, NEW BALANCE, INC., RALPH LAUREN CORPORATION, ADIDAS AG.