The global freight brokerage market was valued at $48.1 billion in 2021, and is projected to reach $90.7 billion by 2031, growing at a CAGR of 6.3% from 2022 to 2031.
The COVID-19 crisis has created uncertainty in the market, owing to massive slowing of supply chain, falling business confidence, and increasing panic among the customer segments. Governments of different regions have already announced total lockdown and temporary shutdown of industries, thereby adversely affecting the overall production and sales. Countries around the globe have posed stringent restrictions ranging from days to months of lockdown periods. As a consequence of the coronavirus outbreak, important supply chains in the logistics and transportation industry are hampered, though differently across air, freight, and sea sectors. In addition, logistics firms, which are involved in the movement, storage, and flow of goods, have been directly affected by the COVID-19 pandemic. As an integral part of value chains, both within and across international borders, logistics firms facilitate trade & commerce and help businesses get their products to customers. Therefore, the supply chain disturbance created by COVID-19 is expected to impact the competitiveness, economic growth, and jobs lost in the logistics industry which in turn hindered the growth of freight brokerage market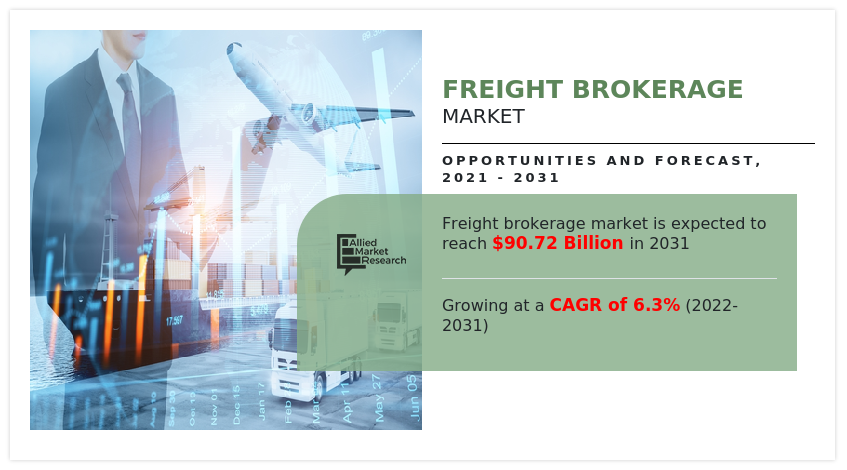 The freight brokerage market is segmented into End Use Industry, Customer Type, Services and Mode of Transport.
The freight brokerage market employs brokers to play the role of middle man in the shipping industry. Freight brokers play an important role as they link customers with shippers and trucking companies. In recent years, the logistics industry has seen a transformation with the introduction & growth of digital freight broker companies, which has further revolutionized the industry. The boost in the global digital freight brokerage market is due to rise in usage of smartphones, improved wireless connectivity, and advantages given by digital platforms such as accuracy, better efficiency, less time consumption, reduced costs, and transparent business. The increase in demand for shipping transportation across the globe is expected to boost the market during the forecast period.
Factors such as rise in international trade activities, growth of e-commerce industry, and surge in popularity of consolidated air freight service are anticipated to boost the growth of the global freight brokerage market during the forecast period. However, rise in adoption of direct-to-consumer (DTC) logistics poor infrastructure, and higher logistics costs are expected to hinder the growth of the global market during the forecast period. Moreover, growth of digital freight forwarding industry, and adoption of freight brokerage services for cost cutting & lead time reduction are expected to create an opportunity for the freight brokerage industry in near future.
Freight Brokerage Market

---

By End Use Industry
Retail and E-Commerce is projected as the most lucrative segment
Freight brokerage market is segmented on the basis of end use industry, customer type, services, mode of transport and region. By end use industry, it is divided into retail & e-Commerce, manufacturing, healthcare, automotive, and others. By customer type, it is divided into B2B and B2C. By services, it is segmented into intermodal, truckload, less than truckload. By mode of transport, it is divided into waterways, roadways, and others. By region, the market is analyzed across North America, Europe, Asia-Pacific, and LAMEA.
The key players that operate in this freight brokerage market are Allen Lund Companies, ArcBest Corporation, BNSF Logistics, C.H. Robinson Worldwide, Inc., Coyote Logistics LLC, Echo Global Logistics, England Logistics, Inc., Hub Group, Inc., GlobalTranz, J.B. Hunt Transport, Inc., Kenan Advantage Group, Inc. (KAG), Landstar System, Inc., Mode Transportation, Redwood Logistics, Schneider National, Inc., Total Quality Logistics, Transplace, Worldwide Express, Yusen Logistics co., ltd., XPO Logistics, Inc.
Increase in international trade activities
International trade is the exchange of goods and services between countries and continents. It has an important share in GDP in different countries. Recently, COVID-19 affected the international trade across the globe and resulted in slowdown of economic activities among countries. COVID-19 pandemic brought global economy to a standstill and decline in international trade activities was observed. Emerging countries such as China and India also faced temporary suspension of manufacturing and logistics activities, owing to government enforced lockdown. However, as the COVID-19 vaccine was introduced and lockdown restrictions were lifted, international trade activities started to resume. Several major trading economies has observed rise in exports and imports levels in 2021. In addition, as per the United Nations Conference on Trade and Development (UNCTAD), the global trade has reached a record level of $28.5 trillion in 2021 which is an increase of 25% as compared to 2020 and 13% as compared to 2019. Moreover, rise in online trade activities contributed toward growth of international trade and is expected to continue to contribute in upcoming years. The increase in trade activities globally propels the freight brokerage industry as various companies adopt freight brokerage services owing to flexibility and convenience. Moreover, freight brokerage services provide cost effective solution by selecting best transportation mode. 
Freight Brokerage Market

---

By Services
Intermodal is projected as the most lucrative segment
Growth of e-commerce industry
E-commerce is a virtual store where goods & services do not require any physical space and are sold through websites. The e-commerce industry utilizes logistics services to manage and oversee the supply chain of e-commerce companies, thus allowing these companies to focus on marketing and other business operations. Easy accessibility, convenient shopping experiences, and heavy discounts & offers make e-commerce a popular medium for the purchase of a wide variety of products. These factors have collectively contributed toward the growth of the market for e-commerce services. For instance, according to the latest estimates by the United Nations Conference on Trade and Development (UNCTAD), the compiled online retail sales data by National statistical offices in several countries suggest that online retail sales as a share of total retail sales escalated by 3% points in 2020 (from 16% in 2019 to 19% in 2020). The share of online sales amounted to 25.9% in South Korea, 24.9% in China, and 23.3% in the UK. Currently, international trade involves more complex communications among several individuals and organizations. Supply chains of shipments span different countries and regions and the trade has become a 24/7 business. High performance in logistics not only requires improved connectivity along sea, rail, and roads but also spans across different areas such as information-processing, financial markets, and telecommunications. Furthermore, the adoption of freight brokerage services is on rise owing to numerous benefits provided by them to e-commerce companies, for instance, efficient tracking systems, cost effective shipments, and a faster-quoting process. Owing to all these benefits the growth of e-commerce industry expected boost the demand for freight brokerage market during the forecast period.
Freight Brokerage Market

---

By Mode Of Transport
Roadways is projected as the most lucrative segment
Rise in adoption of direct-to-consumer (DTC) logistics
In the developing sector of freight forwarding, direct-to-consumer (DTC) logistic plays a critical role. Increased demand for domestic and international goods fuels the growth of logistics. In addition, the goal of digital freight forwarding is to get those goods to their final destination as quickly as possible, while assisting in the creation of enhanced customer experiences. Freight forwarding digitization further aids the modern supply chain by automating several activities for business owners. DTC e-commerce helps streamline shipping and other services in a number of ways. The use domestic freight forwarders helps with overall communication. On-demand tracking allows freight forwarders for real-time monitoring of shipments, making it easier for shippers to see the process. Real-time data monitoring allows data to be accessed at all levels of the transportation process, potentially saving thousands of errors that would otherwise go undiscovered. However, DTC logistics services eliminate the need for a middleman such as freight brokers, allowing firms to connect with customers directly. Owing to this DTC logistics are expected to hinder the growth of the global freight brokerage market during the forecast period.
Adoption of freight brokerage services for cost cutting and lead time reduction
Reduction in cost of transportation and timely delivery of goods pose a challenge to logistics service providers to increase profitability. Amount of orders to be delivered in limited time is rising, as a result of which logistics companies have the opportunity to use multi-modal transportation system to increase efficiency of the supply chain. The freight brokerage service providers have massive networks of multi-modal transportation system that specialize across all equipment types. As the shipping needs evolve, the freight brokers provide the best transportation solutions available to their customers. The advantage of multimodal transport is that it uses the most efficient combination of transport modes, keeping the freight costs down. For example, APL Logistics provides ShipMax solution to its customers. It includes pairing with compatible trucking partners as well as allows customers to take advantage of better load utilization and delivery optimization, thus enabling customers to maximize transportation budget. Therefore, cost cutting and lead time reduction by adopting multi-modal system pose exponential growth opportunities for the key players operating in the freight brokerage market.
Freight Brokerage Market

---

By Region
Asia-Pacific would exhibit the highest CAGR of 6.9% during 2022-2031.
Key Benefits For Stakeholders
This report provides a quantitative analysis of the market segments, current trends, estimations, and dynamics of the freight brokerage market analysis from 2021 to 2031 to identify the prevailing freight brokerage market opportunities.
The market research is offered along with information related to key drivers, restraints, and opportunities.
Porter's five forces analysis highlights the potency of buyers and suppliers to enable stakeholders make profit-oriented business decisions and strengthen their supplier-buyer network.
In-depth analysis of the freight brokerage market segmentation assists to determine the prevailing market opportunities.
Major countries in each region are mapped according to their revenue contribution to the global market.
Market player positioning facilitates benchmarking and provides a clear understanding of the present position of the market players.
The report includes the analysis of the regional as well as global freight brokerage market trends, key players, market segments, application areas, and market growth strategies.
 Freight Brokerage Market Report Highlights
Aspects
Details
End Use Industry

Others
Retail and E-Commerce
Manufacturing
Healthcare
Automotive

Customer Type
Services

Intermodal
Truckload
Less Than Truckload

Mode of Transport

Waterways
Roadways
Others

By Region

North America (U.S., Canada, Mexico)
Europe (Germany, France, Russia, Netherlands, United Kingdom, Poland, Spain, Rest of Europe)
Asia-Pacific (China, India, Japan, South Korea, Asean, Rest of Asia-Pacific)
LAMEA (Brazil, UAE, Saudi Arabia, South Africa, Rest of LAMEA)

Key Market Players
CH Robinson, Total Quality Logistics, XPO Logistics, Echo Global Logistics, Worldwide Express, Coyote Logistics, Landstar System, Mode Transportation, Schneider, GlobalTranz Enterprises, JB Hunt Integrated Capacity Solutions, Hub Group, BNSF Logistics, KAG Logistics, Yusen Logistics (Americans) Inc., England Logistics, Transplace, ArcBest Corporation, Allen Lund Companies, Redwood Logistics