Fuel Cards Market Outlook - 2027
The global Fuel Cards market size was valued at $672.84 billion in 2019 and is projected to reach $1,210.01 billion by 2027 growing at a CAGR of 13.9% from 2020 to 2027. 
Fuel Cards provide various benefits to fleet vendors by capturing low-level data on mileage of vehicles, gallons of fuel filled, and the need for servicing the vehicle. Fuel Cards service providers have started to embed telematics interface and robust reporting facilities as standard product offerings to improve fleet management productivity. Moreover, Fuel Cards are available in various forms such as branded Fuel Cards, universal Fuel Cards, and merchant cards. Merchant Fuel Cards are anticipated to witness the highest growth rate during the forecast period.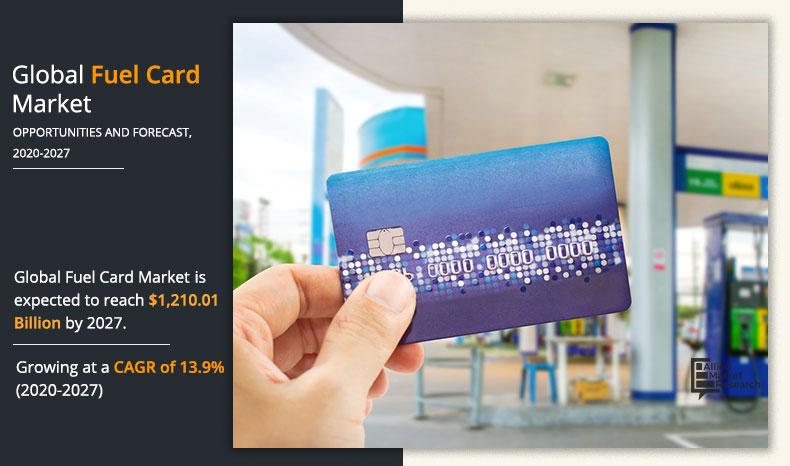 Need for improved fuel management and penetration of digital transaction solutions among the transport industry drive the fuel cards market growth. In addition, efficient fleet administration with the help of enhanced data capture fuels the growth of the market. Moreover, lack of security measures hampers the growth of the market. Furthermore, integration of telematics with Fuel Cards and increase in demand for Fuel Cards from developing nations are expected to provide lucrative opportunities for the market. 
By type, the global Fuel Cards market was led by the universal Fuel Cards segment in 2019, and is projected to maintain its dominance during the forecast period. Factors, such as high efficiency to provide universal coverage, actionable insights, level 3 data capture, online reporting tools, and demand for advanced products, have fuelled the growth of this segment. However, the merchant Fuel Cards segment is expected to grow at the highest rate during the forecast period, owing to untapped demands from developing economies and initiatives from industry leaders. Therefore, this factor is expected to further fuel the market growth.
Region wise, the Fuel Cards market was dominated by Europe in 2019, and is expected to retain its position during the forecast period. The major factors that drive the growth of the market in this region include presence of major players and rapid adoption of latest payment technology in the market. However, Asia-Pacific is expected to witness significant growth rate during the forecast period, owing to booming IT infrastructure and hefty investments from the private and public players in the region.
The report focuses on growth prospects, restraints, and trends of the global Fuel Cards market. The study provides Porter's five forces analysis to understand the impact of various factors, such as bargaining power of suppliers, competitive intensity of competitors, threat of new entrants, threat of substitutes, and bargaining power of buyers, on the global Fuel Cards market.
Segment review
The global Fuel Cards market is segmented on the basis of type, application, and region. By type, it is bifurcated into branded, universal, and merchant Fuel Cards. In terms of application, it is classified into fuel refill, parking, vehicle service, toll charge, and others. Region wise, it is analyzed across North America, Europe, Asia-Pacific, and LAMEA.
The key players profiled in the Fuel Cards market analysis are British Petroleum, Engen, ExxonMobil, First National Bank, FleetCor, Oilibya, Puma Energy, Royal Dutch Shell, U.S. Bancorp, and Wex Inc. These players have adopted various strategies to increase their market penetration and strengthen their position in the industry. 
Fuel Cards Market

---
By Card Type
Universal is projected as one of the most lucrative segments.
COVID-19 impact analysis
In COVID-19 pandemic, where businesses are coping with operational challenges, many banks & financial institutions are providing their customers with new digital tools and techniques, including Fuel Cards, which have witnessed significant growth. However, rise in online and mobile banking in the pandemic situation among the end users restrains the growth of the market. Furthermore, many private transport companies collaborate with public companies to introduce various attractive strategies to support consumers to adopt Fuel Cards, thereby creating numerous opportunities for the market growth.
Top impacting factors
Need for improved fuel management
The growth in rate of fleet expenses has increased concerns among fleet owners to secure their unwanted expenditure through optimized fleet management. Implementation of Fuel Cards enables real-time actionable insights to prevent unauthorized purchases, fleet spending limits, tracking non-fuel purchases, and others. These cards are beneficial to fleet owners and drivers. In addition, implementation of Fuel Cards eliminates manual tasks, such as auditing and submission of receipts, while profiting the corporate with discounted fuel price offers. 
Fuel Cards Market

---
By Application
Fuel Refill is projected as one of the most lucrative segments.
Furthermore, the global market is expected to witness high growth rate during the forecast period, owing to increase in alliances and collaborations among various key vendors and users. For instance, in October 2017, QuikQ announced the launch of Fuel Cards platform with merchant agreements such as Love's Travel Stops, TravelCenters of America, and Pilot Flying J.
Penetration of digital transaction solutions
Increased inclination of consumers toward digital transaction solutions, such as mobile wallets, prepaid cards, contactless payment, and others, is expected to fuel the market growth during the forecast period. In addition, growth in penetration of virtual currency further increases the demand for Fuel Cards. Furthermore, various governments are determined to support the implementation of cashless society. Proliferation of smartphone applications for digital transactions is another factor that supports the growth of the market.
Fuel Cards Market

---
By Region
Asia-Pacific would exhibit the highest CAGR of 16.1% during 2020-2027.
 Fuel Cards Market Report Highlights
Aspects
Details
By Type

BRANDED
UNIVERSAL
MERCHANT

By Application

FUEL REFILL
PARKING
VEHICLE SERVICES
TOLL CHARGE
OTHERS

By Region

North America (U.S., Canada, Mexico)
Europe (UK, Germany, France, Russia, Rest of Europe)
Asia-Pacific (China, India, Japan, South Korea, Rest of Asia-Pacific)
LAMEA (Latin America, Middle East, Africa)

Key Market Players
BP P.L.C., Engen Petroleum Ltd, Exxon Mobil Corporation, FirstRand Bank Limited, FleetCor Technologies, Inc., Libya Oil Holdings Ltd., Puma, Royal Dutch Shell plc, U.S. Bancorp, WEX Inc.