The global fuel cell bikes market was valued at $6.0 billion in 2030, and is projected to reach $24.7 billion by 2040, growing at a CAGR of 15.2% from 2030 to 2040.
Fuel cell bike or fuel cell electric bike is an electric vehicle that uses a fuel cell, sometimes in combination with a small battery or super capacitor, to power its on-board electric motor. The fuel cell bikes generate electricity generally using oxygen from the air and a compressed hydrogen-based engine. It is a type of electric vehicle that employs 'fuel cell technology' to generate the electricity required to run the vehicle. In these vehicles, the chemical energy of the fuel is converted directly into electric energy. Most fuel cell vehicles are classified as zero-emissions vehicles that emit only water and heat. As compared with internal combustion vehicles, hydrogen vehicles centralize pollutants at the site of the hydrogen production, where hydrogen is typically derived from reformed natural gas.
The COVID-19 crisis is creating uncertainty in the market. Governments of different regions have announced total lockdown and temporary shutdown of industries, thereby adversely affecting the overall production and sales. It also resulted in flight cancellations, travel bans, and quarantines, which led to massive slowing of the supply chain and logistics activities across the world. However, there are several sectors of the industry that are using this period as an opportunity for the development of their business. The fuel cell bikes industry is one of those industries that is projected to witness better growth post COVID-19. However, the sale of fuel cell electric bicycles was dampened in the first quarter of 2020, as bicycles stores were closed due to lockdown. However, as the lockdown has been lifted in most countries, including China, the Netherlands, Japan, the U.S., Italy, and France, the sale of e-bicycles has increased. China has witnessed a growing demand in this field. For instance, according to China Bicycle Association, as of January to September 2020, the volume of bicycle/bikes exports expanded 12% over the same period as of 2019 to $2.43 billion. Moreover, from January to October 2020, the revenue of major bicycle manufacturing enterprises stood at about $22 billion, a year-on-year increase of 16.8%.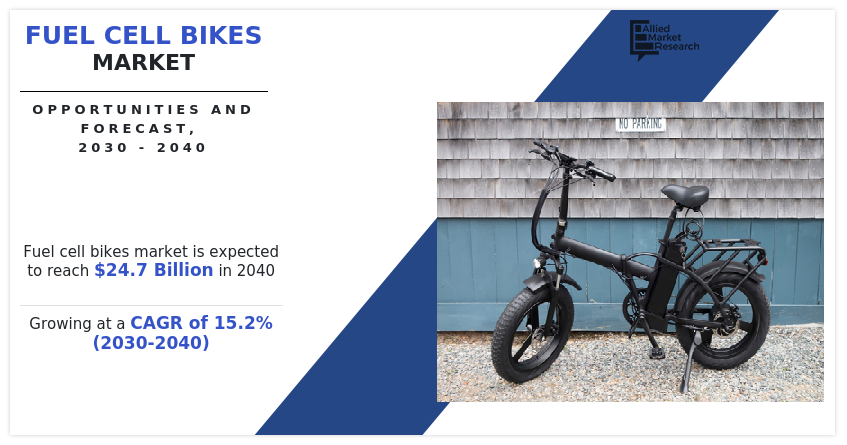 Moreover, fuel cells have been used in various kinds of vehicles including forklifts, especially in indoor applications where their clean emissions are important to air quality, and in space applications. Rise in environmental concerns and supportive government initiatives for the development of hydrogen fuel cell infrastructure propel the growth of the global hydrogen fuel cell vehicle market and is expected to boost the fuel cell bikes market growth during the forecast period. For instance, the European Union is committed to reducing vehicular emissions by 80% by 2050, from the 1990 levels, by focusing on encouraging the adoption of green vehicles. Further, the U.S. Environmental Protection Act (EPA) focuses on implementing fuel cell electric vehicles (FCEVs) to reduce carbon dioxide emissions. Many other countries have also planned to ban the production and sale of gasoline and diesel vehicles in the long term.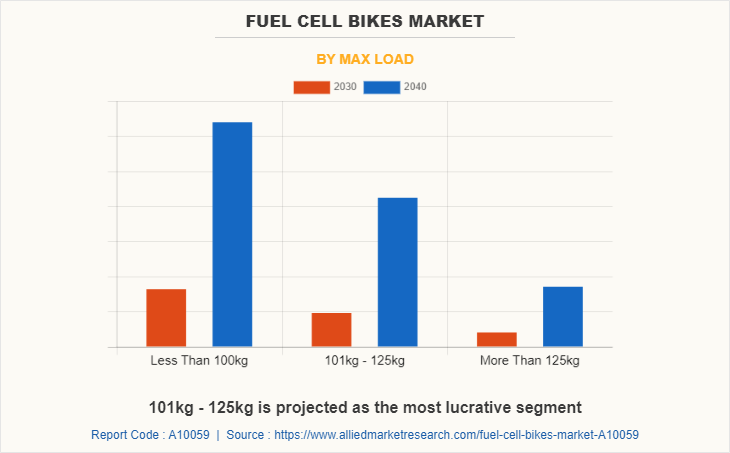 Factors such as rapid urbanization across the globe, surge in consumer inclination toward the use of fuel cell bikes as an eco-friendly solution, and increase in government initiatives to encourage the adoption of fuel cell vehicles are expected to drive the fuel cell bikes industry growth. However, owing to its high cost & highly flammable quality and absence of adequate refueling infrastructure are one of the prominent factors restricting the market growth. Furthermore, advancements in the field of polymer electrolyte membrane technology, rising demand for fuel cells in automotive and transportation, and endorsement of stringent tail pipe emission norms expected to offer lucrative opportunities for the market growth during the forecast period.
The fuel cell bikes market is segmented into Max Load, Power, Max Speed, Frame Material, Range and Sales Channel and region. By frame material, the market is divided into aluminium, steel, carbon fiber, and other (titanium & others). By max load, the market is categorized into less than 100kg, 101kg – 125kg, more than 125kg. By power output, it is fragmented into less than 250W, from 250W to 400W, from 401W to 750W, and above 751W. By max speed, it is categorized into less than 50km/h and more than 50km/h. By range, it is further classified into less than 100km, 101km – 125km, and more than 125km. By sales channel, it is bifurcated into online and offline stores. By region, it is analyzed across North America, Europe, Asia-Pacific, and LAMEA.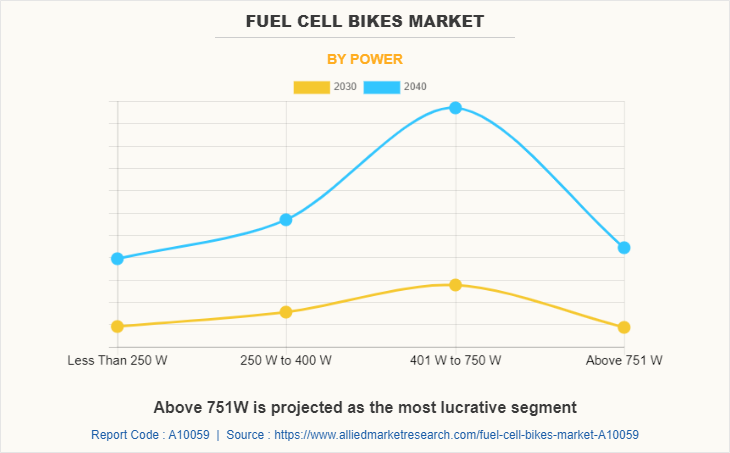 Honda Motor Co., Ltd., Hyundai motor company, Toyota Motor Corporation, AUDI AG, Volvo Group, BMW AG, General Motor, Hero MotoCorp Ltd., Intelligent Energy Limited, Kawasaki Heavy Industries, Ltd., Segway Inc., Suzuki Motor Corporation, Xiaomi Inc., Azure Bikes, Mob-ion, Pragma Industries, LAVO, Shanghai X-idea Industrial Design Co., Ltd, are the key market players operating in the fuel cell bikes market.
Rapid urbanization across the globe
Urbanization serves as one of the growth drivers for the aftermarket service industry as consumers migrate for better payment opportunity in the cities, it allows them to have the financial means to avail private transport, thereby increasing the prospect of aftermarket services. Also, rapid urbanization coupled with the increase in middle-class section as it has led to higher disposable income. Hence, most countries are working toward boosting fuel-cell bikes using both subsidies and regulatory changes to reduce the stress on public transportation systems. Countries such as South Korea, China, and Japan, are investing heavily in the hydrogen refueling station infrastructure to facilitate the increased demand for fuel cell bikes in the upcoming years. The fuel cell bikes considered to be the safe, convenient, and affordable alternative to public transportation. Furthermore, due to the pandemic shared mobility for transportation is unlikely to be preferred. For instance, Vietnam's government strengthen their road infrastructure along with the increased awareness on health and hygiene brought about by the advent of COVID-19 is expected to increase the prospect of vehicle ownership in the future. There has been a gradual surge in vehicle parts in recent times. Therefore, rapid urbanization and traffic congestion in cities are among the factors expected to drive the demand for fuel cell bikes during the forecast period.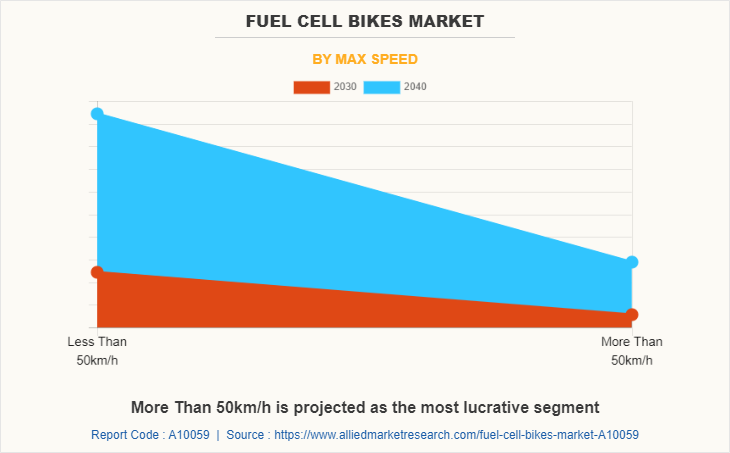 Surge in consumer inclination toward the use of fuel cell bikes as an eco-friendly solution
Vehicles on roads are vital contributors to a nation facilitating the timely movement of goods and other consumer-related activities. According to the International Air Agency, around 6.5 million deaths are recognized each year due to air quality. Hence, the global fuel cell bike industry has been witnessing bright opportunities, owing to government support and strict rules in favor of renewable energy source transportation.
Moreover, rise in consumer inclination toward use of eco-friendly and efficient solution to commuting and increase in fuel costs drive the growth of the global fuel cell bikes market. Also, market players are currently focusing on reducing the initial costs of fuel cell electric vehicles by introducing low-end variants for targeting a broad customer base. For instance, in November 2021, Studio MOM and LAVO entered into partnership to create a hydrogen-powered bike, designed to take advantage of the higher energy-to-weight ratio offered by hydrogen fuel cells. The Australian company believes this system, which was developed by researchers at the University of New South Wales, is the first commercial use of this technology in the world. Further reductions in the cost of critical components such as batteries will minimize the impacts of the industry challenges and is expected to boost the market growth during the forecast period. Such innovations owing to rise in fuel prices and objectives of governments, coupled with low-carbon technologies leads to surge in consumer inclination toward use of fuel cell bikes as an eco-friendly solution, which thereby drives the fuel cell bikes industry growth.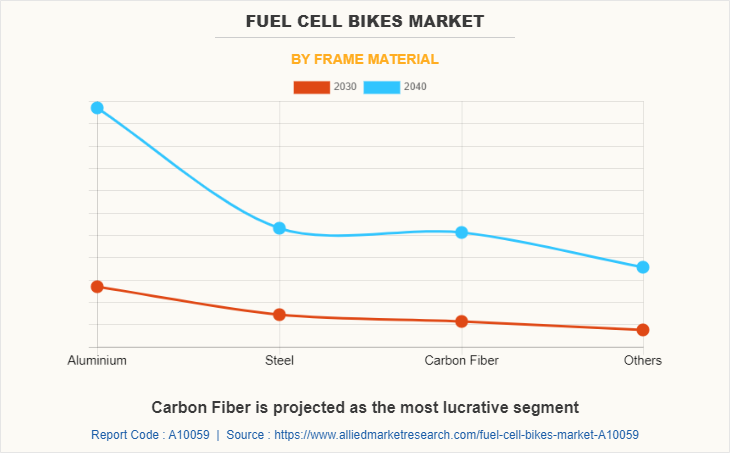 High cost and highly flammable
Fuel cell vehicles differ from conventional vehicles, making them superior to traditional vehicles. The costliest component that fuels cell bikes use is the bipolar plates, stacks, gas diffusion layers, and a catalyst. Hydrogen atoms are oxidized into protons and electrons in a fuel cell. A catalyst is used for the chemical process. The catalyst contributes to about 46% of the total fuel cell cost, making fuel cells costlier forms, which results to the significant chunk of the final price of vehicle itself. Only a few consumers are willing to pay a premium cost for a fuel cell bikes.
Also, it uses hydrogen and oxygen to produce electricity through a chemical reaction. Hydrogen is a highly flammable gas, and oxygen helps other substances burn at lower temperatures. If not handled properly, the fuel can catch fire—hydrogen flames are invisible and can explode. The risk of fire is also high at hydrogen fuel stations. Thus, consumers are hesitant to invest in fuel cell bikes. Hence, the highly flammable nature of hydrogen gas is a major restraint for the growth of the fuel cell bikes market.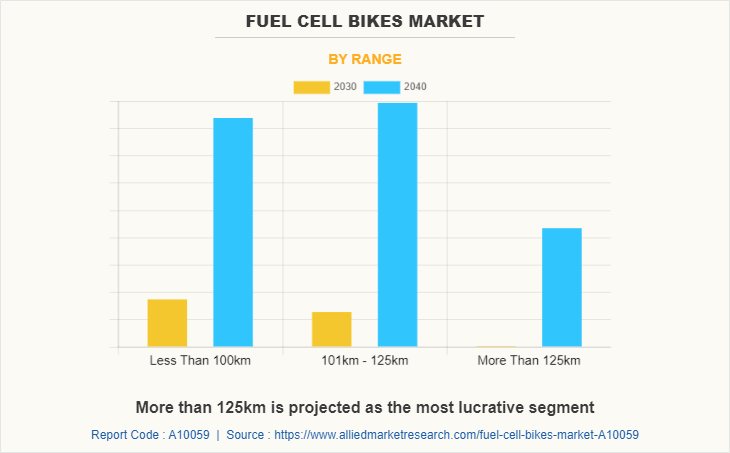 Advancements in the field of polymer electrolyte membrane technology
Fuel cell vehicles have a string potential to reduce the dependence of nations on import of oil and reduce harmful emissions that degrade the environmental conditions. Decreasing dependence on oil imports is expected to eventually help in balancing the deficit in trade of several developing countries worldwide. The adoption of polymer electrolyte membrane reduces the fossil fuel consumption and CO2 emissions and operates under low temperature and high efficiency. It usually delivers high-power density and offers the advantages of low weight and volume, as compared with other fuel cells. Moreover, recent catalyst developments are vital for the future of fuel cell technology, as they are expected to improve durability through innovative catalyst layer designs. For instance, scientists at DGIST, Korea, have developed a degradation-mitigating additive that makes Nafion membranes (best materials available for the polymer electrolyte membrane) significantly more durable. Thus, the continuous technological advancements in the field of polymer electrolyte membrane technology can be viewed as a major trend in the market for fuel cell bike market.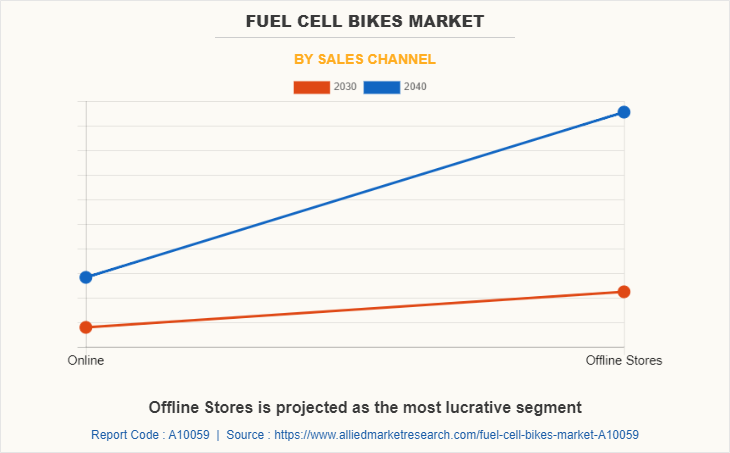 Key Benefits For Stakeholders
This study presents analytical depiction of the global fuel cell bikes market analysis along with current trends and future estimations to depict imminent investment pockets.

The overall fuel cell bikes market opportunity is determined by understanding profitable trends to gain a stronger foothold.

The report presents information related to the key drivers, restraints, and opportunities of

the global fuel cell bikes market with a detailed impact analysis.

The current fuel cell bikes market is quantitatively analyzed from 2030 to 2040 to benchmark the financial competency.

Porter's five forces analysis illustrates the potency of the buyers and suppliers in the industry.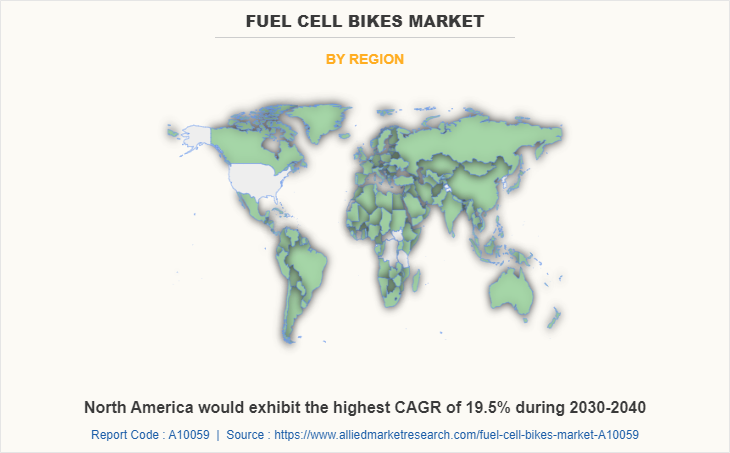 Fuel Cell Bikes Market Report Highlights
Aspects
Details
By Max Load

101kg - 125kg
More Than 125kg
Less Than 100kg

By Power

Less Than 250 W
250 W to 400 W
401 W to 750 W
Above 751 W

By Max Speed

Less Than 50km/h
More Than 50km/h

By Frame Material

Aluminium
Steel
Carbon Fiber
Others

By Range

Less Than 100km
101km - 125km
More Than 125km

By Sales Channel
By Region

North America (U.S., Canada, Mexico)
Europe (U.K., Germany, France, Belgium, Netherlands, Spain, Rest of Europe)
Asia-Pacific (China, Japan, India, Australia, Vietnam, Rest of Asia-Pacific)
LAMEA (Middle East, Africa, Latin America)

Key Market Players
Honda, Hyundai, Segway, Toyota, Volvo, Intelligent Energy Ltd., XIDEA (Key Innovator), Kawasaki Heavy Industries, General Motors, Xiaomi, SUZUKI MOTOR CORPORATION, Mob-ion, Audi, Hero Motocorp, Studio MOM, Pragma Industries (Key Innovator), Azure Bikes (Key Innovator), BMW