The global fuel cell UAV market was valued at $1.4 billion in 2021, and is projected to reach $4.5 billion by 2031, growing at a CAGR of 12.3% from 2022 to 2031.
Unmanned aerial vehicle (UAV) is an aerial transportation medium that operates without on-board crew or passengers guided by remote control, autonomously, or both. It is the next generation aircraft technology utilized for surveillance, assessment, logistics, and photography among others. Currently, the manufacturing of unmanned aerial vehicles (UAVs), encouraged by recent technological developments & have seen a dramatic interest boost in recent years, owing to the increasing demand for unconventional sources of energy and innovative streak of most of the market participants.
The COVID-19 crisis is creating uncertainty in the market. Governments of different regions have already announced total lockdown and temporarily shutdown of industries, thereby adversely affecting the overall production and sales. Countries around the globe have posed stringent restrictions ranging from days to months of lockdown periods. Owing to this pandemic, many businesses are halted and are waiting for the market conditions to improve. The fuel cell UAV industry is one of those industries that is poised for better growth post COVID-19. However, the sale of fuel cell UAVs was hampered in the first quarter of 2020. The major risk factors of the fuel cell UAV market participants are regulatory & policy changes, dependency on labor, working capital management, and liquidity & solvency management. Majority of the developing facilities of fuel cell UAV have been shut down during the pandemic due to commute restrictions, workforce unavailability, and supply chain disturbance. Private and commercial security industries were one of the most severely affected industries by the pandemic and observed a decline of investments initially. In addition, reduction in aerospace spending had a negative impact on autonomous aircraft development and deployment plans, particularly on fuel cell UAVs. Various countries with the foundations of a drone-friendly environment, such as the U.S., UK, China, Germany, and others, were able to quickly mobilize the technology from the start of the pandemic. These countries were able to incorporate fuel cell UAV into the COVID-19 response activities, due to enabling factors, such as favorable regulations, skilled workforce, presence of vital resources, high adoption, and others.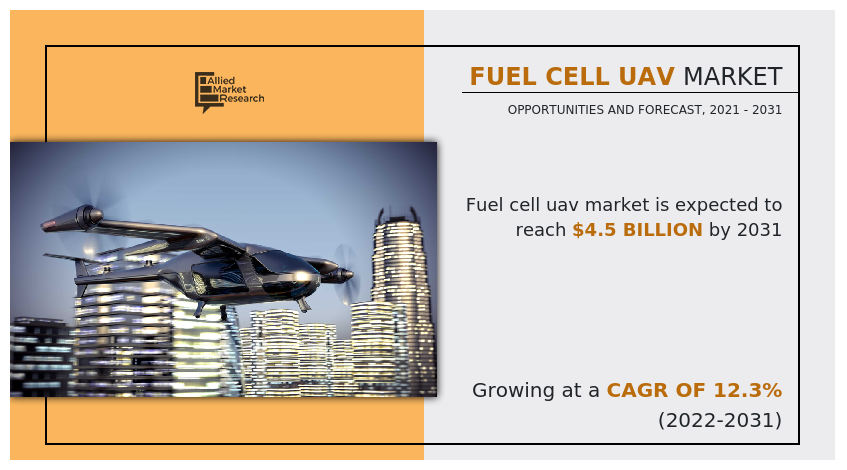 Recently, fuel cell UAVs have emerged as a viable alternative fuel to replace the conventional UAVs using gasoline or jet fuel for their operations, which are gradually depleting globally. The fuel cell UAVs are electrochemical devices that convert chemical energy from fuels & oxidizers, without combustion, into useful electrical energy that can be used to power devices and vehicles. The cell itself does not require charging, but does require a steady flow of fuel and oxidizer. Moreover, these fuel cell UAVs possess a higher energy-to-mass ratio than the traditional battery systems. These power modules can provide over three times more flight endurance to the commercial unmanned aerial vehicles. At present, the continuous improvement in technology and involvement from various industry leaders have made the development of fuel-cells for UAV successful. For instance, China-based Micro-Multi-Copter Aero Technology developed a military drone, HyDrone 1800, which features a next-gen hydrogen technology that allows it to operate in extreme weather conditions with efficiency. The drone performs functions, such as intelligence gathering, border patrol, aerial fire support, laser designation, and battle management services.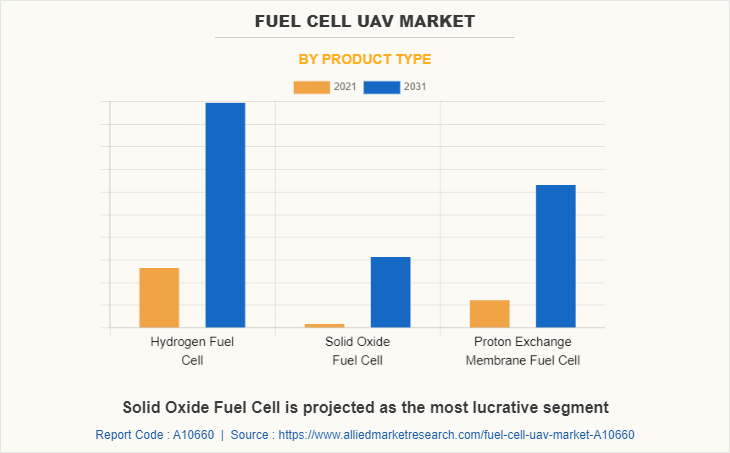 Upsurge in military spending, growth in the demand for improved surveillance, and supportive growth through regulatory compliance are expected to drive the growth of the fuel cell UAV market. However, increase in security issues & cyber threat and high cost of fuel cells for UAV solutions restrain the growth of the fuel cell UAV drones market. On the contrary, technological advancements in military applications and increasing public-private partnerships are projected to offer lucrative growth opportunities for the market players.
The fuel cell UAV market is segmented into product type, end use, type, weight, and application. By product type, the market is segregated into hydrogen fuel cell, solid oxide fuel cell, and proton exchange membrane fuel cell. By end use, the market is categorized into passenger UAV, cargo UAV, and others. By type, the market is divided into fixed wing, rotary wing, and hybrid. By weight, the market is further classified into less than 50kg and more than 50kg. By application, the market is fragmented into military & defense, civil & commercial, logistics & transportation, construction & mining, and others. Region-wise, the market is analyzed across North America, Europe, Asia-Pacific, and LAMEA.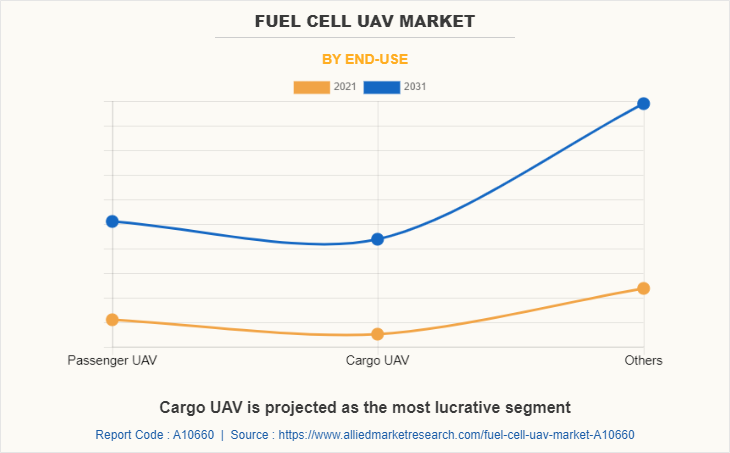 The leading players operating in the fuel cell UAV market are AeroVironment Inc., Ballard Power Systems, Boeing, Elbit Systems Ltd., EnergyOR, General Atomics, H3 Dynamics, Horizon Fuel Cell Technologies, Intelligent Energy Limited, Israel Aerospace Industries (IAI), ISS Aerospace, Jadoo Power Systems, Inc., MMC-UAV, Northrop Grumman Corporation, Textron Inc., Ultra, and ZeroAvia, Inc.
Upsurge in Military Spending
The global defense expenditure has seen exponential growth in recent years. According to Stockholm International Peace Research Institute (SIPRI), the global military expenditure reached $1,981 billion in 2020 with a 2.6% year-on-year increase. To modernize the defense forces to tackle the rise in threats of wars and other internal conflicts, many nations are continuously increasing their defense spending to purchase and manufacture advanced security solutions. The military expenditure accounted for 2.4% of the global gross domestic product in 2020. Thus, increase in global military expenditure has augmented the adoption of simulation and training technology. In addition, advancements of weapons and attacking capabilities globally have created the demand for modernization and installation of sophisticated defense infrastructure by governments to be prepared for any unprecedented threats and offensive attacks from foreign countries. For instance, in June 2022, AeroVironment, Inc. received a contract of $6.2 million to supply its PUMA 3 AE unmanned aircraft systems and spares for the U.S. marine corps. Puma 3 AE has proven itself as the ideal solution for low-altitude intelligence, surveillance, and reconnaissance missions in any operational environment and continues to serve as the backbone of the U.S. Thus, upsurge in military spending by governments of developed economies, such as Europe and the U.S., and technological advancements for the replacement of electric grids are likely to further foster the market growth.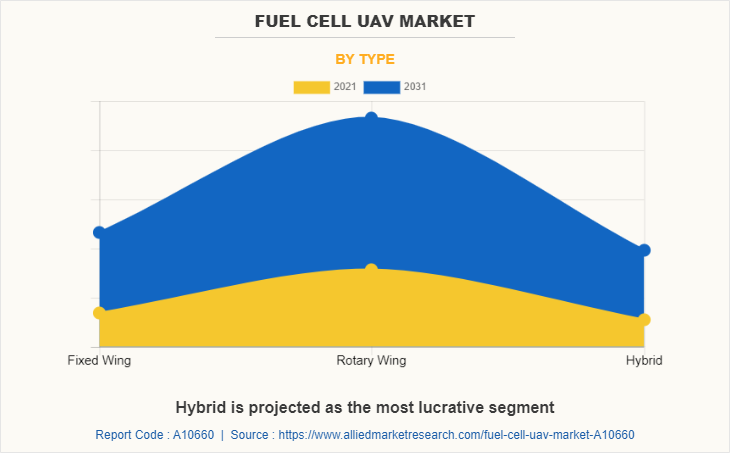 Supportive Growth through Regulatory Compliance
The growth of the fuel cell UAV market is driven by supportive regulatory compliances. Regulatory compliance refers to a company's adherence to applicable state, federal, and international laws and regulations. Meanwhile, developed and developing countries have begun to take efforts toward enabling fuel cell UAVs, such as drones & unmanned aerial vehicles (autonomous aircraft) for the delivery of commodities, as well as passenger transportation via unmanned drones. Such cases may necessitate the usage of autonomous drones. For instance, in September 2020, ZeroAvia, Inc. launched its world first hydrogen fuel cell powered flight, Piper M-class, a commercial-grade aircraft. It is a six-seater plane, which offers taxi, takeoff, a full pattern circuit, and landing. In addition, in July 2020, the UK Department of Transport (DFT) commissioned a research project to create a framework for unmanned (autonomous) aerial vehicle traffic management (UTM), a safe growth path for the country's growing commercial drone industry. Such supportive growth by governments with a combination of procedures, standards, technology, and real-time data interchangeability across the globe are expected to drive the drone (UAV) fuel cell market growth during the forecast period.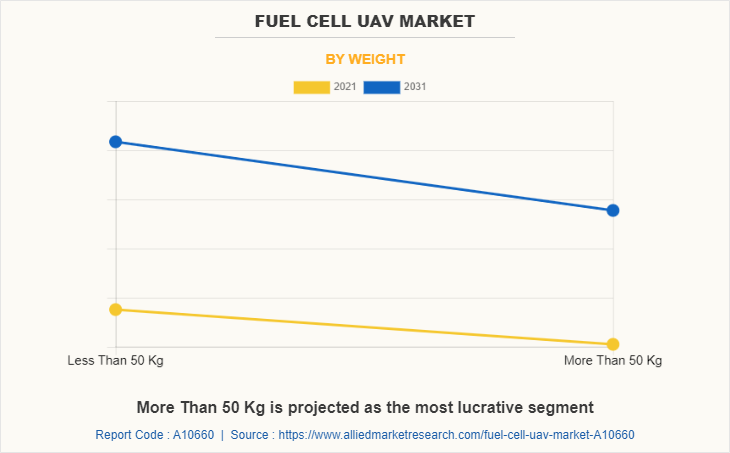 High Cost of Fuel Cells for UAV Solutions
Fuel cell UAV are quite valuable for defense forces as they are designed to perform a variety of operations, for instance, situational awareness, disarm bombs, provide aid to soldiers on the battleground, and also help in search and rescue operations. Currently, various nations globally use UAVs for search operations, surveillance, rescue operations, and transportation. However, they incur huge costs for the military. The high costs of fuel cell UAVs make their adoption limited to the developed nations that have a huge defense spending capability. Hence, this factor is anticipated to hinder the growth of the global fuel cell UAV market during the forecast timeframe.
Technological Advancements in Military Applications
The technological advancements in the fuel cells for military unmanned aerial vehicle (UAV) market have been profoundly attracting the military and commercial segments toward the procurement of the latest models. Moreover, the incorporation of eco-friendly propulsion systems, such as fuel cells and solar cells is proliferating the growth of the global market. The manufacturers of UAV have been consistently working on reducing the weight of vehicles since, in a UAV, around 40% of weight is of the power source and fuel tank. For instance, in September 2019, MMC-UAV launched the HyDrone Griflion H, which was a hydrogen-powered vertical take-off and landing drone. It featured a metal bipolar plate hydrogen fuel cell with hydrogen storage capacity of 27L. This allowed it to have a flight time of 15 hours without payload and 10 hours with a 3kg payload. Furthermore, the market players focus on achieving fuel efficiency while reducing the weight and minimizing the cost of production. Such factors are anticipated to create lucrative opportunities for the growth of the global fuel cell UAV market.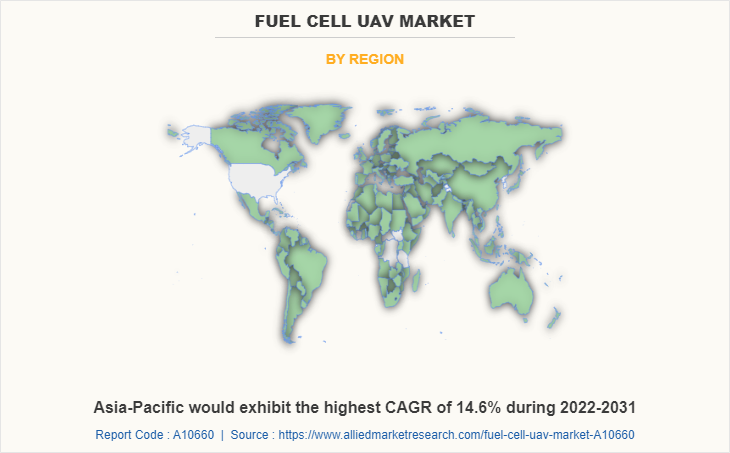 Key Benefits For Stakeholders
This study presents analytical depiction of the global fuel cell UAV market analysis along with current trends and future estimations to depict imminent investment pockets.

The overall fuel cell UAV market opportunity is determined by understanding profitable trends to gain a stronger foothold.

The report presents information related to the key drivers, restraints, and opportunities of

the global fuel cell UAV market with a detailed impact analysis.

The current fuel cell UAV market is quantitatively analyzed from 2021 to 2031 to benchmark the financial competency.

Porter's five forces analysis illustrates the potency of the buyers and suppliers in the industry.
 Fuel Cell UAV Market Report Highlights
Aspects
Details
By Product Type

Hydrogen Fuel Cell
Solid Oxide Fuel Cell
Proton Exchange Membrane Fuel Cell

By End-Use

Passenger UAV
Cargo UAV
Others

By Type

Hybrid
Fixed Wing
Rotary Wing

By Weight

Less Than 50 Kg
More Than 50 Kg

By Application

Military & Defence
Civil & Commercial
Logistics & Transportation
Construction & Mining
Others

By Region

North America (U.S., Canada, Mexico)
Europe (U.K., Germany, France, Russia, Spain, Rest of Europe)
Asia-Pacific (China, Japan, India, South Korea, Australia, Rest of Asia-Pacific)
LAMEA (Latin America, Middle East, Africa)

Key Market Players
Jadoo Power System, EnergyOR Technologies, Barnard Microsystems Ltd., ZeroAvia (Key Innovator), Protonex, Northrop Grumman, Horizon Fuel Cell Technologies, ISS Aerospace, Israel Aerospace Industries Ltd., MicroMultiCopter Aero Technology, Elbit Systems Ltd., AeroVironment Inc., General Atomics, Textron Inc., Plug Power Inc., Boeing, H3 dynamics (Key Innovator)