Fundus Camera Market Overview:
The global fundus camera market size was valued at $445.60 million in 2020, and is estimated to reach $710.20 million by 2030, growing at a CAGR of 4.50% from 2021 to 2030. Fundus cameras are used to capture images of the interior of the eye. These cameras include features such as angle variations, color, red-free and angiography imaging. A fundus camera comprises a specialized low power microscope with an attached camera to take interior images of the eye. These images are used for identification and care of various eye diseases. It is a perfect competition market with the presence of numerous market players and buyers. The fundus camera market players are competing based on price, product innovation, and quality.
The fundus camera market is impacted due to the pandemic, resulting in negative growth due to factors such as a sharp decline in elective surgeries. Moreover, opthalamic clinics were temporarily closed, and hospital access restricted to non-essential care.
The COVID-19 pandemic has a severe global impact on population health as well as a significant economic impact on majority of countries. The pandemic has put enormous strain on the world's healthcare systems. During this time, health care institutions and providers have been told to avoid performing elective surgical procedures and medical examinations to slow disease spread and conserve health care resources for COVID-19 patients. Many ophthalmology departments have witnessed a significant decrease in imaging case volume. Depending on the location of practice and the severity of the COVID-19 pandemic in each region, ophthalmology clinics are expected to witness 50% to 70% decline in imaging volume that will persist for at least 3 to 4 months while the future appears to be uncertain due to COVID-19.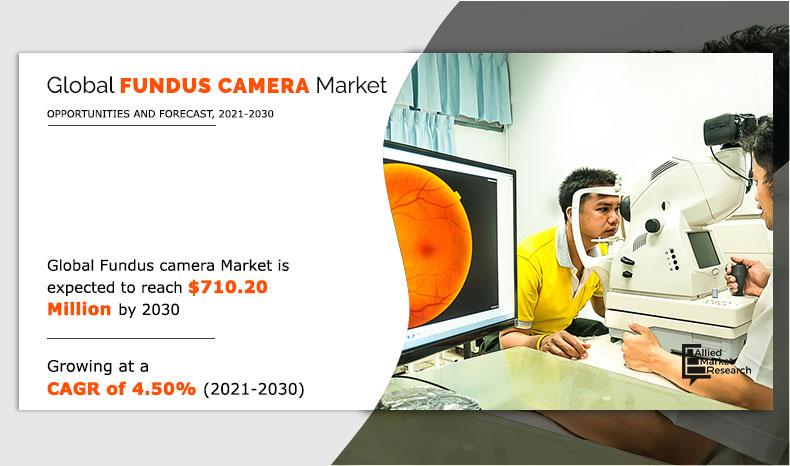 The prevalence of diabetes retinopathy, cataract, conjunctivitis, retinal disorders and age-relate macular degeneration are said to increase with the rising ageing population. In addition, findings also reveals that children are also more prone to develop eye disorders such as glaucoma, conjunctivitis and night blindness among others. Vision loss due to eye diseases is a major health problem, which immensely affects the quality of life. 
Vision loss is the third largest cause of impairment after anemia and hearing loss. As per the sciencedirect, in 2020, across the globe approximately 38.5 million people were registered as blind. Cataract is the other most commonly observed eye disorder that is found in the developing nations were the access to the qualified professionals is less. Therefore, the cataract is responsible for more than 50% cases of blindness in some of the areas, which is expected to increase the demand for ophthalmologists. Thus, owing to the above mentioned factors, the market for fundus camera is projected to register growth in the future.
Fundus Camera Market Segmentation
The fundus camera market is segmented on the basis of product type, application, end-user, and region. By product type, the market is categorized into consumables, injector systems, and accessories. By application, it is fragmented into radiology, interventional cardiology, and interventional radiology. By end user, it is segregated into hospitals, ambulatory surgery centers, and diagnostics imaging centers.
Region-wise, the fundus camera market is analyzed across North America (the U.S., Canada, and Mexico), Europe (Germany, France, the UK, Italy, Spain, and rest of Europe), Asia-Pacific (Japan, China, India, Australia, and rest of Asia-Pacific), and LAMEA (Brazil, South Africa, Saudi Arabia, and rest of LAMEA).
Segment review
On the basis of product type, the non-mydriatic cameras segment was the major revenue contributor in 2020, and is anticipated to remain dominant during the forecast period. This is attributed to ability of a non-mydriatic cameras to view detailed retinal anatomy and, thereby, improve the diagnosis and management of eye disorders. In addition, non-mydriatic cameras advancements such as fluorescein imaging, mobility, and live-action systems are expected to drive the market throughout the forecast years. On the basis of portability, the tabletop segment dominated the fundus camera market in 2020, and is anticipated to continue this trend during the forecast period. This is attributed to advantages of these cameras as they offer more patient-friendly photography of the fundus by eliminating the use of bright lights and dilating drops.
Region wise, North America was the largest shareholder in the global fundus camera market in 2020. Diabetes has become much more prevalent in North America during the last decade and diabetic patients are at a much higher risk for diabetic retinopathy than non-diabetics. Moreover, rise in geriatric population, increased healthcare expenditure, and government support for reimbursement and device screening is also responsible for the growth of the market in this region. On the other hand, Asia-Pacific is expected to witness growth at the fastest rate during the forecast period, due to local presence of key players, availability of expert services, and growing medical tourism. Increased awareness in the region about retinal and ocular illnesses as well as rising awareness about treating diabetic retinopathy, is also driving the fundus cameras market.
The key players operating in the global - include Carl Zeiss Meditec AG, Kowa Company, Ltd., Optomed Plc, Optovue Incorporated, Topcon Corporation, Clarity Medical Systems, Inc., Canon Inc., Epipole Ltd, Revenio Group Corporation (Centervue SPA), and Clarity Medical Systems, Inc.
Key Benefits For Stakeholders
The study provides an in-depth analysis of the fundus camera market and the current trends and future estimations to elucidate the imminent investment pockets.
It presents a quantitative analysis of the fundus camera market from 2021 to 2030 to enable stakeholders to capitalize on the prevailing market opportunities.
Extensive analysis of the market based on procedures and services assists to understand the trends in the fundus camera industry.
Key players and their strategies are thoroughly analyzed to understand the competitive outlook of the fundus camera market.
Key Market Segments
By Product
Mydriatic Fundus Cameras
Non-Mydriatic Fundus Cameras        
Hybrid Fundus Cameras        
ROP Fundus Cameras
By Portability
By End User
Hospitals 
Ophthalmology Clinics 
Others
By Region
North America
Europe

Germany
France
UK
Italy
Spain
Rest of Europe

Asia-Pacific

Japan
China
India
Australia
Rest of Asia-Pacific

LAMEA

Brazil
South Africa
Saudi Arabia
Rest of LAMEA
Key Market Players 
Carl Zeiss Meditec AG
Kowa Company, Ltd. 
Optomed Plc
Optovue Incorporated
Topcon Corporation
Clarity Medical Systems, Inc.
Canon Inc.
Epipole Ltd
Revenio Group Corporation (Centervue SPA)
Clarity Medical Systems, Inc.