Fungicides Market Outlook - 2027
The global fungicides market was valued at $13.4 billion in 2019, and is expected to reach $19.5 billion by 2027, registering a CAGR of 4.7% from 2020 to 2027.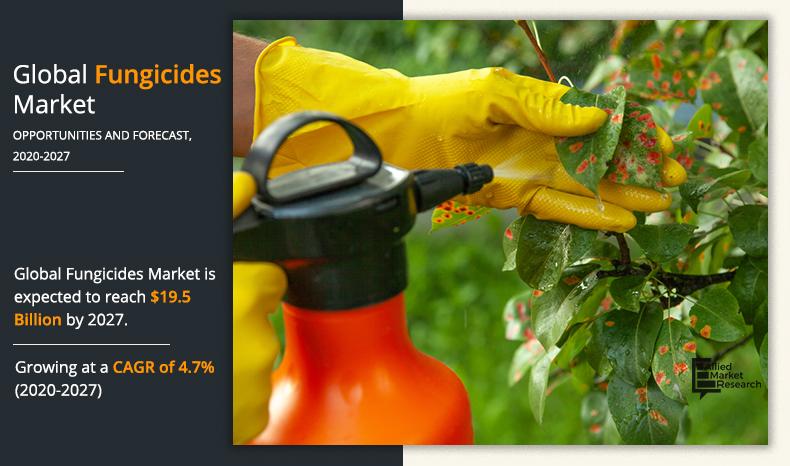 In modern farming, fungicides play a crucial role in protecting crops from fungal diseases. Changes in farming techniques and technological advancements have encouraged the farmers to engage in effective pest management. Surge in pest management practices have also increased awareness of crop saving properties of the fungicides. These are used to kill the fungus spores and to improve the quality of crops. Fungicide reduces crop losses before and after harvest along with increase in crop yield. Chemical and pharmaceutical industries are the major sources of fungicides. In addition, there is an increase in the requirement of food products owing to surge in population. The losses in food crops mainly occur due to the diseases in crops during various crop development stages. There is an increase in the usage of fungicide in floriculture, horticulture, and mainly in farming to increase the yield of crops and to protect crops from several diseases. In farming, fungicides are primarily used in cereal crops.
The fungicides market is segmented on the basis of active ingredient, crop type, and region. By active ingredient, the market is divided dithiocarbamates, benzimidazoles, chloronitriles, triazoles, phenylamides, strobilurins, and others. On the basis of crop type, the market is divided into cereals & grains, oilseeds & pulses, fruits & vegetables, and others. By region, it is analyzed across North America, Europe, Asia-Pacific, and LAMEA. Fungicides market share is analyzed across all the main regions.
The fungicides market covers in-depth information of the major industry participants. Some of the major players in the market include Adama Ltd., BASF SE, Bayer AG, FMC Corporation, Corteva Inc., Novo Nordisk AG, Nufarm Ltd., Sumitomo Chemical Company, Syngenta AG, and Tata Chemicals Ltd.
Other players in the value chain of the fungicides market include Bioworks, Inc., STK Bio-Ag Technologies, Verdesian Life Sciences, Seipasa, S.A., Ishihara Sangyo Kaisha, Ltd., Nutrichem, and others
The key players are adopting numerous strategies such as product launch, partnership, acquisition, partnership, product development,and others to stay competitive in the market.
For instance, Adama and Netherlands based Ceradis B.V.entered into an R&D agreement to develop new, innovative, and sustainable crop protection. The agreement's goal is to deliver new crop protection products to farmers with similar or better efficacy rates and ease of handling, while reducing the required dose rate of active ingredients. The agreement was aimed at improving Adama's product offerings.
In addition, BASF launched two new fungicides for the turf market named Maxtima and Navicon .It features the new Revysol active ingredient and provides broad-spectrum control on diseases such as dollar spot, anthracnose, and spring dead spot. The new product helped BASF to reinforce its presence in the global fungicides market.
Fungicides Market, by Active Ingredient
By active ingredient, the triazoles segment holds the largest market share owing to its beneficial characteristics such as site specificity and targeted action. 
Fungicides Market

---
By Active Ingredient
Triazoles is projected as the most lucrative segment.
Fungicides Market, by Crop Type
On the basis of crop type, the fruits & vegetables segment has garnered the highest market share. Fruit and vegetable plants areaffected by fungal disorder such as blight. This fungal disorder is observed across all regions, owing to which fungicides are majorly used for fruits and vegetables.
Fungicides Market

---
By Crop Type
Fruits & Vegetables is projected as the most lucrative segment.
Fungicides Market, by Region
By region, Europe has garnered the highest market share in 2019, in terms of volume as well as revenue and is anticipated to maintain its dominance throughout the analysis period. This is attributed to the presence of key players in the region. In addition, Europe is the leading producer of wheat and largest consumer of fungicides due to its increased use in cereal crops. Asia-Pacific is anticipated to grow at a faster rate. This is because of presence of countries such as India, China, and Australia. India is one of the major producers of wheat and rice along with dry fruit, sugarcane, cotton, and pulses. Factors such as increase in awareness among farmers regarding the utilization of fungicides to control diseases of the cereal crops have contributed to the growth of the market in the Asia-Pacific region.
Fungicides Market

---
By Region
Europe holds a dominant position in 2019 and would continue to maintain the lead over the forecast period.
Key Benefits For Stakeholders
The report provides an in-depth analysis of the forecast along with the current and future market trends
This report highlights the key drivers, opportunities, and restraints of the market along with the impact analyses during the forecast period
Porter's five forces analysis helps analyze the potential of the buyers & suppliers and the competitive scenario of the industry for strategy building
The qualitative data in this report aims on market dynamics, fungicides market trends, and developments
A comprehensive analysis of the factors that drive and restrain the fungicides market growth are provided
The fungicides market size is provided in terms of revenue and volume
 Fungicides Market Report Highlights
Aspects
Details
BY ACTIVE INGRIDIENT

Dithiocarbamates
Benzimidazoles
Chloronitriles
Triazoles
Phenylamides
Strobilurins
Others

BY CROP TYPE

Cereals & Grains
Oilseeds & Pulses
Fruits & Vegetables
Others

BY REGION

North America (U.S, Canada, Mexico)
Europe (France, Germany, Italy, Spain, Rest of Europe)
Asia-Pacific (China, India, Japan, South Korea, Australia, Rest of Asia-Pacific)
LAMEA (Brazil, Argentina, South Africa, Rest of LAMEA)

Key Market Players
ADAMA LTD, BASF SE, BAYER AG, FMC CORPORATION, CORTEVA INC, NOVO NORDISK A/S, NUFARM LIMITED, SUMITOMO CHEMICAL COMPANY, SYNGENTA AG, TATA CHEMICALS LTD