Furfural Market Outlook - 2027
The global furfural market size was valued at $1.2 billion in 2019 and is anticipated to generate $2.0 billion by 2027. The market is projected to experience growth at a CAGR of 6.9% from 2020 to 2027.  
Furfural is an organic, renewable, nonpetroleum-based chemical feedstock derived from agricultural by-products. Agricultural residue such as corn cobs, rice husk, sugarcane bagasse, cotton husk, oat husk, almond husk, olive press cake, and others are widely used for furfural production. Furfural is colorless or a little yellowish chemical compound, which quickly darkens when exposed to air. Furfural production activity is based on pentosan-containing residues which is obtained from processing various agricultural or forest products. Furfural is processed in a digester under high-pressure steam, and is recovered by steam distillation, followed by water–furfural separation and purification.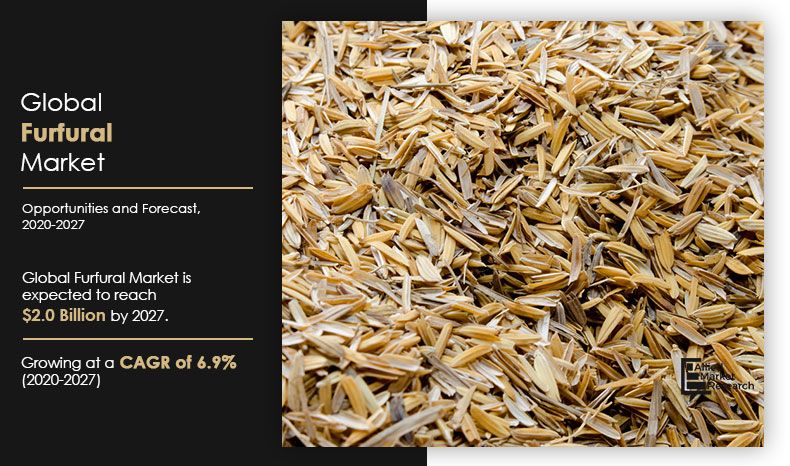 Furfural exhibits various properties such as corrosion resistance, thermosetting properties, and physical resistance making it ideal material for the production of resins. Moreover, it can be used in decoloring, refining, purification, and manufacturing processes which drives the demand.
The furfural market is segmented into raw material, application, end user, and region. By raw material, the market is divided corn cobs, rice husk, sugarcane bagasse, and others. The application segment is categorized into furfuryl alcohol, solvent, and others. By end user, the market is classified into petroleum refineries, agricultural formulations, paints & coatings, pharmaceuticals, and others. By region, the market is analyzed across North America, Europe, Asia-Pacific, and LAMEA (Latin America, the Middle East, and Africa).
The key players operating in the furfural market are Arcoy Industries Pvt. Ltd., Central Romana Corporation, Ltd., Hongye Holding Group Corporation, Illovo Group, KRBL Ltd., Lenzing AG, Penn A Kem LLC, Silvateam, Tanin Sevnica d.d and Tieling North Furfural (Group) Co. Ltd. The key players adopted various strategies such as agreement, joint ventures, new product launch, and business expansion to sustain the market competition.
Furfural Market, by Raw material 
Corn cobs furfural is the leading raw material segment, as it is highly versatile and is a key feedstock used during the manufacturing of various biofuels and chemical products. However, the sugarcane bagasse is the fastest growing during the forecast period, owing to its use in improving the viscosity index, oxidation stability, ignition characteristics, color, flash point, and to lower the carbon-forming tendency of fuel.
Furfural Market, by Application
By application, furfuryl alcohol is the dominating segment and is expected to continue to do so during the forecast period. Furfuryl alcohol is used in containers, tanks, lines, and valves to avoid potential leakage. Furthermore, it is used in corrosion resistant fiber-reinforced plastics and corrosion resistant cements & mortars as a reactive solvent.
Furfural Market, by End User
By end user, agricultural formulations dominated the market share owing to their use in revolutionized pesticides, fungicides, herbicides, and other synthetic chemical compounds. However, agricultural formulations will continue to grow at the highest CAGR during the forecast period owing to support from government organizations to promote the adoption of bio-based pesticides, fungicides, herbicides, and other chemical compounds.
Furfural Market, by Region
Region wise, Asia-Pacific dominated the global market for furfural. It is anticipated to grow with fastest CAGR during the forecast period, owing to economies such as China and India and growing pharmaceuticals, petroleum refineries, and agriculture sectors in the region, which fosters the demand for furfural.
Key Benefits For Stakeholders
The report provides an in-depth analysis and furfural market forecast along with the current and future market trends.
This report highlights the key drivers, opportunities, and restraints of the market along with the impact analyses during the forecast period.
Porter's five forces analysis helps analyze the potential of the buyers & suppliers and the competitive scenario of the furfural industry for strategy building.
A comprehensive analysis of the factors that drive and restrain the furfural market growth is provided.
The qualitative data in this report aims on furfural market trends, dynamics, and developments. 
The furfural market size is provided in terms of revenue.
The report provides extensive qualitative insights on the significant segments and regions exhibiting favorable furfural market share.